theartsdesk on Vinyl 64: Chet Baker, Lava La Rue, Bob Mould, Krust, The Yardbirds, The Fratellis and more |

reviews, news & interviews
theartsdesk on Vinyl 64: Chet Baker, Lava La Rue, Bob Mould, Krust, The Yardbirds, The Fratellis and more
theartsdesk on Vinyl 64: Chet Baker, Lava La Rue, Bob Mould, Krust, The Yardbirds, The Fratellis and more
Literally the largest fresh set of vinyl reviews on the internet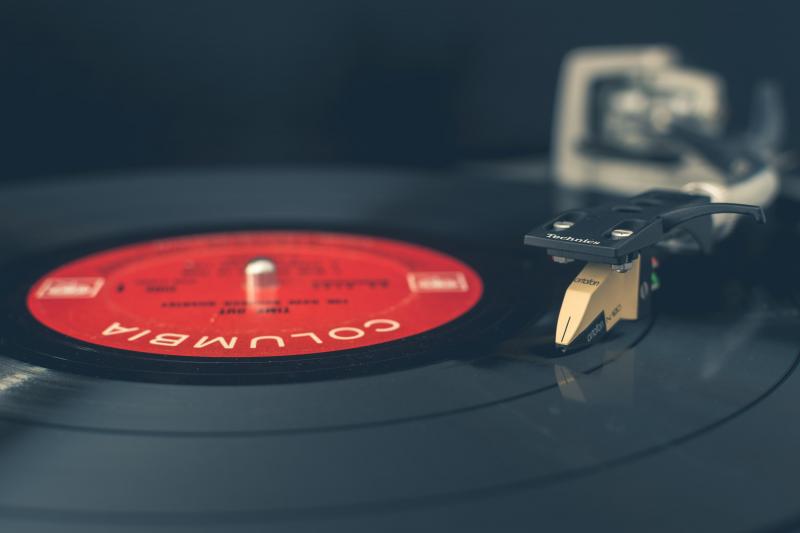 Like a circle in a spiral...
Things got out of hand at theartsdesk on Vinyl this month and these reviews run to 10,000 words. That's around a fifth of The Great Gatsby.
It's because there's so much good music that deserves the words, from
jazz
to
metal
to pure
electronic strangeness
. That said, this is the last time
theartsdesk on Vinyl
will reach this kind of ludicrous length. So enjoy it. Dig deep. There's something for everyone. Dive in!
VINYL OF THE MONTH
The Fratellis Half Drunk Under a Full Moon (Cooking Vinyl)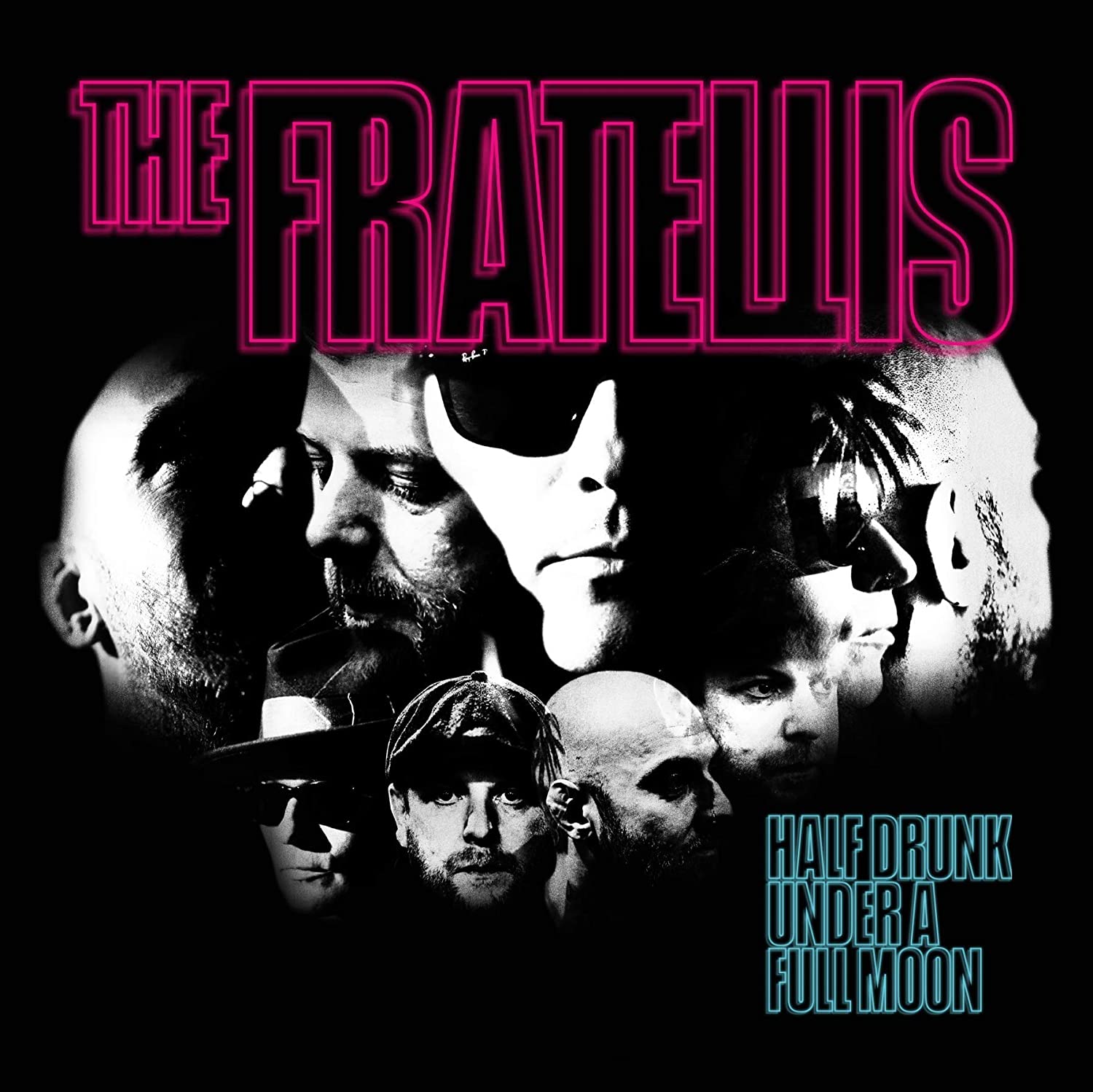 Look, I'm the first one to gleefully, mercilessly dance on the grave of so-called landfill indie (the wave of bands who arrived, about five years into this century, to plug the youth-cultural gap left by the temporary flabbiness of electronica and club culture). Boy, did I loathe all that regressive tedium…. The Rakes, The Cribs, The Holloways; God alive, it was an awful business. And the song that defines that era? "Chelsea Dagger" by The Fratellis. But so what? Every band and every album deserves recognition for its own merits. Half Drunk Under a Full Moon is a case in point, an album overflowing with gorgeous songwriting, filtered through a Last Shadow Puppets-meets-Wizzard production. With theatrical ambition, almost every song is a stunner; luscious, orchestrated, much of it laced with sehnsucht, that indefinable sensation of longing that the best pop can bring on. Opulent country-ish twinklers such as "Hello Stranger" and "Lay Your Body Down" rub shoulders with gigantic Phil Spector stompers such as the title track. Go on, then. I know they're The Fratellis, but I dare you. Comes in lyric inner sleeve.
Fimber Bravo Lunar Tredd (Moshi Moshi) + Mecánica Clásica Mar Interior (Abstrakce) + Turfu Astrale Nouba (Airfono)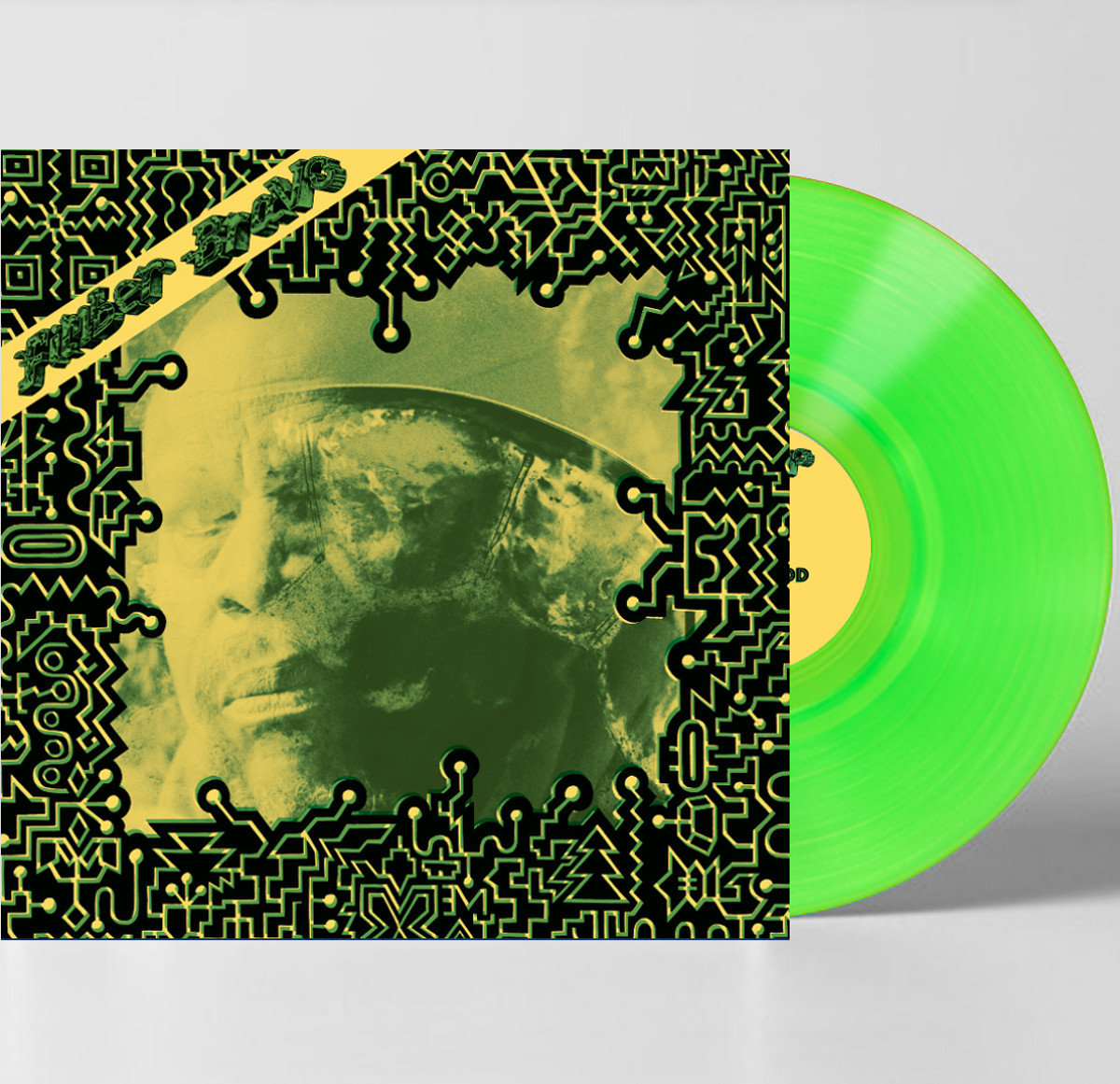 Three albums that inventively take different types of global folk instrumentation and weave them into new shapes. Fimber Bravo is a longstanding Trinidadian kingpin of steel pans. In 1975 his 20th Century Steel Band was responsible for the track "Heaven and Hell is on Earth" which has been much-sampled, notably by Jennifer Lopez for "Jenny From the Block" and Gwen Stefani for "Hollaback Girl". His new album, featuring members of Hot Chip, The Invisible and The Horrors, places his pan-work amidst multifarious studio constructions, ranging from the hypno-drone "Call My Name" to the Caribbean jollity of "Singo", and tribal bangers such as "Woonya Waa" and the righteous "Can't Control We". On a much more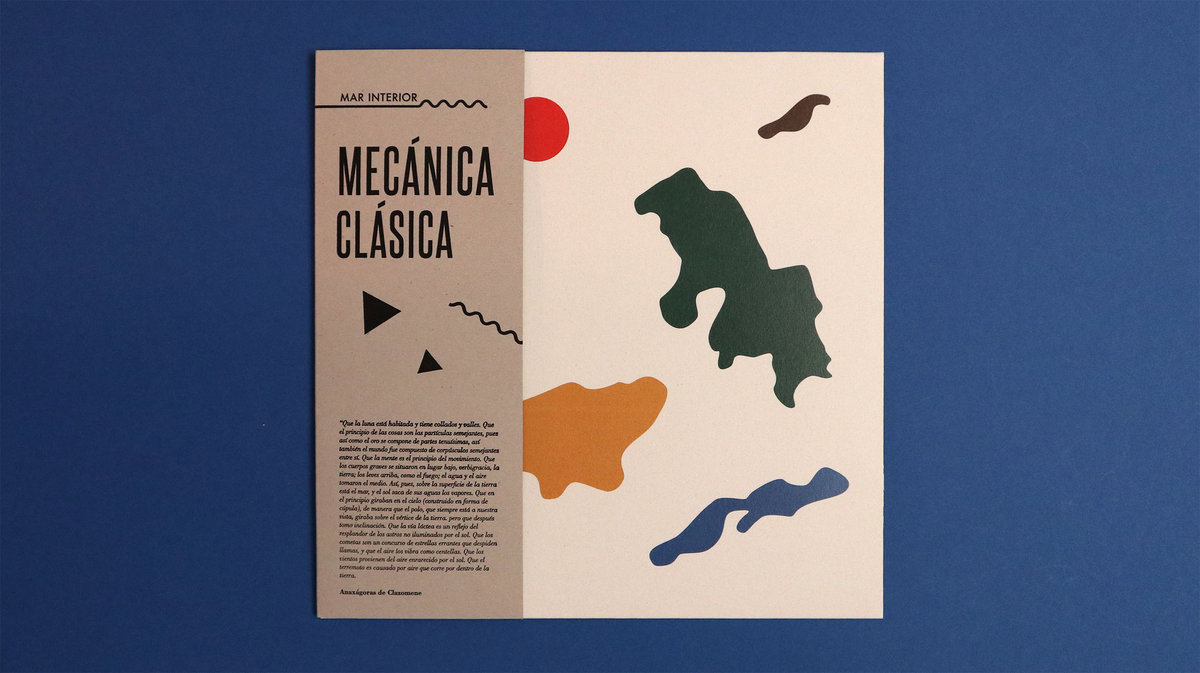 ambient tip Mecánica Clásica are a Valencian unit who, in the manner of Jon Hassell's forays into music from around the world, borrow found sounds and atmospheres to create pieces that are at once psychedelically spaced out but linked to a specific time and place. In this case, the focus is on ancient Mediterranean civilizations. Their music washes through the brain, leaving behind faint traces of instrumentation and flavour that do, indeed, muster folk-ish slivers at an almost subconscious level. Clever stuff. Less showily cerebral but more fun is the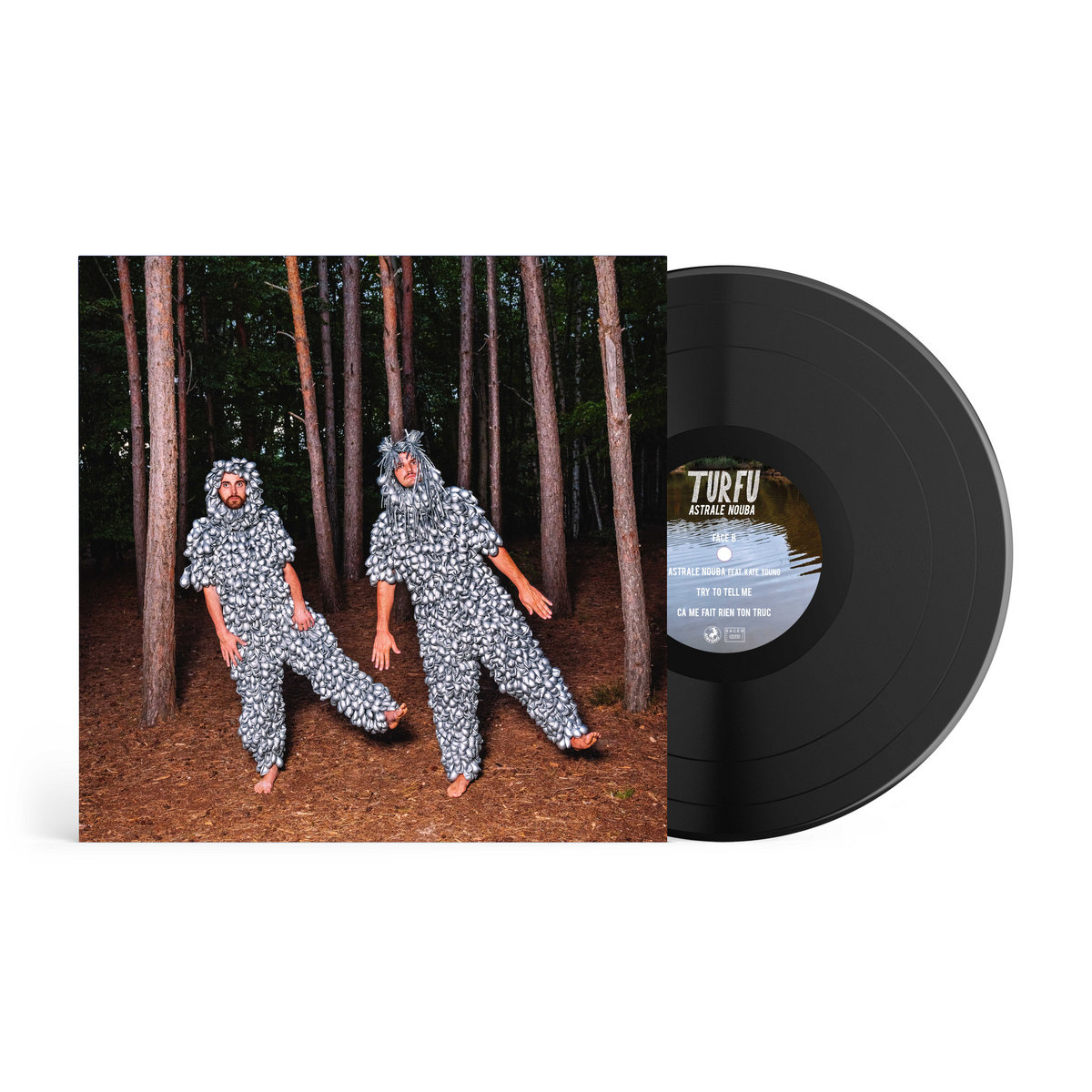 new Astrale Nouba mini-album from French duo Turfu which joyfully combines Balkan-ish folk accordion with driving beats, resulting in a music that sounds a bit like The Gotan Project if they'd been on three E's and liked bangin' trance (especially opener "Poney Club", featuring Dutch percussionist Gino Groeneveld). The title cut is a Bulgarian folk song and features a vocal by Scottish folk singer Kate Young. The rest is instrumental and all of it is aimed at the dancefloor. Not since the millennial prime of Finnish punk-tronic nutter Kimmo Pohjonen has anyone had this much fun with an accordion. I cannot wait for this lot at a festival. Comes in photo info inner sleeve.
Monzen Nakacho In Here. With Us. (Monzen Nakacho)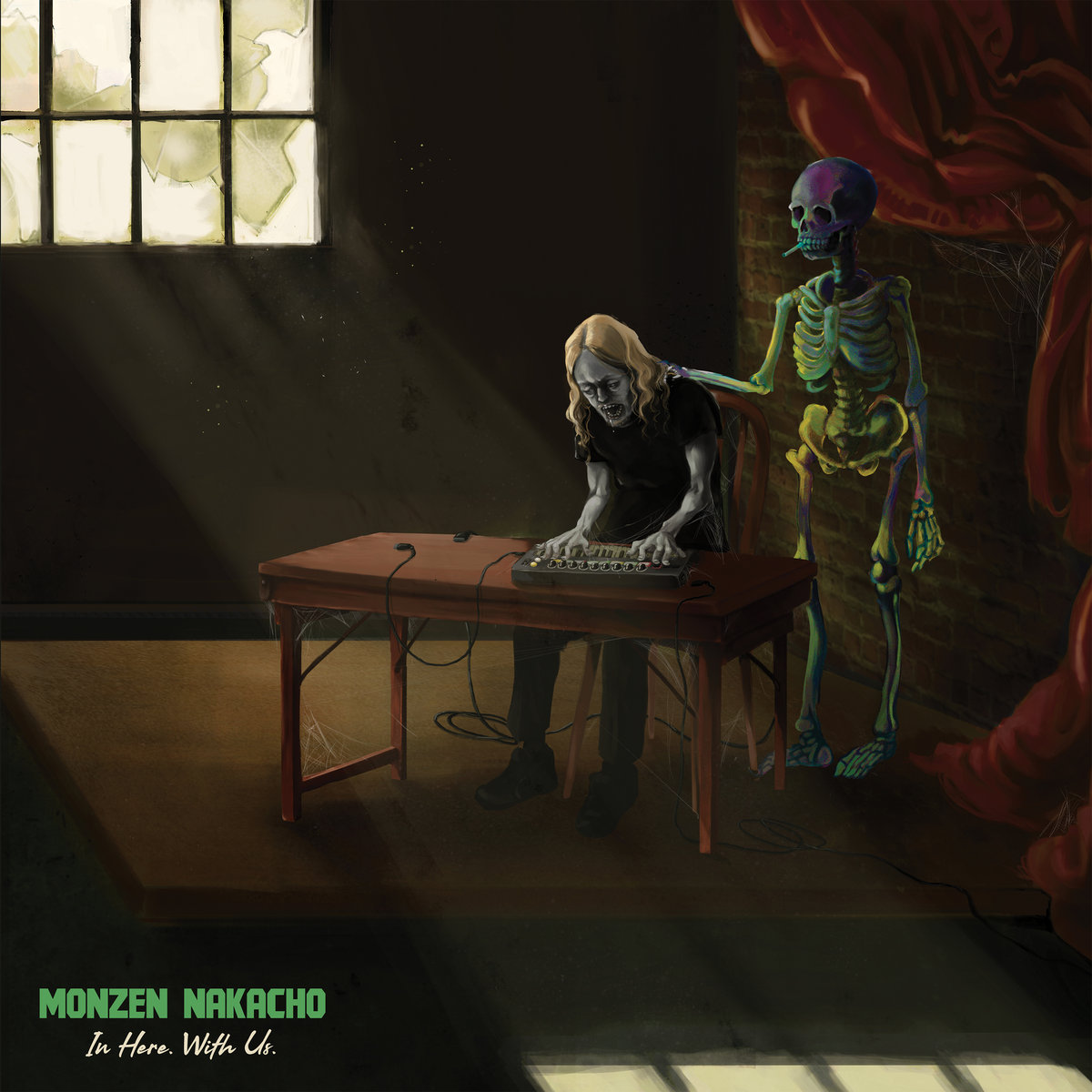 South coast producer Monzen Nakacho has been slowly building up a back catalogue which, with every release, demonstrates increasing competence in his chosen (and possibly self-invented) micro-genre, giallo synth-wave. What's that? Basically, emulating the synth sounds of Italian horror films of about 50 years ago (as well as related fare, such as John Carpenter). The deliciously titled In Here. With Us., boasting aptly doomy prog-kitsch cover art by Bambi Goodman, is his most fully realised work yet. The stripped back, drum-led "Pulsating Ghost" and industrial rave-electro nastiness of "Cogs" sit beside Moroder-ish bangers such as "Pursuit", every track contrasting nicely with the last. Retro it may be, but Monzen Nakacho adds his own shade to the sound, updates it, and renders it ready for 21st century analogue synth geek consumption.
The New Age Steppers The New Age Steppers + Action Battlefield + Foundation Steppers + Love Forever + Avant Gardening (On U Sound)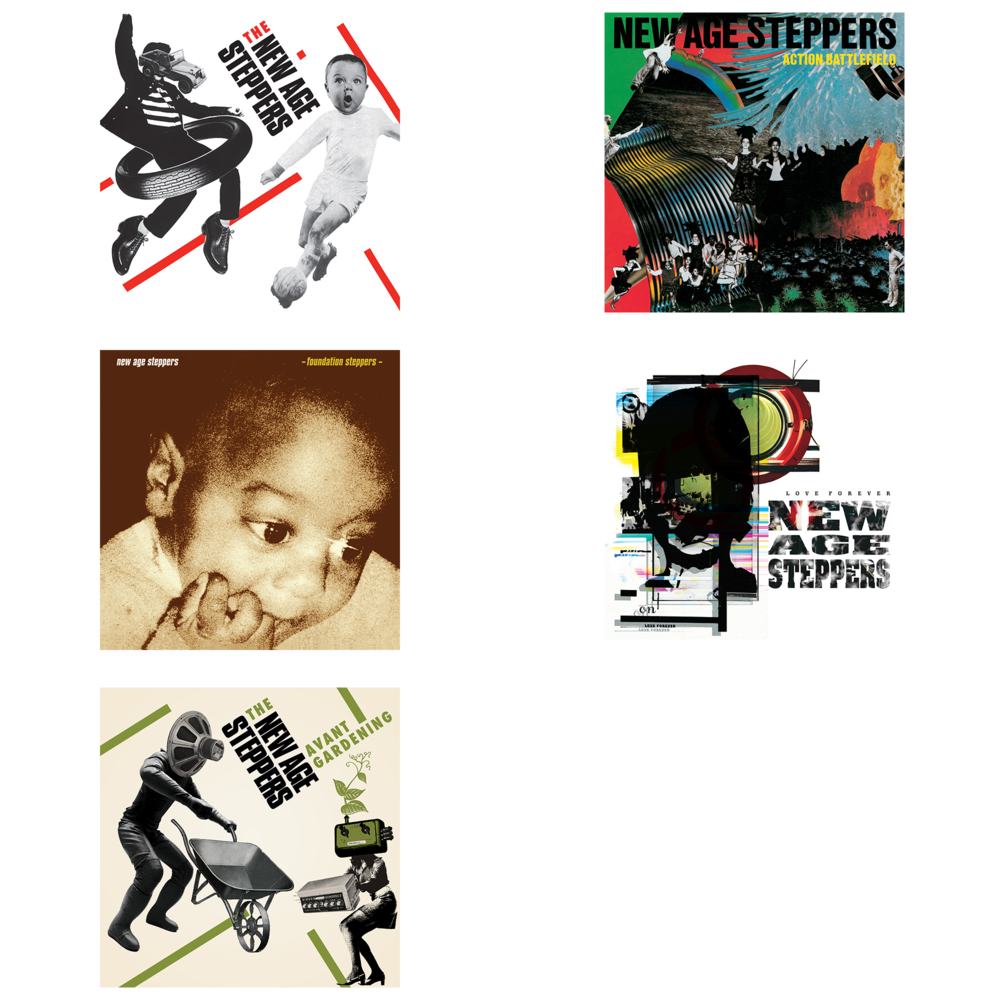 Reissues of the entire output of a post-punk supergroup, which pulled them together with dub/reggae luminaries they so often celebrated, overseen by On U Sound don Adrian Sherwood. Their eponymous 1981 debut features various Slits and Pop Group-ers, as well as a Flying Lizard and a Raincoat, together with bods from Aswad, Roots Radics and Creation Rebel. The result is primarily a very sparse collation of dub music, both reggae covers and originals (the noisier exception is the scratchy closer "Private Armies"). The band's novel make-up is primarily earmarked by the vocals of Slit Ari Up, Vivian Goldman and, especially, the politicking spiel of The Pop Group's Mark Stewart on "Crazy Dreams and High Ideals". Their second album, Action Battlefield, from the same year, is a partly different line-up and is less spare, offering mostly Ari Up-fronted covers of cuts by Bim Sherman, Horace Andy and the like, her vocals ranging between the sweet and the enjoyably idiosyncratic. A young Neneh Cherry also appears on a doo-woppy cover of BB Seaton's "My Love". It's a more approachable album than its predecessor, although it's best track is arguably the stomp-dub of "Problems". 1983's Foundation Steppers was made in Jamaica, at Channel One Studios, no less, and features Bim Sherman on some cuts, a well-wrought vocal counterpoint to Ari Up. It's a rootsier, cuddlier album, although the post-production is still Sherwood's, as is clear on songs such as "Mandarin", with its sci-fi synth sounds. 2012's Love Forever is Sherwood's tribute to Ari Up, who died of cancer two years before, but had recorded demos with him in the years since her diagnosis. It's a very different kind of record. Up had been embedded in Jamaican dancehall culture, also developed a taste for Hip Hop, and reconnected with The Slits. The vibrant "My Nerves" sounds like The Ruts, "The Schiesse Song" is a preposterously juvenile ode, partly in German, to, yes, poo-poo, and "Wounded Animal" is a 4/4 banger. Sherwood's daughter Denise takes vocal duties on a couple of tracks but the album belongs to Up and closing instrumental "Death Of Trees" is a gorgeous spaghetti western-flavoured lament that may be Sherwood's elegy for his lost compadre. This one comes on transparent vinyl. Finally, Avant Gardening is a bits'n'bobs collection featuring material from 1980-83 such as the striking screams'n'percussion dubbing of "I Scream (Rimshot)", and a Jah Woosh version of Love Forever , as well as an unlikely and lively John Peel Session reinterpretation of Atlantic Starr's "Send For Me". All these albums are worthwhile in different ways, also tasty, collectable stuff for On U lovers, especially as each inner sleeve continues with another photo-laced chapter in the history of the band.
Ikoqwe The Beginning, the Medium, the End and the Infinite (Crammed Discs)
What the world may need now is a music that smashes hip hop and electronica into Angolan traditional music. Fortunately, Ikoqwe are here to help. Portuguese-Angolan producer Pedro Coquneão – AKA Crammed Discs artist Batida – has joined forces with Angolan activist-MC Ikonoklasta (AKA Luaty Beirão) for an album that explicitly and appropriately invokes Marshall McCluhan in an Afro-futuristic multi-language cut'n'paste. It's never less than ear-diverting, whether offering rapping over squidgy flute-funk or abstract ragga-techno soundscapes. Distortion, restlessness and head-warpery are the name of the game in this beatsy collage, ostensibly a response to a colonialism and the rest. Comes in info inner sleeve.
Reducer Killer Crawl EP (Reducermusic) + Krust The Edge of Everything Remixes (Crosstown Rebels) + Dundundun Dun in Outer Space/Anansi (Worm Discs) + Blackhaine & Richie Culver Did U Come Yet/I'm Not Gonna Cum (Participant-UK)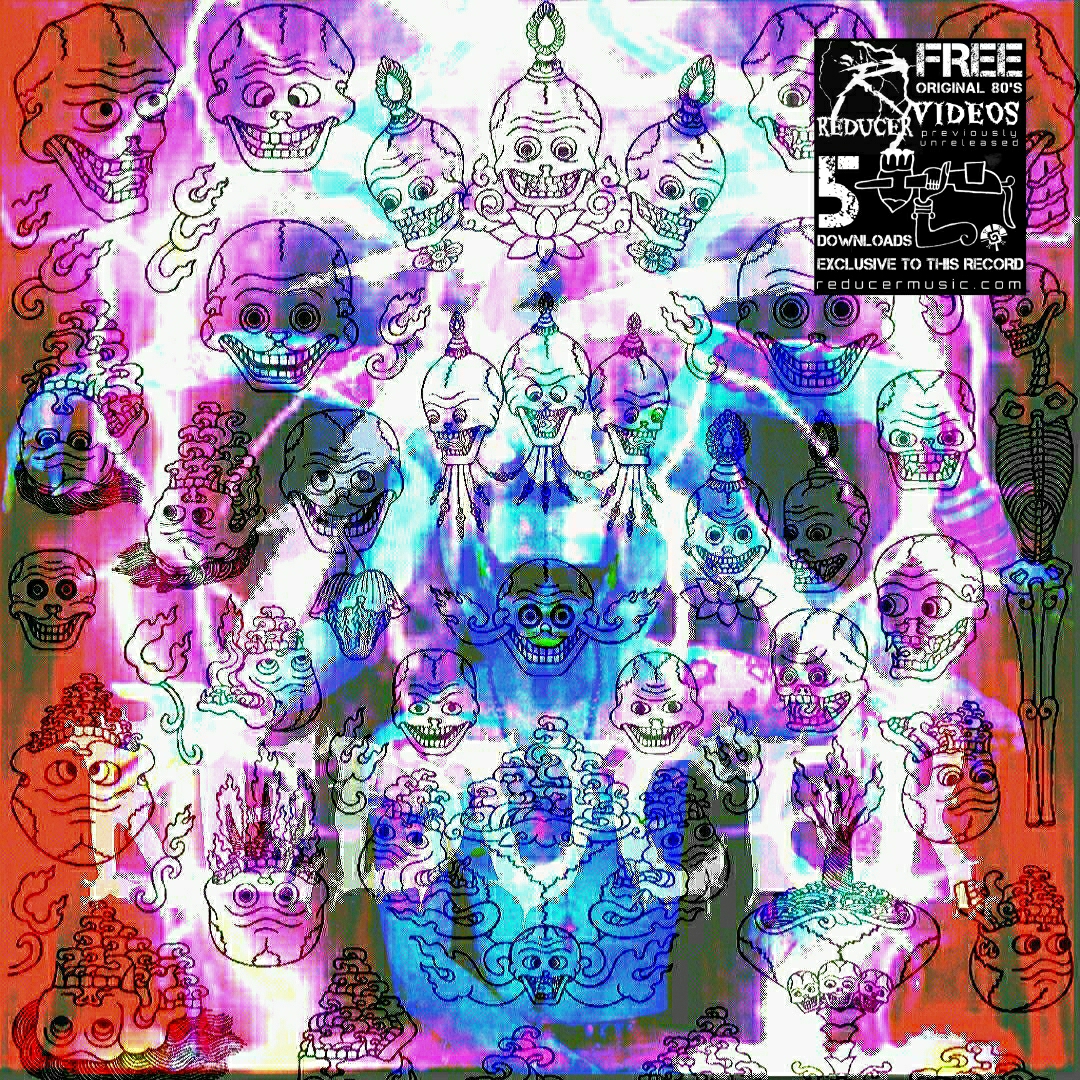 In this month's selection of 12" singles for the discerning, we begin with a limited edition EP by long-defunct and super-obscure Northampton band Reducer, who've found there's an appetite for old material. They follow their "Product EP" of early recordings, released five years ago, with a new and noisy five tracks transferred to vinyl from cassette. And what a joyous racket it is. With origins in anarcho-punk, their sound is part Alien Sex Fiend, part Gary Clail, part ragga and part industrial obtuseness. It arrives lovingly packaged with retro Reducer stickers, a 12" x 12" info sheet and also an A4 history (of sorts). It would be great to know when these tracks were recorded. If it was prior to about 1990, Reducer were way ahead of the curve as their music sounds like dancehall-influenced rave MCs fighting it out with a throbbing punk-ish jam.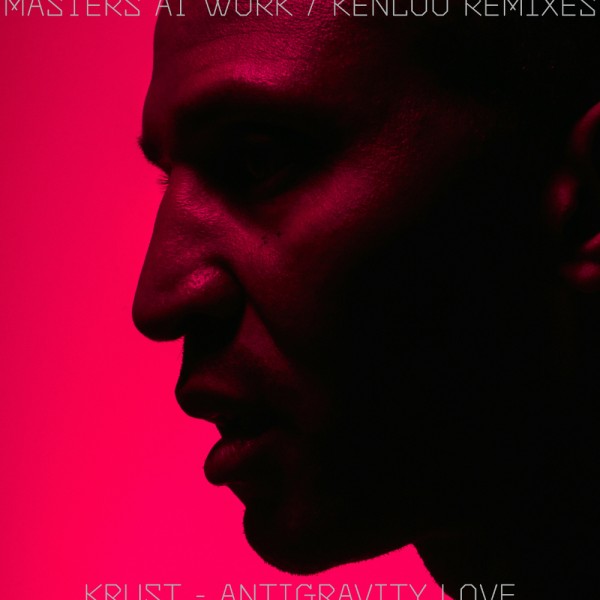 Like actual rave, it's not about the individual songs, more about just diving in and getting messy! DJ Krust – now simply Krust – actually does hail from the rave milieu, but last year's The Edge of Everything album, while paying tribute to his drum & bass roots, was a contemplative and experimental affair. Now a variety of remixes arrive. New York house kingpins Kenny "Dope" Gonzalez and "Little" Louie Vega tackle "Antigravity Love" on a double 12" pack in both their famous Masters At Work guise and lesser known KenLou persona. Both use the track's spoken- word centrepiece, the Masters At Work version offering a house-ish chugger and the KenLou remix a skittering beats exercise. They are rather polite for my tastes, as is Calibre's remix of "It's a Lot", which is on another 12" and is a skippy drum & bass DJ tool. On the flip, however, are twisted avant-beats exercises by Lox ("Only God Can Tell") and Flynn ("7 Known Truths"). There's a fourth 12" that contains a moody garage-house-ish remix of "Negative Returns" by Four Tet, backed by a bleepy bass-throb thing from Batu ("Space Oddity") and a globular, freakazoid smashed beats take on "Keter the Heavenly" by Damian Lazarus. Unfortunately, even the best of these 12"s is more "interesting" than head-fryingly dynamic. Dundundun are a Bristolian jazz sextet whose debut 12" offer two tracks alongside a remix of each. One is their swing at Sun Ra's "Love in Outer Space", which might be the least interesting aspect of an otherwise taste-whetting EP. Happily, it's turned into a morphing electro-psychedelic journey by the Ishmael Ensemble, while on the flip is a "Anansi", a wibbly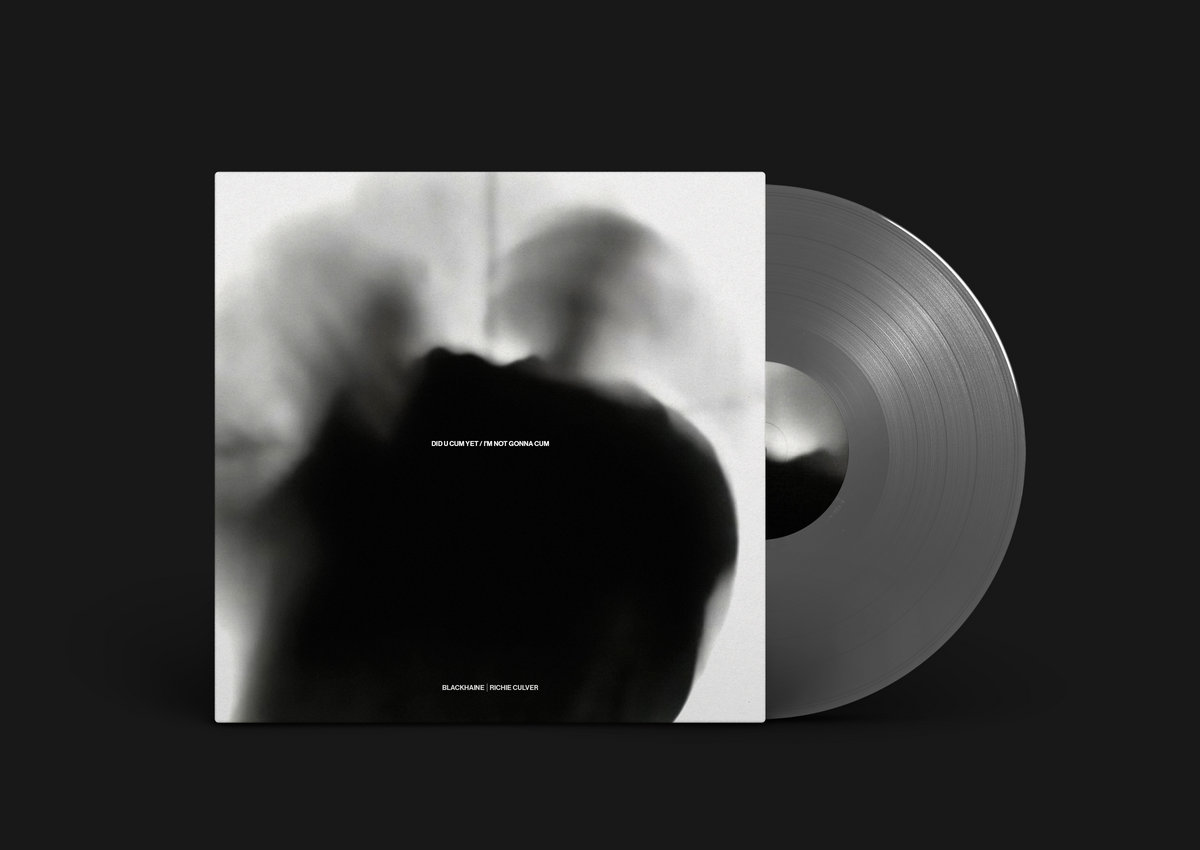 space groove wherein sax takes on synth, again given a decent "Vibration" remix, this time with Rebecca Vashmant adding ambient female vocal flourishes. The Blackhaine/Richie Culver 12" is the, ahem, coming together of two northern British artists, a sonic response to Culver's painting "Did U Cum Yet" which apparently kicked up a fuss on social media. Blackhaine develops this notion into two pieces, to accompany performance art films on YouTube. Both numbers place a bullish northern voice (and, in the case of "I'm Not Gonna Cum", a deadpan computerized voice) against a backdrop of glitch-illbience (which on the A-side extends into actual white noise). Both sides give a dark vision of being trapped in a rundown, low life urban cityscape, offering existential commentary all the while. They are effective and different and come on grey vinyl.
Bob Mould Distortion 2008 – 2019 Boxset (Demon)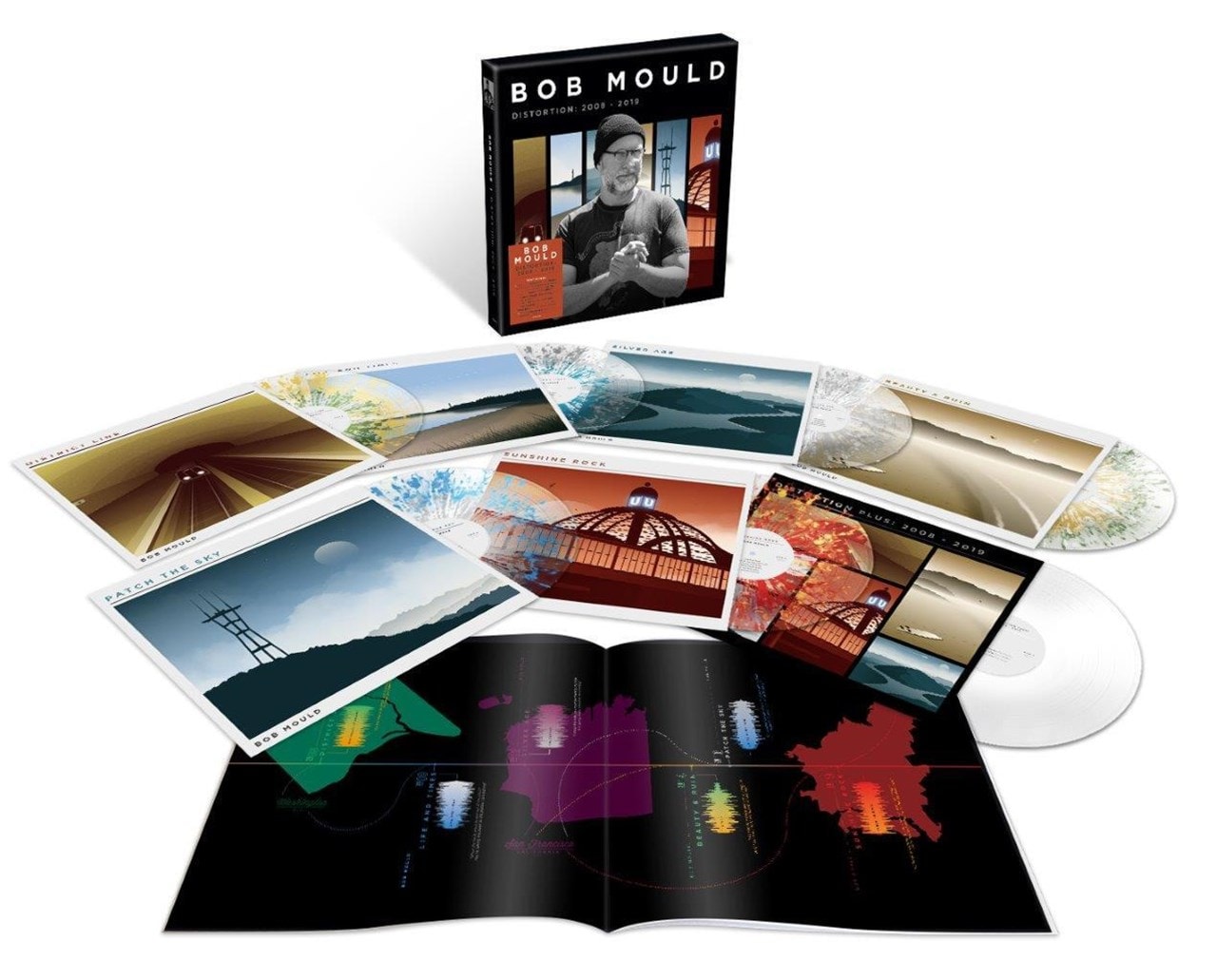 Bob Mould has had quite the career. As well as arguably inventing grunge (with Hüsker Dü) at the start of the Eighties, he's blown eardrums with Nineties noise-pop outfit Sugar, publicly embraced his gay sexuality via an unlikely foray into EDM, and been heavily involved with wrestling. He's also fired out a mass of solo material over the years and, following two other Distortion boxsets (1989 – 1995 and 1996 – 2007), the latest brings things up-to-date (there's also a double album set that offers a "Best of…" overview). 2008 – 2019 covers six albums and there's an extra transparent vinyl 12" featuring three bonus cuts. These are "Dear Rosemary" which he did with Foo Fighters for their Fading Light album, and has that band's usual arena rock largesse; singer-songwriter Butch Walker's mawkish "Father's Day", an acoustic mope for dead parents to which Mould adds unlikely electric guitar attack at the end; and a recent-ish, straight cover of Buzzcocks' "I Don't Mind". Of the albums, the first two, 2008's District Line and 2009's Life and Times, have a smooth contemporary pop-rock sound, the former's love songs sometimes almost AOR in feel. But 2012's Silver Age is a punchier set of melodic punk-pop, tinged with Mould's talent for lyrical and vocal urgency; even sludgy slowie "Steam of Mercury" is catchy! 2014's Beauty & Ruin has a smudgier sound, Mould's voice lower in the mix, but again, it works with songs such as "Fire in the City" emanating a burnt, doomed romanticism. 2016's Patch the Sky is more grandly produced but not in a bad way, just cleaner than Beauty & Ruin. "Can I find some truth within the noise?" his lightly gravelled voice pleads in "Voices in my Head". This seems to be the overall theme of the boxset. Finally, 2019's Sunshine Rock is, as it sounds, mostly gunning for positivity. As well as the title track, there are songs called "Sunny Love Song" and "Camp Sunshine". Then again, slowie "The Final Years" sees him riding the string section and facing up to death. Mould's band changes here and there, including members of Superchunk and Fugazi along the way, but the sound throughout is totally recognizable as his. His oeuvre is all quite similar-sounding so, while there's solid material here, the sameyness makes this boxset a dipper rather than one to spend any prolonged time with. Comes with a booklet of lyrics and other info.
Arthur Hnatek Trio Static (Whirlwind) + Pavel Milyakov & Bendik Giske Pavel Milyakov & Bendik Giske (Le Jazz Non Series/Smalltown Supersound) + Chet Baker Chet Baker Sings: It Could Happen to You (Craft) + Chet Baker Chet Baker in New York (Craft) + Chet Baker Chet Baker Plays the Best of Lerner & Loewe (Craft)
Some great jazz from the past and the present. Arthur Hnatek Trio build their music from the drums and percussion up. It's refreshingly minimal. Swiss drummer Hnatek works with upright bassist Fabien Iannone to create an invigoratingly sparse set of sound-sketches, the only colour being added in an understated manner by the wheezy – and occasionally more threatening - tenor sax of Franceso Geminiani. It's a restless treat, the way the rhythms play with the brain; who'd have thought so much could derive from such pared back interplay. Comes on bright yellow vinyl. Pavel Milyakov is
one of Moscow's premier producers of exploratory album-length techno. Bendik Giske is an equally experimental Berlin-based Norwegian saxophonist. Together they make music that's more "difficult" than the rest of the jazz reviewed here, an edgy, insect form of the genre, shards of sax skidding about repetitive sound-architecture. Sometimes it sounds a bit like Philip Glass (the tracks don't have names but Side One, Track Two would be a good example), but mostly it's jazz searching for ghosts in a machine-locked cycle that's continued far beyond conceivable function. At completely the other end of the spectrum we find Chet Baker, around five years into his career as he joined Riverside Records in 1958, initially releasing the third of his Chet Baker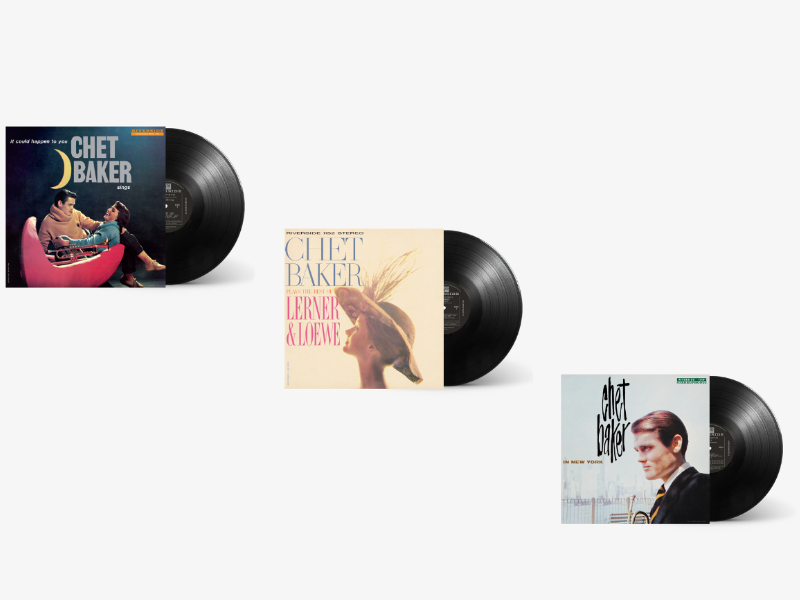 Sings series, wherein he tackles the American songbook in his dreamy, young voice, often genially scatting rather than playing trumpet solos. Baker blew everything later, falling from grace and into scuzziness with heroin addiction, but at this point he was a pretty pop star golden boy who not only played trumpet beautifully but sang sweetly too. These three albums came out in 1958 and 1959 and their mood is much of a muchness, smooth supper club jazz that stays away from dischord. That sounds boring on paper but, in fact, musters unreal nostalgia for a lost age of "cool". The slow cuts from the Lerner/Loewe set, with their understated, roomy reverb, are an especial treat, Baker's trumpet floating about with a casual, unforced loveliness, seeming to ache.
Luke Haines Setting the Dogs on the Post-Punk Postman (Cherry Red)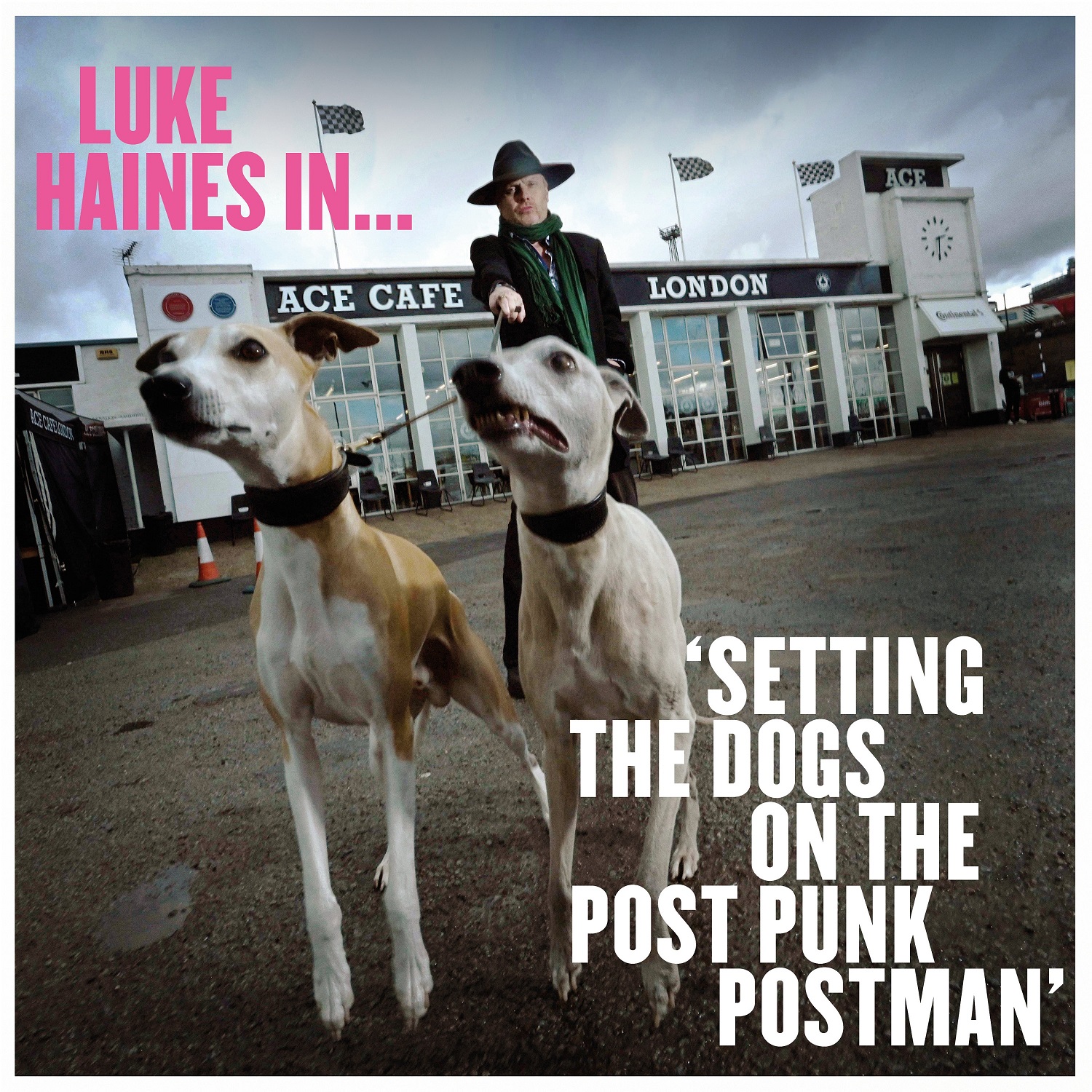 Luke Haines just does not stop, his solo records relentlessly appearing all decade. He must have a devoted fanbase, some of whom have surely been following his output since The Auteurs (or possibly before!). He majors in post-modern indie, cultural commentary poetics, in this case tinted with nostalgia as he sings of Ivor Cutler, Stasi spies and, er "Andrea Dworkin's Knees" giving out. He combines lo-fi but catchy indie songwriting with his over-articulated, affected whisper-speak singing, the whole recalling long lost, obscure Eighties acts as such as The Chrysanthemums, The Cleaners From Venus and the Deep Freeze Mice. Culminating in the racket-down-the pub title track, the album is amusing and touching and contains great couplets too. Haines is slowly becoming the last thing he wants to be, a bit of a treasure, holding down a disappearing songwriting tradition. Comes on info inner sleeve.
Nat Turner Rebellion Laugh to Keep From Crying (Philly Groove)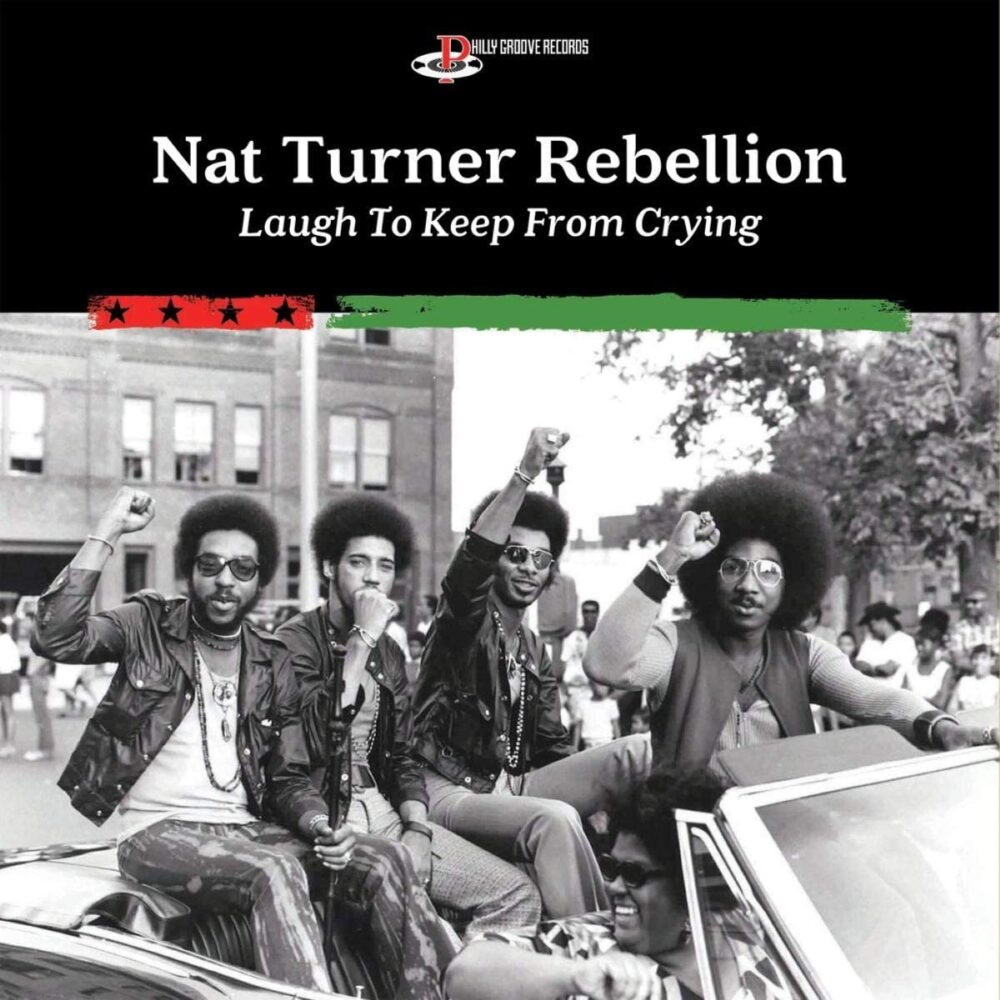 Nat Turner Rebellion were a Philadelphia outfit whose brief run of singles between 1969 and 1972 are now released as an album, accompanied by a bunch of unearthed, previously unreleased fare. It's a brilliantly lively, if derivative collection. The band were named after a bloody 1831 slave revolt and led by songwriter Joseph Jefferson, their work a spirited mix'n'match of Black Panther socio-political indignation, classic soul and the drugged love vibes of the era. The sound owes a huge debt to Sly and the Family Stone at their rawest and most funky. Crafted, wordy ballads such as "Never Too Late" hint at the career Jefferson would go onto as a writer of hits for The Spinners, The O'Jays and others in the Seventies, but most of the material reminds more that the band had an incendiary live reputation, from the ballistic groove of the title track to cuts such as "Fatback", much of it laced with a fiery undertow of black power politics, Comes with 12" x 12" insert telling the backstory.
Grand Soleil Human Error (Nowadays)
At the tail end of the 1990s there was a spate of albums that represented a (now forgotten) micro-movement of musicians who were au fait with bedroom electronic tech but no longer wanted to make output for clubland or, indeed, anyone but themselves. This resulted in oddball easy listening, interspersed with avant-garde experimentalism and, occasionally, oddly muted trips to the dancefloor; artists such as Q Burns Abstract Message, Las Cienda Honduras, Jaffa, Isan, Pluxus and many more. The debut album from French brothers Benjamin and Adrien Sahuc is much in this vein. It's not exactly chill-out – check out the 4/4 "Round Round Round", or the bangin' title track - but it doesn't feel like DJ records either. Everything is interspersed with jolly synth squigglers such as "Transmission", which give the impression we're not supposed to be too po-faced about it all; that, despite Side Two being BPM-heavy, Human Error is intended for home listening. Whatever the aim, it's enjoyable electronic froth.
The Yardbirds Live in France (Repertoire) + Keith Relf All Falling Angels: Solo Recordings & Collaborations 1965 – 1976 (Repertoire):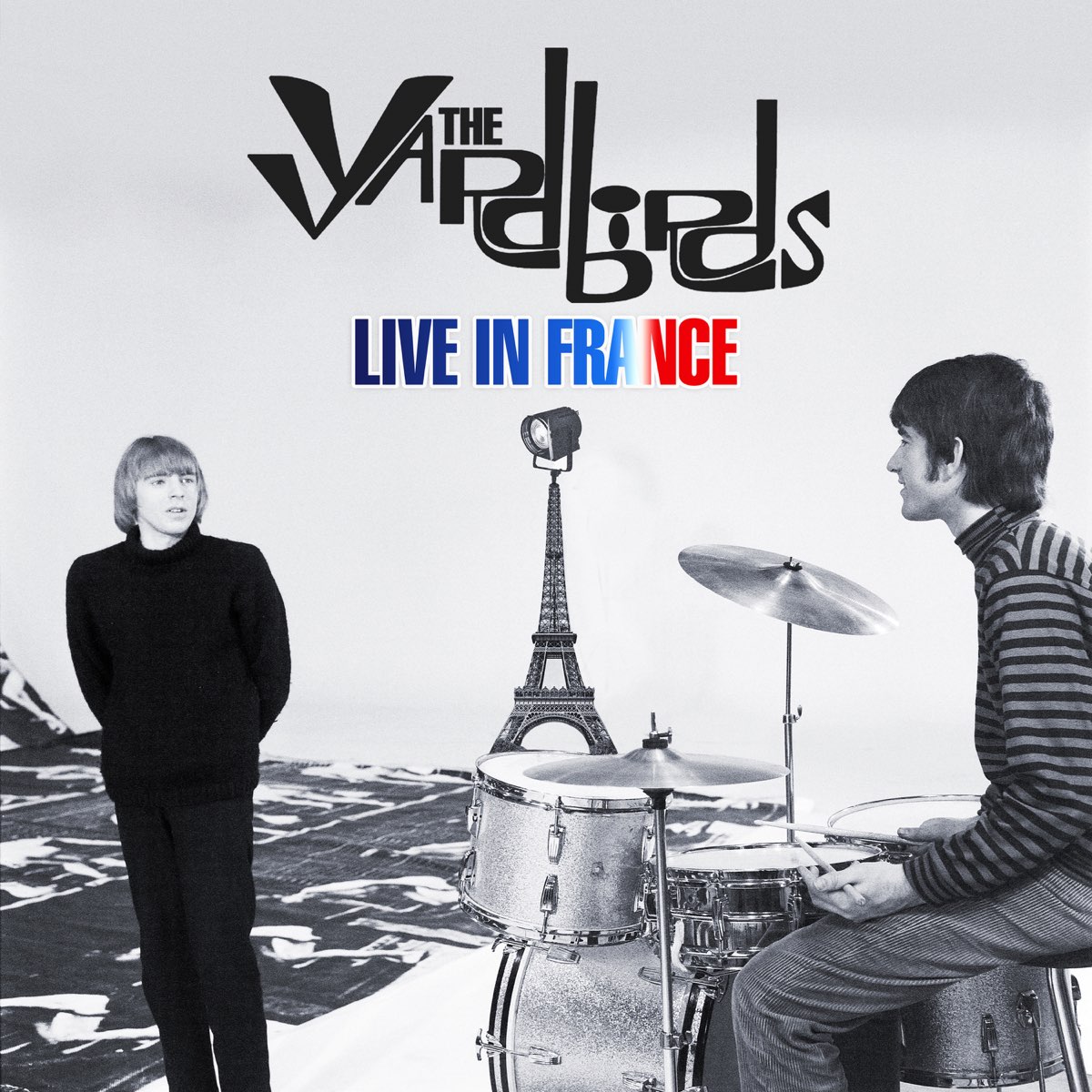 Listening to The Yardbirds' Live in France album, it's easy to hear in 2021 why they were such a tonic when they were around, something that's sometimes less clear from their singles. There's an urgent, amphetamine, punk rock spirit to their frantic blues-rock pop. The concert material runs from 1965 to 1968, with side one ('65-'66) featuring Jeff Beck on lead guitar, and Side Two ('67-'68) featuring Jimmy Page. There is a 12" x 12" four page insert that takes the listener though it all in detail but we can hear the speeding beat-pop of "For Your Love" slowly mutate into the proto-Led Zep of the final three cuts, most particularly a six minute "Dazed and Confused" with full guitar pyrotechnics and percussive breakdown in the middle. Live in France is a dynamic and energized set. Keith Relf was The Yardbirds' frontman and the new double collection of his solo work is a revelation to this writer, revealing him to be a fragile Sixties-
burnished songwriter whose work stands up beside other great cult songwriters of the period (Syd Barrett, Kevin Ayres, etc). The double set comes on double in photo gatefold with a 12" x 12" four-page insert containing background by Chris Welch and Mike Stax. The music ranges from early solo singles to other material soaked in the golden LSD hope of the period, to later demos, very basic, but where that lysergic sunshine is still audible, as well as "All the Falling Angels" a fully-formed studio-produced stunner. I wish the song info detailed which song came from when and with which collaborators, but this is a minor quibble about a set that places Relf within the pantheon of lost greats.
Wassailer I, The Bastard (Empty Streets) + Veik Surrounding Structures (Fuzz Club)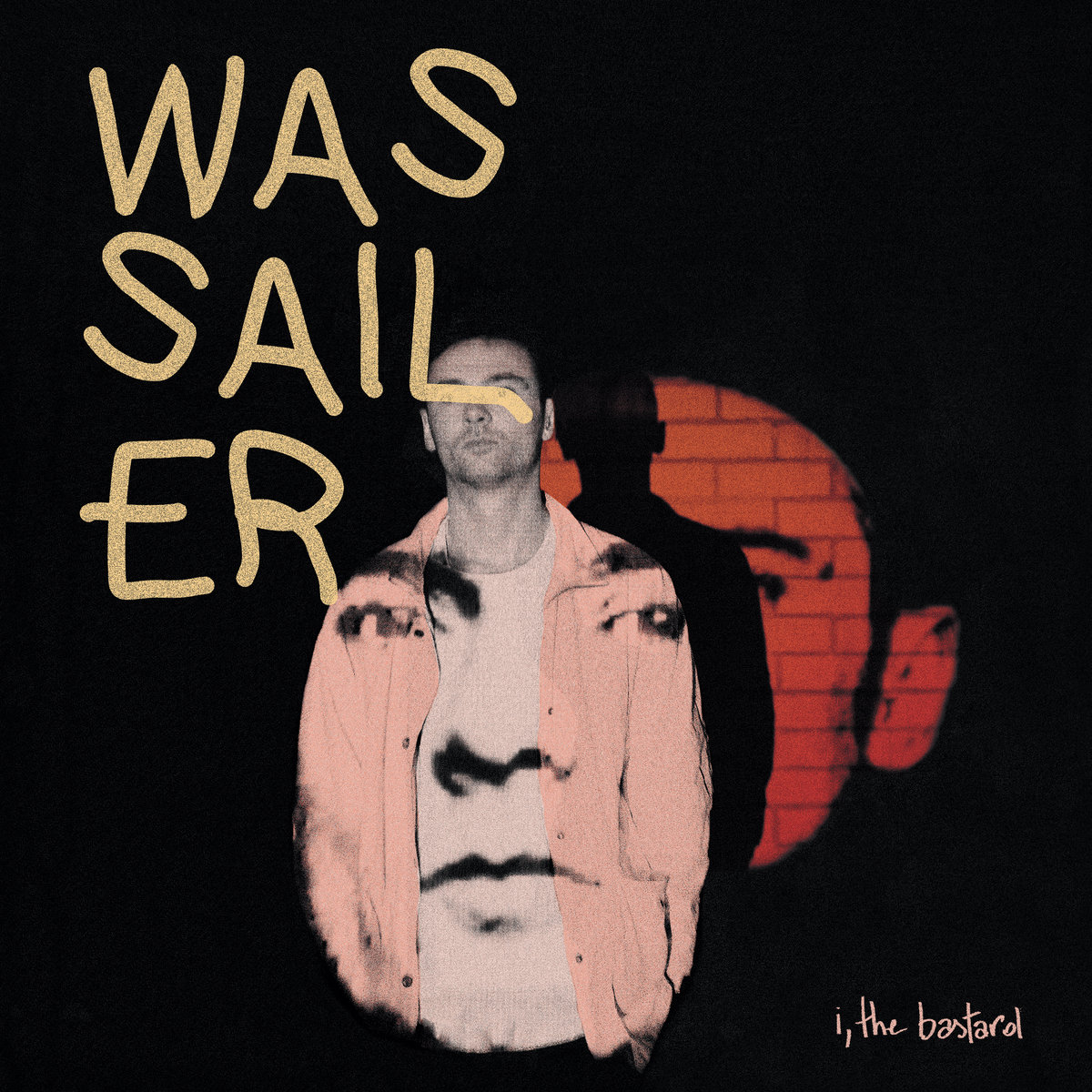 Two from very different artists who place their songs in pleasingly non-traditional settings (ie, guitar pop can do one!). Will Surfass has made small waves with indie outfit We Were Evergreen (big in France!) but with his debut Wassailer album, if there are guitars at all, they reside amid an array of studio trickery. Surfass retains a quirky observational lyricism but combines it with songs whose oddball constituents hold the attention. Sometimes this means a clanking rhythmic drive like early Orbital (as on "Settlement"), at others, post-dubstep abstraction (as on "Going to the Club"), and at others still, bleepy hip hop with baby gurglings (as on "Domestic Dogs Barking"). It's original and has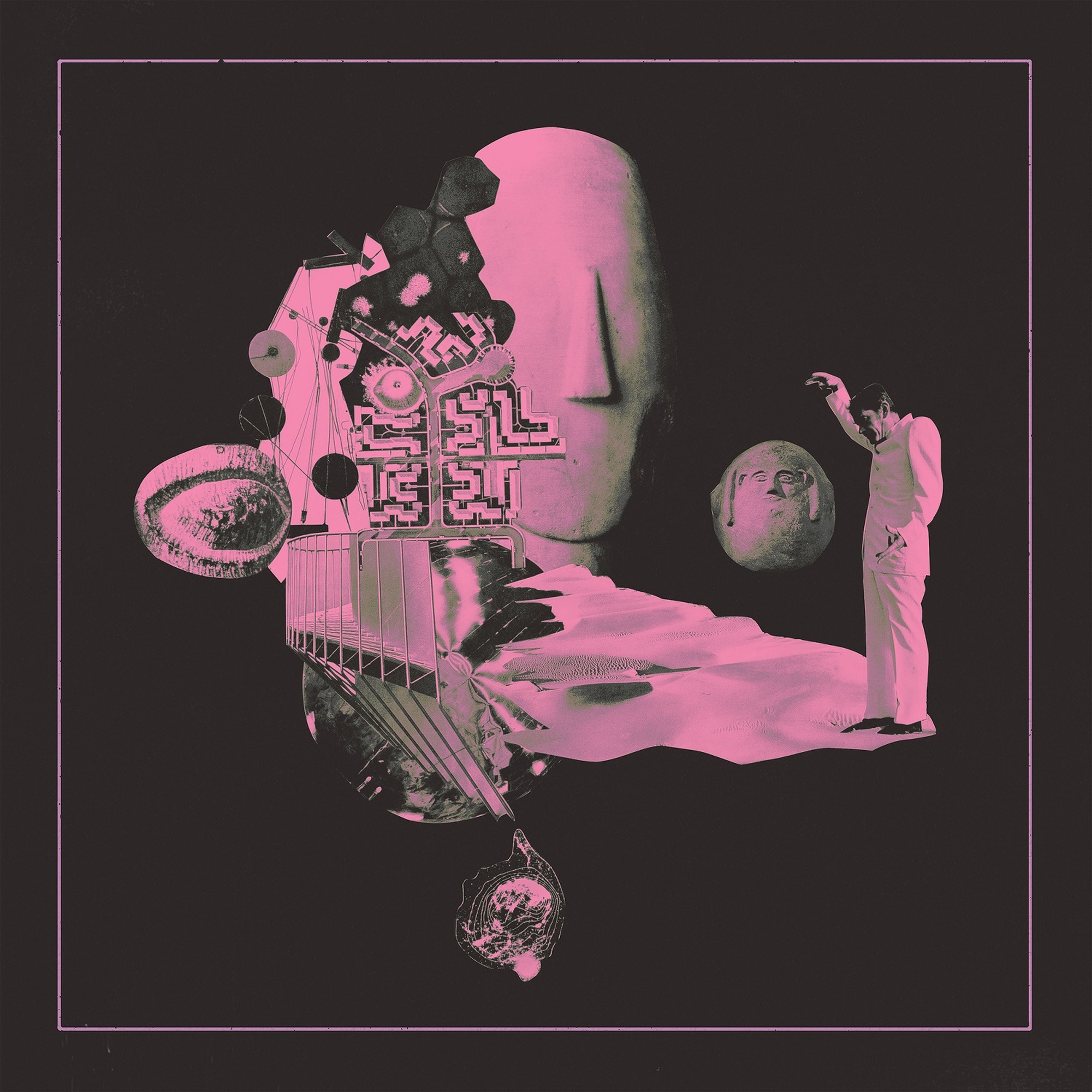 the makings of a grower. Veik, on the other hand, are a French three-piece for whom, one suspects, the sound came first, a post-Suicide motorik groove that holds their debut album together. Again, though, tune into it, and there's both a pensiveness to the lyrics and an underlying indie jangle that pops up to add extra flavour ("Chateau Guitar" has especial fun with its Velvets-style guitar clanging). At one level it's tonally solemn but looping keyboard lines and playfulness make it more-ish. Comes on art gatefold.
The Selecter Too Much Pressure (Chrysalis) + Madness 7 (BMG)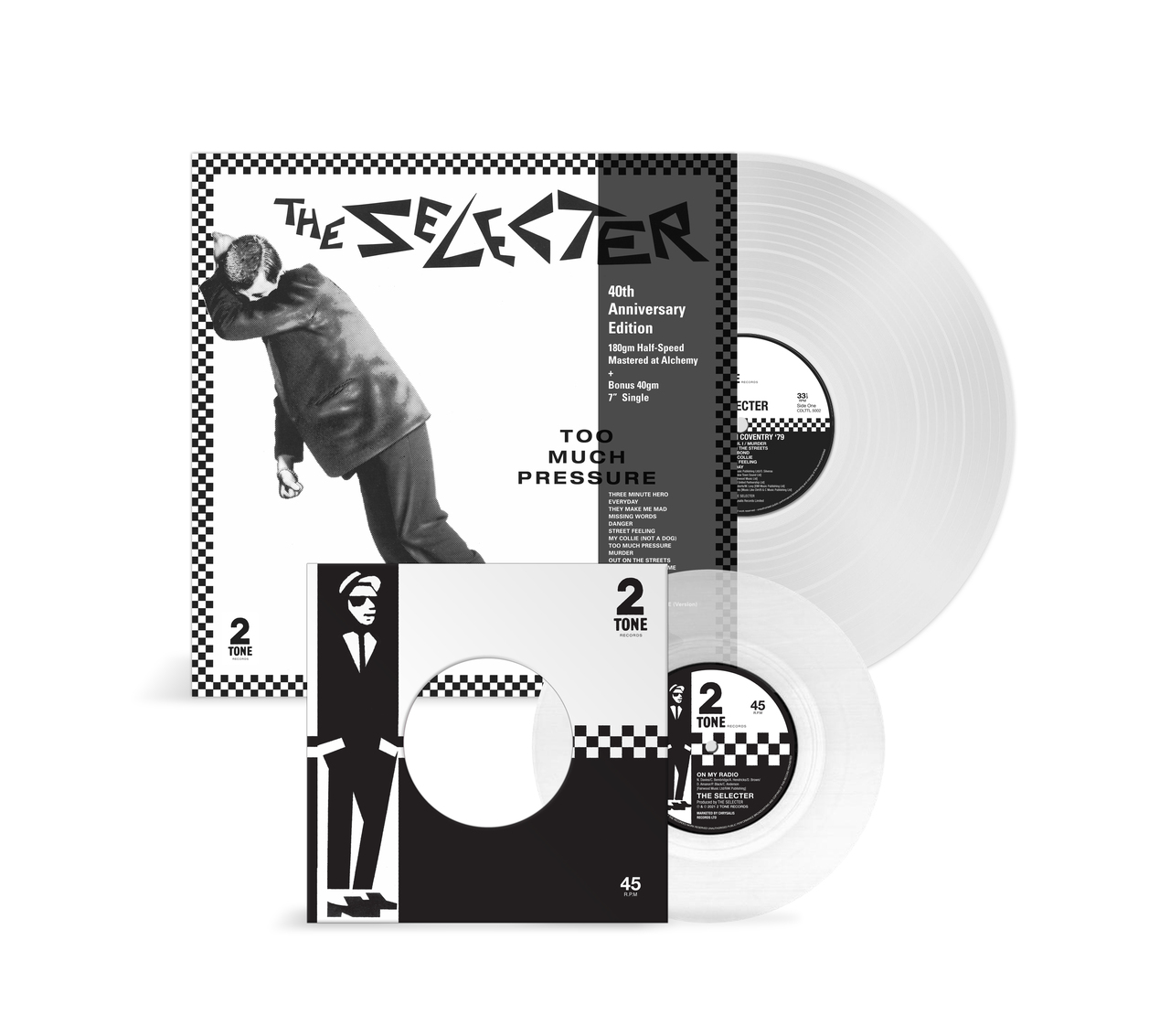 Two for rude boys and girls, young and old. OK, mostly old. The Selecter's debut album dates from the start of 1980 and the original 2 Tone boom (it was a Top 5 hit). It's unreconstructed ska, tinted with post-punk's edge and energy and arrives on transparent vinyl with the non-album single that preceded it, "On my Radio", with an alternate version of "Too Much Pressure" on the flip (also on transparent vinyk). As one of the original Coventry 2 Tone bands, their album is seamed with a raw underclass belligerence towards oppression. This claws through everywhere but is made explicit on the Pauline Black-written "Black & Blue", a bouncy but miserable snapshot of loneliness and hard knocks. Incidentally and for the record, the reggae ode to weed "My Collie (Not a Dog)" may be the first time I understand marijuana to be the subject of a song (a school friend patiently explained). Madness's third album from 1981, dates from their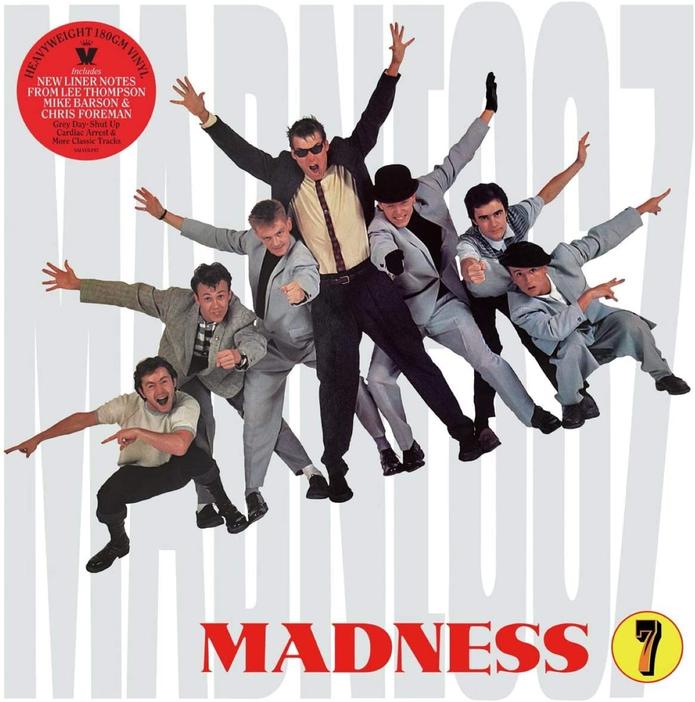 commercial peak, but also from a period when they were distancing themselves from the straightforward ska revival sound of their origins. The group went to Nassau for a month-and a-half to record it but, as is explained in two sides of tightly written sleeves notes by the band's Lee Thompson, Mike Barson and Chris Foreman on a 12" x 12" insert, "You can take the boys out of London but…". It's the first Madness album where their penchant for brilliantly evocative gloom comes to the fore, explicitly on songs such as "Grey Day"", "When Dawn Arrives" and the raging "Tomorrow's Dream", but also thematically on the brilliant singles "Cardiac Arrest" and "Shut Up". Another contender for the band's best album, 7 also contains its share of Nutty Boy silliness ("Benny Bullfrog"!), but is an album this writer has consistently enjoyed for four decades, which surely says something. Comes on photo/art/info inner sleeve.
Lava La Rue Butter-Fly (Marathon Artists)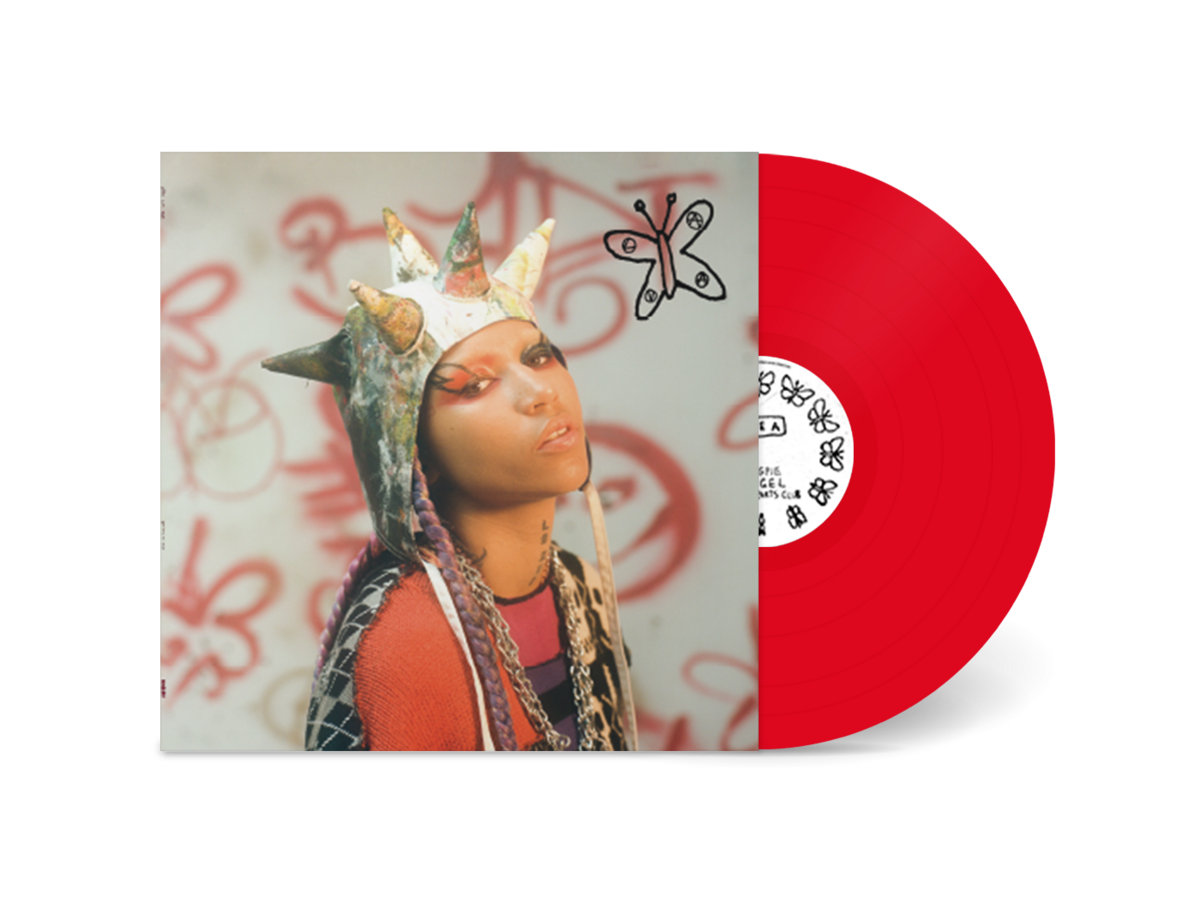 Lava La Rue is a multi-platform content artist of the kind favoured by contemporary social media tastemaker hipsters. She is involved in fashion, visual art, and vocally pushing a black/LGBTQ+ consciousness agenda as much as she is music, Happily this five track EP proves she is adept at holding it down on the sound front. Over a woozy chill-wavey bedroom pop backing from producers Karma Kid, Vegyn, Courage, Dan Holloway and Isom Innis, she alternately raps and sings prettily. Her lyrical subject matter, despite contemporary references to Facetiming and so forth, is mostly a rather innocent-sounding desire for love and closeness. The exception is the self-belief-powered "Lift You Up" wherein she throws out likeable lines such as "I jump from class A flights to packet ramen" alongside autobiographical proclamations that neither foster care nor misogyny could keep her down. Comes on scarlet transparent vinyl.
Paul and Linda McCartney Ram (Capitol) + John Lennon John Lennon/Plastic Ono Band (Universal)
Lennon and McCartney go head-to-head yet again. Ram was McCartney's second solo album, released in 1971, and is a prime example of how popular music, on its release, is adjudged by so many factors other than music. Macca was in disfavour in 1971, regarded, wrongly, as the man who broke up The Beatles and also as the politico-spiritual lightweight of the quartet (Ringo has always been given a pass on these matters!). 50 years later, disconnected from all such blather, Ram is a jolly thing, scrappy but fun, with an unpretentious thrown-together quality, songs such as lo-fi Beach Boys pastiche "Dear Boy" rubbing up against the entertainingly silly, music hall rockin' ode to marjuana "Monkberry Moon Delight". It does, indeed, sound like a man decompressing after the monumental, generational expectations placed on his previous band. In gatefold, it also comes half-speed mastered so sounds great. Lennon's first solo effort, the Plastic Ono Band album, arrived before Macca's, in late 1970. It was co-released with a more challenging album by his wife, Yoko Ono, and is famously the Primal Scream Therapy album, as
the couple had been headlong through Arthur Janov's trauma-embracing process. It now arrives in its "Ultimate Mixes". In practice this means the original album, remixed at Abbey Road and well-pressed to vinyl, on gatefold double with another album featuring other studio versions of the same set in the same order. There's also a black and white poster proclaiming "WAR IS OVER". Where McCartney is having fun, Lennon is putting himself through the ringer, butting heads with his own psyche on "Mother", tearing down his own iconography and belief systems on "God", purified ready for cultural wars and psychological redemption. It's a raw, heartfelt and weighty affair, its singer-songwriterly tunes, while narcissistically portentous, are undoubtedly meaty, attempting something interesting while maintaining tuneful accessibility. It is, in the end, a more vital album than Ram but, of course, this is because it's attempting something entirely different. The alternate versions may offer insights into "process" for uberfans but are of little consequence to the rest of us.
ALSO WORTHY OF MENTION
Band of Holy Joy Dreams Take Flight (Tiny Global Productions):
Offbeat London indie perennials Band of Holy Joy once looked like they were going to make it, back at the end of the Eighties. There's was an individual sound, not the usual indie, it seemed to hark after pre-rock'n'roll traditions and maybe gypsy music. They are still doing their own thing and have been very active in the 21st century. Their latest is sort of a concept album. Side One offers an underlying poetic theme of unease with how things are going in the world/Britain (who can blame them!?) perhaps best summed up by the deeply cynical, allegorical opener "This is the Festival Scene". Side Two becomes more personally philosophical, as in how we face up to the mess. Lovely trumpet and passages of spoken word (akin to Chumbawumba) link it all, making for an engaging whole. Comes with 12" x 12" photo/lyric insert.
PJ Harvey Uh Huh Her (Island) + PJ Harvey Uh Huh Her – Demos (Island) + PJ Harvey The Peel Sessions 1991 – 2004 (BBC): The latest in the ongoing tranche PJ Harvey reissues is her 2004 album Uh Huh Her, along an album of demo versions and a collection of music she recorded for John Peel up to that point. The original album is an alternating loud/quiet selection, flipping between the punky, Patti Smith-ish garage rock of "Cat on the Wall" to songs such as the mournful, bell-backed and rather beautiful Neil Young-ish "You Come Through" and the Velvet Undergound-y lof-fi of "The Pocket Knife". The demos album is one for the fans, its raw, unstudied, dirty takes sometimes mustering even more vocal emotion than the final version but, of couse, amidst a muddle of sound (the "Who the Fuck?" demo sounds almost like Big Black!). Both mastered loud, with clarity, and arriving in an inner sleeve of self-portraits, it's a worthwhile chance to reconnect with an album that, at the time, did not quite match the impact of its predecessor. On the Peel Sessions collection Harvey has chosen her favourites from the archive and there's a touching scribbled note by her on the photo/info inner sleeve. As is often the case with Peel Sessions material, sometimes it sounds even better than the familiar versions of the songs, as if the artist pulled something raw and ready out of the bag for the great DJ. The twangy '91 and '93 sessions – particularly the version of "Oh My Lover" - are a case in point, but the grungey 00' psychedelic aggro assault on "This Wicked Tongue" tops the lot.
Piers Faccini Shapes of the Fall (Nø Førmat) + Ballaké Sissoko Djouro (Nø Førmat) +
Two albums that have subtly stated African connections. Least immediately Afro-flavoured is the latest from prolific Brit-Italian Piers Faccini, which is rooted in the singer-songwriter tradition. Yet its rhythms, tuning, and some of its instrumentation are marinated in North Africa, with certain songs, such as "Dunya", making this much more explicit than others. It's a contemplative album which arrives on lyric/info inner sleeve on transparent scarlet vinyl. Fellow Nø Førmat artist, Malian kora-player Ballaké Sissoko's new album, on the other hand, has the kora right is at its heart, but tunes such as "Mande Tabolo" render the instrument almost like a modern-classical harpsichord, while the lovely, soft "Kadidja", featuring Faccini on vocals, has a slight Arabic feel. Other guests include Camille, Salif Keita, French hip hop star Oxmo Puccini, fellow kora-virtuoso Sona Jobarteh, cellist Vincent Segal and clarinetist Patrick Messina . Comes on white vinyl on info inner sleeve.
Luwten Draft (Glassnote) + Geneva Jacuzzi Lamaze (Mexican Summer): Two albums that represent two very different ways of approaching electronic pop. Dutch singer-producer Luwten (AKA Tessa Douwstra) takes traditional instrumentation (guitar, bass, etc) but cossets them in loping, downtempo computer rhythms, often entwining multiple versions of her voice. Occasionally, as on "Stopwatch", she'll up the ante towards a snappy R&B-like, Christine and the Queens-ish funkiness but, mostly, the music on her second album tends towards a slightly ecclesiastical thoughtfulness. Comes with an art/lyric booklet and an inner sleeve featuring a great photo of her looking sternly puritanical. Lamaze is the re-release of the 2010 debut album by Los Angeles art popper Geneva Jacuzzi who's as well known in the US for bizarre performance art pieces as music. Her music here is the polar opposite of Luwten: kitsch, Eighties-redolent synth-pop, purposefully cheap and quirky, like a lo-fi cross between the most whimsical electroclash, Will Powers, and an offcut from Some Bizarre Records' influential debut compilation. It's bedroom pop but not in the later Charli XCX or Sam Gellaitry sense, as it makes no attempt to sound futuristic. It is, nonetheless, an enjoyable oddity. Comes 12" x 12" lyric insert.
Balmorhea The Wind (Deutsche Grammophon) + Clark Playground in a Lake (Deutsche Grammophon) + Murcof The Alias Sessions (Leaf) + Neil Cowley Hall of Mirrors (Mote) + Tortusa Bre (Jazzland) + Unknown Me Bishintai (Not Not Fun) + Jean-Michel Jarre Amazônia (Columbia): Seven albums of SERIOUS music that bridges the world of electronica, modern classical and ambient. Balmorhea are a group from Texas whose output is generally pitched between post-rock and something more chamber-chin-strokey. Their latest album, a double on art/info gatefold, is a set of "meditations on the natural world". In practice, this means reverb-atmospherics with plucked guitar layered into them, solemn double bass and other instrumentation quietly offering support. The overall effect is soothing and not unpleasant. (Chris) Clark's latest album is on the same classical-prestigious label as Balmorhea, Deutsche Grammophon. He has spent most of his career on Warp Records, putting out multiple varieties of post-techno experimentation, ranging from caustic clatter to conceptual sound exercises. For the last few years he's been soundtracking films and TV to some success (The Last Panthers, Daniel Isn't Real and more) but Playground in a Lake is double album on gatefold of semi-orchestral pieces based around the concept of climate change. He mixes revolving orchestral strings with equally sequenced, echoing synth sounds, even occasionally snatches of treated vocal. It's gently involving but, to these ears, prioritizes, old school orchestral lushness over something more interesting. Mexican electronic musician Murcof (Fernando Corona) has longstanding credentials in the realm where avant-garde music interconnects with installation art and the like. His first album for Leaf in 13 years collects the music he created for Swiss dance company Alias, specifically the performance-pieces Contre-Mondes and Normal. It is apt that it's well-mastered to vinyl for this is tonal music, much of the action down in bass-end bloops and hums, like glitch-techno submerged in a lake of mud, occasionally surfacing for a hissing machine moment or five, before disintegrating. It's spacey and hypnotic, impressively ignoring any notion of a wider audience. Comes on triple vinyl the colour of blooded mahogany gingerbread in an art-photo gatefold with a 12" x 12" four page art-photo booklet. Neil Cowley has been a big presence in Brit jazz with his Trio for years but Hall of Mirrors is actually his solo debut and it's not really jazz. He takes the piano on an adventure that has more in common with artists such as Swedish composer Matti Bye, placing it amid a fudge of reverb, space, echo, and ear-pleasing computer-generated shuffle. It's a music of absence, grounded by the few notes that float amidst it all, like dust in sunshine on a hazy lost afternoon with no-one around. As such it's ear-fascinating and worth a dozy head-nod. Comes on double on art/info gatefold with die-cut outer sleeves that reveal inner sleeve art. Tortusa's debut album is a more avant-garde effort than the rest here, also jazzier, in that it has heavily treated solos on, but it's closer in spirit to freakoid ambience, found sound odysseys and the like (think Biosphere, in places). Tortusa is Norwegian-American John Bishop and with Bre he's clearly spent a long time constructing soundscapes, manipulating sound until he has a wine-glass-rubbed glitch-o-sphere. These mulches are the staging posts on which he sets input from other musicians, such as trumpet-player Arve Henriksen. Comes in colourful art inner sleeve. Tokyo quartet Unknown Me are more on the ambient/electronic side of things rather than the modern classical but their fourth album, Bishintai, is nonetheless immersed in the tonal tactics of minimalist forefathers such as Terry Riley and John Cage on cuts such as "Gaze on Your Palm". There's something about the album – maybe the xylophonic plink-plonk-ery – that brings to mind Japan and its cities, maybe at night. It's the most alien and fascinating of these seven (rather pretentious) releases but, much to my surprise, my favourite is that pompous old chancer Jean-Michel Jarre. His latest double album on photo/info gatefold is a 52 minute soundtrack to Brazilian photographer-filmmaker Sebastião Salgado's new exhibition themed around the rain forest (moving around the world this year). Eschewing any blunt synth hookiness, Jarre has put together a thoroughly involving sound collage which combines sonic indicators of the Amazon, both pastoral (birdsongs, indigenous voices, etc) and threatening (burning, chainsaws, etc), with low level pulses and tones, the whole adding up to uniqely engaging concoction, a little like a trancier eco-themed version of The KLF's Chill Out.
Frøkedal and Familien Flora (Fugleben): Norwegian alt-folkie Anne Lisa Frøkedal returns with an album recorded in a live, collective manner with her close gang (as her new band name suggests). There is a song called "Set Your Spirit Free" that explodes with unfettered harmonic ecstasy – bliss – and the whole album emanates a dawn-like optimism. The musical style is loosely folky with fiddles aplenty and occasional Middle Eastern tunings adding flavour, as well as a notable pump organ. To help the listener get into things there's a sturdy 28 page booklet with lyrics, photos and snippets of studio diary. The lyrics are also on the inner sleeve. It sounds like it was a good-hearted experience to make and much of that spirit bursts from the speakers, led enthusiastically by the sweet soprano of the singer. Comes on vinyl the colour of clay that might have gold swirled into it.
Kasia Allstars black ants always fly together, one bangle makes no sound (Crammed Discs) + Various Made to Measure Vol.1 (Crammed Discs)
Two from the ever-reliable Crammed Discs. Congolese collective Kasai Allstars made their name by showing that there's much common ground between traditional African percussion/thumb piano music and the fringes of techno. Their fourth album and first produced entirely in-house (by guitarist Mopero Mupemba) balances scuttling hypno-rhythms and instrumental drone patterns with vocals that are characterfully human and African-sounding. Gnomically titled, it's a warm album that carries you along but does not snag and punch as hard as what came before. Comes in photo/info inner sleeve. Made to Measure Volume 1 is a reissue of a 1984 collection that gathers together soundtrack work by four artists. First is the no wavey electro-jazz-funk (and the catchy kitsch waltz "Immer Vorbei") of Minimal Compact (featuring Malka Spiegel and the future DJ Morpheus) made for French choreographer Pierre Drouler's dance piece Pieces for Nothing. Next up comes Benjamin Lew's gloopy ambient track that was once used to soundtrack a fashion exhibition, then a couple from Crammed's then flagship act Aksak Maboul, the proto-glitch-hop "Scratch Holiday", made for a short film, and the six track suite for theatre production Un Chien Mérite une Mort de Chien, two percussive plodders and four brief abstract piano snippets. Finally, New York's Tuxedomoon contribute three tracks for a film about World War I battlefield Verdun, including the doomy driving "No One Expects the Spanish Inquisition". Overall, an interesting rather than vital wander around a cross-section of thriving sound-art.
Spiritualized Lazer Guided Melodies (Fat Possum): I was a complete Spacemen 3 nut. I loved that band. Live, they just took your head off. When they slowly fell apart in 1990 I was gutted. My money was on "frontman" Sonic Boom and his Spectrum outfit but, while their stuff was horizontally doped-up, it didn't quite press the buttons. Then came guitarist Jason Pierce's new band, including members of Spacemen 3 – Spiritualized. Their debut, Lazer Guided Melodies, arrived in 1992. I was disappointed. To me, then immersed in vanguard post-rave electronic sounds - dancefloor minimalism - it sounded like a retreat to boring old indie. I gave up on them. Hearing it now, I can see why I felt that way. It still – 30 years on – sounds like Spacemen 3 for those who found Spacemen 3 "a bit much". It's more formal in its songwriting, less out there, less truly avant-unhinged, especially on songs such as "I Want You" but, with hindsight, I can see the album is certainly a great deal more narcotized than I gave it credit for (eg on minimalist looping dream music such as "Take Your Time") and it's hard to deny that "Shine a Light" is a twinklingly lovely song. Comes on double on white vinyl.
Will Vinson - Gilad Hekselman - Antonio Sanchez Trio Grande (Whirlwind) + Howie Lee Birdy Island (Mais Um) + WheelUP Good Love (Tru Thoughts): Time for some jazz! First, the New York-centric coming together of Pat Metheny sticksman Antonio Sanchez, Brit saxophonist Will Vinson, and guitarist Gilad Hekselman. This is their second album together, arriving on double in photo gatefold, and it has delightful moments, varying the sonic flavour as it goes along, giving the lie to the notion that jazz long-players grow "samey" sound. It's also unexpectedly fun: the steel drum-fuelled "Elli Yeled Tov" is a jovially skittering lark, catchy too, while the pared back rock-guitar abstraction "Scoville" showcases yet another way to conceive jazz. Virtuosic talent is one thing but utilizing it in an imaginative way is another, and this album does that, especially in its first half. Howie Lee is a prolific Chinese artist based in Beijing, involved in multiple projects, probably best known internationally for his remixes of Charli XCX, Snoop Lion and others. His new album Birdy Island is a conceptual piece based around his Studio Gibli-esque idea of a floating island inhabited by "birds and ancestral spirits". The press release seems to suggest that a "Chinese investment company" has now built such a place, which I would like to see! The music has jazz in its architecture but is as much an electro-acoustic stew of recognizably Far Eastern instrumentation, low level choral interludes, stricken, broken rhythms, peepy nature sounds and chilled weirdness. I like it but, in truth, I don't really get it yet. To paraphrase John Peel, when music impacts in this way, it can emanate possibility. This album does that. Finally, at completely the other end of the jazz spectrum, comes west London producer Danny Wheeler's cut-up funk set, Good Love, under his WheelUP moniker, which is absolutely double-dipped in jazz, chopped rhythms permeated with looped cool-groove keys and snappy piano. The percussive snap is tight and there are guest vocalists along the way, notably Brint Story's impressive speed-rapping, but, overall, the vibe I'm getting is of a club, probably somewhere in London, where everyone's expensively, trendily dressed, and doesn't break a sweat on the dancefloor. It doesn't feel even slightly Dionysian! Many people, however, prefer their sounds "classy" and there's no denying this is well-crafted. It's also solidly cut to bright mauve plastic and comes on double .
Skindred Roots Rock Riot (Skindred/Hassle Hindsight) + Mork Katedralen (Peaceville) + Årabrot Norwegian Gothic (Pelagic) + White Void Anti (Nuclear Blast): Enough about the jazz and the wine bars, what about the metal? Let's get gnarly! First a re-release for the second album from ragga-metallers Skindred. For years I did not "get" Skindred, although I liked the idea. When I saw them live a couple of years back it all came together (rather late in the day, any fan will rightly observe!). Their second album - and first with the line-up which would carry them to the present - came out in 2007 and is a ballistically energetic beast, boasting the hip hop elasticity which made metal altogether chewier after the Nineties. Once the ear adjusts, it's poppy, the reggae rhythms punctuated by aggressive shards of guitar, the singing veering between growling and tuneful, with sudden moments of drum-led funkiness. Comes with a 7" single of two unreleased tracks from the period, the almost-lovers-rock-metal (!) of "It's a Crime" and the downtempo acoustic "Struggle", also with a 12" x 12" four page lyric/photo/info insert that details the album's genesis. Norwegian death metaller Mork – one man band Tomas Eriksen – has been pumping out murky underground death metal for a while. He is definitely not tuneful but it has to be said that his usual boggy sound had been polished up for this relentless headache of guitar squall. It's take-no-prisoners stuff. Comes on gatefold containing the Norwegian lyrics and an image of Eriksen in full corpse paint. Fellow Norwegians Årabrot – husband and wife team Kjetil Nernes and Karin Park – really push the boat out for their ninth album. Their old territory was the place where paganist metal collided with noisy avant-garde-ism, but Norwegian Gothic is not easily categorizable. Nernes' vocals are like a cross between Mark E Smith, Gary Numan and Bauhaus, while his partner offers an occasional, almost operatic counterpoint, but it's the music that really sets things apart. Over three side of vinyl, Årabrot lay down a sound that's heavily post-punk, but also often has groove, and a smidgeon of prog rock's Seventies synth-lords. It is both starkly tight and bombastic. It's their most accessible work to date, and in a rather original way. The lyrics, the album's title and the song titles, however, give them away - "The Moon is Dead", "The Crows", etc – as unrepentant uber-goths. Arrives in gatefold with lyric inner sleeves; the second disc is bright pink and the final side is impressed with a mysterious insignia. Yet more Norwegians with loud guitars, White Void's debut album Anti has a sticker on the cover that states their music is the missing link between Seventies occult rock and Eighties new wave, also indicating that it's a concept album based around Albert Camus's notions of absurdism as the only suitable response to reality. Be that as it may, the music is anthemic, a post-modern 21st century concoction, tight, catchy and over-the-top. It reminds very much of Muse. Comes in a gatefold with lyrics, info and photos.
Steve Harley & Cockney Rebel The Best Years of Our Lives (Chrysalis) + Gladys Knight & the Pips The Hits 1973 – 1985 (Columbia) + Pink Floyd Live at Knebworth 1990 (Pink Floyd): Three biggies from the 1970s. First off, the most successful album by London glam merchant Steve Harley who, in 1975, tacked his name onto the band's after the original Cockney Rebel split. The Best Years of Our Lives followed, with a new line-up, and includes the deathlessly excellent single "Make Me Smile (Come Up and See Me)" (actually a bitch-out at his former compadres). This 2021 reissue is a rejig of the expanded 2014 CD version, a double set on gatefold, on orange and blue vinyl, that includes a side of alternate takes of the big tunes, and another with two songs live at Hammersmith Odeon. The music is catchy and spirited but is also a camp, self-consciously theatrical pastiche of Roxy-meets-Bowie. Nearly 50 years on that doesn't matter very much, so it's enjoyable hokum. Gladys Knight & the Pips had been a hugely successful live draw throughout the Sixties but it was in the early Seventies, after parting with Motown and signing to Buddha Records, that they had their greatest chart success. This is captured on the new double set on gatefold. In chronological order, the opening sides feature the likes of soul classic "Midnight Train to Georgia" and pre-disco string smoothness such as "Make Yours a Happy Home", however, the Eighties stuff is much the lesser, including tedious erection section tripe such as "You're Number One (in my Book)". Finally, one of the true giants of the decade, Pink Floyd, via their appearance in June 1990 at a monster Silver Clef fund-raiser concert at Knebworth (which also featured Paul McCartney, Elton John, Cliff Richard and others). Pink Floyd had finished a very long global tour the year before and they sound like they're having fun on a set well-cut to vinyl at 45 RPM over two discs on gatefold with a 16 page 12" x 12" booklet of photos and history. Only one song derives from the under-par post-Roger Waters A Momentary Lapse of Reason album (a feisty "Sorrow", sounding better without the album's horrible Eighties production). The rest are from their three most famous, best-selling classics. If you have to pick one song, check out the side long version of "Money" with it's prolonged soul vocalising breakdown and general excessiveness, yet it still works. Such is the way with Floyd… sometimes.
Carwyn Ellis & Rio 18 Mas (Banana and Louie) + Ella Grace Reverence (Oneoneone)
Two albums of sunshiny songwriting with an indie free-spiritness and a thoughtful side. Carwyn Ellis has been around forever, a mate of and regular collaborator with Edwyn Collins, a touring member of The Pretenders, and one of those guys who turns up on multiple side-projects by people who you've heard of. His Rio 18 project are prolific and appear to be themed round socially conscious Welsh language lyrics and catchy pop with a strong South American flavour. They do what they do well. Comes in a lyrics-and-cartoon-art inner sleeve. Ella Grace (Denton) is a singer and actress whose ReWilding podcast series is huge, forming a female-centric community and online safe space. Her debut album, laced with heartache, but sung in an easy, soft elegant manner, against bright, small ensemble easy listening indie-pop, is tuneful and welcoming. Comes on orange milkshake vinyl with a 12" x 12" lyric card insert.
GoGo Penguin GGP/RMX (Blue Note) + The Orb Abolition of the Royal Familiar: Guillotine Mixes (Cooking Vinyl): A couple of remix albums. GGP/RMX is the whole of alt-jazz trio GoGo Penguin's eponymous 2020 album taken to pieces by a host of leftfield electronic sorts. Personally, I wouldn't have minded a few more bangers and a bit less opaque nerd-ism but happily Clark is here with his rejig of Japanese-only cut "Petit_A", bringing the noise. More typical is James Holden's shimmering, striated take on "Totem" or Cornelius's overly busy, plinky remix of "Kora". Elsewhere manipulators include 808 State, Nathan Fake, Yosi Korikawa, Portico Quartet, Rone, Machinedrum, Shunya, and Squarepusher (whose appealing "F Maj Pixie" I think features his own slap bass). Comes on double with 12" x 12" info card. The Orb's recent album also receives a re-rub from mostly a bunch of their old mates, such as Dave Harrow, Moody Boys, Andy Falconer and Kris Needs, also their similarly minded stoner-dubbing pal Youth and, by extension, his associates too, such as Gaudi and Violetta Vicci. This happy family of jolly ganja vanguardists create a cohesively enjoyable journey that bubbles but doesn't bore, from livelier material, such as Harrow's pacey 4/4 opening "Daze" to the tonal ambience of Falconer's "Slave Til U Die". Comes on double with info inner sleeves.
Damir Imamović Singer of Tales (Wrasse): Producer Joe Boyd wrote a substantial piece for theartsdesk about his work on this album (see here). Given Boyd's pedigree, his enthusiasm must surely make a music-lover curious. And here the album comes on vinyl, in a limited run of 300. Sevdah is an often- heart-rendingly sad music of the Balkans and Damir Imamović is one of its greatest modern exponents. The latter fact is from brief research rather than personal conviction, but a song such "Kafu Mi Raga Ispeci", combining tender lead vocal and sorrowful violin, goes some way to persuading. It's a simple tale of making coffee for a lover who goes off with someone else but it bites. I know the content because the 12" x 12" triple fold-out insert translates the lyrics into English and assists in unpicking the poignant romanticism at the heart of this music. It also reveals photos of the instrumental trio key to its creation, Bosnian violinist Ivana Durić, Derya Türkan on the Turkish kemanche (a kind of knee-held lute), and American double bassist Greg Cohen. It takes a while to bed into, this one, but once you do, you'll be off to the mountains.
Frontline Assembly Mechanical Soul (Metropolis): Not sure about the "soul" referred to in the title but the latest from Canadian industrial electronic sorts Frontline Assembly is certainly mechanical. It's unashamed, unreconstructed electronic body music but Bill Leeb and Rhys Fulber re-energise it, giving it a very NOW polish, so that songs such as "Alone" and "Rubber Tube Gag" (nice!) have a contemporary dark-techno feel, despite the stern, stylised vocal style their genre requires. One track, "Barbarians", has an almost pop chorus, and there's generally a sense that this is music with effort and ideas thrown into it rather than a sop to fans of the genre, Comes on art/info gatefold double.
The Go-Go's God Bless The Go-Go's (Eagle/Universal): It's strange to think that The Go-Go's first album in 1981 was the first album to top the American charts written and played entirely by women. It also patented the band's sound, the nearest the US pop charts were willing to get to post-punk… which turned out not to be very near at all. This isn't to diss The Go-Go's era-defining debut and much-imitated brand of harmonic guitar pop... with just the tiniest tinge of new wave crunch. And thus it is with their millennial comeback album, now reissued on cobalt blue vinyl in lyric/art inner sleeve. The Go-Go's pictured via Catholic saint imagery on the cover art caused minor controversy at the time but there's really not much to be offended by overall, just a sugary but cheesily catchy collection, redolent of the music Buffy and her gang might have felt was edgy down at The Bronze.
Various Strain, Crack & Break: Music From the Nurse With Wound List Volume 2 (Germany) (Finders Keepers) + Various La Ola Interior: Spanish Ambient & Acid Exoticism 1983 – 1990 (Bongo Joe) + Intersystems #IV (Waveshaper Media)
Three albums which wander the very peripheries of the arcane. The list of almost 300 artists on Brit avant-noise outfit Nurse With Wound's 1979 debut album has become a fetishistic touchstone for a certain type of record shop bloke. This is due to the complete obscurity of many of the bands mentioned. Finders Keepers now gather together a second volume of music based on the list. The first one was devoted to France. This one centres on Germany, circa the Krautrock era. It comes in gatefold with brilliantly extensive notes, thankfully, placing the out-there music in context. Loosely speaking, the first record contains more pure avant-garde weirdness, epitomized by "Fritz Müller Traum" by Fritz Müller, a soup of duck quacks, accordion, sax, brass and much else (Fritz Müller, incidentally, was a pseudonym Eberhard Kraneman who was once in a group called PISSOFF with pre-Krafwerk Florian Schneider). The second record focuses more on psychedelic rock, varying from proto-stoner metal to relatively straightforward rockers songs such as the iffily titled "See How a White Negro Flies" by Out of Focus. Overall, an intriguing and off-the-wall compilation. La Ola Interior is another double, which comes with an eight page 12" x 12" booklet that outlines in Spanish and English what it's about. Again, it's material most will never have come across, 20 tracks which encapsulate a super-esoteric underground Eighties Spanish scene where musicians and amateur experimentalists explored a terrain mingling post-Krautrock avant-garde-ism, new age meditation music, Eno-acolyte ambience, classical minimalism and "World music" flavours. The results, on spattery blue vinyl, are not immediate. Dip the needle about and you'll not find much to engage, but let it wash over the brain, long-form, and you might, ranging from the flute-meets-Moog-bleep floatiness of "Vuelo por las Alturas de Xauen" by Jabir to the proto-industrial-meets-anthropology chugger "Hombres Lluvia" by Finis Africae. Some of it's a bit Emperors New Clothes but the best of it is strangely compelling. Finally, the first album since 1968 by Canadian electronic ground-breakers Intersystems. They were a psychedelic pre-multimedia performance outfit that combined visuals, installation-space, poetry and, of course, synthesizer ear-baths, back in the Sixties. The poet in the outfit, Blake Parker, died in 2007 so the remaining members have reconstituted his words via voice-synth tech and built an analogue-burble soundtrack around it. Again, dip in and there's not much going, but spend time with it and it does things to the head. Comes with photo/info inner sleeve.
Cult Figures Deritend (Gare du Nord) + Baby Strange Land of Nothing EP (Icons Creating Evil Art) + Baby Strange Pathetic Fuck/In the Flesh (Icons Creating Evil Art): Two releases born of punk rock. Cult Figures were a 1970s Brummie punk outfit who released a couple of single then disappeared, only to turn up with a debut album in 2016. Their second album runs from catchy power-pop such as "Julie-Anne", with its catchy shout-along chorus "Julie-Anne, I don't want to be a detail in your plan" (which I misheard as "Julie-Anne, I don't want to be a DJ in your band"), to the chatty poetry of "Concrete and Glass", to the Damned-ish keys-fuelled psyche-pop of "Exile". Not only do they know their way round a tune, but they've curated that into a catchy and varied collection. Comes in lyric inner sleeve. Glaswegian outfit Baby Strange are a great deal younger than Cult Figures but have chosen punk as the medium for their own ragin' guitar pop. The five track "Land of Nothing" 12" is packed with sneery tunesmithery, including their juddering tribute to their own night, Club Sabbath. There's something of glam to their rowdiness as their punkiness is tightly recorded, sharp, not low-fi and scuzzy. The Record Store Day 7" "Pathetic Fuck" is a right in-yer-face shouty banger, and also comes flying out of the traps with raging aplomb. Both releases have something of The Vaccines about their immediacy but are spikier.
AND WHILE WE'RE HERE
My rule for theartsdesk on Vinyl – unlike my reviewing elsewhere - is to simply not review something unless there's at least one small positive thing to say. Scottish pop-rockers The Snuts' debut W.L. was recently Britain's No.1 album. Statistics indicate most of its fans are from the home country. I can hear nothing interesting in its relentless meat'n'potatoes cleaned-up-indie with 21st Century singer-songwriter vocals but it was a UK No.1 and it's on vinyl, so seems worth a mention. Will that do? In lyric inner sleeve. 87-year-old Brazilian tombone don Raul de Souza has played with a who's who of his funkiest countrymen. He reappears with Raul de Souza Generations Band, an international selection of younger players with whom he toured Europe shortly before the pandemic hit. Their album Plenitude (PAO) consists of old material rejigged, alongside new compositions and is tasteful afternoon jazzin' but eventually too smooth for this writer's tastes. For Strata's Aspects (Brownswood): DJ and BBC radio regular Gilles Peterson teams up with instrumentalist-producer and jazz-funk perennial Jean-Paul "Bluey" Maunick (he was in both Freeez and Light of the World). The result is pared back longform funk with a pelting rhythm section and occasional slap bass. The best of it busts dancefloor moves but the downtime sequences and, especially, the airy jazz-soul vocals so favoured by the music of the early Eighties which it emulates, subtract significantly from its potency. Kaktus Einarsson is the excellently-monikered singer of Icelandic electro-funkers Fufanu and now releases a debut solo album, Kick the Ladder, on One Little Independent. It's a groovy downtempo selection, the title track especially catchy, his delicate voice holding together the bubbly lowkey production. Comes on orange vinyl in lyric inner sleeve. Anushka is not a person but a duo, fronted by singer Victoria Port, and their debut on Tu Thoughts is called Yemaya (protector of women and Eternal Mother in the Santeria tradition). A double on transparent vinyl it consists of broken beatsy soul-jazz-ish mood music. Bridging innovative production and over-tasteful hipster dinner party music, there's something going on but it needs more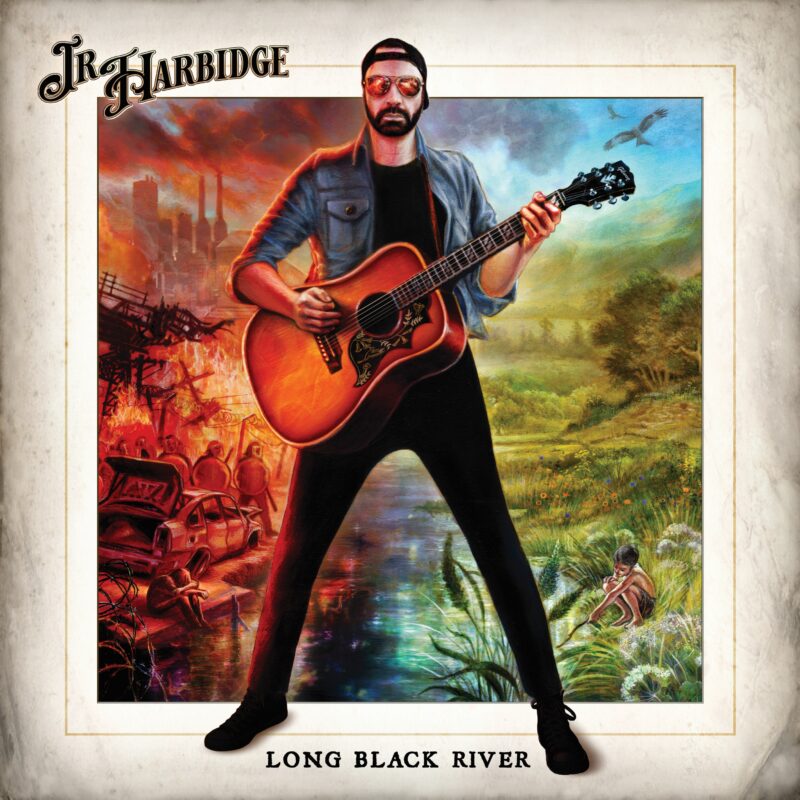 oomph and actual songs. JR Harbidge is a singer-songwriter based in Derby (or possibly Cannock – ye internet is not sure!) whose second album, Long Black River on Mob Acoustic, comes in info inner sleeve and is full of harmonised, organ-fuelled upbeat Americana. It is mainly notable, however, for the funniest cover art I've seen in some time, which I reproduce here so everyone can share the fun. Canadian singer Sherman Downey deals in similar fare on his new album New Beautiful (Sherman Downey) but is stylistically more expansive and lyrically more wide-ranging, with an amusing turn of phrase. His album comes in lyric inner sleeve. SOL, the debut album from Swiss five-piece Sirens of Lesbos, is riven with a low-slung dub-funk that blossoms occasionally into full blown dub-out, as on the likeable "Two Face", but its understated female vocals and beats are equally flavoured by stoner hip hop. The vinyl edition is limited to 300 and comes in light grey. Italian post-rock instrumentalist trio Stearica's Golem 202020 (Monotreme) is a tribute to the trilogy of German silent films made between 1915 and 1920, most especially the final one Der Golem, Wie Er In Die Welt Kamm, which is the only one with a surviving print. The music is far from incidental. The packaging emphasises that it's inspired by the film(s) rather than being a soundtrack and, indeed, it's tough attention-grabbing, bass-bangin', moody, smeary jamming. Comes on transparent red vinyl with a four page 12" x 12" poster-booklet. The latest album from US pop-alt-rock behemoths Evanescence is only their fourth in nigh on 20 years. Entitled The Bitter Truth (Columbia), it arrives on photo gatefold on double vinyl in lyric/art/info inner sleeves and is a sturdy testament to lead singer and band-boss Amy Lee's continuing surety of vision, offering up jagged metal-lite riffs, opulent production, epic-ethereal vocals and songs pop enough to turn fan heads.
Finally, ones that have already been reviewed on theartsdesk but which are well worth having on plastic. Click through for full review.
Raf Rundell O.M. Days (Heavenly): Second album from the affable 2 Bears DJ-producer which dub-hop-tronically consolidates the roving, chatty accessible dance-pop of his debut. Full review by Joe Muggs here. Comes on dark marbled snot vinyl in cartoon/art inof inner sleeve.
Genesis Owusu Smiling With no Teeth (Ourness/House Anxiety): Dynamic and stylistically uncategorizable debut from Australian-Ghanaian singer who's as happy making funk-rock as he is easy listening, soul and hip hop. Full review here. Comes on double in art/info gatefold.
We welcome any and all vinyl for review. Please hit thomash.green@theartsdesk.com for a postal address.
More vinyl reviews on theartsdesk
What the world needs now is a music that smashes hip hop into Angolan traditional music
Share this article