Spiritualized: Ladies and Gentlemen We Are Floating In Space, Royal Festival Hall |

reviews, news & interviews
Spiritualized: Ladies and Gentlemen We Are Floating In Space, Royal Festival Hall
Spiritualized: Ladies and Gentlemen We Are Floating In Space, Royal Festival Hall
God's own garage band in full concert event mode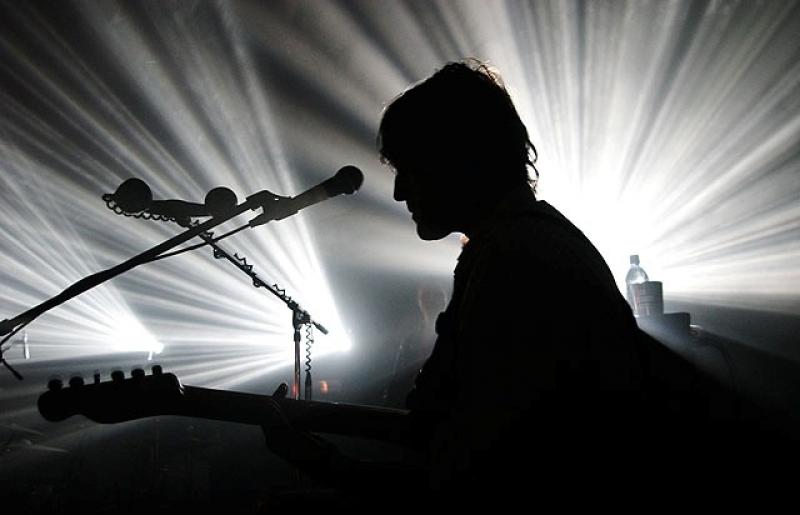 Jason Pierce of Spiritualized: clearly not intending to sell his cult album short
Performing your classic album as a full concert item has become a significant part of rock's heritage culture in recent years, and the tide of potential classics is rising all the time.
Last night, it was the turn of Spiritualized to re-visit their 1997 opus, Ladies and Gentlemen We Are Floating In Space.
One of the most critically feted releases of the Britpop era - the NME voted it Album of the Year in 1997 ahead of two competing blockbusters, OK Computer by Radiohead and The Verve's Urban Hymns – this ambitiously styled record always carried the aura of an event, and 12 years later its prime mover Jason Pierce was clearly not intending to sell it short.
The stage of the Festival Hall was densely packed with a cast of around 25 players that included a string sextet, a brass section, a mini gospel choir clad in heavenly white and, perched in front of them to one side, the current line up of guitarists and drummer who make up Spiritualized. On the other side, crouched on his own behind a small keyboard, sat Pierce himself, singing as required but enigmatically silent otherwise for the entire 90 minute concert.
Considering how extremely loud it was, the music often felt strangely muted. With its diverse orchestral and rock elements arranged into vast slabs of reverberant sound, the songs pounded down the runway but never quite took flight. Though the strings sawed, the brass parped and the singers gave it their all, the mighty ensemble effect seemed somehow to neutralise the power of the individual parts. As walls of sound go, this was a whopper, no doubt about that, but you never glimpsed what was on the other side of it.
In particular, the album's core of dark melancholy seemed to have gone missing. Originally fuelled by the break up of Pierce's relationship with his keyboard player Kate Radley, who absconded to marry Richard Ashcroft of The Verve, Ladies and Gentlemen was an unusually emotionally fraught record in its day. Now though, it appeared that all the fragility and distress built into songs such as "I Think I'm In Love" and "Broken Heart" had been converted into purely sonic energy. The concert was certainly not dull – Spiritualized never sounded less than God's own garage band – but it did lack a sense of direction and charm.
It looked good though. Bathed in a deep purple wash of ambient light, with twinkly constellations flashing up on the backdrop from time to time, the sense that we, the ladies and gentlemen of the audience, were indeed floating in space was vividly maintained throughout. It was just a pity that on this occasion anyway Spiritualized's music didn't impart a clearer idea of what we were supposed to be doing there.
Spiritualized perform Ladies and Gentlemen We Are Floating In Space at the Royal Festival Hall tonight, Manchester Apollo 14 December, London Barbican 16 & 17 December, and The Sage Gateshead 19 December. Details here