Spiritualized, Symphony Hall, Birmingham review - a curate's egg of a show from Jason Pierce's space rockers |

reviews, news & interviews
Spiritualized, Symphony Hall, Birmingham review - a curate's egg of a show from Jason Pierce's space rockers
Spiritualized, Symphony Hall, Birmingham review - a curate's egg of a show from Jason Pierce's space rockers
An uneven performance from the veteran psychedelicists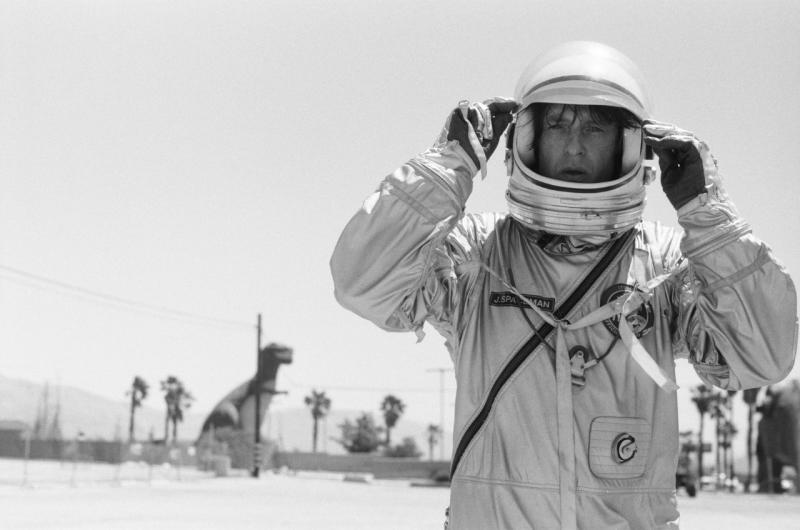 Spiritualized: spaced out
Most artists tend to view the live arena as an opportunity to commune with fans old and new, with audience reaction being an integral part of the whole experience. Not so much Jason Pierce's Spiritualized.
The nine-piece band trooped onto the stage at Birmingham's Symphony Hall in two distinct groups. First to come were eight anonymous individuals, dressed in black, including two guitarists, a bassist, drummer, keyboard player and three backing singers. As they took their places, Jason Pierce, bandleader and the only constant member since Spiritualized's inception, ambled on and took his seat at stage left under ambient, dark blue lighting and a cloud of dry ice – joining his band in a semi-circle with no-one actually paying much attention to the audience.
Once they were settled, and with no further fanfare, they launched into the driving groove of "Hey Jane" from Sweet Heart, Sweet Light – an album released a decade ago. As the song reached its mid-point, the band hit a crescendo with manic strobe lights, before reverting to an almost "LA Woman"-like groove. Without pausing for breath, they then kicked into the lively and squally "She Kissed Me (It Felt Like a Hit)" before shifting gears downwards for the woozy and atmospheric "Shine a Light" from 1992's Lazer Guided Melodies.
This set the tone of the evening, with the band very much concentrating on Pierce, who largely kept his head down without any verbal communication with the paying public or even announcing the names of any of the tunes, never mind introducing any of the unfamiliar musicians on stage.
After the initial burst of older songs, Pierce's crew then broke out some of the tunes from Everything Was Beautiful and And Nothing Hurt, Spiritualized's very fine most recent discs, with the Pink Floyd-ish "I'm Coming Home Again". Not that the predominantly middle-aged crowd seemed to mind.
Seated and largely unmoving, they were mesmerised and glued to their chairs from the first notes. In fact, pretty much the only crowd movement during the whole show, except for a seemingly constant, slack-bladdered stream to and from the toilets, was when a not entirely sober bloke managed to climb onto the stage during the hip-swinging "Best Thing You Never Had". He looked more confused than anything, though – this not really being the place or show to attempt any stagediving. However, even this renegade fan failed to break the band's concentration or jog their attention towards the auditorium, and he was quickly ushered away.
As the show hit its final strait, things began to drag noticeably and become somewhat listless – possibly due to the performance seemingly being for the band's benefit rather than a show for their fans – and even the magnificent "Come Together", stripped of its brass engine, sounded a bit thin. Final tune, "Sail on Through" was positively soporific and the band ended things by slinking offstage, again barely acknowledging the crowd and certainly not thanking them for turning up.
After a not inconsiderable break, during which some of the audience headed for the exits, Spiritualized returned for a rendition of the equally low-energy "So Long You Pretty Thing". This was brought to a close with a couple of mumbled "thank yous" from Pierce and finally an acknowledgement of the crowd's applause, as he briefly clapped back. Not that the remaining fans seemed anything short of completely satisfied with the whole evening's entertainment.
Seated and largely unmoving, the audience were mesmerised and glued to their chairs from the first notes
rating
Share this article