Director Marjane Satrapi: 'The real question is do you like everyone? No? So, why should everyone like you?' |

reviews, news & interviews
Director Marjane Satrapi: 'The real question is do you like everyone? No? So, why should everyone like you?'
Director Marjane Satrapi: 'The real question is do you like everyone? No? So, why should everyone like you?'
The forthright 'Radioactive' filmmaker on intelligence, ignorance and Marie Curie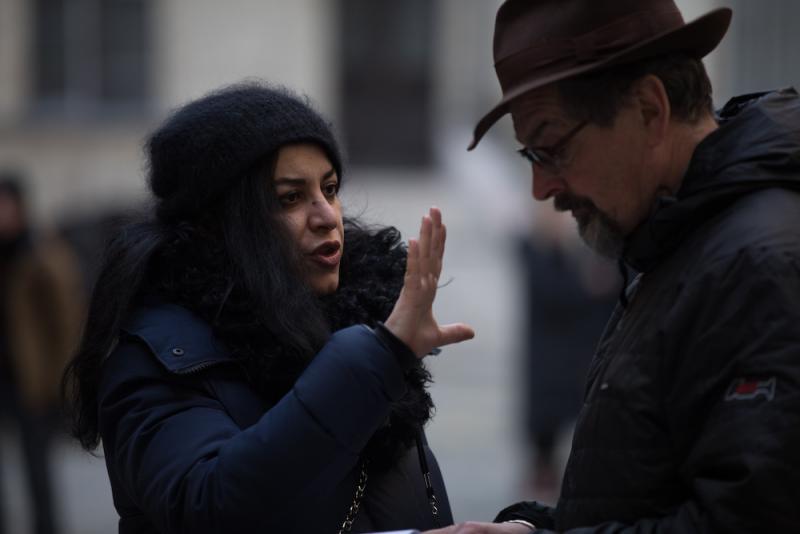 Marjane Satrapi on the set of 'Radioactive', a film that re-envisions Marie Curie's life and legacy
Marjane Satrapi, the Iranian-born French filmmaker, has a reputation that precedes her. Her upbringing was the subject of the acclaimed films Persepolis (2007) and Chicken With Plums (2011). Persepolis won the Cannes Jury Prize, two César awards and was nominated for an Oscar. Satrapi adapted and co-directed both films.
She also wrote and illustrated the comic books on which they were based. Over the past ten years, Satrapi has parlayed her success as a cartoonist into a formidable career as a filmmaker. Her latest film is her biggest.
Radioactive
is a wide-ranging
biopic
about the life of Marie Skłodowska Curie, one of the world's greatest
scientific
minds, as well as the life of her greatest discoveries: radium and polonium. The film stars Rosamund Pike and Sam Riley as Marie and Pierre Curie. It was written by Jack Thorne, who adapted the story from a graphic novel by Lauren Redniss. Satrapi spoke with
theartsdesk
about Madame Curie's legacy, overlooking fear and ignorance, and the value of being unapologetic.
JILL CHUAH MASTERS: Radioactive has a very unapologetic way of showing the strong-minded woman Marie Curie was. Of course, Curie has been such an influential figure for so many of us. Was there a particular characteristic of her life or personality that you wanted to get across in this film?
MARJANE SATRAPI: You said it when you started — it's being unapologetic. It's not always justifying your choices because, when you're a woman, especially, you have to do that. You can be a genius man and have a very difficult character, and that's okay because you're a genius. You have a right to be difficult.
But as a woman you have to be sweet, you have to be mild, you have to be this, you have to be that. And I don't think she asked herself [whether she needed to be those things] because she was so focused on her work — she just wanted to do science. This is a love story between her and her husband, but also between her and the science, so there is lots of passion going on. But she doesn't make any compromises. She is all the time herself.
I did not want to make the portrait which they always want to make out of Marie Curie. It's always that "she was so sensitive," because, as a woman, you always have to be sensitive. And when you say that, when you attach women only to emotion, in reality you are denying them their brain, their logical brain. And this is the best way to control them.
Rosamund (pictured below) and I did not want to make this portrait of "Marie, sweet Marie". When I read her correspondence, her letters, her diary, the way she expressed herself in her own words… you understand she is very straight. All the time, she has something to do. And she does it.
Yourself and Rosamund agreed on how you wanted to represent Curie?
Yes, that was the best thing. No matter what film you want to do, your actors, the crew, the technicians have to want to make the same film. If I want to make a film, and the Director of Photography wants to make another film, and the actor wants to make a third film, it's not going to work. We all have to agree what we want to do. In a character like Marie where she is in almost 85% of the scenes, if we don't agree on who she is, then it's this fight. The character has to be coherent.
So Rosamund's understanding after her studies... she deduced the same thing as I did. So, that is where you say to yourself, okay, I'm touching something that is some kind of truth. Because we are two different people, reading the same thing, deducing the same thing. So we must be right.
Radioactive has a lot of complicated moments, from its very precise scientific scenes through to the momentous, historical recreations. Which part of the film was hardest to shoot?
Science is some of the most exciting work, but it's exactly like creation. Like when I create: if you want to make a film about how I make my creations, what do you think you will see on the screen? I will be like… and then I will be like… and then looking left, basically my mouth is half open and I'm looking around. It's nothing exciting, actually, to show. And science is the same thing. It's a very repetitive procedure. You repeat and you repeat. But you cannot make a film about a scientific woman and not talk about science. You have to. And there are many films about science where they even don't talk about science, and I think this is dishonest.
I think you have to make science sexy, because there is nothing more exciting, sexy, attractive than intelligence. The most challenging thing was how to show these moments so that they can become epic moments. But that is also the talent of your editor. Stéphane Roche did very good editing, by actually taking all of these scenes, because there were so many of them: they're doing this and now they're doing that. But then you watch it for 15 minutes and you're in a very didactic way of seeing. Totally boring. So you make this montage with the adventure of the Curies: they have a child, they continue, up until the moment that they actually discover radioactivity. So this is the challenging thing to do.
Then, for the historical moments, you are between something where you have to be precise and at the same time you have to tell the story. You have to cheat with the reality, you cannot just always be factual: "that happened at this time." You have to take some freedom. But the most important thing is to be faithful to the spirit of someone. Once you show that, then you can rearrange... A film is still a film. But the spirit of Madame Curie, I think we have it right.
The film speaks powerfully about the experience of being an immigrant in France at this time. There are moments where Curie is being hounded by the French people and press, and being told to go back to Poland. One of your themes is Marie Curie's determination not to be distracted or fazed by this prejudice, and for her science and her family always to come first. Did any of this come from your own experience as an immigrant in France?
Well, she had a much tougher life. These things happened in 1911, a few years before the First World War. So you have the populistic movement, the nationalistic movement, they are very powerful… which is actually, basically, the case in the world today. We have Boris Johnson, we have Donald Trump, there are many of them. It comes at the same time. Obviously the whole world is changing. At the beginning of the 20th century, the world became a modern world. Suddenly it was trains, suddenly it was cars, suddenly it was electricity… so that was a whole big change. From the peasant world into the modern world.
When you have these kinds of changes, there is a part of the population that feel that they are put aside. They feel a kind of fear, and the fear is instinctive, so you don't reason with the fear. This feeling of not feeling well: you have to have somebody who is responsible for that. Who becomes this person? The foreigner. The same thing is happening now with the technological revolution. Lots of people have the feeling that they've been put aside. So, let's find the guilty one! And the guilty one becomes the immigrant.
So, Curie became a symbol. Not only is she a woman, but she's a brilliant woman, and on top, she has succeeded. The only reason that they stopped [harassing her] in the real story is because she was nominated for a second Nobel Prize. And then the French, they realised. The government said that if you continue, the second Nobel prize will go to Poland, and we want it for France. So they stopped writing those things about her.
I can have compassion, but I have never lived this kind of tough thing. Sometimes I feel it in people's eyes. That they think you are looking a certain way, et cetera, but you know — fuck them. I know their culture, most of the time I know their literature better than they do. I speak their language. They don't know more than I do. They know much less than I do. So, they're ignorant. What do you do with ignorant people? You just ignore them. I cannot go on a crusade to want to make everybody intelligent. Because this is not possible, I don't have 14,000 lives to go and do that, and there are so many out there. You just have to ignore them.
That strength of feeling definitely comes across in her character. It's not worth her time.
Yeah. People, they are stupid. Can you change anything about it? You know you cannot go and educate everybody from scratch, because not only do you have to educate them, but you have to diseducate them from whatever wrong they think they know. And it's always the same thing… the more ignorant they are, the more sure about their viewpoint they are. Because as soon as you really know about something, you understand that it is complex. So then you are less sure.
It's the same feeling when Madame Curie's affair comes out in the papers. That seems to be the response that she takes in the film: the understanding that she can't correct anyone's opinions.
Exactly. From the moment you're exposed, no matter what you do — whether you're a scientist, you're a filmmaker like me — from the moment you're exposed you have to be ready that, part of the people, they will hate you. But the real question is, do you like everyone? No? So, why should everyone like you? And if they don't like you, that just means they can go fuck themselves. What can I do?
It's refreshing to see that perspective on screen. Often, when you see women in this position in films there are these scenes of anguish and frustration. Here we see Madame Curie just putting it aside, moving on.
She has something more interesting to do, I think. Like you said, you can become anguished, but that takes up your life. If you have something more interesting to do in your life, do you have the time to think about these things?
Marie Curie, at the time, she was the most famous woman in the world — she still is. If you mention her name in any country, in any culture, everybody has heard about her. But even at my very small scale I feel that. You do something and you always have some people there who... have something to say. So, you're like "okay, whatever."
The film is based on a graphic novel by Lauren Redniss. You have a lot of experience adapting your own comic books, how was it to work with someone else's?
Well, I did not know it was a graphic novel. I read the script, Jack Thorne's script, then I understood that it was a book, then I understood that this book was a graphic novel. And I do not think it is a graphic novel, because it's not a comic book. It's a book with painting and illustration. It's somehow different to the work that I do.
What [Redniss] does, artistically, it is very beautiful, but it is un-useful for a film. What is great in what she did is the way that she wrote the two stories together. The personal story with the aftermath of what happened. [Radioactive looks at both Curie's life and the impacts of radioactivity long after her death, such as the impact of radiation therapy and the atomic bomb.] This is the skeleton, the heart of the book, which became the heart of the script and we have that in the film. But this is independent of the fact that it was a graphic novel. It's really by coincidence.
Previously, you've said that you felt you needed to be the one to tell this story. You fought to be the director of the film. What was it about Marie Curie that really drew you to her?
I've known her since I was a child. She was one of my role models imposed by my own mother: "you have to be an independent woman and this is who you have to look at — look up to." The story of Madame Curie has been said many times. In the form of films, series, documentaries, what have you. It has been explored in many different ways.
But the title of the film is Radioactive. This is not Madame Curie: The Great Story. That's what I liked about it. Because you say this is a great discovery. It changes the world, this discovery. But what do we do with the human being after the discoveries? It has nothing to do with the scientist, it has to do with us. That was very important. And in no film have I seen that, where you talk about everything that happens during the twentieth century. And that is what was interesting: the flash-forwards. And that was why I wanted to do it. Because otherwise, making another dusty biopic? Again, and again?
I'm not very into biopics. So this is why I wanted to make it: to make the connection between what we discover in the world and how this thing, which at the beginning is the best thing in the world, this can treat cancer… but then how this is misused. And that is where the speech of Pierre Curie becomes so important. [Pierre Curie's Nobel Prize acceptance speech, which is depicted in the film, warned that radioactivity could become 'very dangerous' in criminal hands. He asked, presciently, whether mankind would profit from the discovery of such a potent natural substance.] He talks about this in 1904, and that is 40 years before the atom bomb. Four decades. It's quite unreal.
This film follows a whole life and many years beyond it. Were there any other elements of Curie's life or of radioactivity that you wish you could've squeezed into the film's tight structure?
I cannot say I regret anything, with the time I had, with the possibilities I had. The film covers more than a hundred years, so, that's it: no regrets. I did what I could do and at the end I had the film that I wanted.
Radioactive was originally intended for release on March 20. A revised release date is forthcoming.
From the moment you're exposed, no matter what you do — whether you're a scientist or a filmmaker like me — from the moment you're exposed you have to be ready that, part of the people, they will hate you.
Explore topics
Share this article