Princess Ida, OAE, Wilson, QEH review - musical brilliance undermined by textual botch |

reviews, news & interviews
Princess Ida, OAE, Wilson, QEH review - musical brilliance undermined by textual botch
Princess Ida, OAE, Wilson, QEH review - musical brilliance undermined by textual botch
A complete score at last, superbly done, but as usual Gilbert's dialogue is mostly axed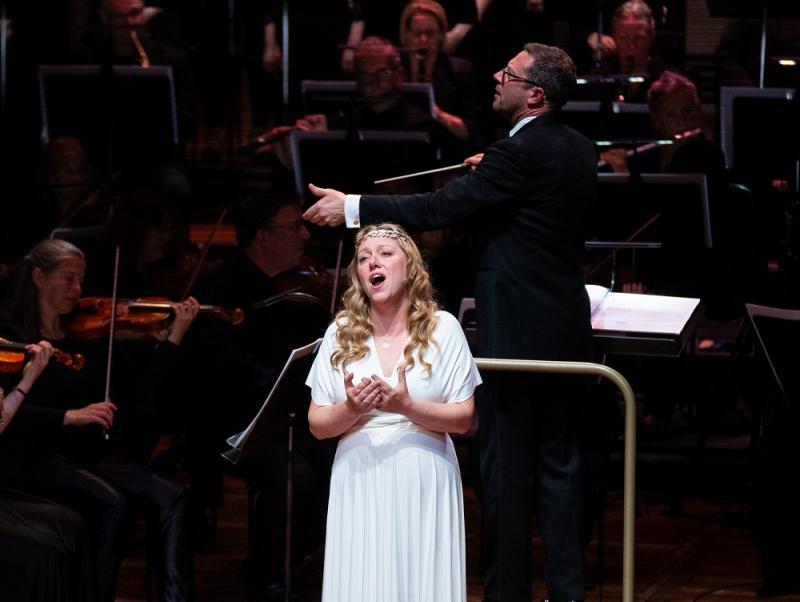 Sophie Bevan's Princess Ida guided in wisdom by John Wilson conducting the Orchestra of the Age of Enlightenment
Sullivan's score for his eighth collaboration with Gilbert is vintage work, mostly equal to the splendid sentinels flanking it, Iolanthe and The Mikado. On Wednesday night master animator John Wilson did its buoyancy and occasional pathos full justice. But what of Gilbert's words? "A woman's [sic] college! Maddest folly going!" doesn't promise an operetta for our times.
In fact it's more complicated than that. In the battle of the sexes, men are lunks, bullies or silly young things; the women come off rather better, but their determination to "abjure tyrannic man" walled up in Princess Ida's university subjects them to some ridicule. Sure, have a prologue speaking of changed times; but don't axe most of the spoken dialogue, an intriguing and often very funny attempt to match the iambic pentameters of the source, Tennyson's The Princess.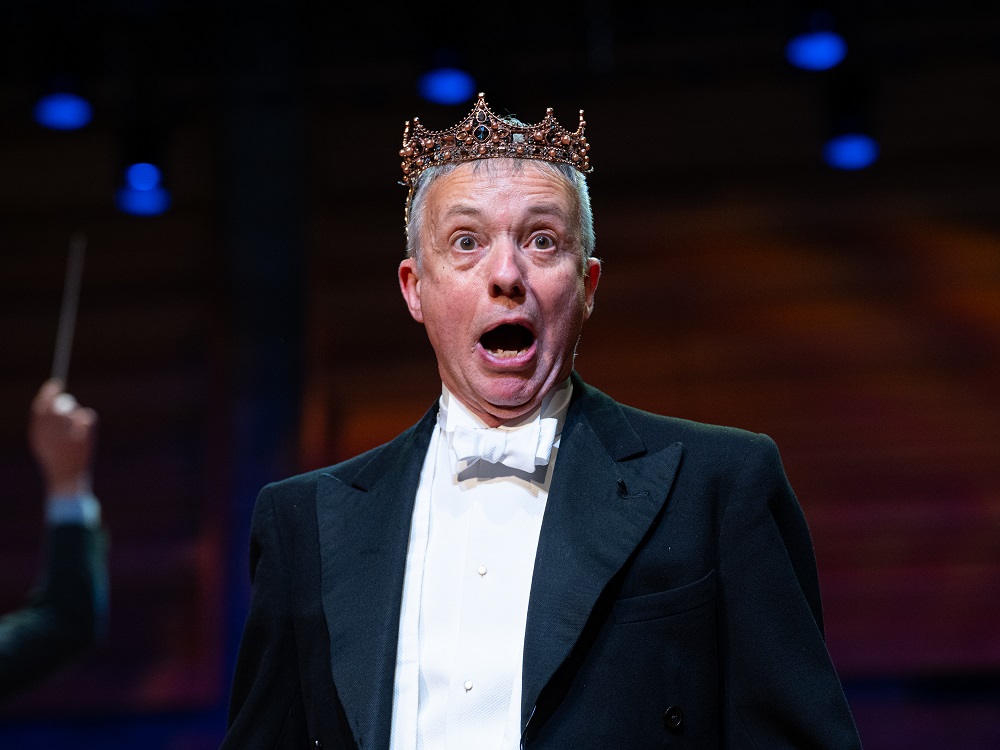 And so, after a glistening overture telling us immediately that the Orchestra of the Age of Enlightenment had taken to the Wilson panache, the heart sank to find Simon Butteriss, soon to play King Gama (pictured above), Ida's misanthropic dad, giving us a less than Gilbertesque low-down (though this was going to be nothing like the savaged travesty of the work in which he participated at the Finborough Theatre). At times the narrative intrusions were wince-making, Butteriss delivering with slightly creepy panache, determined to play to the lowest, Daily Mail-reading denominator in the laughs not with but against Harry and Meghan, the awful "gag" about six-year olds in Scotland subject to change of sex. Poor old Gilbert, crushed again.
True, singers having to memorise all that talk as well as sung roles that must have been new to most of them would have been a tall order. As it was, an early struggle with a song-text mixed up verse lines to create a topsy-turvydom beyond Gilbert's ken. Never mind: things soon got into their stride vocally if not, for a while, dramatically (the semi-staging led to some of the usual overacting rampant in G&S – play it straight and it's funnier). Benjamin Hulett, glitch forgiven, served up the ideal G&S lyric tenor. As the object of his claim, later infatuation, Sophie Bevan had the difficult task of having to launch in to the most challenging, very operatic number on her entrance. But the courage and determination with which she's overcome a year-long illness informed a character who is never mocked: Ida's grit in the long and brilliant Act 2 finale and her endurance in Act 3 came with bags of character, and one rolling of the eyes at a male stupidity brought a big laugh.
Lunks Arac, Guron and Scynthius, Ida's battle-crazy brothers, fare better than fledgilng Bullingdonites put on the right track Hilarion, Cyril and Florian (was it intentional that the prince's playmates as sung by Ruairi Bowen and Charles Rice, were a bit on the loud side?) Morgan Pearse's Arac led the way in boneheaded determination, though the orchestra steals his limelight; the little details in each of the verses of the first trio, parallel to "The criminal cried" in The Mikado, showed as instrumental marvels under Wilson's razor-sharp direction, and the Handelian pastiche of "This helmet, I suppose" hit its target (pictured above: Pearse, Robert Davies and Jonathan Brown)..
The real plums come in Act 2, above all a quartet and quintet of Mozartian perfection. Among the strong women, diction and notes combined to perfection in Bethany Horak-Hallett's Lady Psyche (pictured below on the right giving advice to Claire Ward's Sacharissa)– the aim against misunderstanding Darwinism, not Darwinism itself, in "The Ape and the Lady" took robust flight – and Marlena Devoe's Melissa. Catherine Wyn-Rodgers drew the short straw in Lady Blanche's undistinguished music and could have done with the dialogue to claim her proper place. Butteriss gave us a stock but spry Gama, the Act 3 song bounced along irresistibly by Wilson.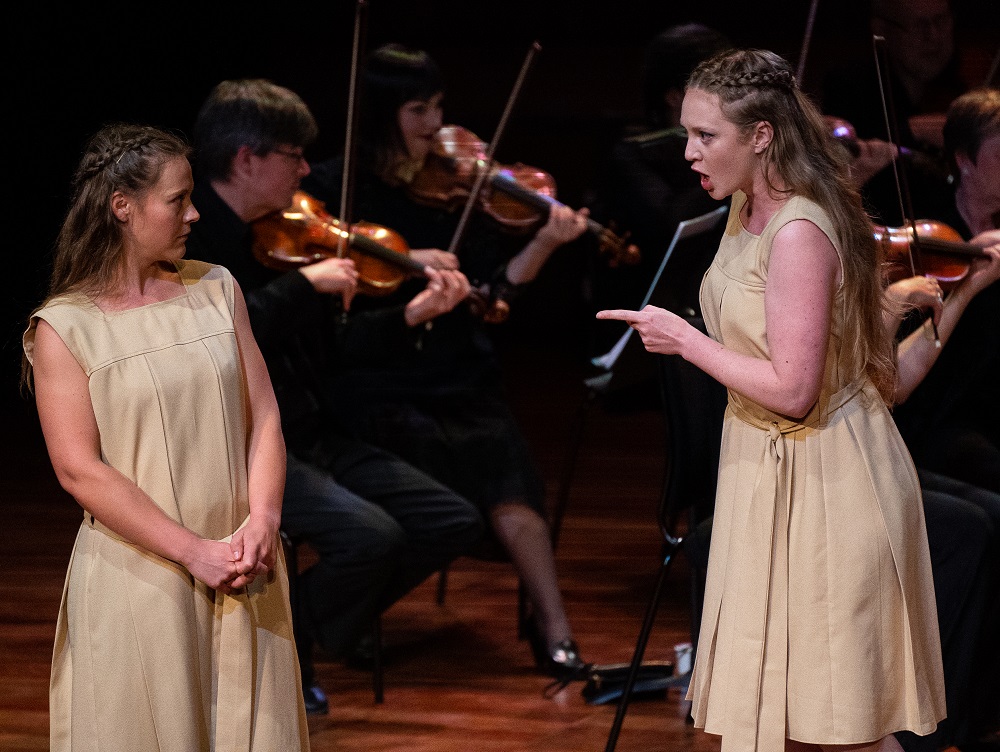 As in Mozart, the musical success depends on fleet but not rushed conducting guidance, and that was first rate. Both orchestra and diction-clear chorus shone throughout. Some of the later bits of semi-staging were good, too, like the fight sequence where it's the women who knock out the lunks. Chapeau also to the three students of Acland Burghley School who clearly had fun designing costumes as part of the OAE's Dreamchasing Young Producers programme. Way more rapture than not, then, but too much modified by absence of Gilbertian dialogue. Let's have that next time round from a company which knows how to solve the problems, like John Savournin's Charles Court Opera.
As in Mozart, the musical success depends on fleet but not rushed conducting guidance, and that was first rate
rating
Explore topics
Share this article