theartsdesk at the Three Choirs Festival - Purcell, Gabriel Jackson and Duruflé |

reviews, news & interviews
theartsdesk at the Three Choirs Festival - Purcell, Gabriel Jackson and Duruflé
theartsdesk at the Three Choirs Festival - Purcell, Gabriel Jackson and Duruflé
Choral music loud, soft and chorus-less as the oldest festival returns
The shepherd (James Gilchrist) and his shepherdesses (Anna Dennis and Mhairi Lawson)
King Arthur, as every schoolgirl knows, never actually existed, so it made perfect sense that the Gabrieli Consort's Worcester Cathedral performance of Purcell's semi-opera about the mythical British king and his battles with the Saxon incomers made not the slightest mention of Arthur.
Nor was much made of his bitter enemy, the Saxon Oswald, nor the fair, blind Emmeline, nor even the great magician, Merlin, who, in Dryden's original waves his wand in the final scene and summons up "A Vision of Britain, the Queen of Islands."
All these personages figure in the play, but none of them ever sing. Such was the nature of semi-opera in Purcell's time, a spoken drama with a vastly inflated score of incidental music, like a pantomime in which the story is constantly interrupted by more or less irrelevant musical vignettes. The King Arthur of 1691 must have lasted for hours, since even the "incidental" music plays for a good hour and a half, and the spoken play is at least as long.
Fortunately for those with trains to catch, Dryden's text has vanished from the stage apart from the bits Purcell set to music; and these musical bits are so brilliant, so beautiful, so unfailingly inventive, that one happily sits through them from one end to the other even though, if one is honest, they add up to not much more than an unstructured sequence of scenes linked only by Purcell's genius and the conviction, such as it may be, of the performers.
Some versions replace Dryden with a cursory Arthurian action, perhaps a simple narration. Some even reconstruct the Dryden/Purcell relationship to allow the central characters to sing. Paul McCreesh, director of the Gabrieli Consort, does neither of these uncanonical things, but simply presents Purcell's music, more or less, from start to finish, so that even those few episodes that do have a passing relevance to the plot effectively lose it, and the whole thing becomes a sparkling game of musical charades, with a team of soloists who sing and act each implied situation as it arises and also form a chorus as required.
Thus, after the elaborate, exquisite, not particularly relevant instrumental music that presumably regaled the 1691 audience before curtain-up, we had a male trio invoking the gods Woden and Thor in the name of the (if you know the story) wicked Saxons. Then the Ariel-like Philidel (Anna Dennis) battled to rescue our unspecified heroes from the evil will o' the wisp Grimwald in the marvellous "Hither this way, this way bend," one of Purcell's most beguiling translations of the English language into quasi-verbal music.
Later James Gilchrist transformed himself into a shepherd of the baroque type that never seems to have needed sheep so long as a shepherdess or two were to hand; Charlotte Shaw, in the guise of Cupid, managed to warm up the Cold Genius (Dingle Yandell) in the well-known Frost scene (pictured above), which Purcell embroidered in the score with a shivering wavy line; then a pair of metaphorically naked Sirens (Anna Dennis and Mhairi Lawson) failed – one hopes – to entice King Arthur into the "aged stream," despite the sultry seductiveness of Purcell's music. And so it went on, until in the Comus haymaking scene of the final act McCreesh himself joined in the merry romp, bringing the house down in a most uncathedral-like bergamasque before Anna Dennis steadied matters with the incomparable "Fairest Isle."
To call this entertaining would be a serious understatement. Not only was the singing consistently stylish and eloquent, but the singers, in concert dress, related to each other in a finely organised, chamber music kind of way, and certainly with a splendid disregard for (anti)social distancing, so that one was witnessing true musical theatre of a disembodied kind, storyless yet rich in fun and communication. McCreesh directed with a sure but discreet hand, and his pocket orchestra – a few strings, a versatile pair of woodwind players, a trumpeter, and continuo of harpsichord, guitars and lutes – supplied the ravishing support that Purcell, one of the great painters of feeling and wit, demands.
The following evening a slightly depleted company of festival enthusiasts turned out to witness the first performance of a specially commissioned choral work by Gabriel Jackson called The World Imagined. Here there was a proper choir, the amazingly accomplished (not least considering the circumstances under which they have had to rehearse) Three Choirs Festival Chorus, with the Philharmonia Orchestra under the dependable David Hill (pictured below with Gabriel Jackson); and it was just as well, because Jackson, an experienced and skilful composer of vocal music with an acute ear for the close combination of many voices, makes complex demands on the precision and stamina that it is reasonable to expect of a large body of amateur singers.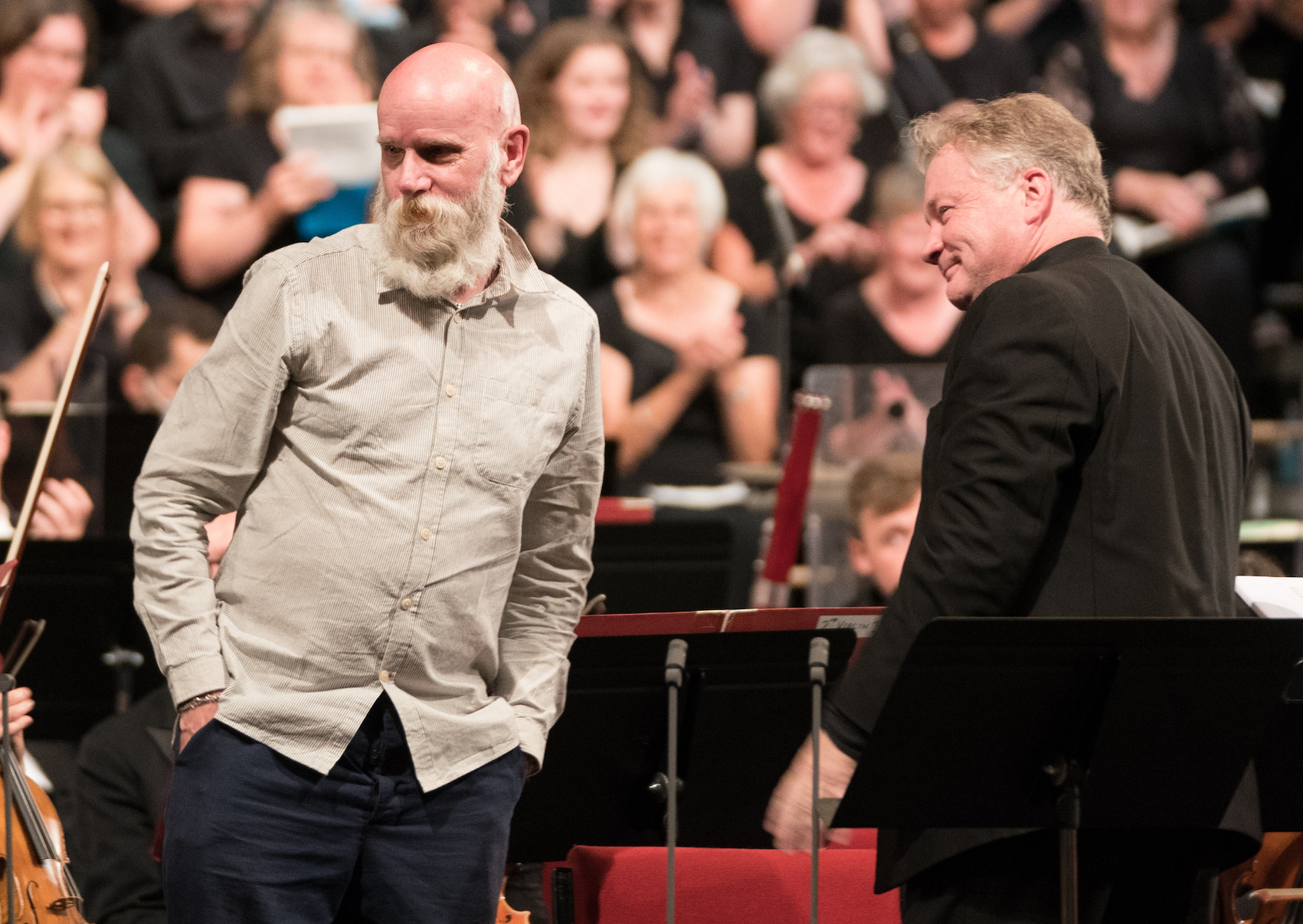 Three Choirs regulars will know that for remote listening in the aisles and transepts of their cathedrals, television relays are used to keep one in visual touch with what one is hearing; and it was irresistible, in this case, to watch the ranks of faces, all completely focused on one of the more difficult tasks they will have been asked to perform, and to my eyes and ears performing it with a high degree of commitment and remarkable discipline.
Whether or not the demands are wholly justified I'm less sure. The work is an ambitious 45 minute setting of poems by Wallace Stevens, Whitman, Leopardi and three or four others about the mystical feelings inspired by nature, the darkness and the light, what Kenneth White (one of the other poets set) beautifully calls the "still, unworlded knowing… in the ultimate unlettered light." The choral writing is almost uniformly dense, multi-parted, often very loud and brilliant, sound for which, if it were sight, one would need sunglasses.
There are problems of balance. The tenor solo (Nick Pritchard), with a more lyrical if no less ornate part, was sometimes inaudible, and perhaps generally somewhat lighter of voice than might have been ideal. The orchestral writing has plenty of incidental beauties; Jackson is very much an illustrator in sound, as his programme-note, a blow-by-blow account of each movement in terms of its word painting, makes clear. But the corollary of this is a tendency to set the text line by line, each line with an orchestral footnote. The resulting sense of elaborate immobility may express the central idea of the piece; but it does so in a way that ultimately risks super-saturation.
After this dangerous, clamorous, exciting for the right and some wrong reasons, performance, Wednesday's concert of Maurice Duruflé's Requiem prefaced by short pieces by Fauré and Grace Williams had a curiously subdued air. Duruflé's richly worked tapestry of elaborated plainsong, movingly sung by the Three Choirs Festival Youth Choir, was almost swallowed up by Worcester's all too receptive Early English transept, and though everything was audible, one strained to feel the presence of a masterpiece that never cajoles or pleads, but seems always to be turning inwards on to the condition of its own soul.
I especially felt for the young soloist in the "Pie Jesu," the lovely-voiced Charlotte Sleet, who badly needed not to be blocked by the admittedly not large violin section of Duruflé's final, small orchestra version of his Requiem. She sang sweetly, unsurprisingly a shade nervily, but could not quite reach out across the terrain. But the problem was general. Geraint Bowen, conducting the choir and the skeleton Philharmonia Orchestra, might have found more contrast of tempo and dynamics. It was beautiful, touching, but strangely remote, like a funeral overheard from the other side of a lake.
True musical theatre of a disembodied kind, storyless yet rich in fun and communication
rating
Explore topics
Share this article