Quo vadis, Three Choirs Festival review - a hundred minutes of smug serenity and flowing piety |

reviews, news & interviews
Quo vadis, Three Choirs Festival review - a hundred minutes of smug serenity and flowing piety
Quo vadis, Three Choirs Festival review - a hundred minutes of smug serenity and flowing piety
Fine singing and playing but not enough muscle in the music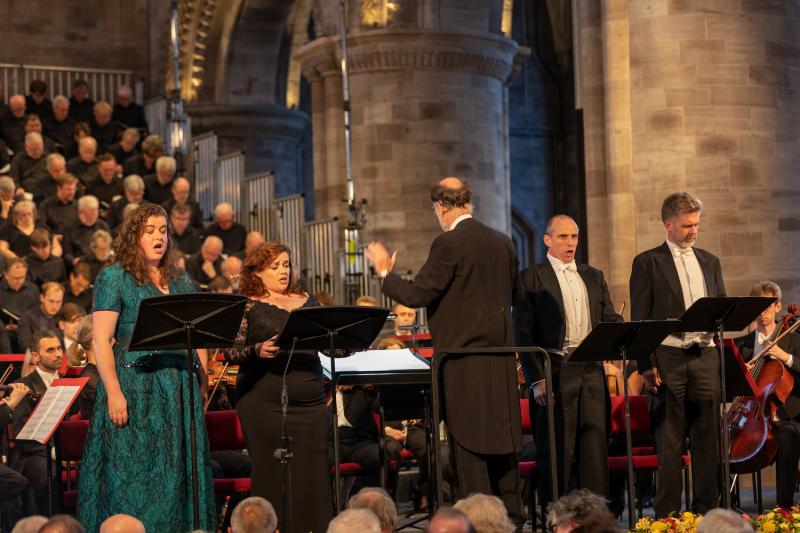 From left, soprano Rebecca Hardwick, contralto Jess Dandy, tenor James Oxley, and bass Alex Ashworth
Once upon a time the Three Choirs Festival conjured up a single image, that of the English Oratorio – the grand choral solemnification of everything that was most profound in Anglican thought (though ironically its greatest exemplar, Elgar's Dream of Gerontius, was irretrievably Catholic, and one Anglican bishop is supposed to have said he wouldn't allow it into his cathedral).
Today the festival's image is more diverse, but it still sometimes hankers after the good old days, with their smug serenities and flowing pieties, and this revival of George Dyson's 100-minute long Quo vadis, first performed complete here in Hereford Cathedral in 1949, is its latest tribute to this by now somewhat raddled tradition.
To be exact, Quo vadis (Where are you going?) is not really an oratorio at all, but a hyper-inflated song cycle: solo and choral settings of poetry by various poets with a single overarching theme, mankind's life as a spiritual pilgrimage from the cradle (of Wordsworth's "Intimations of Immortality") to the "white radiance of eternity" in Shelley's "Adonais".
To call this a big subject would be like calling Einstein a clever man. Britten, whose Serenade and Spring Symphony were between them roughly Quo Vadis's contemporaries, contented himself with themes such as Night, Sleep and the Seasons, but endowed them with music of such character and brilliance that they seem to reach beyond their ostensible topics.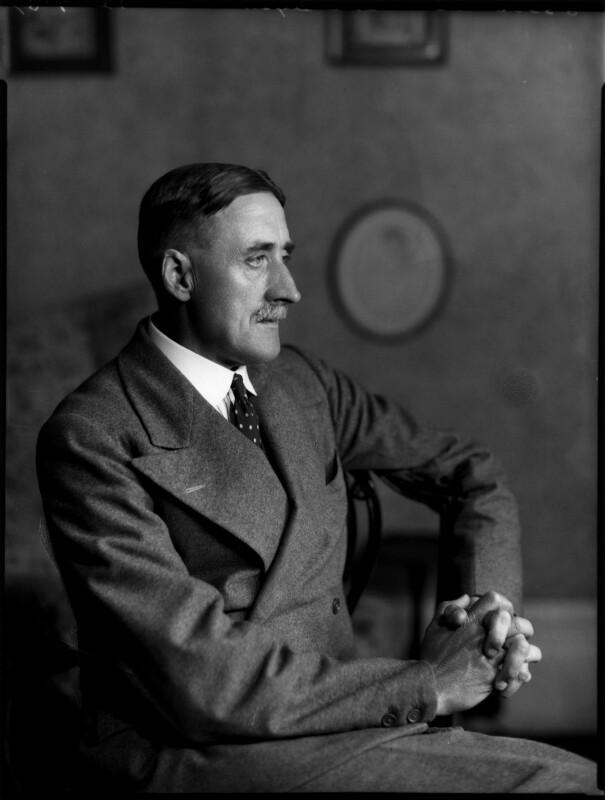 Dyson, by ironic contrast, was palpably and embarrassingly restricted by his (George Dyson, pictured left © National Portrait Gallery, London). Though he was reportedly sympathetic to, or at least conversant with, modern developments in music in the Thirties, his own style adds little to things he might have found in Elgar or early Vaughan Williams, or at best Frank Bridge. His technique, well honed to deal with the minute-by-minute intricacies of late romantic texture, harmony and orchestration, is mostly helpless in face of the structural demands of a work on this scale. And the result is a score that maunders its way rather aimlessly, long-windedly, sometimes beautifully, through poetry of greatly varying character, seldom varying its own manner or tone, reacting now and then to moments of obvious drama but soon lapsing into its default mode of reflective, mildly elevated lyricism. It's music that one could perhaps love in 10-minute slices. At ten times that length the sensibilities rebel.
I would think it a by no means easy work to put together, but on the whole the Festival Chorus and the Philharmonia Orchestra under the super-dependable Adrian Partington did it proud. There were the usual problems of cathedral acoustics and balance. From my seat well back in Hereford's Norman nave the chorus sounded strong and committed, the four soloists too remote. But this was clearly an effect of space and distance. Musically they were a first-rate team: the soprano Rebecca Hardwick, particularly good in Henry Vaughan's "Waterfall" ("Dear stream! dear bank!", with some lovely woodwind scoring), Jess Dandy, a proper contralto such as one rarely hears today, the tenor James Oxley, saddled with Dyson's lumbering setting of a heavily subedited Shelley but making it at least half-convincing, and the bass Alex Ashworth, excellent in the work's too few muscular moments.
As for Dyson himself, he remains the composer of the colourful and lively Canterbury Tales (done in the past at the Three Choirs), and of the immortal Dyson in D major service, remembered with modified affection by all erstwhile church choristers. He was also, unexpectedly, the author of a First World War training pamphlet on the use of hand grenades. He could perhaps usefully have applied some of its lessons to Quo vadis.
The result is a score that maunders its way rather aimlessly, long-windedly, sometimes beautifully
rating
Explore topics
Share this article