theartsdesk on Vinyl 49 - Part 2: Prince, Johnny Cash, Sparks, Toyah, Adrian Sherwood and more |

reviews, news & interviews
theartsdesk on Vinyl 49 - Part 2: Prince, Johnny Cash, Sparks, Toyah, Adrian Sherwood and more
theartsdesk on Vinyl 49 - Part 2: Prince, Johnny Cash, Sparks, Toyah, Adrian Sherwood and more
The largest, most wide-ranging monthly record reviews on the planet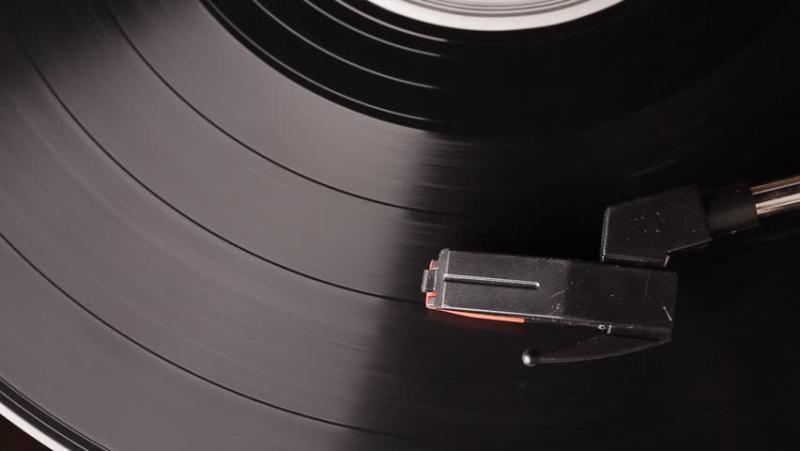 Back to black
We return, after only a week away, with Part 2 of Volume 49. Starting out with an amazing comeback from Adrian Sherwood's Pay It All Back compilation series as Vinyl of the Month, this edition takes in everything from Prince to death metal to ambient classical.
From reissues to spanking new fare, all life on vinyl is here. Dive in!
VINYL OF THE MONTH
Various Pay It All Back Volume 7 (On U Sound)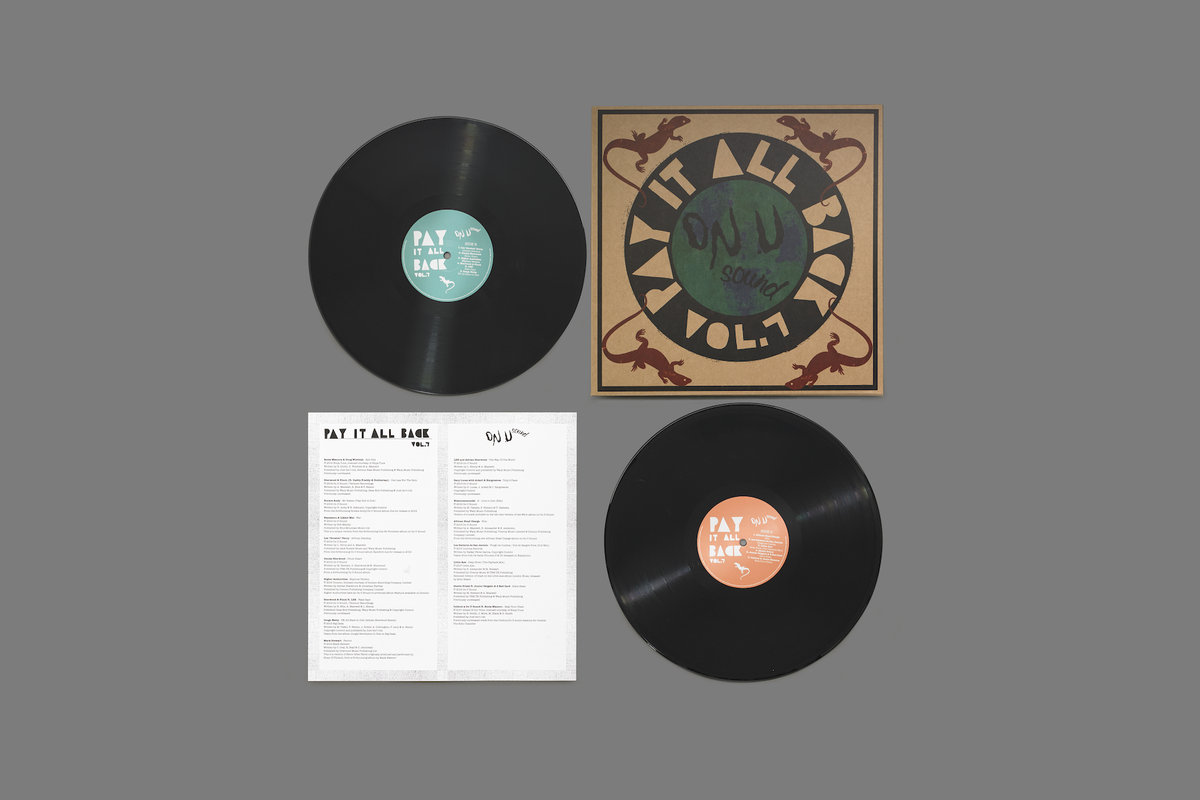 To ancient music warriors who recall prehistory, before '88 and acid house, one of only places in Britain where electronics splurged into brain-frying psychedelic dance music was On U Sound. Their Pay It All Back package tours were extraordinary. I heard some of the best music of my life at those, demented skank-outs in an era when venue security would let you chain smoke spliffs (as long as you didn't do it near them). The tours, though, were only an addendum to the compilation album series, usually heavily featuring Tackhead, African Head Charge, Mark Stewart & the Maffia and Gary Clail, which began in 1985 and wound down in the mid-Nineties (by which time I'd long wandered off to become a techno traitor). Over two decades pass and Pay It All Back returns, with African Head Charge and Mark Stewart present and correct (on the Afro-dub of "Flim" and the pared back, poetically doomed "Favour", respectively), as is Tackhead member Skip McDonald under his Little Axe persona, doing harmonic-fuelled alt-blues on "Deep River (Payback Mix)". It's business as usual, then with On U boss and production supremo Adrian Sherwood offering up "a selection of forthcoming, previously unreleased, unique versions, and tracks and artists I'm keen to promote". New faces are as welcome as old; Colombian folk group Los Gaitos de San Jacinto's "Fuego de Cumbia/Dub de Sangria Pura (Dub Mix)" is an astounding, long-form, Latin-flavoured roller, and tunes by Congo Natty and Sherwood's eldest daughter Denise also thrill. But, then again, it all does. The politics are explicit – check "Fake" by Sherwood & Pinch featuring LSK on the mic, or "One Law For the Rich" by Daddy Freddy (with Sherwood, Pinch and Dubitarian) – and the rhythms are inarguable. Never mind the comeback of the year, this is a contender for the album of the year. Arrives on double with a great-to-geek-over 12" x 12" eight page annotated booklet listing all On U's back catalogue.
K.O.G. & the Zongo Brigade Wahala Wahala (Heavenly Sweetness)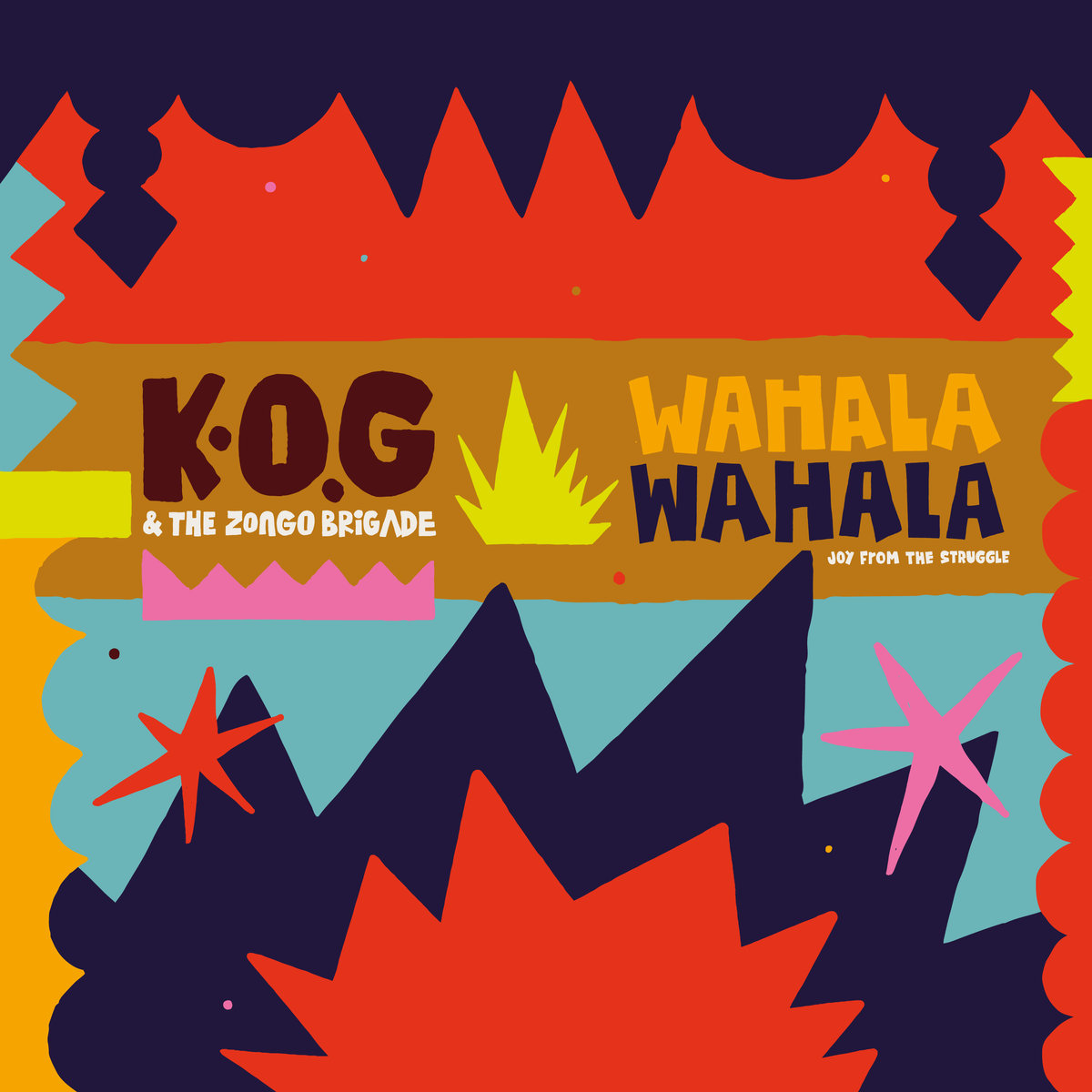 This came out a few weeks ago but has only just arrived on plastic with theartsdesk on Vinyl. It's well worth anyone's wait. From the north of England, but really from Africa, kind of, this debut is an Afro-jazz-hoppin' combustible party in a two record set on gatefold. Recorded in Leeds, it bleeds African spirit as the guy behind it is Kweku Sackey, the K.O.G. of the band's moniker, originally from Ghana but the UK has had its effect and his Zongo Brigade, featuring Jamaican MC Franz Von on the mic, add a festival-ready gumbo of chewy bounce to the sound, filling it out with trumpet, sax, guitar and keys. Walala Walala runs the gamut from slow, chatted dubbers such as "Transmission" to lovely acapella pieces such as "Imela" but most of the album is rumbustiously spirited and upbeat, also unafraid of making statements, as on the excellent "Money" wherein Sackey's uniquely scratchy, nasal voice choruses, "We never go follow the people who follow the money – the money be trouble." If that's not a testament to live by, I don't know what is.
Tronos Celestial Mechanics (Century Media) + Periphery Periphery IV: Hail Stan (3DOT/Century Media) + Mork Der Svarte Juv (Peaceville) + Ärabrot Die Nibelungen (Pelagic)
Tronos is one of the many side-projects of Shane Embury, the longest-serving and probably most recognizable member of Napalm Death, created with Dimmu Borgir producer Russ Russell (who's playing and singing rather than just behind the desk). They are joined by Medadeth drummer Dirk Verbeuren, as well as the bassists from Faith No More, Mastodon and Nuclear Assault - Billy Gould, Troy Sanders and Dan Lilke, respectively (a veritable overkill of bassists) - plus Wonder Stuff violinist Erica Nockalls and vocal input from Denis "Snake" Belanger of Voivod. It's a metal supergroup of sorts, then, majoring in down-tuned, growled, gloom that's unafraid of symphonic chorales and slow-moaning - on "The Past Will Wither and Die" and "Voyeurs of Nature's Tragedies" - but still capable of serious riff-outs such as "Premonition". Supremely morose but oddly tuneful, it holds the attention. Comes with 12" x 12" photo/lyric inner sleeve. US band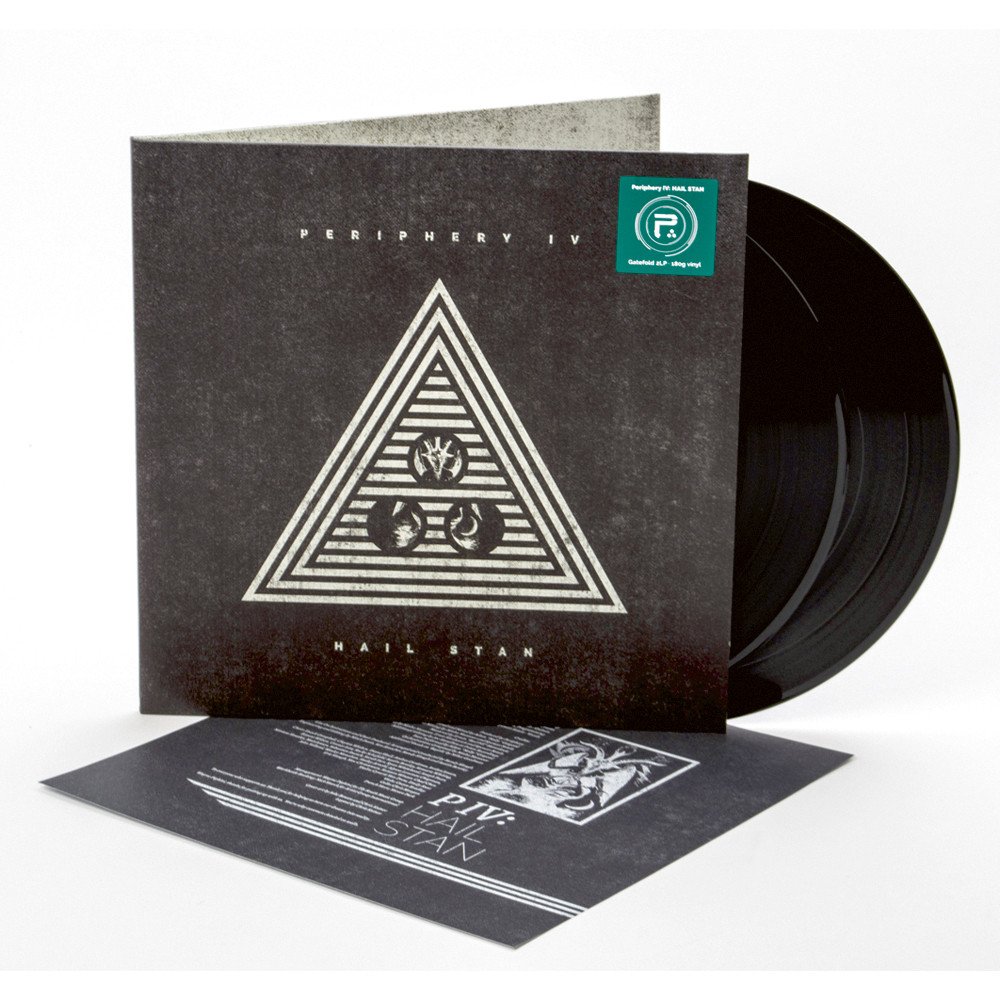 Periphery fool you into thinking they're a pure noise riot but then sling in tunes such as "Garden in the Bones" and "Satellites" that feature Bring Me The Horizon-style pop-metal singing. Periphery, meaning what it does, seems a strange name for a band, but their attack is far from peripheral – more feral – and their sudden directional swerves are incongruous and technically tricksy but give an alternative spin on the territory. Comes on double with 12" x 12" lyric/info inner sleeve. Norwegian outfit Mork's name, as you can see, is almost unreadable on the sleeve, in that wonderfully perverse metal fashion. Their fifth album, arriving on gatefold, doesn't dabble in subtlety although it does have occasional Gregorian-style backing vocal, meanwhile frontman Thomas Eriksen practically vomits into the mic. Sheer black metal assault is the name of the game with an unlikely galloping moreishness to the songwriting. Bizarre factoid: they have at least two beers named after them in Oslo, one of them "an Irish Stout with a smoke and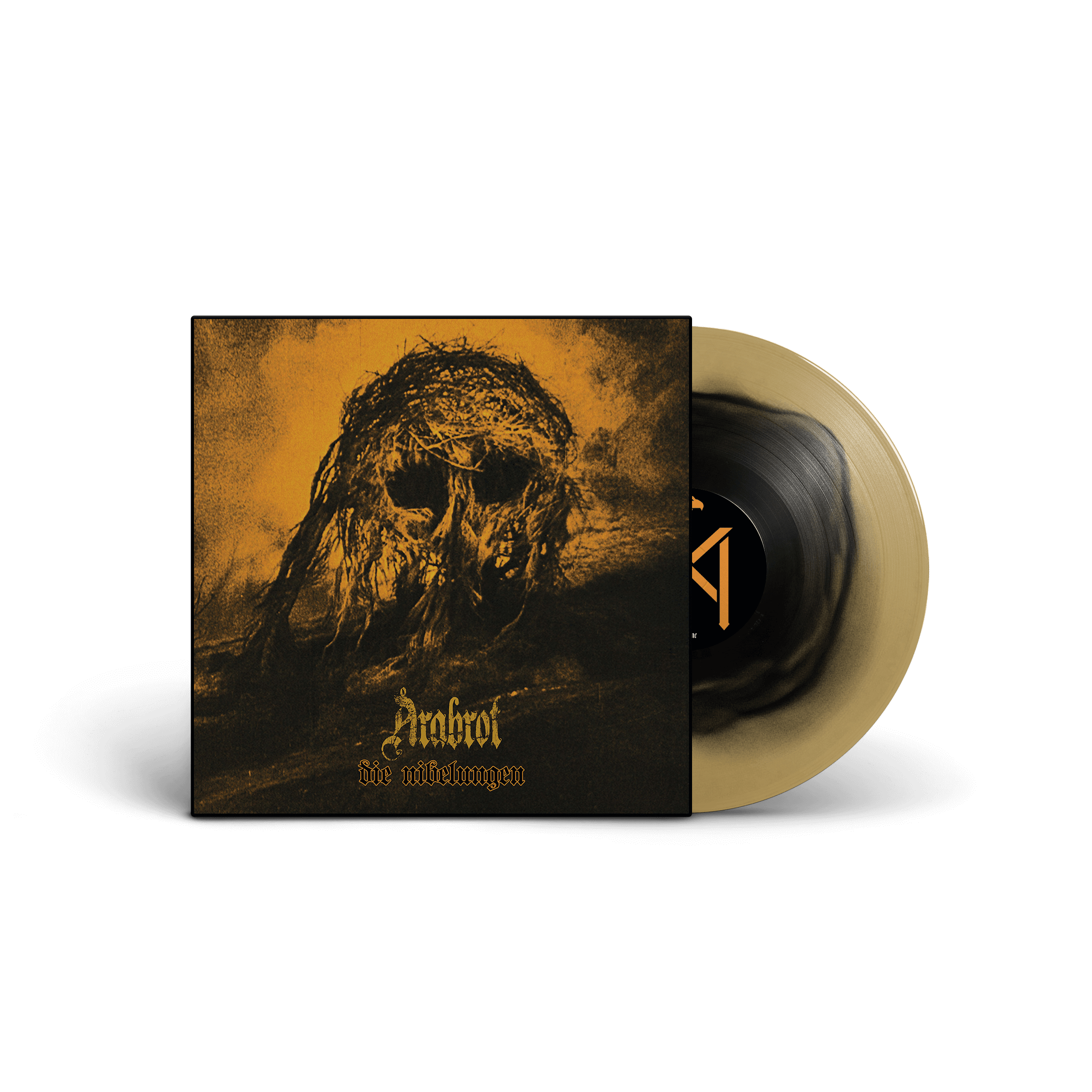 chilli-taste". Make of that what you will. For all their attempts at channelling the Devil's business, none of the above get anywhere near the ritualistic spookiness of Norwegian art-metal oddballs Ärabrot whose latest album takes sections from the five hour soundtrack they performed live to Fritz Lang's 1924 silent film Die Nibelungen in Tromsø in Autumn 2016. These are laid out over two sides of watery off-golden vinyl, blobbed black in the middle. Wheezing demonic groans rise from an illbient wash featuring occasional clattering peaks and, eventually dirgey guitars. The whole creates an ominous sense of unease. Comes with a 12" x 12" image insert detailing the back story. For sheer kicks, Mork's the one to go for but, if you want to freak yourself out properly, sit in a darkened room on acid with Ärabrot.
Gang of Four Happy Now (Gillmusic)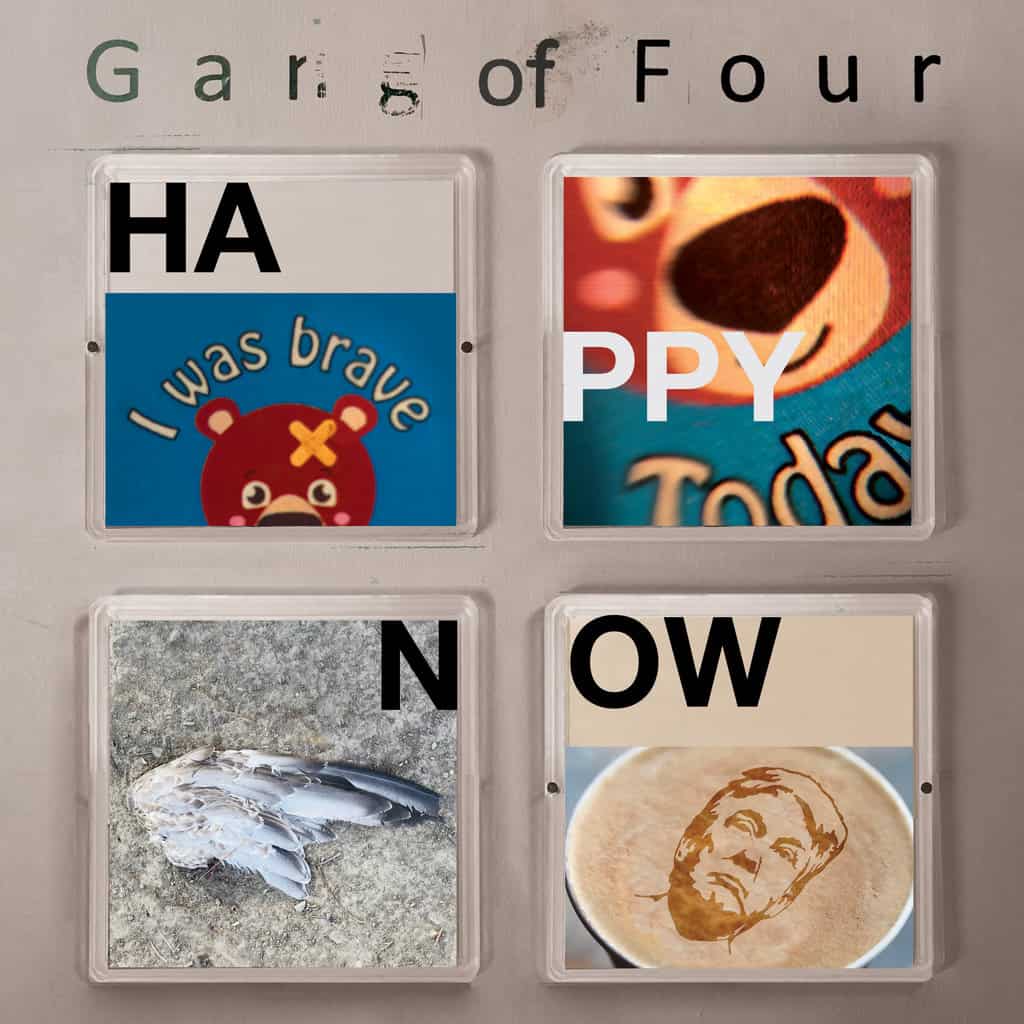 Gang of Four are, famously, a band whose influence vastly outstrips their profile or their commercial success. Rising from Leeds' post-punk milieu 40 years ago with a caustic, angular, politicized sound, fuelled by barely contained rage, the four-piece reappeared early this century when they were being mentioned by every rising rock act as a key inspiration. Nowadays Andy Gill is the only original member and Happy Now is the band's second album with this line-up and their first since 2015. Gone are the caustic edges; this is approachable, a tasty modern alt-rock album somewhere between Interpol, Kasabian and the Pop Group. There are certainly squalls of noisinesss - check the climax of "One True Friend" – and the rhythm section batters. The politics are less explicit but songs such as "Ivanka: 'My Name's On It'" show they're still there. If this were the debut by a new young band, tastemakers would be all over it, but they're not and the band's old guard fans may have difficulty with the new sound. I like it.
Prince Rave In2 the Joy Fantastic (NPG)
Reissues of the purple one on purple vinyl continue with this 2001 remix of his 1999 album Rave Un2 the Joy Fantastic. This was when Prince was in his "symbol" phase and the album was originally a CD briefly available to his fan club. In truth, for a "remix album" after a two year wait, it's really not a great deal different from the original. The tweaks include changes such as a longer version of "Baby Knows" or Eve contributing to the exotically lush "The Greatest Romance Ever Sold". Prince is in a poppy mood and has Gwen Stefani duet on the almost Bangles-ish "So Far, So Pleased" but still has time to give us the almost-hip hop on the Moneyapolis mix of "Undisputed" featuring Chuck D. He also gives us a burst of almost-dancehall vocal on "The Sun, the Moon, the Stars". For theartsdesk on Vinyl either this or the Un2 version would equally suffice as middling Prince fare with moments that raise it up but, as a rare album, never before on vinyl, this will be the one the aficionados go for.
Joep Beving Henosis (Deutsche Grammophon)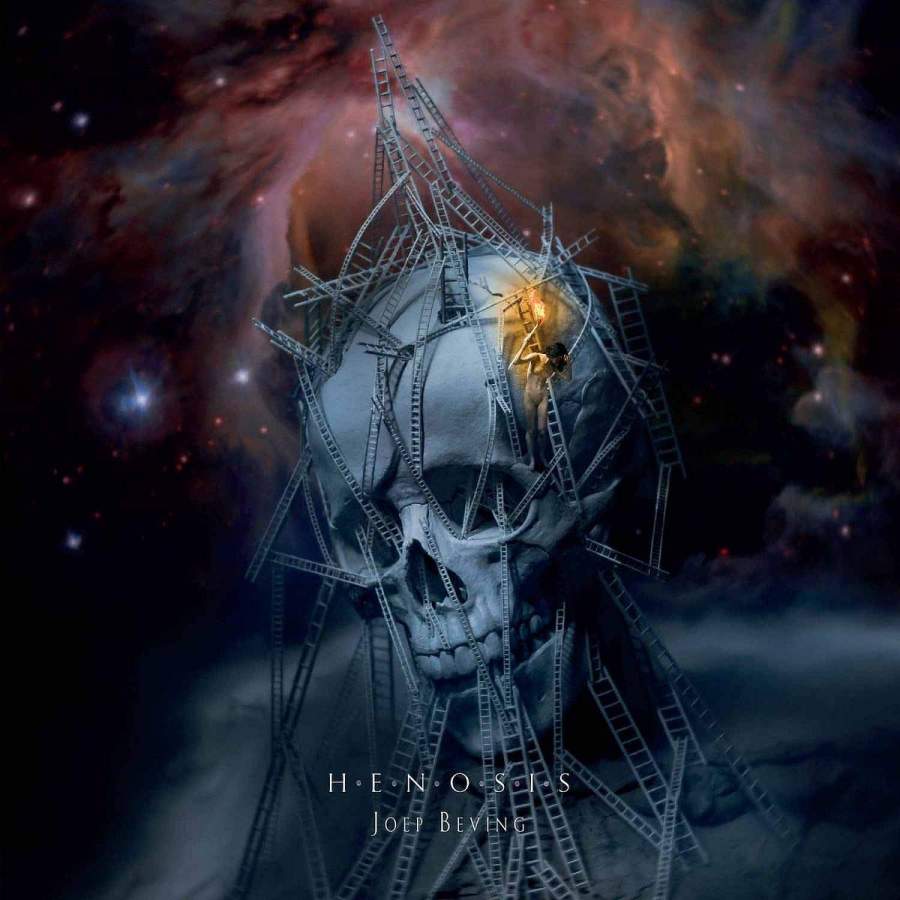 Heavily bearded Dutch pianist and composer Joep Beving has become a streaming sensation for his peaceable piano music, joining the likes of Nils Frahm and Ludovico Einaudi as an unlikely commercial proposition. Previously his output has been very stark, in a melancholic post-Erik Satie vein, but his fourth album is his most interesting so far. While its three records in gatefold give his longterm fans what they're after, the lonely reverberating piano, there are also pieces such as the nine minute "Nebula", which builds and fades, a buzzing shimmering synth effusion, or "Klangfall", wherein the piano and bleepy electronics interface. Beving has headed into territory not a million miles away from a fusion of Brian Eno, Vangelis and Hans Zimmer's Blade Runner 2049 soundtrack. Those who dismissed him as a fluffy neophyte lightweight might wish to think again.
Various Nigeria 70 – No Wahala: Highlife, Afro-Funk & Juju 1973-1987 (Strut)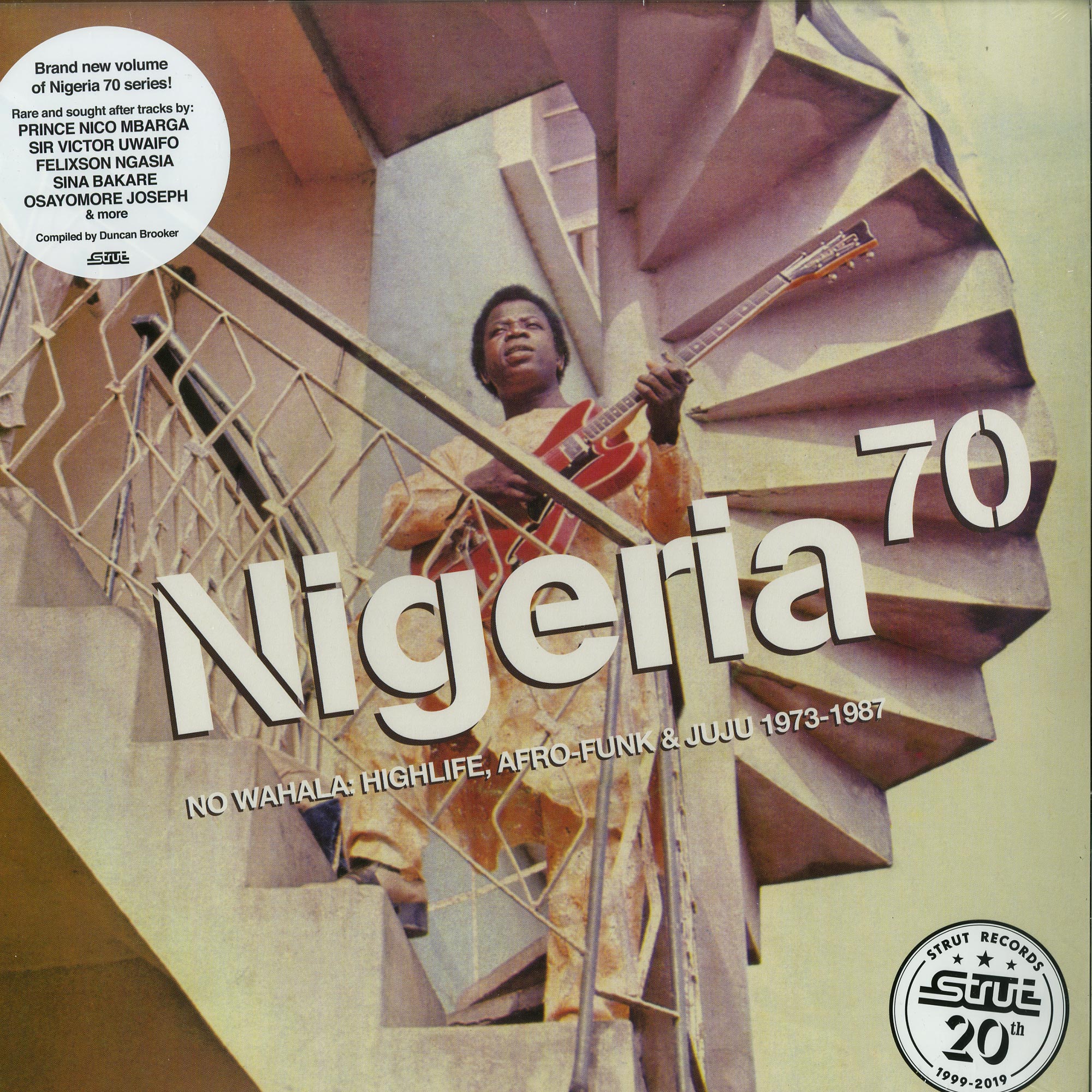 A fabulous archive collection from the reliable Strut imprint who are now 20 years old. Coming on double in a gatefold full of explanatory notes, it's their first Nigeria 70 release in almost a decade. The music on offer hones in on the joyous guitar work typical of the nation it hails from so there's plenty of celebratory feeling on cuts such as International Brothers Band's "Onuma Dimnobi" but there's also more thoughtful socio-political fare such as Sin Bakare's "Africa", which isn't propulsive but, instead, builds a hypnotic groove to ram home its point. "Sickness" by Prince Nico Mbarga & Rocafil Jazz, meanwhile, manages to be both a meditation on medicine and health and a party-starter. The lolloping brass-boosted "Iziegbe (Ekassa No.70)", by the wonderfully named Victor Uwaifo & His Titibitis, utilises the very simplicity of its rhythm as a counterpoint to its declarative vocals. And check out the great jazz boogie-woogie piano on Felixson Ngasia & The Survivals' "Black Precious Colour". A lovingly compiled selection that showcases how joyfully Nigeria of the Seventies and Eighties was fusing its own music with the black pride and fresh funk coming from America. Drop the needle anywhere and it will scooch into something that starts the body jigging.
Johnny Cash Sings the Songs That Made Him Famous + Sings Hank Williams + Now Here's Johnny Cash + All Aboard the Blue Train + The Original Sun Sound of Johnny Cash (Charly)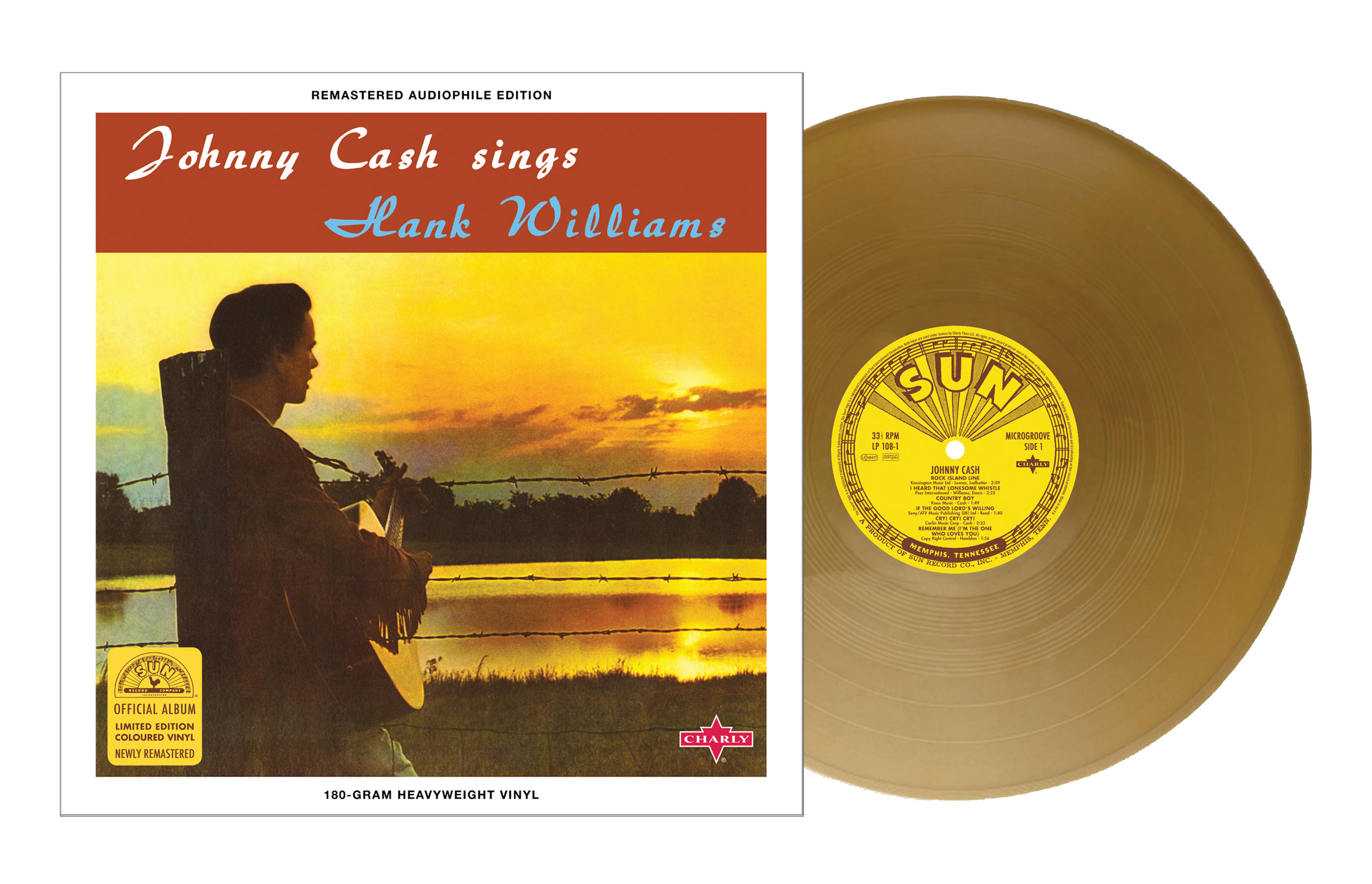 A cross section on coloured vinyl of early Sun Records work from one of the true greats. Chronologically, they start way back in 1958 with Johnny Cash Songs the Songs That Made Him Famous. It's his second album but the only one here that originally came out when Cash was still on Sun as he left for Columbia that year. The Tennessee Three classic Cash sound is already there and the album contains the 24 carat country classic "I Walk the Line"… but, then again, so do quite a few of the others as from thereon Sun were releasing from the plethora of material Cash had already recorded for them. At this point in time an artist such as he would have been mostly judged on an ability to shift singles, with albums an afterthought, so it's remarkable the quality threshold is so high, albeit samey, with the Tennessee Three zen-punk in their simplicity. Sings Hank Williams was released in
1960 and is subtitled "and other favourite tunes" so only has four Williams tunes. "Folsom Prison Blues" and "I Walk the Line" (again) are on board but many songs are laced with doo-wop backing vocals that are an acquired taste. Now Here's Johnny Cash simply collects successful singles released between 1955 and its release in 1961. It's a winner, then, from "Cry Cry Cry" to "Hey Porter" to "Sugartime", with its innuendo-ridden lyrics ("Sugar in the morning, sugar in the evening, sugar at supper time"!). Next up is 1962's All Aboard the Blue Train which comes on turquoise blue vinyl and, again, recycles various cuts ("Folsom Prison Blues" again!) but is also so tastily selected that it works well ("There You Go" is peach). Finally The Original Sun Sound of Johnny Cash which, despite coming at a point when Sun should have been running out of material, is a still strong, including the biblical belter "Belshazzar". Overall, no-one needs all these albums, but every home needs at least a couple of them. I'd take three, the last released pair and one of the others.
Jowe Head Widdershins (Easy Action)
Back in the mid-Eighties, when he was bassist with the TV Personalities, Jowe Head (along with the rest of the band) was the first artist I ever interviewed. He had about him a surreal Englishness and told me that he had just had "a mushroom sandwich". He didn't seem to be implying the mushrooms were of the Portobello variety. Decades later, from the sound of this solo double album on art gatefold with photo/info inner sleeves, he's as eccentrically off-piste as ever. Happily, his vision results in a set that's compulsively bizarre, the tone being twisted folk, with a heavy dose of Birthday Party/Gallon Drunk punk-tinted dirge-blues. A typical lyric would be "If you go down to the woods today then look around you/You'll see that the trees have eyes/If you stick around too long and the eyelids start to rise/Then woe betide you" from "Trees". Sinister folklore and mythology is grist to much of the album with a bawdy, primitive ode to the Minotaur, the fairytale Baba Yaga rendered in a palatable Kate Bush-like manner, and a song entitled "Ode to Krampus". Head's voice is a growling, raw thing capable of descending into animalist noises, as on "Tankerton Bay", while the music is occasionally a bastard progeny of The Fall, especially on songs such as "Extraterrestrials" and "Extras". Electronica even features, as on "Long Live the Sun". Widdershins is a rambunctious collection that noisily reinvents English folklore through the earthy, wilfully artistic vision of a musical one-off.
Sami Linna Quartet Mode For Tomorrow/Umoya (Timmion)
Backed on drums by Dana Hall, a veteran sticksman who's played with everyone from Kenny Barron to Ray Charles, Finland's Sami Linna Quarter offer up a jukebox-style 7" that hints their self-titled new album may be well worth a listen. Both sides heavily feature saxophonist Jussi Kannaste, but the lead solo, especially notable on "Mode For Tomorrow" is still Linna's guitar, which has real grace as it plucks around the easy keys of Mikka Helevä and, on the flip, a sassy walking bassline. Helsinki label Timmion are renowned for their retro-soul but this assay into jazz is a treat.
Marvin Gaye You're the Man (Motown/Universal)
This release is a collection the soul great worked on in 1972 in the wake of his epochal What's Going On album. Falling loosely under the heading of a "lost album", then, many of these tracks have been available piecemeal before but are now gathered together with new mixes of "My Last Chance", "I'd Give My Life For You" and "Symphony" by Amy Winehouse producer Salaam Remi. The title song opens proceedings and is essential, Gaye on confident form over bongo-rhythmed funkin' (there's also a second version included). Working with various Jackson 5 songwriters, Gaye put together a set that, while not the wracking journey of What's Going On, offers an upbeat feel that runs from guitar-laced gospel balladry of "Piece of Clay" to the wah-wah grooves of "Where Are We Going?". The double album set in gatefold contains insights into its background via Gaye biographer David Ritz. It's long been thought it was Motown boss Berry Gordy's negative opinion that shelved the album, but it seems it was as much Gaye's own lack of confidence in following up what is still perceived as his masterpiece. Many decades belatedly we can say that Gaye needn't have worried.
The Picturebooks The Hands of Time (Century Media)
Arriving with a 12" x 24" photo/lyric insert, the fifth album from The Picturebooks has a rockin' blues jauntiness that, predictably, brings The Black Keys to mind. It certainly doesn't seem redolent of the industrial German city of Gütersloh where the duo hail from. With vocalist Fynn Claus Grabke on guitar and Philipp Mirtschink on drums, they look like a couple of backwoods longhairs from the American south and, indeed, prior to this album took a year off overhauling their motorbikes in a garage where they also sometimes record. The Hands of Time is a feisty outing that's as happy sending up their cowboy shtick on the Ennio Morricone-esque "Rain" as it is pummelling the listener with sturdy ZZ Toppin' numbers such as "Lizard" and the title track. Chrissie Hynde makes a worthwhile guest appearance on "You Can't Let Go" but, aside from that, the pair keep things varied enough – the opening "Horse of Fire" is a convincing acapella blues moan of a song – to more than hold the attention.
Sparks No.1 In Heaven (Lil' Beethoven)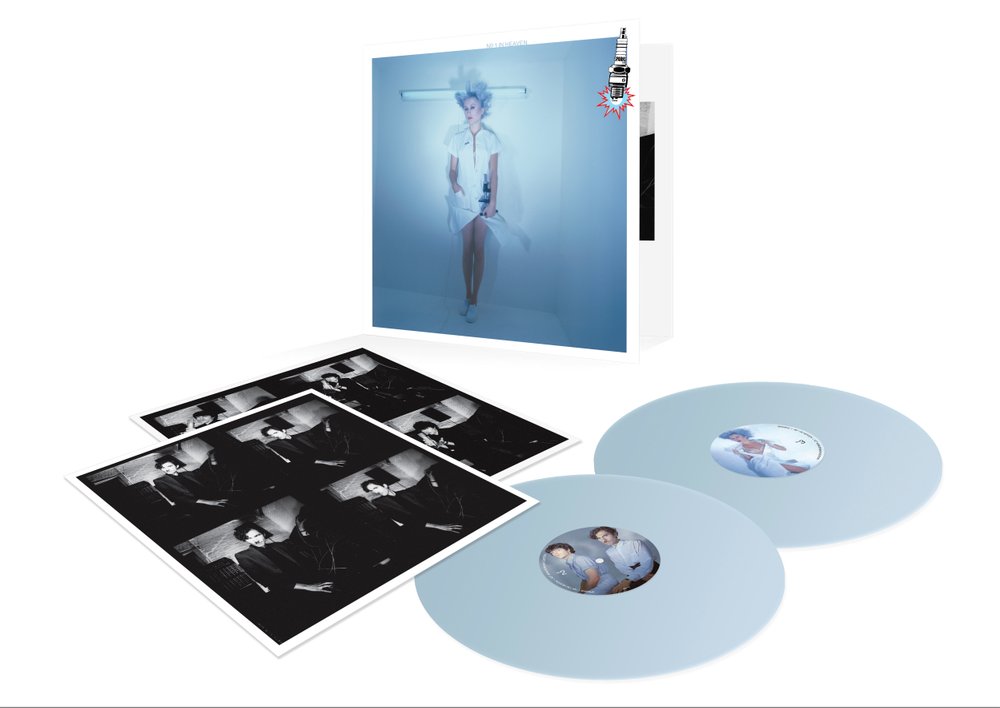 Did you know that Sparks' last two albums, in 2015 and 2017, both went Top 20? The latter, Hippopotamus, even made the Top 10. The American duo have always been an unlikely success story. While their mid-Seventies output had greater commercial clout than No.1 In Heaven, the latter album, a six track mini-album really, with its memorable hit singles "The Number One Song in Heaven" and "Beat The Clock", proved that, unlike many of their contemporaries, Sparks had survived the year zero cull that was punk rock. They did this by going electro-pop and joining forces with electronic disco kingpin Giorgio Moroder who produces, and whose signature sound is all over it. This 40th anniversary edition comes on double in gatefold on pearl-coloured off-white vinyl with extensive sleeve photos and anecdotal notes that tell us, amongst much else, that the record company was not convinced by the album and initially shelved it. They did well not too. The velocity is manic, a camp, hi-NRG thrill ride, with singer Russell Mael's vocals pre-empting the later trend for falsetto. Disc one is the original album while disc two contains alternate versions, as well as Peter Cooke rambling about the album in someone's very strange idea of radio promo; the drugs must have been that good in 1979.
Soundersons Respect the Funk (Paper)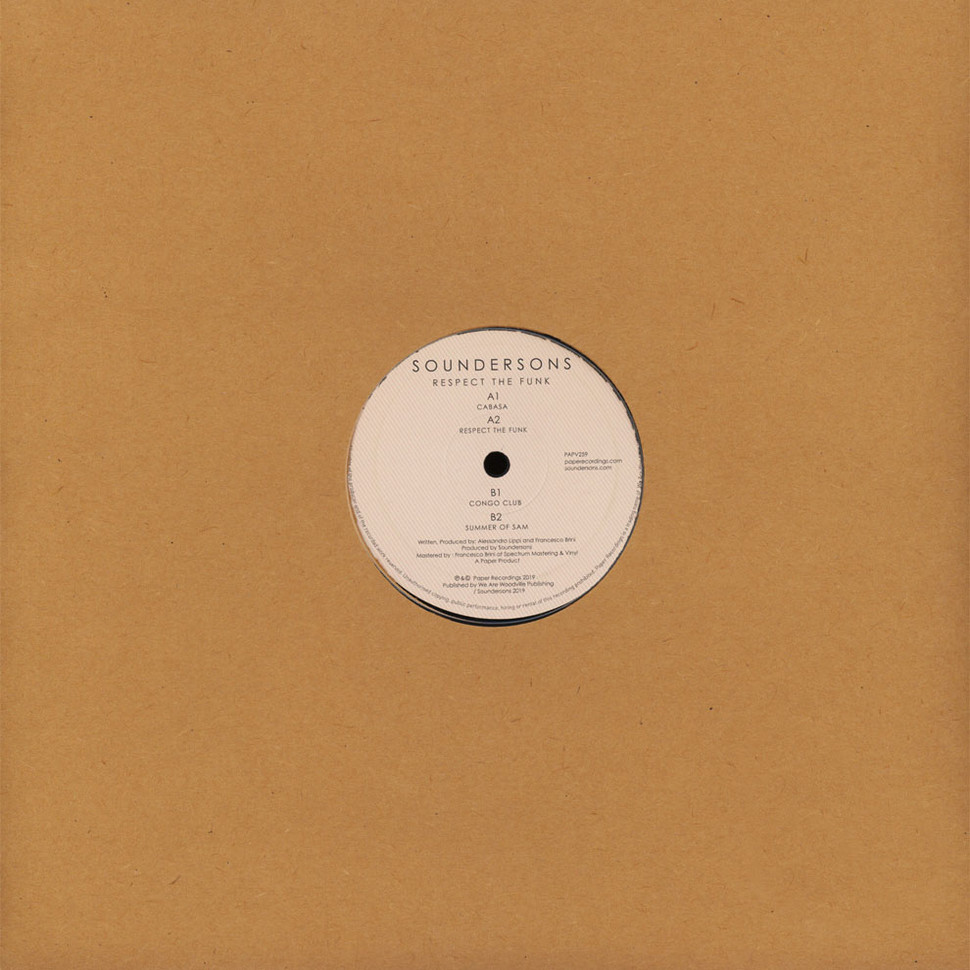 12" single from those doyens of house music class from the north of England, Paper Records. These four cuts, all instrumentals created by an Italian production unit, are more for DJs than casual listeners but three of them have enough loop'n'drum thwack to grab anyone's ears. Lead track "Cabasa" has a cleverly inserted keys motif that plays off the relentless kick, while the title cut interweaves a scratchy violin line and eventually builds to a chant that makes it the EP's go-to track. This writers favourite, though, is "Congo Club" which strips things back to a tribal percussive exercise, with a sliver of Rhodes to retain the interest. Like I said, mostly a DJ tool, but a classy EP, just the same.
ALSO WORTHY OF MENTION
Crazy P Age of the Ego !K7): Opening with a track that recalls long-ago and long lost UK house act Fluke, the eighth album from Crazy P is far from some afterthought by a band who were almost big at the start of this century. In the UK, their jokey, nearly-Basement Jaxx persona built them a cult following but, long after they dropped their original Crazy Penis moniker, they have a global fanbase and a new album that's ready to party. Frontwoman Danielle Moore effectively leads the songs, whether giving them old school diva soul, or electro-deadpanning on the likes of "We Will F**k You Up", or bouncing along the electro-pop of "Lean On Me". Crazy P remain a festival-friendly unit with, by the sound of this, their hook-building creativity intact.
Maps Colours. Reflect. Time Loss. (Mute); British songwriter-producer James Chapman – who is Maps – has a luscious way with a song. He understands that opiated, oversweet sound that's been handed down to pop music by the Velvet Underground's "Sunday Morning", only he adds his own triumphant orchestral arrangements. There's a touch of The Sleepy Jackson about what he's up to. Boasting songs as gorgeous as the huge, chorally backed "She Sang to Me", his fourth album is as good as anything he's done, albeit more grandiose in scope, not one for those who like rough edges left in. It's a likeable album, although the melodic candy jars upon occasion. Comes on white vinyl in lyric gatefold.
Blick Bassy 1958 (No Format): This one's a grower. 1958 may be dedicated to Ruben Um Nyobé, an anti-imperialist Cameroonian leader shot by the French in the year of the title, but its sound is unforceful, working its way into the consciousness via sweetness rather than power. Songs such as the gorgeous, strummed "Kundé" or the equally laid back but more African-sounding "Sango Ngando" sneak up the listener. Bassy's voice is a plaintive, high-pitched instrument that persuades and his fourth album, on white vinyl, has some lovely moments wherein shimmering electronica meets potent, mellow songwriting flavoured with his Cameroonian heritage. Comes with 12" x 12" art/photo insert.
Paul Kantner/Grace Slick Sunfighter (Floating World) + Grace Slick Manhole (Floating World)
Two Jefferson Airplane-related releases that both have worthwhile parts. Slick's voice really was quite an instrument and this pair see her spreading her wings, trying things outside the format of her day job. Sunfighter dates from 1971, created with Airplane guitarist Paul Kantner, with whom she was in a relationship (their child China is held aloft on the cover). They muster a set in an array of styles and sound like they're having ball. These include the pulsing noise of "Titanic" but mostly it's guitar-led blues pop with a honkytonk zip. Comes in psychedelic lightshow gatefold on tiger orange vinyl. Manhole (1974) dates from a period when Jefferson Airplane were on hiatus after years as one of America's top touring bands. It has a badly reprinted cover - looks like over-enlarged lo-res shot - but, ignoring that, the music is sees Slick singing over catchy prog-pop instrumentation, somewhat akin to prime time Love. Apparently it was recorded when she was going through an especially hedonistic period but you wouldn't know it. Both albums are likeable and better, for some reason, than I was expecting.
Marshes When the Lights Are Bright (Endearingly Ramshackle): Beth Porter is a cello-playing member of Eliza Carthy's Wayward Band. Marshes is a reincarnation of her old unit The Available, perhaps engendered by the singer's move from England's south west to Scotland. Arriving on transparent orange vinyl in photo-info gatefold with art/lyric inner sleeve, it's folky but has ambitions outside that sphere, letting a brass section have their say on climactic sequences in "Wake Me" but just as happy jigging a hoedown on "Who We Are", while "Grey, Grey" is so catchy that, if rendered in another medium, could make a proper pop hit. Porter's songwriting talent is light and easy but adventurous and shines here.
Resolute Resolute (Babel): Resolute hail from the outfields of Britain's exploratory jazz underground: words to set fear into any heart, but hold fast, there's much to wrap the ears around. Trombonist Raph Clarkson has form on UK jazz perennial Babel Records, releasing the Soldiering On album by his Dissolute Society eight-piece a couple of years back. Resolute is more in that vein with much spoken word involvement, notably from the London-based Brit-Nigerian poet Gboyega Odubanjo. The music runs the gamut from free jazz freakiness to warbling bloopy electronica. It's forceful stuff , due to the plethora of wordage; you have to be in the mood as it's no background fare, more for fans of BBC Radio 4 late night arts programmes. Comes in a lovely colourful sleeve and inner sleeve from paintings by London-based French artist Aurelie Freoua.
Ishmael Ensemble A State of Flow (Severn Songs): Ishmael is, in fact, Bristolian saxophonist Pete Cunningham who follows up a series of EPs with an impressive debut album. He's as happy laying out edgy drum & bass-flavoured dancefloor cuts as he is letting Holysseus Fly (singer Holly Wellington under an excellent pseudonym) smooch into late night cuts "Full Circle" and "Waterfall" in full Jill Scott mode, or letting chillage take over on "First Light". It's musically advanced in tone but approachable and Ishmael Ensemble may have the crossover potential which gave names such as Portico Quartet their moments in the sun.
Holy Magick Holy Magick (Lost Room): A member of late period Death In Vegas (a band underheard but still musically prime, incidentally), Dom Keen has got together with American singer Siobhan Lynch to form Holy Magick. They major in Seventies-flavoured dream pop. Sometimes, they have a certain glam stomp about what they do, and at others a touch of early Goldfrapp, and at yet others it's as if Nancy Sinatra had fallen down a rabbit hole with a bucket of mescaline. Based in Brighton, one thing is certain and that's that, though all the psychedelic edging, there's a twangy, early John Barry-ish way with a classy tune.
Toyah In The Court of the Crimson Queen (Demon): Toyah is a game one, full of vim, always with something up her sleeve. On paper her pop career was a brief flurry at the dawn of the Eighties but she's parleyed that into TV, theatre, into a new band, The Humans, with late period REM drummer Bill Rieflin (big in Estonia!), and loads more. She's always out there performing too and this 2008 album has built something of a following since its release, with tracks from it used in various TV slots. Its vinyl release, then, is no vanity affair; she has the fans. Created with Eighties session musician and songwriter Simon Darlow (he wrote for The Buggles, Dollar and others), the flavour is strident electro-rock, boasting fist-pumping lyrics such as "I danced in the hurricane/With the god who has no name", and there's a whiff of prog rock sneaking in from somewhere too. Yet Toyah is, intellectually, a punk, and that comes through. Not especially up my strasse but it undeniably has tunes and an unstoppable strut. Comes on magenta vinyl.
Brickwork Lizards Live at St Giles (Vyvyfyr): Described on the press release as an "Oxford-based, Arabic jazz ensemble", the sounds I initially hear on this four track EP don't gel with that. Opening with the line "Roses in a vase, they wither and die", "Roses" comes on like an old fashioned torch song from the 1940s, while EP closer "I Want to Spend the Night with You" is a jolly song that might derive from the same era of radio jazz-pop. But then there's "Sama'i Waltz" and "Nikriz Longa", both of which that have a Middle Eastern feel, verging on the Balkan in places, and giving a completely different air to proceedings. Recorded in their home town Live at St Giles may have an identity crisis but it's an involving ride.
Laurence Pike Holy Spring (Leaf): Australian musician Laurence Pike has a foot in the overly subscribed modern classical-meets-electronica camp but, happily, his interest in percussion keeps his music away from the predictable. Pike has worked with multiple groups ranging from Szun Waves to Liars and even jazzer Bill Callaghan, while his solo work sees him apply creative parameters to achieve his goals. Last year's Distant Early Warning was recorded live and this, his second album, was created during the course of one day with collected samples. Apparently inspired by the paganism at the heart of Stravinsky's Rite of Spring, its sound nothing like that, with little melody, except occasional backing tones, but is more an exercise in found sound percussion collated to carry the ears along with interest, a precisely calibrated clatter that gradually blossoms to something more. Clearly not music for a mass audience, what's makes it involving is that the mechanical is underpinned with something warm and human.
Monks Road Social Down The Willows (Wonderful Sound): Coming on double in a gatefold full of photos and information on the project, Down The Willows is the debut album by a loose collective of musicians put together by The Blow Monkeys' Dr Robert. It features Style Councillor Mick Talbot, members of Galliano, and others, as well as a variety of new names. It's a stylistic mixed bag but the best of it has real heft. Even songs featuring the same artist can go in completely different directions, for instance Pat Dam Smyth gives us the utterly Leonard Cohen-esque and gloomy "Rivers of Gold" but then reappears with the Blur-like London elegy "So Long Soho". Elsewhere the music runs the gamut from smoky, stylish female-fronted hip hop to low key jazz pop to the noisy garage guitar instrumental "Bronwen". It feels like an album a lot of care and effort has gone into and it's paid off.
Various BC35: Volume Two (Bronson): For fans of noisy Eighties New York bands this album is a celebration and a re-creation. Martin Bisi founded BC Studios in 1981 in Brooklyn's rundown Gowanus area and, over the years, multitudes of the finest alternative types have recorded albums there, including Sonic Youth, Brian Eno, Swans, Herbie Hancock, and John Zorn. The area is now being gentrified with BC a last remaining bastion of the old neighbourhood so this album and its predecessor are designed to draw attention to its cultural contribution. On it, a cross section of bands work together in various combinations, sometimes as themselves (Live Skull) but usually in ad hoc line-ups, for instance featuring members of Swans and Cop Shoot Cop on the driving, nasty "Tina". The music is warped punk, tinged with its home city and No Wave attitude, although it also includes other moments such as the ambient "Rainy Day in Bern" or the lo-fi punk-funk of "Ootapa', another ex-Swans/Cop Shoot Cop affair. Comes in info inner sleeves with a super-noisy 7" single and a 12" x 24" fold-out photo/poster celebration of BC.
Abul Mogard And We Are Passing Through Silently (Houndstooth) + Various Spaciousness: Music Without Horizons (Lo) + Various Late Night Tales: Floating Points (Night Time Stories)
And so to closedown sounds, like on telly back ion the day. Houndstooth is a label given to techno flavours and indeed the Abul Mogard album, on four sides of vinyl, is a collection of remixes, but anyone expecting four-to-the-floor from retirement-age Serbian synthesizer etherealist Abul Mogard will be disappointed. Instead, his interpretations place the music, mostly the vocals, of tracks by Aïsha Debi, Penelope Trappes and others (including a collaboration between Brian Eno and Irish experimental outfit Fovea Hex) amidst washes of tone music that gradually encompass them. His thing is very much a thing and once you've heard it once, you've heard that thing but it is an effective thing if you want to brain-wander awhile. Mogard also features on the next album under review, Spaciousness: Music Without Horizons. Lo Records is a great label whose output has included input by underground sorts ranging from Grimes to Four Tet, although much of their best stuff is more anonymous, experimenting way ahead of the game while unafraid of being catchy. Spaciousness, however, on double in gatefold, is more of an ambient wander-about, featuring input from Ulrich Schnauss, Cathy Lucas, Susumu Yokota and a load of people I haven't heard of. The fun thing is that the wilfully perverse graphics make is it almost impossible to tell who did what, an art statement of sorts. Full points for that! The music of Sam Shepherd (AKA Floating Points) ranges all over the place but has much in common with the other two albums reviewed here, in that it makes a serious cerebral assessment of sound and often has an ambient sensibility. His choice of tunes for the new Late Night Tales compilation, which comes on two records with a 12" x 12" art/info card, is music all but the most fervent crate-digger will never have heard of. It ranges from the blissed soundscaping of his Canadian pal Sarah Davachi to the cuddly jazz of Max Roach to the spacey mid-Seventies downtempo of forgotten French prog-jazzer Alain Bellaïche to his own super-mellow cover of trumpet-player Kenny Wheeler's 1990 piece "The Sweet Time Suite, Part 1 – Opening". There's also, as is traditional with this compilation series, a spoken word section, which consists of Lauren Laverne reading Emily Bronte. Overall, Shepherd's taste is too noodly and mannered for this writer but it's also clearly heartfelt and there are moments when it takes flight. However, it's now time for theartsdesk on Vinyl to take the funicular railway up to bed until next time.
We welcome any and all vinyl for review. Please hit thomash.green@theartsdesk.com for a postal address.
No-one needs all these albums, but every home needs at least a couple of them
Explore topics
Share this article