Reissue CDs Weekly: Ludus |

reviews, news & interviews
Reissue CDs Weekly: Ludus
Reissue CDs Weekly: Ludus
Profile-raising overview of Linder Sterling's post-punk musical adventurers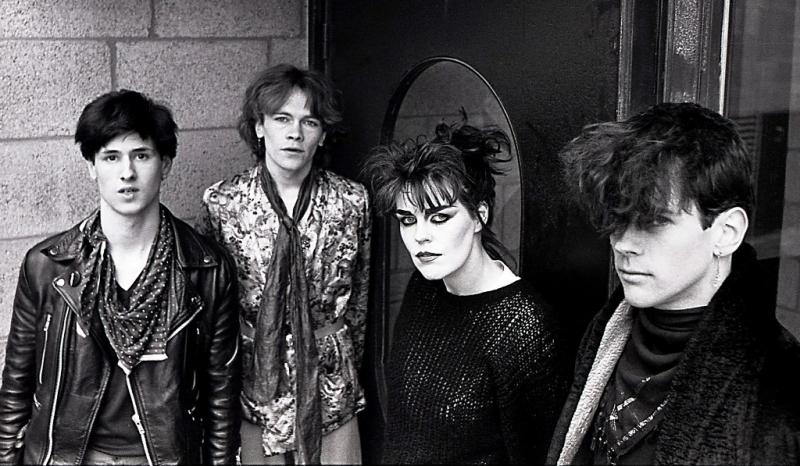 Ludus, on 17 April 1981. Left to right: Paul Humphries, Graham Dowdall, Linder Sterling, Ian Devine
At September 2010's MTV Video Music Awards, Lady Gaga took the stage in a dress made of stitched-together cuts of meat. The outfit, she said, was a political statement worn to draw attention to the aspect of the US military's don't ask, don't tell policy preventing anyone who "demonstrate[s] a propensity or intent to engage in homosexual acts" from joining the forces. The first female singer to wear a meat dress on stage, though, had less of a profile.
Lady Gaga's prototype was Liverpool-born art-rock provocateur Linder Sterling who, on 5 November 1982, was playing Manchester's Haçienda with her band Ludus. That evening, her dress was made from chicken parts discarded by a Chinese takeaway which she had sewn onto a net backing. At the set's climax, inspired by Buck's Fizz – whose female members had their normal-length skirts pulled off during Eurovision to reveal tiny minis – she opened her dress to reveal a black dildo strapped to her crotch. The performance was Sterling's comment on how men saw women and the normalisation of pornography.
Sterling, born Linda Mulvey, was based in Manchester and already known for her art. She created the collage cover of Buzzcocks' first major-label single, 1977's "Orgasm Addict". The image replaced a naked woman's head with an iron: commentary on the conflict between being a homemaker and a sexual object. She was also responsible for the cover artwork of Magazine's 1978 debut album Real Life depicting the band's members as disembodied heads. A friend of Buzzcocks and Magazine's Howard Devoto, she is also close to Morrissey and published the collage fanzine The Secret Public with writer Jon Savage.
While Sterling's centrality to and influence on punk and post-punk's Manchester's visual side is in no doubt, Ludus tend to be overlooked. Nue au Soleil (Complètement), a new double CD retrospective of the band, shifts the balance. Disc Two includes a recording of the November 1982 Haçienda show along with a Peel session from the same year. Disc One is a best-of, and represents the meat by cherry picking cuts recorded between 1978 and 1983. Rather than being sequenced chronologically, the 18 tracks are in the main ordered to stress the stylistic congruity of Ludus's music. Line-up changes were frequent, but Sterling's longest-serving fellow traveller was guitarist Ian Devine, who joined in 1979. The band split in 1984.
Sterling jabbers, screeches and mimics wind instruments
The earliest track on Nue au Soleil is late 1978's previously unreleased "I Don't Want to go". Devine was not-yet on board and the sound is a fractured punk-inspired chug this-far from the Swiss band Kleenex (who hadn't issued a record at this point: each band drew from influences then in the air). For the early Ludus, their guitarist was Arthur Kadmon, formerly of post-punk-funk pioneers Manicured Noise. "I Can't Swim I Have Nightmares", the first track with Devine, was recorded a year later. The new guitarist brought No Wave influences and rendered the band more supple, making them akin to a pop version of the early Scritti Politti.
There are jazz influences too. West African rhythms are also in there. But the whole is recognisably British post-punk. Though often conversational, Sterling's voice veers off into jabbering, screeching and mimicking the sounds of wind instruments – as Tim Buckley had also done. She is not a conventional singer. 1981's "Mother's Hour" is the acme of Ludus's fusion of these disparate elements – coming across as a more friendly version of Sheffield's Clockdva. In contrast, 1982's "What a Falling off was There" is effectively free jazz and, vocally, nods towards the abstractions of Patty Waters.
Two smoother tracks from 1983 – "Breaking the Rules" and "Little Girls" – add Brazilian elements, are as overtly poppy as Ludus get and suggest their home could have been hip art-dance labels Celluloid or ZE rather than lesser-known Belgian and French imprints.
Nue au Soleil raises the profile of an idiosyncratic band, one fronted by a wayward artist. It also includes barely categorisable, cross-genre, wilful music. Head here for some rewarding post-punk adventuring.
With her dress made of meat, Linder Sterling was Lady Gaga's prototype
Explore topics
Share this article