Inside Llewyn Davis |

reviews, news & interviews
Inside Llewyn Davis
Inside Llewyn Davis
The Coen brothers excel with a tale of a Greenwich Village folk singer on the skids
Thursday, 23 January 2014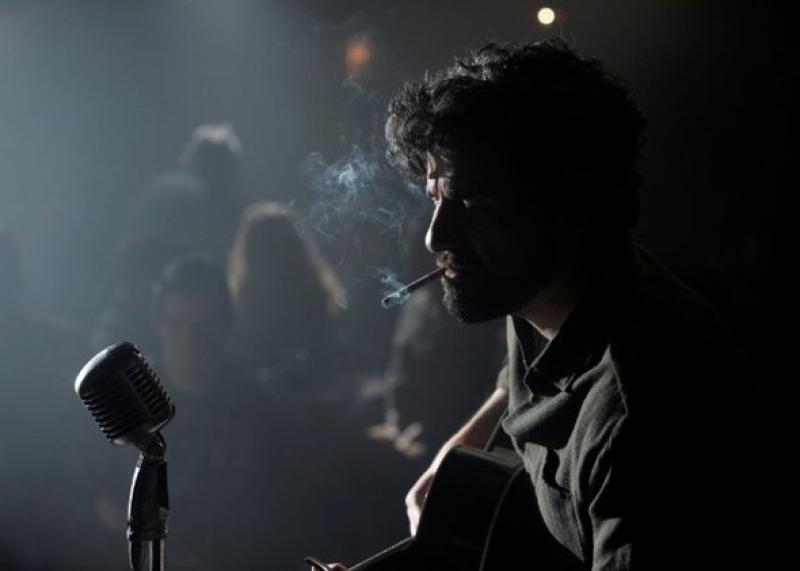 Poor boy: Llewyn (Oscar Isaac) performs 'Hang Me, Oh Hang Me' at the Gaslight Café in Greenwich Village
Inside Llewyn Davis, Joel and Ethan Coen's brooding homage to the Greenwich Village folk scene, is set in 1961 (January probably), just before Bob Dylan's revelatory songs popularised it. The film is named for its protagonist, a working-class singer-guitarist suggested by the seminal Village folk-blues performer and musicians' mentor Dave Von Ronk. The undomiciled Llewyn also inherited Phil Ochs's habit of crashing on other performers' couches.
Portrayed with consummate weary restraint by Oscar Isaac, Llewyn is not a prepossessing movie hero. Selfish and self-destructive, capable of being boorish and hurtful, if possessed of quick wit and glimmerings of conscience, he is not only homeless, but penniless, and loveless. A close friend of softer fellow folkie Jim (Justin Timberlake), he has knocked up Jim's live-in singer girlfriend, Jean (Carey Mulligan, pictured below), who, absolving herself of any responsibility for sleeping with him, demands he pay for her abortion, as he paid for that of another lover he impregnated two years previously. Jean viciously upbraids Llewyn in a grey, freezing Washington Square denuded of its bohemian mystique.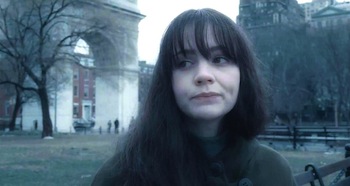 As a musician, he is wedded to performing the kind of sombre traditional or traditional-style ballads Dylan will soon eclipse. Though he has cut a solo album, Llewyn's manager, evasive old-timer Mel (Jerry Grayson), has no royalties to give him, but loans him his coat and 40 bucks. His week-long downward spiral – which incorporates upsetting the kindly Gorfein couple (who put him up in their Upper West Side apartment) and losing their cat, antagonising his sister, and a wild goose chase to Chicago – brings him to the verge of giving up music and returning to the Merchant Marine. For Llewyn that would mean just existing, with no more point to his life than that of his father, himself a former merchant seaman who has succumbed early to dementia.
Inside Llewyn Davis is spiked with acerbic humour and peopled with memorable eccentrics, among them Mel's elderly secretary, the Italian proprietor of the Gaslight Café folk venue on MacDougal Street, the jazzman blowhard (John Goodman, channelling Doc Pomus and Dr John) who sneers relentlessly at Llewyn as they cross the bleak Midwest, and his monosyllabic valet-driver (Garrett Hedlund). Yet the film didn't draw a mass audience in the States, or win over Oscar nominators, who've given it a crack at Best Cinematography and Best Achievement in Sound Editing only. One reason is its bleakness, visually attributable to Bruno Delbonnel's wintry palate: the road trip, a parable of Llewyn's hubristic progress, slips into a noir aesthetic as the highway becomes increasingly menacing. Another source of the film's neglect is its blunt refusal of the American success ethic. (Isaac and Timberlake pictured below.)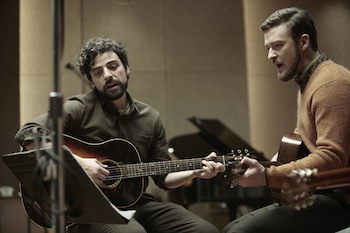 So what else recommends this exquisite comic dirge? (Apart from the fact that it combines elements of Barton Fink, Fargo, A Serious Man, and, as a celebration of music, O Brother, Where Art Thou?) Particularly satisfying is its Möbius strip design, which enables the Coens to inflict the same physical beating on Llewyn at the start as they do in the final scene. The device posits the idea that much of what he goes through is dreamed – and that the trip to Chicago is a dream within a dream. His anxiety-inducing mishaps frequently occur between scenes of him waking: twice at the Gorfeins' place, on the subway, in a car. Though a music business decision-maker (played by F. Murray Abraham) whom Llewyn meets in Chicago seems real enough, Goodman's hepcat from hell (pictured below) is as much a projection as the Southern-accented assailant.
He doles out that "second" beating to Llewyn after he has cruelly mocked a humble middle-aged folk performer making her debut at the Gaslight, so Llewyn has only himself to blame. And yet it's insufficient to label him a jerk as some critics have. His moral errors – sleeping with Jean, not visiting his ex-girlfriend on the return journey to New York – are part of a pattern but also attributable to unhappiness. Llewyn is haunted by the loss of his musical partner, Mike, who committed suicide. Not until he lets go of the grief that consumes him will he be able to live a decent life.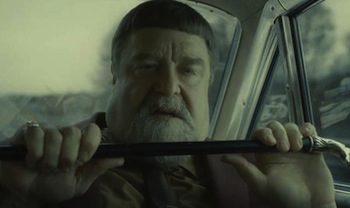 Until then, all he has to sustain him is his music, which is why his obdurate clinging to it in the face of the pressure to sell out (like Jim) is ennobling. Llewyn may be failing in his own time but his renditions of autobiographically-tinged numbers like "Hang Me, Oh Hang Me", "Fare Thee Well (Dink's Song)", and "The Death of Queen Jane" are so resonant it's likely he would have been hailed years later as the folk revival's master of the lament. Davis's singing and playing and T-Bone Burnett's music production are that good.
Llewyn's tunes also bring succour. On returning to New York, he visits his father in his retirement home. Hugh Davis remains silent and shows no sign of recognising his son. But when Llewyn performs Ewan MacColl's "Shoals of Herring", a song Hugh used to like, something stirs inside the listener. He casts his eyes down, looks out the window of his room – as if the lyrics or syncopations have released a memory from the deep – twice closes his eyes from an unfathomable emotion, and sighs inaudibly. "Wow – wow!", Llewyn exclaims, struck by the realisation that his father retains a modicum of awareness.
That is sentimentality enough: Llewyn is next seen telling an on-duty orderly that the incontinent Hugh needs to be cleaned. The retirement-home interlude carries no more structural weight than any other in the movie, but the starkness and purity of the young man's balladry are transcendent. It outstays even the insistent whine of the new troubadour on the Gaslight stage, which catches Llewyn's ear as he exits out the back at the end.
Overleaf: watch the trailer to Inside Llewyn Davis
Portrayed with consummate weary restraint by Oscar Isaac, Llewyn is not a prepossessing movie hero
rating
Explore topics
Share this article