Chevalier review - a less than extraordinary film about an extraordinary man |

reviews, news & interviews
Chevalier review - a less than extraordinary film about an extraordinary man
Chevalier review - a less than extraordinary film about an extraordinary man
Paper-thin treatment of the incredible life of Joseph Bologne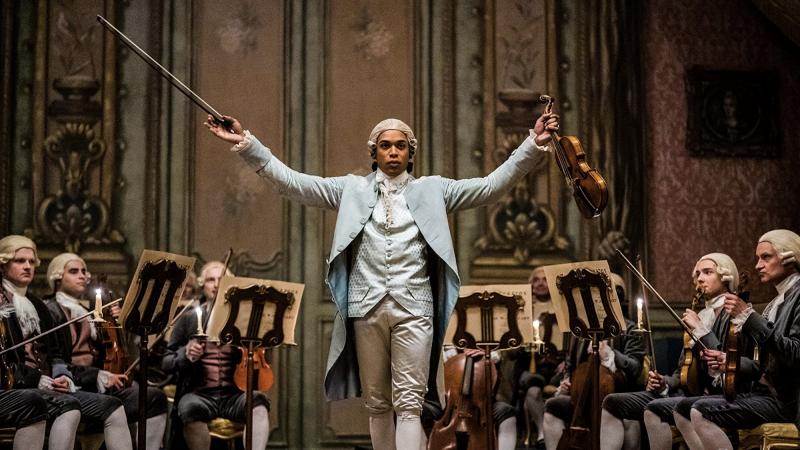 Kelvin Harrison Jr as the multi-talented Joseph Bologne
This frothy bio-fantasy about the 18th century composer Joseph Bologne, Chevalier de Saint-Georges and top tunesmith to Marie Antoinette at the French court, could have been a powerful and revealing shout-out to a woefully under-appreciated composer.
Directed by Stephen Williams with a screenplay by Stefani Robinson, it's more like Bridgerton Goes to the French Revolution, an absurd bouillabaisse of melodrama and characters who may be elegantly dressed but are uniformly paper-thin.
Bologne was born in the French colony of Guadeloupe, the illegitimate son of a French plantation owner and an enslaved Senegalese woman. His father took him to France and enrolled him in an elite academy, where he became a superb fencer and dazzled all and sundry with his performing and composing gifts (pictured below, Bologne with Lucy Boynton as Marie Antoinette).
All this was true, but the film's opening sequence, where Bologne gets up from the audience at a performance by Mozart and challenges the Maestro to a violin duel on Mozza's Violin Concerto Number 5, like Jimi Hendrix throwing down the gauntlet to Eddie Van Halen, was not (an amusing conceit though it may be). Having Mozart played by Joseph Prowen like a bumptious public school twit doesn't help a lot.
It's not known whether the real Bologne ever met Mozart, though he almost certainly did. It's certainly easy to spot Mozart-esque traits in his music, as a quick dip into Spotify, where you can find a cluster of recordings of his work, will confirm. Since Mozart was 11 years his junior, it's quite possible that Mozart was influenced by Bologne (pictured below with Ronke Adekoluejo as his mother Nanon).
The story of a gifted composer ignored by posterity because of his skin colour has obvious resonance in this era of decolonisation and Black Lives Matter. It was fear of a racist backlash, it seems, that prevented Marie Antoinette (Lucy Boynton) from appointing Bologne as director of the Paris Opera, the job going instead to Gluck (Henry Lloyd-Hughes), but how Bologne was able to achieve the successes that he did in pre-Revolutionary France makes such a remarkable story that it seems a crime to reduce it to this cartoon-like rendition.
Quite apart from his musical, sporting, dancing and multilingual skills, the Bologne winsomely portrayed here by Kelvin Harrison Jr also has a potent aphrodisiac effect on the ladies of the court, some of whom are old enough to know better. Predictably, one spurned dowager, La Guimard (Minnie Driver), turns nasty. "You're a party trick, a monkey playing your violin," she sneers. Bologne's affair with an opera singer, Marie-Josephine (Samara Weaving), is one of the main themes, cueing up the inevitable arrival of her husband, the Marquis de Montalambert (Marton Csokas), as the very model of the vengeful, contemptuous aristocrat. Oddly, his outrage and horror when his wife produces a mixed-race child is merely reported than actually shown.
Frustratingly, Chevalier ends abruptly when there was plenty more story to tell, since Bologne subsequently became a colonel in the Legion St-Georges and was imprisoned during the revolutionary Reign of Terror. An extraordinary man, but not an extraordinary film.
It's like 'Bridgerton Goes to the French Revolution'
rating
Explore topics
Share this article