Why Didn't They Ask Evans?, ITV1 review - Agatha Christie gets a tense and twisty reworking by Hugh Laurie |

reviews, news & interviews
Why Didn't They Ask Evans?, ITV1 review - Agatha Christie gets a tense and twisty reworking by Hugh Laurie
Why Didn't They Ask Evans?, ITV1 review - Agatha Christie gets a tense and twisty reworking by Hugh Laurie
Lucy Boynton and Will Poulter shine as a pair of intrepid amateur sleuths
Lucy Boynton as Frankie and Will Poulter as Bobby Jones
With Magpie Murders currently airing on BBC One, Why Didn't They Ask Evans? is another gem from the BritBox stable, where it made its debut last year. Its secret weapon is Hugh Laurie, who's all over it as screenwriter, director and actor.
Wisely, he has steered clear of the well-worked territory of Poirot and Miss Marple, and instead has adapted a Christie novel from 1934 which introduces us to a pair of amateur sleuths, Bobby Jones and Lady Francis Derwent (familiarly known as Frankie). However, Christie completists will doubtless already know that a previous ITV version of the story from 2011 converted it into a vehicle for Julia McKenzie's Marple.
The plot is a twisty, slippery thing involving murder, deception, various misleading identities and the forgery of a wealthy man's will, but Laurie pays as much attention to characterisation and dialogue as he does to the mere mechanics of the plot. As a result the show feels spry and wry as it wends its way to a conclusion, finding room to enjoy the eccentricities and peccadilloes of its cast along the way.
Laurie's undoubted cachet has enabled him to call in a few favours, with Jim Broadbent and Emma Thompson popping in for a couple of breezy cameos as Lord and Lady Marcham (pictured below, Laurie on set with Broadbent, Thompson and Lucy Boynton). There's also a droll turn by Paul Whitehouse as the landlord of the Angler's Arms (a nod to Whitehouse's double act with Bob Mortimer in Gone Fishing), while Conleth Hill makes an all too brief appearance as Dr Alwyn Thomas, a keen golfer despite his artificial leg.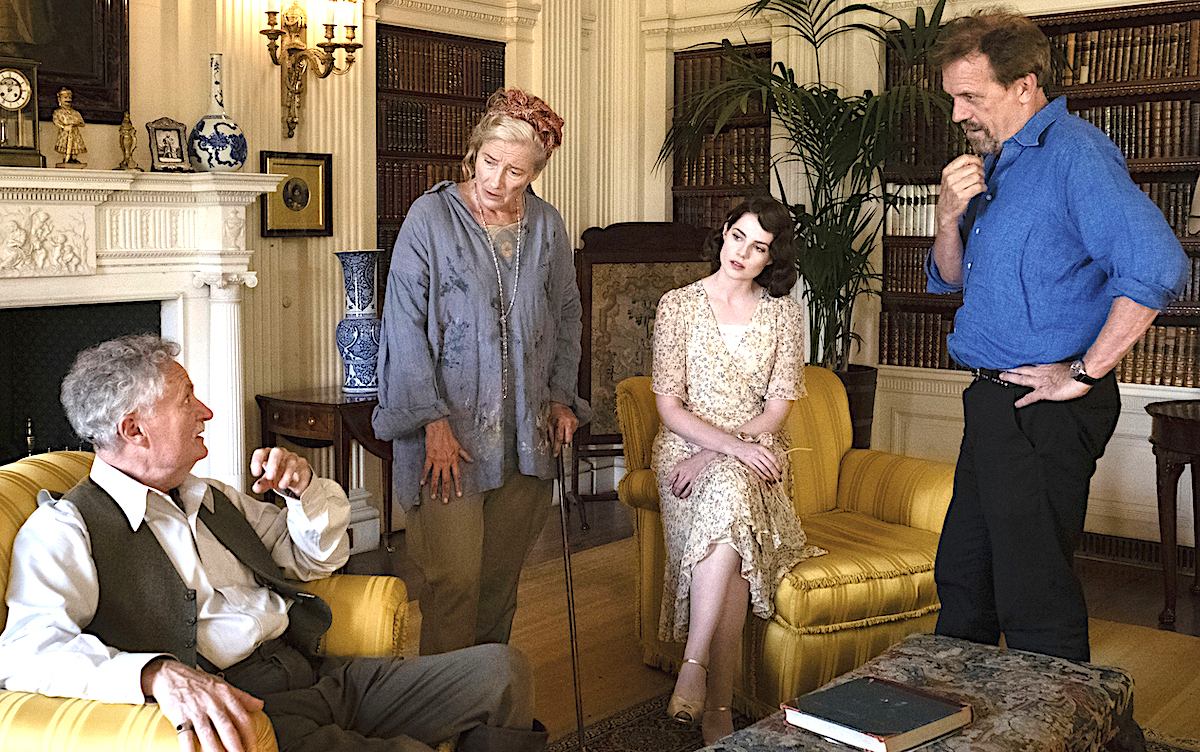 It's on the golf course in the Welsh coastal town of Marchbolt that our story begins. Bobby Jones (Will Poulter), the local vicar's son and a former Naval officer, is caddying for Dr Thomas when he hears a cry from the nearby cliff-edge. He sees a man's body lying on the beach below, and reaches it just in time to hear the victim's last words, "why didn't they ask Evans?".
The significance of this cryptic inquiry is not revealed until near the end of episode three, and there's many a false trail and several more corpses along the way. Key to the success of the piece is the relationship between Frankie and Bobby, who, we gather, had known each other in their childhood years but had then lost contact. Poulter plays Bobby with a disarming mixture of sincerity, naivety and determination, while Lucy Boynton's Frankie is a delicious cocktail of haughtiness, humour and a reckless capacity for hurling herself into dangerous situations without a moment's thought, driven by a blithe certainty that whatever happens, she can handle it.
Thus, she doesn't balk at an absurd scheme to insinuate herself into the country house home of the Bassington-ffinches, who are mysteriously embroiled in the ripples which spread out from the beach-bound corpse. Nor is she afraid of marching boldly up to the sanatorium where Dr Nicholson (a morbidly grim-faced Hugh Laurie) is experimenting with electro-convulsive therapy, while a sinister man in a bowler hat stands guard.
Boynton has also impressed in ITV's The Ipcress File and Scott Cooper's movie The Pale Blue Eye. If she carries on like this she may find herself in grave danger of superstardom.
Why Didn't They Ask Evans? is on ITV1 on 9-11 April and is also available on ITVX