Kabuki, Sadler's Wells |

reviews, news & interviews
Kabuki, Sadler's Wells
Kabuki, Sadler's Wells
Japanese theatre makes a welcome return, as strangely wonderful as ever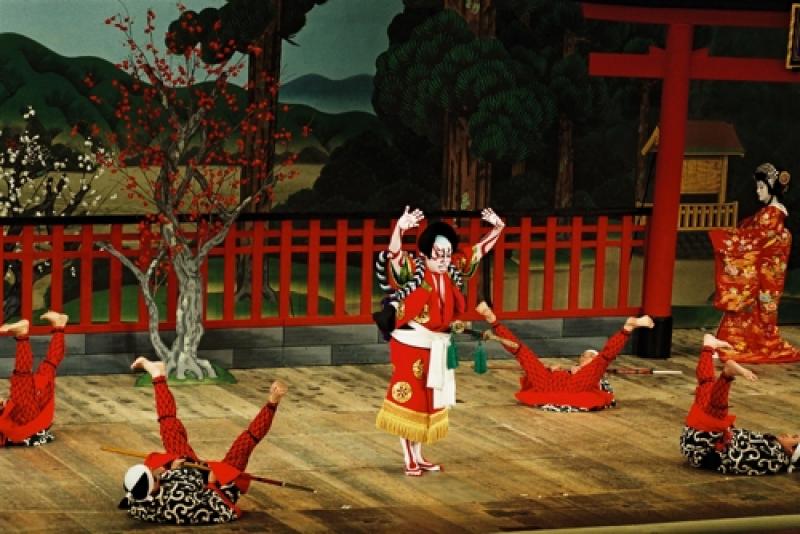 Kabuki: The hero Tadanobu rescues the heroine in spectacular fashion
It is hard to think of anything more "foreign" than kabuki to the Anglo style of acting, a style which reveres naturalism and makes "reality" its ultimate aim. Yet kabuki is gaining a knowledgeable – and welcoming – audience in London. The Shochiku Kabuki Company was at the Barbican last year, performing in Yukio Ninagawa's brilliant Twelfth Night, and Sadler's Wells have become almost regular hosts of Japanese performers.
And this performance of
Yoshitsune Senbon Zakura
(Yoshitsune and the Thousand Cherry Trees) was as exciting and as strangely wonderful as we have learned to expect.
The play dates from 1747, and tells of an incident in the civil wars of the 12th century, with General Yoshitsune a fugitive on the run from his half-brother, the victorious Shogun. Forced to leave his lover Shizuka behind, he gives her his magic drum, Hatsune. Shizuka is rescued from Yoshitsune's enemies by one of Yoshitsune's own followers, Todanobu, and together they set off to find the general. When they finally reach him, they find a second Todanobu there, who denies all knowledge of heroic rescues or magic drums; it is only when the drum is struck once more that Shizika realises that the first Todanobu is in reality a fox spirit, following the drum that was made of the skins of his fox parents. He is rewarded for his filial piety, and in return protects the general from a plot hatched by his enemies.
At two and a half hours, we saw only three scenes from this play. All of the sets are a glowing mix of textiles and pattern. The opening scene, in particular, with its fence and elegant gateposts of such a dense red that they appeared almost fluorescent, set against green and brown hills, with a charming fringe of cherry blossom hanging above, immediately sets the pace. It is a kaleidoscopic whirl through kabuki, almost a crash course, and one given by fine actors.
Todanobu and the fox spirit are played by one of the country's rising stars, Ichikawa Ebizō (right), the 11th actor of that name, from a dynasty that goes back to the late 17th century. He is in the heroic mould, a large man with a commanding presence and a strong face that becomes soft and supple as he turns into the fox. He specialises in hugely athletic performances, and together with the quick-change element for which kabuki is famous, he gives a dazzling display. Almost as thrilling are the soldiers, whose deftly choreographed kicks, turns and somersaults are always quietly contained, yet crisply clear.
In fact, it is the movement that stays in the memory: the fox spirit in one bound leaping up a flight of four stairs, or over the terrace railing; Ōtani Tomoemon, as the general, standing wordlessly, endlessly still, wearing a white undergown and bronze brocaded overgown with stiffened collar and belt that would not look out of place in a Klimt painting.
The costumes are a mixture of lush, saturated colours and artful simplicity, a mix that takes a great eye to achieve: four maids, in minor roles, enter wearing deep purple kimonos with rolled, Schiaparelli-pink borders, and obi bows that are tied with great insouciance rakishly off-centre. These disparate elements are all held together by the simplicity of the white undergowns that pull everything into a quiet centre, and in many ways that is a good description of the play too: a teeming, whirling sense of life and movement, yet held together by the focus and intensity, the powerful simplicity of its performers.
It takes great art to be simple, and the Shochiku Kabuki Company are remarkable, proudly, sternly simple proponents of their art.
A kaleidoscopic whirl through kabuki, a crash course given by experts
Explore topics
Share this article