Prom 40, Moore, RPO, Petrenko review - orchestral clarity, and a persuasive trombonist |

reviews, news & interviews
Prom 40, Moore, RPO, Petrenko review - orchestral clarity, and a persuasive trombonist
Prom 40, Moore, RPO, Petrenko review - orchestral clarity, and a persuasive trombonist
The RPO is sounding good after Vasily Petrenko's first season as Music Director
Wednesday, 17 August 2022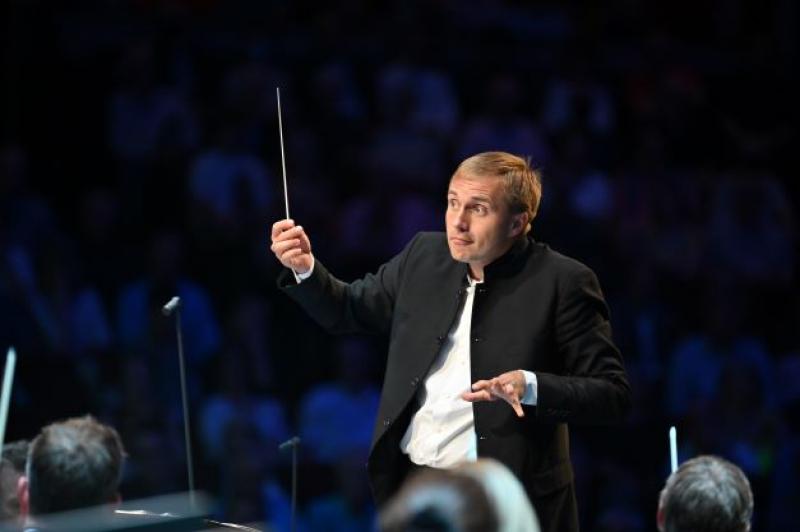 Vasily Petrenko: 'His beat, his cues and signals always seem so ultra-clear'
It does need saying: the RPO may receive less frequent plaudits than some of their London peers, but this is a fine and wonderfully responsive orchestra with a distinctive character.
The string sections have a natural opulence and warmth in their sound and always work with an impressive unanimity of purpose right through to the back desks. The wind are blessed with characterful and persuasive principal players, plus that strong feel of a unified section. The brass rarely, if ever put a foot wrong. And the first group that Vasily Petrenko asked to rise to their feet at the end of last night's well-attended Prom were the percussion – their precision and flair certainly deserved that acknowledgement.
The orchestra has now had one season with Petrenko as its principal conductor, and this looks like a promising relationship. Their willing responsiveness to his direction was remarkable. His beat, his cues and signals always seem so ultra-clear, and that must help. One could see how a tiny twist of his hand would translate alchemically into the shape of a phrase, how the occasional defiant butt of the head would accentuate the cussed intent of a syncopation.
Petrenko's way with the openings of pieces perhaps show what he is about: the way he invited us into the narrative of Copland's Appalachian Spring in the first half, or of Prokofiev's Symphony No. 5 in the second half, seemed to carry with them an assumption that music should not only emerge from silence, but also from a place of poise and balance, order and symmetry.
I was relieved when, in the quiet ending of Appalachian Spring, we could hear finally chamber textures from the strings, with most of the players sitting out, rather than the full sections. The original 1944 version of his work, for just 13 instruments (performed memorably by the BBCNOW in a lockdown, audience-less Prom in 2020, streamed from Cardiff), feels like it gives us the truth of this piece, in a way that the later, full-fat symphonic orchestra version struggles to match. The most telling parts of Appalachian Spring last night were the slower passages, over which Petrenko chose to linger and luxuriate. That allowed the glorious sound of wind principals – notably flautist Emer McDonough and clarinettist Katherine Lacy – to be heard to best effect. These were tempi which also set the solo players tests of stamina and breath control which they, needless to say, passed with flying colours.
George Walker's Trombone Concerto from 1957 is a relatively early work, from the time of the composer's studies at Eastman. Walker later became the first African-American to win the Pulitzer Prize for Music, so some commentators always want to approach any work by him trying to find a jazz sensibility. Can that be right? My mind would rather dwell on a piece of interlocking trivia, namely that the school Walker had attended in Washington (Dunbar High School) is less than four miles from the Dumbarton Oaks estate, where Nadia Boulanger had premiered Stravinsky's neo-classical concerto named after the house, nearly two decades earlier. The trombone concerto, which to my ears has clear echoes of Stravinsky's neoclassicism, was written just before Walker received a Fulbright Fellowship to go and study in Paris with Boulanger, where he became much more in thrall to serialism.
Walker's trombone concerto was an ideal solo vehicle for star trombonist Peter Moore (pictured above). There are very few players with the charismatic presence and variety in their sound (Jörgen van Rijen of the Concertgebouw is another) who can hold interest through long phrases as Moore always does, and give us both calm lyricism and blazing pride of the instrument with total persuasiveness.
For an encore, Moore gave as an encore the gentle and brief "Blues Etude", one of David Uber's Virtuoso Clef Studies. That choice also switched my random trivia brain on again... if studies are now seen as a neglected form which the Proms can bring to the fore, how long before we hear Andras Schiff performing a late-night Brahms solo piano Prom... of the 51 Übungen?
The second half was Prokofiev's Fifth Symphony. Petrenko gives impeccable and thoughtful pacing, an expert feel for orchestral balance and timbre, wonderful clarity in horn countermelodies. In the dance of the second movement, we had not just shimmer but also shimmy from the first violins. In the third movement we had exquisite shaping rather than anything of the eerie or the spooky. And in the fourth there was a revelling in Prokofiev's astonishing ear for orchestral contrast. This is a world where the piccolo and the tuba exchange melodies as if it is the most natural pairing in the world.
For those who like their Prokofiev with lots of snarl, menace, mockery and daemonic push, or indeed a starved and edgy Leningrad sound, this was not the occasion. Petrenko's stage manner is the opposite of, say, a Temirkanov or a Bernstein. Instead of theatrics and attention-craving, he gives us sprightly generosity, freshness and alertness. Last night these traits were undimmed right up to the highly persuasive intensity build which brought the work to a close. The clarity and balance of these performances come across even better on the radio.
For those who like their Prokofiev with lots of snarl and menace, this was not the occasion
rating
Explore topics
Share this article