The Damnation of Faust, LPO, Gardner, RFH review - the devil's in the detail |

reviews, news & interviews
The Damnation of Faust, LPO, Gardner, RFH review - the devil's in the detail
The Damnation of Faust, LPO, Gardner, RFH review - the devil's in the detail
Finesse, not just ferocity, on Berlioz's journey to hell and back
Beyond good and evil: Edward Gardner between John Irvin and Christopher Purves
No work gives its listeners such pleasure on the way to hell (and back) as Berlioz's rule-busting "dramatic legend", The Damnation of Faust. It delivers not just flamboyant thrills, but low comedy, high drama, pathos, terror, nostalgia, pastoral lyricism and crazy episodes of sheer delirium.
The musical and formal prodigality the composer drew in 1846 from a beloved French translation (by Gerald de Nerval) of Goethe's Faust: Part 1 dooms every effort to refit the piece as a conventional opera to tepid compromise. Given a $200m. Hollywood budget, with Peter Jackson or Guillermo el Toro at the helm, and you might make a screen epic of this spectacular behemoth. Until that day, the audience should imagine their own blockbuster with the ample aid of Berlioz's four soloists, full-spectrum orchestra, and swarming hellish and heavenly choirs.
At the Royal Festival Hall, Edward Gardner steered the London Philharmonic Orchestra, a strong quartet of principals and a well-drilled choral horde through a reading of the Damnation that sought, and found, a unifying thread to bind this sprawling pageant of moods and styles, as the world-weary scholar Faust finds meaning in his love for Marguerite but signs away his soul to the jesting devil Mephistopheles. For sure, Gardner has a peerless modern tradition of top-class British Berlioz to guide him: from Colin Davis's legacy above all, but enhanced recently, and excitingly, by Mark Elder and Simon Rattle. With his deep choral and operatic roots, the LPO's principal conductor has a special flair for taming such unwieldy, genre-crossing, massed-choir monsters. He did that here through direction that kept players, soloists and choruses keenly in touch with one another. His pace, focus and attack let Berlioz's glorious stand-alone tableaux shine without losing the sense of a clear narrative thread, as our despairing hero edges towards, then retreats from, then hurtles again into the abyss.
Behind a full-strength orchestra (with four harps rather the six of which Berlioz dreamed), the London Philharmonic Choir (pictured above) was augmented by male voices from the London Symphony Chorus and – as "celestial spirits" – the ranks of the London Youth Choirs. Berlioz's choruses always have their work cut out, as multi-tasking commentators and characters. Here, they negotiated the quick-change leaps from tipsy peasants to pious hymn-singers, tavern carousers, demon fire-spirits, satanic bodyguards and (finally) angelic comforters not just with tight discipline but a grasp of every changing idiom this quicksilver music demands. Gardner elicited not just emphatic grandeur and scary jubilation but hushed tenderness from his huge forces: from the solemn Easter Hymn that torments Faust with his lost faith to the mock-pious fugal "Amen" for a roasted rat in the Leipzig tavern scene, and the seraphic welcome into paradise for Marguerite that ends the show.
Adult and younger singers alike never sounded like a fuzzy mob. Firm, crisp and sometimes shattering in their power, the choruses proved equal too to the work's breakneck shifts of style. They convinced in the witty sophistication of that parody fugue, but the recovered innocence of Marguerite's ascent to bliss sounded just as authentic. Nothing here features merely for local effect or comic relief: certainly not Brander's pub song about the cocky but oven-ready-rat, given a sinister as well as jovial tinge by bass Jonathan Lemalu in a savoury cameo turn.
The ever-alert Gardner grasped how it all fits together, and his conducting spotlit moments in which Berlioz's unique harmonic language makes the close-up part stand for the panoramic whole. From the flattened scale of the opening viola theme (Richard Waters) to the skittish but spooky flutes and piccolos (led by Juliette Bausor) that often partner temptations on the road to hell, discrete instrumental colours detached from the background tumult to point the way forward through Faust's misadventures. When Gardner wanted to unleash all the tutti powers of earth, heaven and hell, however, he did so in roof-raising style: in a ferociously rhythmic Hungarian March, for instance, an eerily menacing dance of the fire spirits, and a thunderous, nightmarish final gallop into the abyss.
Among the soloists, John Irvin's Faust – impressively, a late replacement – offered polished French diction, a refined tone and, crucially, a persuasive micro-climate of melancholy that, until he encounters Marguerite, darkens his every thought of pleasure. Irvin's high-lying silvered tenor blended authority and anguish, never merely serene when he lusciously hymns "Nature immense", but growing in force and scope as his beloved offers him both a reason to live – and, saving her, to die and to be damned. If Irvin counts as a relative newcomer, mezzo Karen Cargill (pictured above) returned as Marguerite to a part she has made her own. Yet her familiarity did not breed complacency.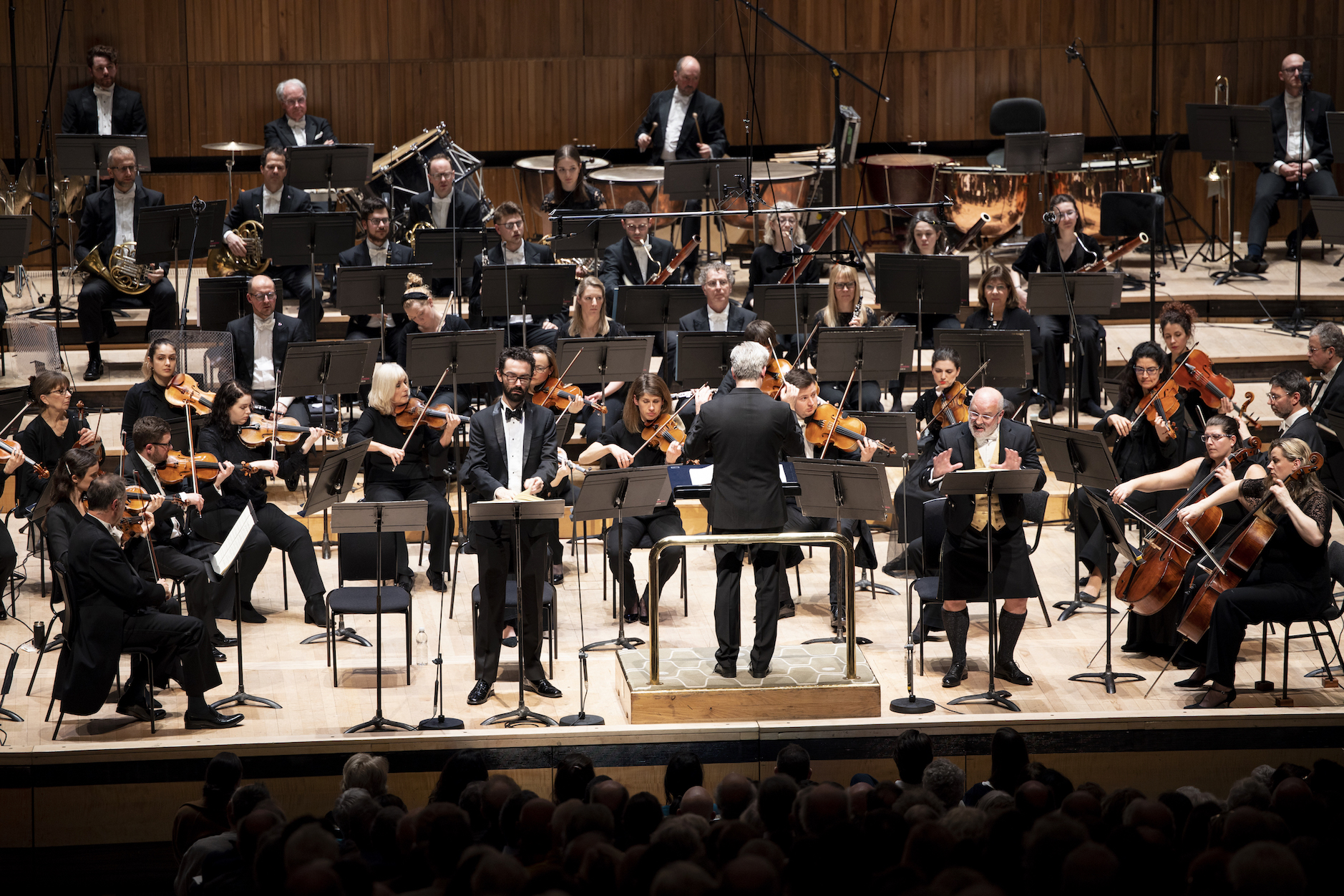 On occasions, indeed, the heft and depth of Cargill's warmly lustrous Wagnerian palette didn't seem quite the right fit for Irvin's fine watercolour shades. The great duet with Faust, "Ange adoré", flickered but then burst into flame, while the uncanny chromaticism of her "King of Thule" ballad allied skin-prickling loveliness with a nagging sense of unease. As for Christopher Purves's kilted Mephistopheles (pictured above): suave, charming, merry, terrifying, he knows this role like the back of a scaly, clawed hand. He mined every number with swaggering skill, starting from his electrifying first arrival to the sound of infernal squawks from the full-flavoured LPO brass. His patter monologues had an infectious, music-hall mischief about them ("Devant la maison de celui qui t'adore"). But his lyric bewitchment of Faust ("Voici des roses") had to sound convincingly heartfelt, and it did. We must believe in this devil's best tunes.
This Damnation never dragged: the zest and poise of the choirs meant that the final switch from spine-chilling perdition (Faust) to serene redemption (Marguerite) felt not like a sentimental anticlimax but a blessed, last-ditch escape. Gardner and his tightly-marshalled legions helped us understand that Berlioz's sumptuous range of special effects find their fullest expression not though stage gimmicks but in the performed score, and in the listener's mind. A few offstage horns and a distant soldiers' chorus aside, the truly theatrical touches here came in Gardner's neatly-judged changes of tempi and dynamics; in his painterly instrumental colouring, and in finely-executed transitions between solo meditations, orchestral interludes and hall-shaking choral climaxes. Music and voice alone made Berlioz's natural and supernatural worlds cohere. And if anyone still thinks the Damnation belongs in the opera-house – you know where you can go.
With his choral and operatic roots, Gardner has a special flair for taming such genre-crossing, massed-choir monsters
rating
Explore topics
Share this article