Metamorphoses, Sam Wanamaker Playhouse review - punchy, cleverly reworked classic |

reviews, news & interviews
Metamorphoses, Sam Wanamaker Playhouse review - punchy, cleverly reworked classic
Metamorphoses, Sam Wanamaker Playhouse review - punchy, cleverly reworked classic
Any figure in Roman mythology today would be at the pointy end of cancel culture
Thursday, 07 October 2021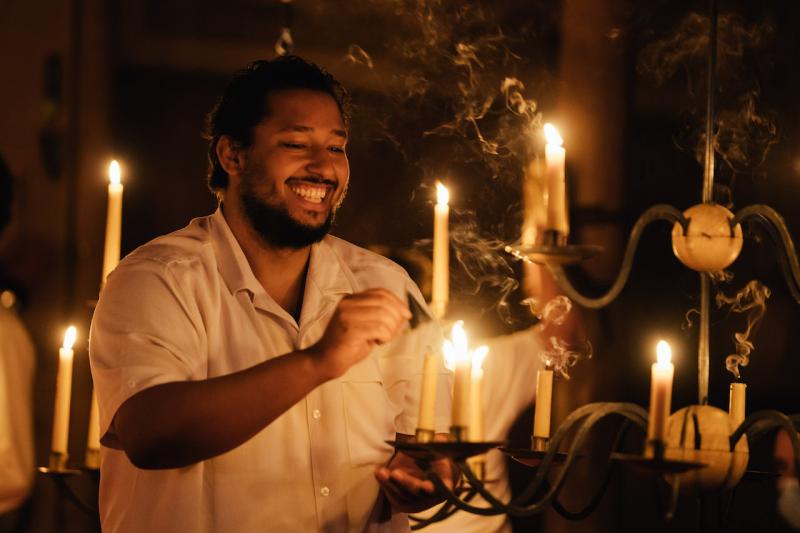 Treading a thin line between light and darkness; the charismatic Irfan Shamji
Ovid was exiled – or to put it in twenty-first century terms, "no-platformed" – by an indignant Emperor Augustus for the scandal caused by his three-book elegy on love, Ars Amatoria.
Most scholars believe the intrigue behind his banishment to be more complex, but as this vibrant, dark and witty version of
Metamorphoses
demonstrates, his poetry continues to push at the edges of what society finds acceptable.
Sean Holmes and Holly Race Roughan's production has itself been forced through several changes because of the shapeshifting tricks of the pandemic (Covid's Metamorphoses?!). At one stage it was going to be performed by twelve actors in the Globe, at another it was going to be digitally livestreamed. So it's part of the success of this punchy, cleverly reworked evening that it's difficult to imagine it working so well in any other format. Four actors, in simple modern white clothing, retell the stories as frankly and disarmingly as if you were sitting next to them at an informal get-together.
A big part of the difficulty of getting Ovid's tone right is learning how to translate his juxtaposition of wit and anger, of the lyrical with the macabre. Sometimes he can sound like Belloc, at others more like Tarantino. Take, for instance, the opening story in which Jupiter and Juno stroll on in white fluffy his and hers dressing gowns while having an argument about whether men or women enjoy sex more. After some amusing banter with the audience, we hear that Tiresias (both male and female long before the issue became politically charged) has given "the wrong answer" to Juno, so in a fit of spite she blinds him.
It's an understatement to say that had any of the figures in Greek or Roman mythology appeared on a university campus today they would find themselves at the pointy end of cancel culture. To be frank, if they appeared in a courtroom they'd give contemporary tabloids a run for their money. At the same time, and as these skilfully rewhittled narratives – put together by Sami Ibrahim, Laura Lomas and Sabrina Mahfouz - demonstrate, cancel culture and democratic law have plenty of upsides compared to revenge culture. It's in the justice left to individuals that we witness the bloodiest aspects of the narrative.
Look, for instance, at the punishment meted out to Tereus, who saves Athens and demands Procne, the daughter of the Athenian king, as a wife in return. After five years of wretched marriage, he agrees that she can see her sister Philomela again – before going to Athens to fetch her, raping her and cutting out her tongue so she cannot tell Procne. In return Procne kills their son, Itys, before serving him up to Tereus as a meal without revealing what's in it. The vomiting noises when he realises what's happened evolve into the guttural sounds made by a crow, which is what he becomes in this version; in others, he is portrayed as anything from a lapwing to a hawk.
The production relies strongly on the power of words and simple staging. So for instance, the story of Tereus, Procne and Philomela is told by Steffan Donnelly and Charlie Josephine (pictured above) sitting either side of a table while eating peaches. When the rape is described by Donnelly, Josephine gnaws at the peach flesh, letting it fall grotesquely to the floor. The image is understated and effective – the disgust and horror of the narrators are translated to us at the same time as our imaginations are left to do much of the work.
The cast of four – Donnelly, Josephine, Fiona Hampton and Irfan Shamji – constitute a fantastic ensemble, weaving the tales so that they demonstrate as much humanity as savage wit. One of the lighter moments comes when Shamji picks up a guitar and introduces himself as Apollo, before improvising a song with gleeful mediocrity about his tone-deaf critic Midas. At another point Hampton introduces herself as a spoilt Chanel-clad Medea. As with Ovid, the line between elegant humour and savagery is very thin.
Grace Smart's clever design sets up the backdrop like a hardware shop where everything from watering cans to a deer-skull are hung up, ready to be grabbed to help tell a story. Simeon Miller's candle consulting skills as ever wonderfully heighten the atmosphere. The result is a fantastic relaunch of one of London's most beautiful theatrical spaces, a provocative reworking of a classic that's bracingly modern without ever seeming contrived.