The Dead City, English National Opera review - strong dream world, weak love story |

reviews, news & interviews
The Dead City, English National Opera review - strong dream world, weak love story
The Dead City, English National Opera review - strong dream world, weak love story
Taxing lead roles bravely taken, but Korngold's life-over-death dynamic doesn't quite work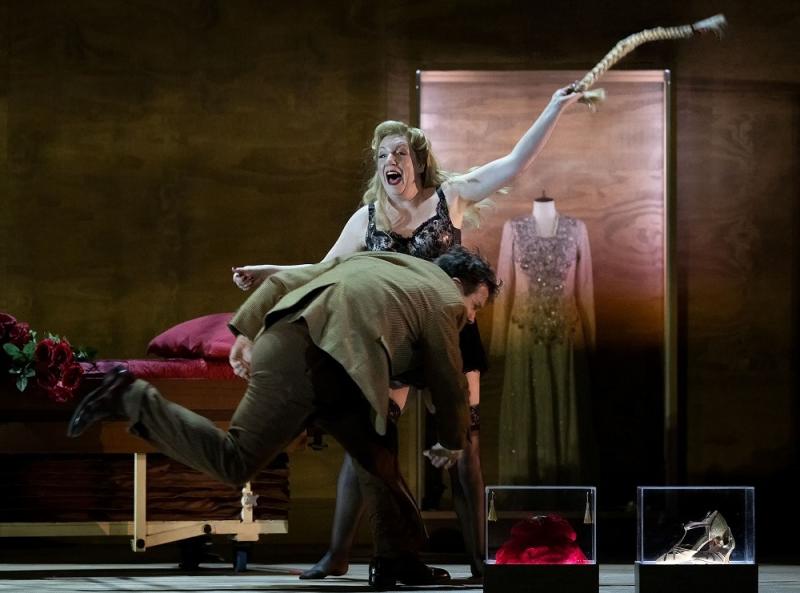 Marietta (Allison Oakes) taunts Paul (Rolf Romei) with his dead wife's plait of hair
Is Korngold a second-rank composer with some first-rate ideas? Most performances of the 23-year-old Viennese prodigy's Die tote Stadt make it seem so. Nearly smothered in glitter and craft, the story can compel – an oblique, promising stance on Georges Rodenbach's Bruges-la-morte, about an obsessive widower who thinks he sees his dead wife in a vivacious dancer. Does Annilese Miskimmon, ENO's semi-visible Artistic Director, carry it off?
For much of the time, yes. Her collaboration with the best of set designers Miriam Buether and lighing by James Farncombe is especially successful when Korngold and his father, music critic Julius, furnishing a libretto under the pseudonym "Paul Schott", take ingredients from Rodenbach's concentrated novel and give protagonist Paul a nightmare jamming together sickness, death, sex and religion. We're in no doubt that we've entered the dream zone when the back wall of his shuttered home lifts up to reveal misty processionals of mourners and clergy. Korngold doesn't do much to evoke the novel's main character, Bruges, which he may or may not have visited, but this suggestion of the melancholy environment is just enough.
The ENO Chorus, Finchley Children's Music Group (pictured above with Rolf Romei) and a whole host of secondary characters sing and act to perfection. Housekeeper Brigitta and best friend Frank straddle the real and dream worlds; Sarah Connolly and Audun Iversen – lustrous in the Act Two operetta number, "Pierrot's Song" – set the drama in motion superbly, leading us to expect much from the arrival of Paul and the dancer in whom he thinks he's seen his dead wife reincarnated, Marietta.
What we need there, though, is a compelling love story. Marietta is freewheeling vivacity incarnate, a promising feminist incarnation who hardly has a voice in the novel. She needs to be younger than Paul, just like his beloved Marie; the potential for a moving love story in which life struggles with a death-cult is huge, and it was carried off to supremely moving effect in the very real characterisations of Jonas Kaufmann and Marlis Petersen for SImon Stone in Munich, one of the best productions I've ever seen (it's available on DVD).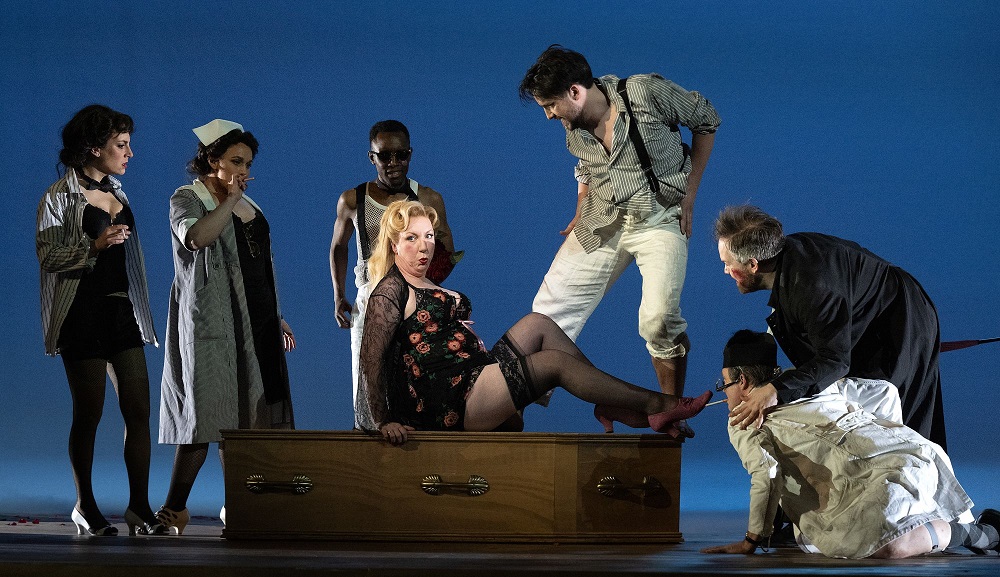 The dynamic at ENO just doesn't cut the mustard. Rolf Romei's Paul seems like a prim young man, gesturing stagily out-front way too much. Allison Oakes as his dream girl turns up not as a whirling, nimble flirt but a raddled diva, no elegant mover – she doesn't do choreography, though Miskimmon finds a good alternative for the parody of the Meyerbeer ghost nuns' orgy she initiates – and later in the nightmare looks as if she's purchased some especially unflattering underwear from Victoria's Secret (pictured above with a superb ENO team – Rhian Lois, Clare Presland, Innocent Masuku, Wililiam Morgan and Hugh Francis – and Audun Iversen as Fritz/Pierrot) She also looks nothing like the ghost-wife Marie (Lauren Bridle), gliding while Oakes sings the second role offstage, later a suspended effigy on a tomb/coffin, pictured below, with Miskimmon cleverly reclaiming a crucial Bruges ingredient from the novel.
You can see/hear the difficulty: Korngold has written insanely taxing roles which seem to call for Wagnerian-heroic tenor and soprano, and an English translation with some very clumsy stresses didn't help. While Romei, admittedly announced as recovering from an illness, sounds overparted like most Pauls (not Kaufmann, whose singing seems so effortless that he's liberated to convey neurotic tension entirely through his acting), British-born and German trained Oakes, clearly a useful Brünnhilde, belts out all the necessaries – though Petersen, a fabulous Lulu, pointed the way to a softer-edged characterisation (one even wonders if, with the right scaling-down by the conductor, a first-rate singer-actor like Jennifer France could sing the part).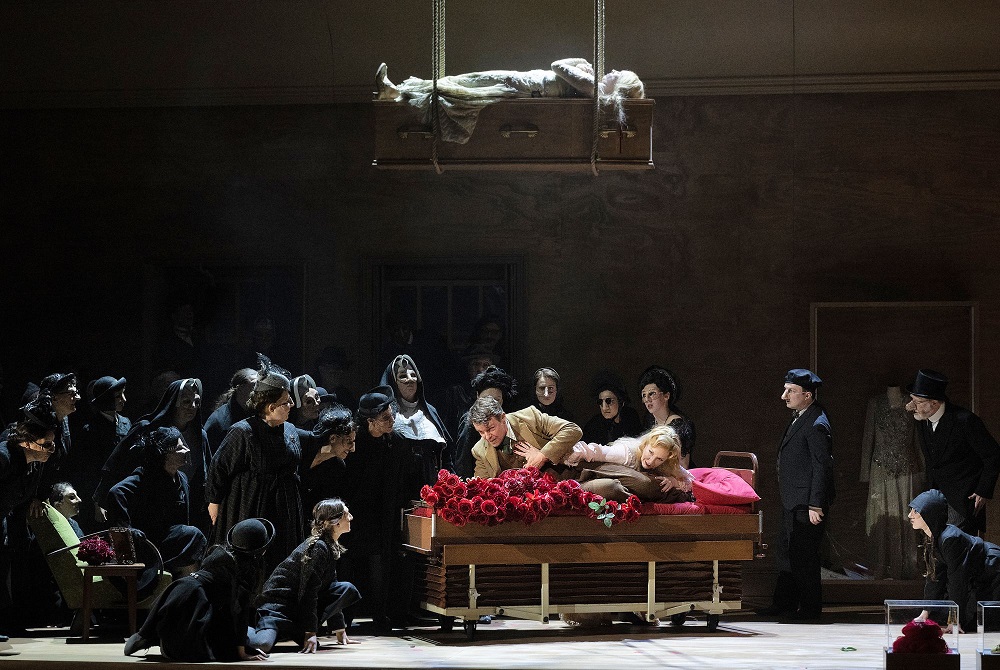 That scuppers the erotic and emotional tension of the effective duet at the end of Act Two, where Oakes' unfortunate costuming works against Marietta's desperate and sincere summoning of Paul to life and love. It also effectively writes her out of the story when reality is restored and we could – as Simon Stone so movingly proposes – see the beginnings of a real if slow convalescence in a take-it-steady new relationship for Paul.
Fervent dramatic pacing is essential, too, and while Kirill Karabits draws fine spangling from the ENO Orchestra, he sometimes loses the essential drive. Reception last night was lukewarm: a pity, when the company has been on something of a roll with its Rhinegold and (if that's your cup of bromide tea) Akhnaten revival. Sorry, Korngold lovers, this one doesn't affirm The Dead City as a 20th century masterpiece.