Music Reissues Weekly: Padang Moonrise - The Birth of the Modern Indonesian Recording Industry |

reviews, news & interviews
Music Reissues Weekly: Padang Moonrise - The Birth of the Modern Indonesian Recording Industry
Music Reissues Weekly: Padang Moonrise - The Birth of the Modern Indonesian Recording Industry
Eye-opening compilation where knowing the context is essential
Orkes Teruna Ria, the creators of 'Padang Moonrise's' slow and drifting 'Bulan Dagoan'
"Ka Huma" by Ivo Nilakreshna sounds as if a jazz band was taking on rock 'n' roll. There's a swing and sway, busy rhythm guitar and a lead female voice singing a yearning melody. An instrument which seems to vibes is in there. But there's more than the familiar elements. Most of the influences are unrecognisable.
Zaenal Combo's "Tandung Tjina" is an rocking instrumental with a comparable otherness. There's a kinship with California surf band The Pyramids's "Penetration" but, again, the primary building blocks are out of reach. Both tracks appear to have sprung from an unfamiliar well.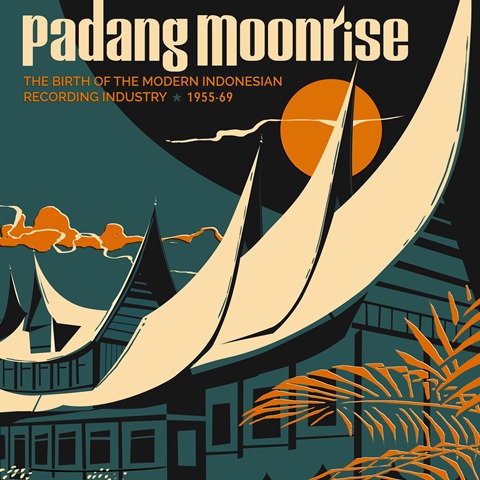 And so it proves. "Ka Huma" and "Tandung Tjina" are on either side of seven-inch single coming with the vinyl version of the double album Padang Moonrise: The Birth of the Modern Indonesian Recording Industry (1955-69) – all the tracks are on the CD configuration too. Based in Jakarta, Zaenal Combo were a vehicle for the arranger, bandleader, composer and guitarist, Zaenal Arifin – his bands, says the accompanying essay, "played modernized traditional songs from across the Indonesian archipelago."
As the Indonesian archipelago includes around 17,000 islands, covers close to three-quarters of a million square miles, incorporates different groupings of peoples and has a substantial amount of languages, getting a grip on one aspect of the region's story has to be difficult. However, Padang Moonrise's full title makes explicit the focus on the emergence of a pop music and the infrastructure which supported it. Reading the lengthy essay by Andrew N. Weintraub is necessary.
Professor Weintraub is based at the University of Pittsburgh. "Indonesia is a major focus of my research, particularly the musical, narrative, and theatrical practices of Sundanese people in West Java," says his on-line biography. "In 2003, I began to explore a genre of Indonesian national popular music called dangdut." His lengthy publication list includes the book Dangdut Stories. He also leads the band Dangdut Cowboys, who have played Indonesia. Padang Moonrise has to be a sharp collection.
What's heard is – assumedly for most potential purchasers – previously unknown: contextually and musically. The 27 tracks are about pop, and the creation of a pop music from scratch. Weintraub says "during the regime of first President Sukarno (1945-1967), popular music [in the post-independence period] opened a space for multiple definitions of what the nation was and could be. Under these new historical and material conditions, Indonesians worked across geographical, ethnic, and linguistic boundaries, and created innovative forms of popular music and new forms of identity." (pictured left, Ivo Nilakreshna)
"The modern Indonesian recording industry was born in the capital city of Jakarta in the early 1950s," he continues. "A wide variety of genres includ[ed] Indonesian jazz and pop, Hawaiian, kroncong string-band music, Islamic-inspired qasidah and gambus, art music (seriosa), and regional popular music (lagu daerah, including orkes Melayu) with heavy Western and Latin influences."
Multiple flavours of this pop music crop up on Padang Moonrise. "Bulan Dagoan" by Orkes Teruna Ria is the opening track. Slow and drifting, it seems melancholy. In another world, it could soundtrack a reflective moment in an Aki Kaurismaki film. An Orkes Teruna Ria album sleeve said of the band "maybe it's the way they dress: bright colors, the cut of their clothes and exotic-looking pants, complete with fine bamboo hats and bare feet. It's as if they came from the warm-blooded continent of Latin America. All of that is fitting for the kind of music they play: the hot Latin rhythms now popular among our country's people. Even the name of the group describes what they do: the Cuban Rhythms of Teruna Ria."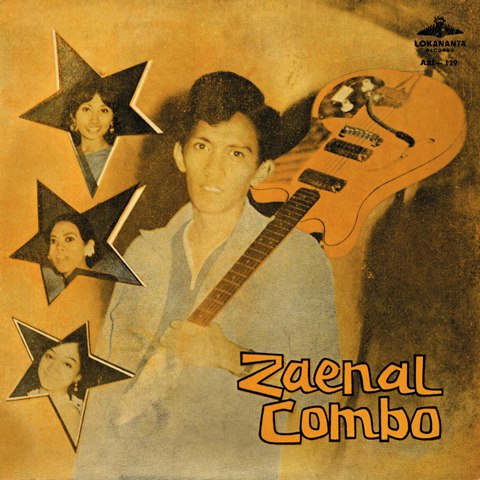 Zaenal Combo's "Seruling" is spacey, and could have been a Joe Meek production. Orkes Kelana Ria's "Sojang" is jazzy, in the early John Barry soundtrack way. Orkes Tropicana's "Pantjaran Kasih" is a form of pop jazz. Some of Padang Moonrise bears the influence of The Shadows and The Ventures. Ahai Dara's "Mus D.S." has shades of The Beatles. But despite what's evoked, nothing sounds like what might be feeding into the music – influences are transformed.
Locally, balances had to be struck. Creating the music wasn't necessarily straightforward. Weintraub says "Sukarno believed that Western pop and rock 'n' roll would distract youth from fighting against Western imperialism, colonialism, and capitalism. Sukarno portrayed the spread of Western popular culture, especially music and dance, as an unwarranted, disruptive, and dangerous symbol of cultural imperialism. In his Independence Day speech on 17 August 1959, Sukarno used the term "ngak-ngik-ngok" ("noisy, irritating, and grating") to refer to rock 'n' roll, cha-cha, and other forms of music and dance that made people act "crazy" (gila-gilaan). In 1963, Sukarno banned the sounds and movements associated with these forms because they allegedly threatened to steer Indonesian youth away from their true identity and duties as national citizens."
Discovering the context for what's heard is essential – these 27 tracks were recorded when the state had very particular views on what music should or should not be. Even so, it was possible to sidestep dogma. Padang Moonrise: The Birth of the Modern Indonesian Recording Industry (1955-69) is about more than the music.
Next week: All Killer No Filler (1977-2001) - punky New Yorkers The Senders are compiled