Transgressive Records showcase, The Great Escape, Brighton review - five acts offer intriguing pop alternatives |

reviews, news & interviews
Transgressive Records showcase, The Great Escape, Brighton review - five acts offer intriguing pop alternatives
Transgressive Records showcase, The Great Escape, Brighton review - five acts offer intriguing pop alternatives
Let's Eat Grandma, The Waeve, Mykki Blanco and more set the south coast a-buzz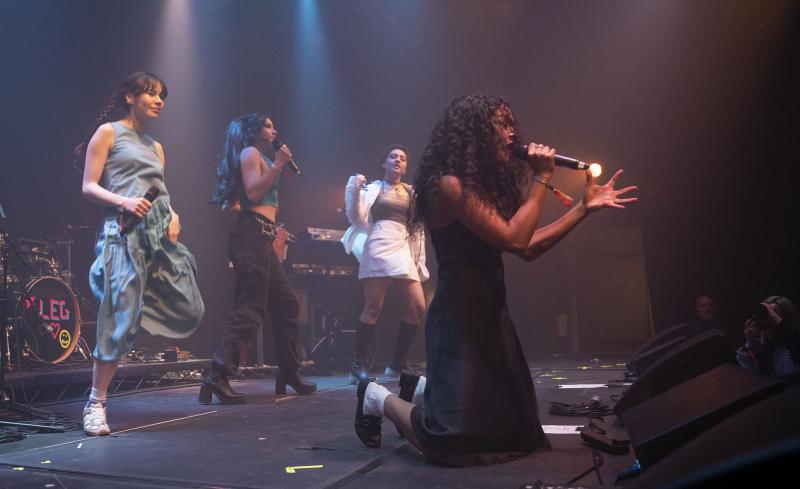 Michelle in full flight, Sofia D'Angelo on the mic, and, left to right at back, Emma Lee, Jamee Lockard and Layla Ku
Onstage at The Old Market in Hove, New York's Mykki Blanco has been waving around a knot of garlic bulbs as if it were a wand or occult aspergillum. At some point during Blanco's punchy rendition of 2016 single "Loner", or possibly the dizzier "Summer Fling", they transfer it to the flies of their trousers, let it hang there, all mischief. They explain that this is the result of the band becoming obsessed with "a mad coven of witches in Italy".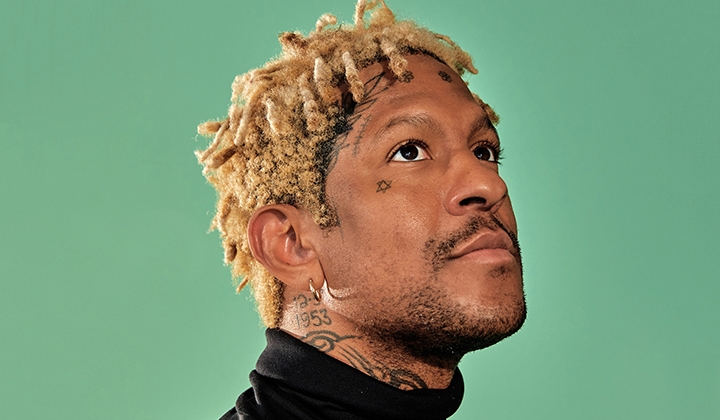 Whatever, it certainly adds to the freeform conviviality. Blanco (pictured left) no longer adopts a draggy look. The non-binary MC first enters wearing a gigantic black'n'white-checked cartoon bonnet that entirely covers their head, but soon strips it away, and spends most of the set bare-headed, their muscular upper body barely covered by a skimpy, flowered apron-style top. They jump into the audience at one point for most of a song, adding raucousness.
The band consists of a backing singer, a sax-player, keys and a guitarist. The set could do with less of the latter. Gigantically haired and wearing an ecclesiastical-looking black robe-dress, he wails across almost every song. On record Blanco merges hip hop into funk but tonight my analogy would be to imagine Jill Scott crudely rocking up her "quiet storm" neo-soul for a heavy festival crowd. The best bits are when the guitarist is less forceful, giving everything a snappier, more pared-back feel.
They end with "It's Not My Choice", originally a duet with Dev Hynes of Blood Orange, during which the sound, which has been muddy so far, clears a bit. Our opening act tonight was supposed to South African sex-punk electro-hip hop rising star Moonchild Sanelly but she was kept away by visa issues. Blanco's set is musically not my thing but the loved-up energy is persuasive.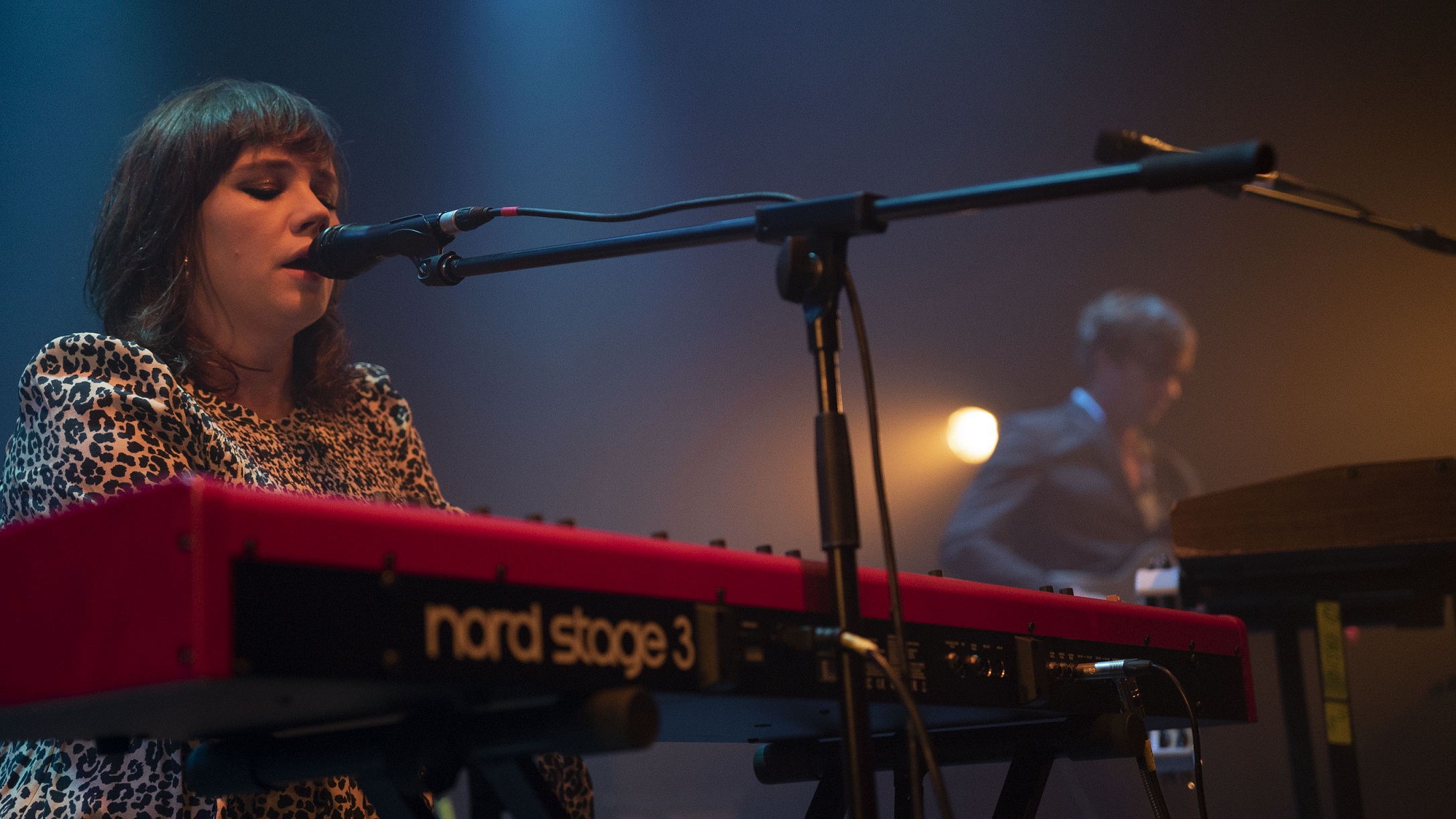 At 18 years old, it could be said that Transgressive Records has come of age. They continue to live up to their name, pushing the boundaries, running the gamut from Damon Albarn to Songhoy Blues to Arlo Parks (none of whom are here tonight). They're an odd set-up, though, in that behind-the-scenes they seem a somewhat sprawling, nebulous entity, hard-to-pin-down, managerial committee vibes, now part of the PIAS group, yet their roster still suggests characterful purpose and an agenda.
They've certainly hit gold signing The Waeve (pictured above right), the new band from Rose Elinor Dougall and Blur's Graham Coxon. Their set is the best-attended of the night, as people trawl around Brighton for The Great Escape's vast array of music in different venues. This outfit has some fine songs, although I only caught two titles, one of which is a slowie announced as "Big Idea", in which Coxon plays a lovely Roxy Music-style sax duet with a female band member (who also plays keys and violin at various points).
Dougall, heavily pregnant in a long, loose black'n'white-mottled dress attends a keyboard, while Coxon, ever-suited like a reprobate beat popster, is on guitar, at which he's remarkable, pulling out compact new wavey slashes. The pair pass the front-person role easily back'n'forth. At the back, there's a bassist and, on drums, Thomas White of The Electric Soft Parade, both tight-wiring the rhythm.
The sound is that thing where Brit indie runs into John Barry. Some loose reference points would be The Bookhouse Boys, Polly Scattergood's On Dead Waves project and, of course, The Last Shadow Puppets, although, to be clear, The Waeve owe no specific creative debt to any of those. They end with a completely fab galloping number called "Something Pretty" with vocals pinging between band members.
Each set tonight is between 30 and 40 minutes long, tasters of the acts in question, between which we repair to the bar of this Grade II-listed, 500-capacity, 19th century building for a 20-minute refresher. It works well, although we only just scuttle back into the main hall in time for Wesley Joseph (pictured above left), for what turns out to be his first ever live show.
Originally from Walsall, Joseph is a renaissance dude, a member of the Birmingham arts collective OG Horse, to which Jorja Smith is also affiliated. Now London-based, he's as much a film-maker as a musician but he's here on the mic, clad in a thinly padded blue jacket, pale jeans with a giant glittery buckle, and a Peruvian style ear-flap hat. His body language is shy, unsurprising given the circumstances, and he tells us midway that his nervousness is dissipating as a smattering of applause rises.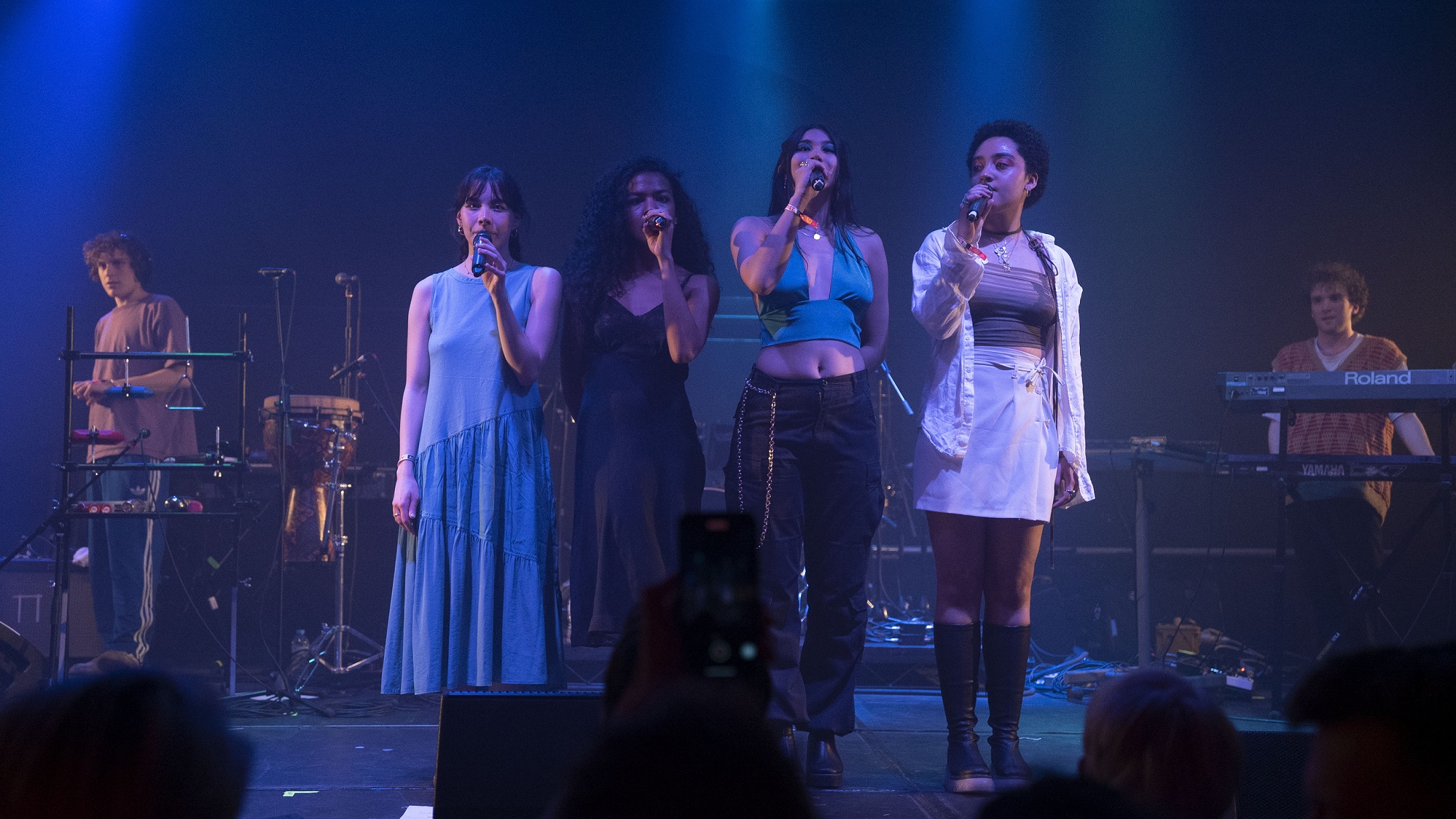 He's accompanied by a bearded guy, whose name I couldn't catch, surrounded by laptops, keys and so on, and who also plays the muted trumpet for one song. What really makes the set though are the two female backing singers with lovely gospel voices, who look as if they've just wandered out of sixth form college. Joseph veers between dry downtempo rapping and a falsetto, reminding sometimes of Frank Ocean, his music a bassy, thoughtful UK hip hop soul, with stand-outs being "Cold Summer" and the boisterous, bouncing "Thrilla".
For some reason I'm expecting Michelle, a New York band not a person (pictured above right), to be a punk outfit, or at least indie. I'm sure I read that somewhere. They are not at all. Fronted by four women, with a dude on percussion on one side (Julian Kaufman) and a dude on keys/midi on the other (Charlie Kilgore), all around 20 years old, they would, I'd hazard, be what happened if Solange Knowles had put together All Saints.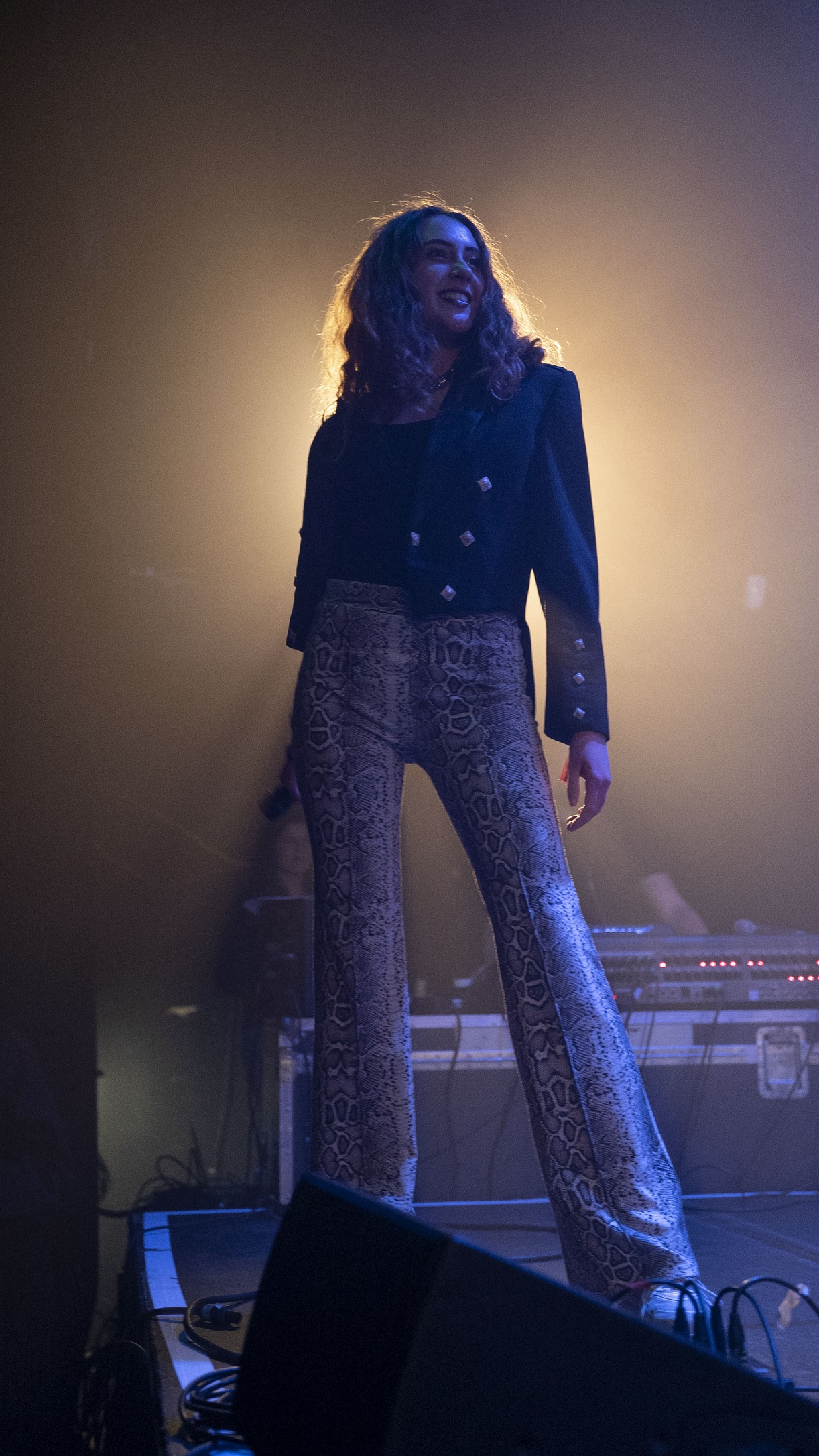 Their trip hop pop R&B, as performed tonight, did not draw me but the band themselves are captivating, hugely characterful, balancing carefully choreographed routines with something edgier, a challenge, a devil-may-care attitude. This balance is perhaps best summed up in a song called "Resumé" where the sweet singing is suddenly punctuated by verse-closing horrific shrieks and shouts.
Described on the Great Escape website as a "predominantly POC and queer collective", each singer brings a different character to the music. Big-haired Sofia D'Angelo's stage persona is bullish, her voice stridently soul, as she struts around in a slip of a black dress. Layla Ku is soulful but softer, more melismatic, and Jamee Lockard emanates a kind of Sporty Spice panache. Perhaps most mesmerising of all is Emma Lee whose voice is a soft counterpoint to the others but who has something of Björk about her impish, otherly presence. Ones to watch, for sure.
The night closes with Let's Eat Grandma, the old Norwich school friends Rosa Walton (pictured above left) and Jenny Hollingworth (pictured below right), now into their twenties and on their third album. This is the band I'd most come to see but tonight they were plagued by technical mishaps, pauses between songs, and difficulties tuning guitars, as well as a moment when Walton presses the wrong button on a synth, suddenly prematurely bringing a song to a close.
However, when they're fully firing, glimpses can be seen of what they're like on a better day. I saw them on one such at Glastonbury 2019 but the band has grown since then, now boasting a female drummer and a bassist/keyboardist, hair in two plaits, who is literally the happiest musician I've seen on stage all year, completely glowing with bliss at everything.
The main duo swap vocals and instruments, Walton looking a rock goddess in tight snakeskin-effect trousers and a short hussars-style parade jacket, and Hollingworth in a sparkly dress and large-platformed Doc Marten shoes. The former strums a lovely light backing guitar as the latter sings slowie "Two Ribbons". Other highlights, drawn from their new album of the same name, include the monster electro-pop bangers "New Year's Day" and "Levitation".
Most songs come on like an endorsement of their friendship and, indeed, the exhilaration of friendship in general. Then they stop their set suddenly and anti-climactically and the night just sort of ceases. But, you know what, I'm going to a give them a pass. Last week I saw an indie dance-pop duo whose whole set appeared to be one long backing track to which they danced about like Steps. It was plastic, naff and disappointing, whereas this, replete with awkwardness and apologies, mistakes and all, was a band stumbling while attempting to play as live as possible. It came across as flawed, charming, human and authentic.
Below: watch the video for "Levitation" by Let's Eat Grandma
The Waeve, the new band from Rose Elinor Dougall and Blur's Graham Coxon, have the best-attended set of the night
rating
Explore topics
Share this article