Tallinn Music Week 2019 review: 'We All Value Being European' |

reviews, news & interviews
Tallinn Music Week 2019 review: 'We All Value Being European'
Tallinn Music Week 2019 review: 'We All Value Being European'
A much-needed reminder that creativity thrives without barriers
Yegor Shkutko, of Belarus's Molchat Doma, in full flow at Tallinn Music Week 2019
"We like people here in Estonia. I think we all here very much value being European. To all our British friends, we know that the offer of e-residency has been ticking-up constantly. You can find a sure foothold for your business here in Estonia. There's enough space, please come."
In her welcome speech at Tallinn Music Week 2019, Estonia's President Kersti Kaljulaid (pictured below right, photograph by Aron Urb) was unequivocal about how she sees her country. "Estonia is the creative hub of Europe," she also said. "It's an innovation-driven society. You are very welcome to set up your creative new companies, to use our e-residency offer which I think is just perfect for an independent creative person who wants to concentrate on the European market. Our digital offer allows you to be European…even in the case when you happen to be from the UK."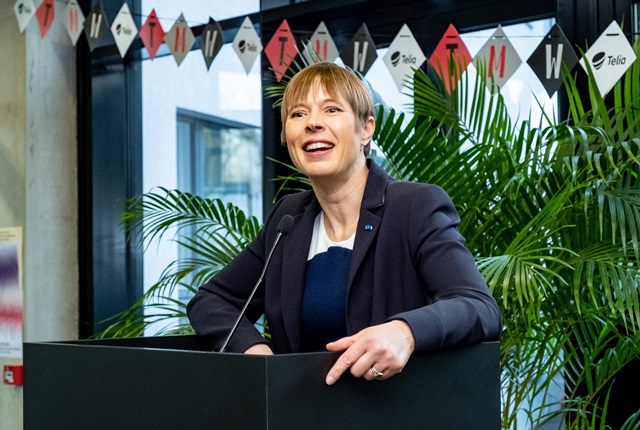 Open, integral to Europe and welcoming. Forward-looking too. In Estonia's capital, the President laid-out her vision during the afternoon of Friday 29 March, the day originally scheduled for Britain's exit from the European Union. The gathering she addressed at the Eesti Kunstiakadeemia – The Estonian Academy of Arts – included people from all facets of the creative industry that is music, amongst them booking agents, designers, heads of festivals, journalists, metadata crunchers and, naturally, composers and musicians. Whether from Europe as a cohesive entity or Canada, Japan and elsewhere, everyone's presence was assisted by a modern, pragmatic attitude to borders.
Earlier that afternoon, Brexit distractions were side-lined for a few minutes by a couple of low-flying Eurofighter Typhoons noisily hogging the city centre's skyline. Part of the German force based at Ämari Air Base in the south of Estonia, the fully armed jets are integral to NATO's Baltic Enhanced Air Policing Mission. Normally, any scrambling is a response to activity by Estonia's eastern neighbour the Russian Federation.
Nonetheless, as ever, Russia is represented at Tallinn Music Week. What's going on in the air will hopefully stay there as an abstraction. Here on the ground, the pragmatic attitude to borders is the order of the day. So much so that Belarus, tagged by The Guardian as "Europe's last dictatorship", made a robust case for itself with Minsk's Molchat Doma – Молчат Дома to their country-folk. It was a surprise a while ago to discover fellow Belarusians Super Besse but finding another world-class band from so seemingly unlikely a country brings even more of a pause for thought than seeing figher planes at such close range. That reflection comes later though, as the immediate reaction is an instinctive realisation that this trio is special. (pictured left Triptofan)
The raw ingrediants are 1979/1980 Cure and Joy Division. Singer Yegor Shkutko reinterprets Ian Curtis' whirling arm movements without coming across as daft. They are deadly serious and it's the way the building blocks are assembled which takes Molchat Doma elsewhere. Each song's sonorous melody sounds as if it's meant to be hummed. The tunes suggest unfamiliar forms of folk or traditional song, maybe a dark chanson. Whatever the raw material, Molchat Doma have cooked up a treat. Their name roughly translates as "the house is silent". (pictured right Tuulikki Bartosik, photograph by Ken Mürk)
Triptofan force a similar recalibration of conceptual horizons. Another trio, their initially impenetrable music comes across as marrying a deconstructed Killdozer with a snail's pace Motörhead and then stirring in some pop leanings. The off-kilter sensibility is enhanced by the singer-guitarist's Beatle-wig hair and their chosen attire of leisure shirts, shorts and sport socks. But the crunch comes while trying to figure out what they might be singing: they are Estonian, but the lyrics are Russian. Triptofan are Russian-speaking Estonians, a grouping which represents about the third of the country's population. On stage, this great band are a reminder that real life blurs boundaries.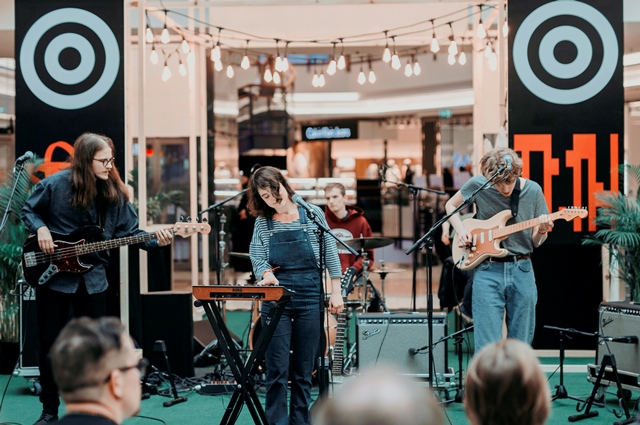 Handily, some of Tallinn Music Week's other highlights are more straightforward and require little interpretation. Finland's charming Too Slow are so in thrall to the early Teenage Fanclub that their sheer chutzpah renders them irresistible. Melby, from Sweden, deal in a sunny art-pop in the Kings of Convenience, Lowly and Tahiti 80 ballpark which is unbalanced by wobbly guitar solos and an unconcealed fondness for the 1967 Beatles. (pictured left Melby, photograph by Ken Mürk)
Ostensibly, what the schedule categorises as folk music ought to be fairly straightforward too: a strand of the festival where it's apparent what's on offer. Catlin Mägi plays the jews harp but puts it through a looper, so the boinging sounds become percussion and feeds into layered melodies. That's it for folk as known territory.
The accordionist Tuulikki Bartosik eschews digital effects to construct a complex, enfolding sound-world with the hypnotic quality of Philip Glass's arrangements for his early Seventies band. Her compositions include waltzes inspired by the south Estonian landscape but the result transcends geography. The same applies to Mari Kalkun (pictured right, photograph by Ken Mürk) who, after the release of her terrific Ilmamõtsan album, assuredly recasts its songs with the help of a female percussionist whose contributions on drum kit and vibes enhance rather than swamp the arrangements.
It's fitting that most of Tallinn Music Week's shows take place in repurposed industrial buildings in the Telliskivi district to the north of the city centre. The past is brought into the present seamlessly, just as folk musicians embrace technology, unusual instrumentation and textures. Barriers are disregarded. Also in Telliskivi, the modern venue Vabalava and the new Academy of Arts, a little to the east, mesh with the pre-existing. The bleed between new and old, and between countries supposedly separated by walls, is increased.
Planes are overhead because of barriers, but with the music and for the people behind it – as becomes more-and-more clear at Tallinn Music Week – re-erecting them after they have been removed is pointless and antithetical to innovation. The independent creative people which President Kaljulaid spoke of thrive without barriers.