Nikki Amuka-Bird interview: 'There's huge enthusiasm among actors of colour' |

reviews, news & interviews
Nikki Amuka-Bird interview: 'There's huge enthusiasm among actors of colour'
Nikki Amuka-Bird interview: 'There's huge enthusiasm among actors of colour'
Ibsen hits the Caribbean in 'The Lady from the Sea' at the Donmar. Its star explains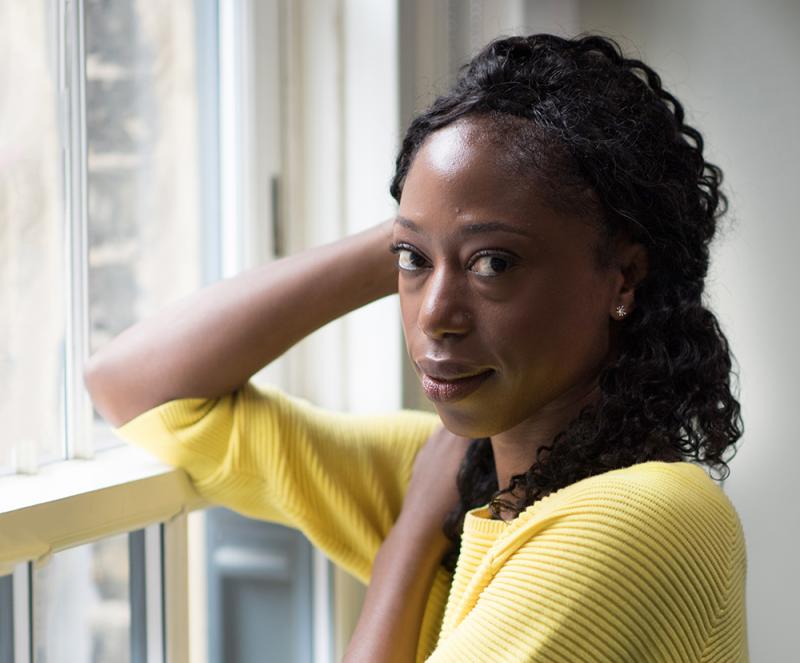 Nikki Amuka-Bird: 'Ibsen demands that you don't think'
Nikki Amuka-Bird spent the summer in Antigua, swimming and scuba diving and could have claimed to be working. She is playing Ellida in Ibsen's The Lady from the Sea at the Donmar, in a version directed by Kwame Kwei-Armah transposed to the Caribbean.
Amuka-Bird spent part of her childhood in Antigua and, home for a holiday, was thinking about
Ibsen
's restless heroine, for whom the sea represents freedom.
Born in 1976 in Nigeria, where her father is a newspaper editor, she grew up with her mother, a journalist and later a Body Shop franchisee, in the Caribbean and the UK, where she attended boarding school. There her theatre studies teacher suggested she consider acting as a career. After training at the London Academy of Music and Dramatic Art, she began at the top, playing Helena in A Midsummer Night's Dream and Miranda in The Tempest for the RSC. In 2004 she was nominated for an Ian Charleson Award, for Viola at the Bristol Old Vic. She made her National Theatre debut in 2010 in Moira Buffini's Welcome to Thebes in the Olivier, playing Eurydice (pictured below), in this case the head of a modern African state.
There have been theatre appearances at the Royal Court and elsewhere, and such widely differing films as Jupiter Ascending and Ralph Fiennes's Coriolanus. BBC series Survivors and Luther figure in her television CV, but her most widely acclaimed performance so far was probably in NW last year: she won a BAFTA nomination for her portrayal of the conflicted barrister Natalie in an adaptation of Zadie Smith's novel. Acting someone complex, already well-known to readers and not straightforwardly likeable presented a challenge which she met with raw-nerve emotion and admirable honesty.
She's another on-screen barrister in the newly released film The Children Act, with Emma Thompson. But, for the moment, sipping tomato soup in a break from rehearsals, she positively glows with the excitement of exploring Ibsen's complex heroine.
HEATHER NEILL: Ibsen's play is set beside a Norwegian fjord. Does it transfer well to the Tropics?

NIKKI AMUKA-BIRD: The stage directions actually make the background sound quite exotic. He describes the heat and the sticky damp nature of the summer. The landscape and seascape seem quite Caribbean. When Kwame approached me, he didn't know that I'd grown up in Antigua, that my mother's house is by the sea and that I felt I had a genuine relationship to the sea. I think we've hit on a valid place to explore the themes of the play.
Who is writing the new adaptation?
We have a very fresh version by a brilliant young playwright called Elinor Cook who has had quite a lot of freedom – to keep the structure and the themes and the narrative, but to express the dialogue in a way that feels truthful and immediate to her. It's set in the 1950s, a period which means we can still explore the gender dynamics in the play, the tension between the sexes. The women are fighting for more responsibility, education, the freedom to make their own choices. They had to use their survival instincts in a different way then; for Ellida marriage to someone like Wangel – with a different social standing, protected financially – would have been the only option. The women in this play are three-dimensional, complex, flawed, fallible and brave. Ibsen's characters have the same ambiguity as real people do.
How are you approaching playing Ellida?
Kwame wants me to be true to the character as written, but is allowing me to express it in a way that is truthful to my experience. For example, we are not shying away from the fact that Ellida and Wangel are in an inter-racial relationship in the West Indies and we are looking at some of the tensions in that. Ellida feels she's a fish out of water and far away from home, and that can have cultural connotations too. We are also exploring her grief: she's orphaned, she's lost her mother, her father, her child, her first love – and I think it's all compounded to a point where she is mentally under a lot of strain and in an alien environment. I find it interesting how far Ibsen pushes the question of whether or not she is mentally unstable. She's haunted by her first love, almost literally. The supernatural element is interesting to explore in this setting because there's a tradition of storytelling, of talking about ancestors and spirits and spiritual visitations in Afro-Caribbean culture.
This is your first experience of working on Ibsen. What has that been like?
The workout Ibsen challenges you to have as an actress is astonishing. Now I understand why it has been a right of passage for so many actors in the past, including people I've admired – and I admire them even more now! It's a baptism of fire in that you have to throw yourself into the ring. You have to be so available, so present because things are changing all the time. Ibsen demands that – in a way – you don't think, but are brave enough to perform all the changes that he's written and all the challenges that the character has to endure. This play goes from thriller to supernatural drama to domestic crisis – and there are lighter moments, too. It's quite rare for an actress with my background to get my hands on something like this, so I wanted to take the opportunity to research Ibsen himself and his relationship with the actors he was working with, psychologically what was going on at the time. (Pictured: Nikki Amuka-Bird in rehearsal for The Lady from the Sea)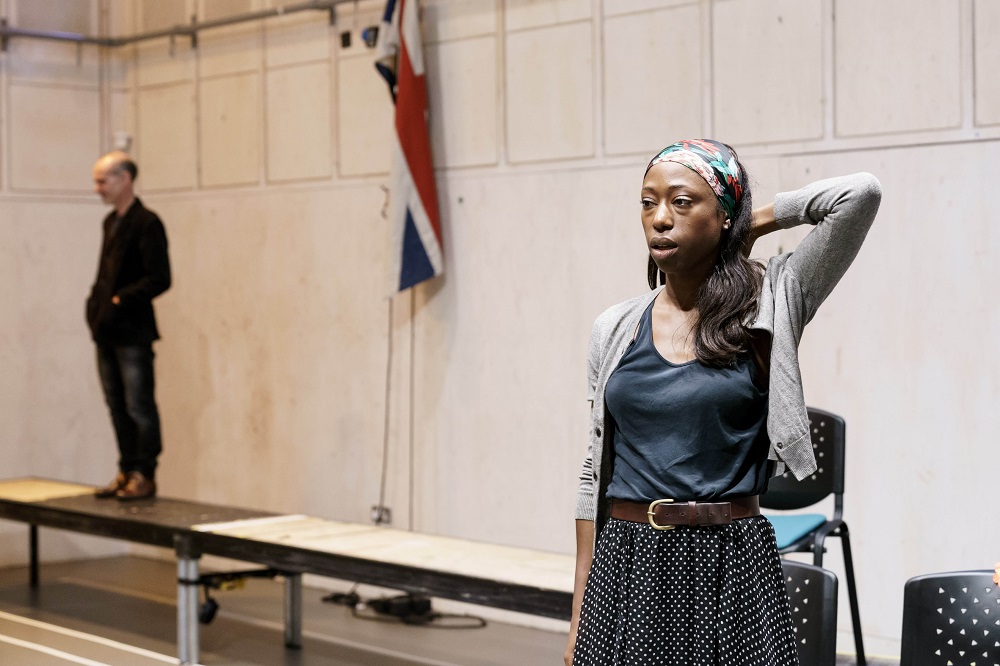 Do you find it helpful to work on a backstory for your character?
Yes, whether going back into a character's childhood or even up to the day or hour before a moment. In this case, we've worked on not just the characters' backgrounds, but the history of the island and how it feels to be in that heat and humidity, a place which suffers from hurricanes, vulnerable to the elements.
Do you think Ibsen's picture of marriage has any relevance now?
It's very contemporary to think about what enables a couple to be committed to each other and yet not stifle each other and be trapped by a relationship. Ibsen shows us different types of love: freedom and passion versus stability, security, moral commitment. He was also investigating our capacity to love and be bound to people no matter what they do, and the transactional nature of every marriage, whether of convenience or not.
People seeing the poster will probably assume this is a case of colour-blind casting...
What we're looking at is that, as a diverse company, we should be able to bring all our experience to the table. Kwame believes that in life people aren't blind to colour, that as a society we are evolving and during that evolution there will be tricky moments where in terms of race and gender there are still tensions and it's important to bring all that to the work. I think it was fine for me to play Shakespeare, but if I could go back I'd ask more questions, for instance as Miranda about Prospero, why my father is white and I'm black and what does that say about my mother? And for these questions to be enriching.
During the rehearsal period, Kwame Kwei-Armah has been announced as the next artistic director of the Young Vic. What is it like to work with him?
There's a lot of fun! He was an actor himself and on many levels he can identify with us. He shares a lot about his own life experiences because he wants to create a trusting, warm, creative space. He gives as much as he expects from us. He wants us to feel very free physically, so in the mornings when we warm up he plays a lot of great music. He wants us to dance, have fun and enjoy this moment – and to be aware that this is a very special investigation and for us to embrace it.
What was your experience of filming NW? (Pictured above: Nikki Amuka-Bird and Phoebe Fox in NW)

NW was a very short, intense shoot of about four weeks, very ambitious with lots of locations – although those were all in and around an area I grew up in, as I'd lived in Kilburn for three or four years. It was a really joyful job in that respect: I was bringing together two parts of myself – the work I'm passionate about and the community I'm passionate about. Natalie isn't necessarily likeable, but I understood the idea that as a minority you have to work twice as hard. Natalie was pushed to be a perfectionist, thinking she couldn't get ahead unless she was brilliant all the time. I thought this was an interesting thing for Zadie Smith to explore: you might be pushing yourself away from your culture in order to get ahead professionally and find yourself in another culture which is alien to you. The idea that there was a cost to that – in Natalie's case, her relationships and friendships – I felt very sympathetic to. I thought that was a really brave bit of storytelling.
What do you look for in a part, and how does film differ from theatre in this?
I don't know whether we actors are masochistic, but you are always looking for the part that will really challenge you to push yourself the furthest emotionally, psychologically. When filming you have to sustain an incredible intensity at times, but for short, sharp bursts. In play rehearsals we lay the foundations and build in stamina and train to be able to sustain the part over a longer period of time. I love coming to the theatre: it's nice to get my coffee, do the commute and go back in the rush hour – it's the closest you have as an actor to stability!
Having acted in Small Island, NW, and The Children Act, do you particularly enjoy novel adaptations?
It's a joy when you step into a book, a magical thing when you recognise the physical manifestation of what you've been reading about. And in The Children Act I've been able to observe Emma Thompson working. I loved watching how she led that company of actors with such grace and generosity, and then was completely focused and completely brilliant.
Is it easier for black actors now than it was when you began?
There's huge enthusiasm among actors of colour, a sense that they can achieve anything they want to. I really admire the fact that so many of them are writing, developing projects, creating their own shows and platforms.
Do you feel the pull of America?
I did a TV series in New Orleans, Quarry, for HBO. I love the idea we can go back and fore. There's a lot of opportunity there, but I'm hugely proud of British theatre culture and the diversity in the arts and TV here. Both can inform and enrich the other.
The Lady from the Sea at the Donmar Warehouse from 12 October to 2 December
MORE IBSEN ON THEARTSDESK
Ghosts, Duchess Theatre (2010). Iain Glen makes directorial debut with a straightforward take starring Lesley Sharp
The Master Builder, Almeida Theatre (2010). Passions blow hot and cold in this uneven production starring Gemma Arterton and Stephen Dillane
Emperor and Galilean, National Theatre (2011). Power and pace help to exhume Ibsen's Romano-Christian epic starring Andrew Scott
Judgement Day, The Print Room (2011). Ibsen's last play has its issues but emerges strongly in new adaptation with Michael Pennington
The Lady From the Sea, Rose Theatre, Kingston (2012). Joely Richardson takes on the Ibsen heroine her mother and sister made their own
A Doll's House, Young Vic (2012). Period setting yields a contemporary tragedy adapted by Simon Stephens and starring Hattie Morahan
Hedda Gabler, Old Vic (2012). Ibsen's heroine draws new depths from the West End's sweetheart Sheridan Smith (pictured)
Love's Comedy, Orange Tree Theatre (2012). Early Ibsen finds the playwright in his awkward adolescence
A Doll's House, Royal Exchange (2013). Ibsen in the round loses none of its power to cast a spell
Public Enemy, Young Vic (2013). The horrors of local politics still chime in Richard Jones's queasy production of an Ibsen masterpiece
Ghosts, Almeida Theatre (2013). Richard Eyre and Lesley Manville shine light into Ibsen's dark thriller of family misfortunes
Peer Gynt, Théâtre National de Nice (2014). Irina Brook's song-and-dance Ibsen entertains, but misses the darker shades
The Wild Duck, Belvoir Sydney (2014). Heartbreaking adaptation mixes naturalism and forensic examination
Little Eyolf, Almeida Theatre (2015). Strong women and one weak man in Ibsen's swift study of isolation and guilt
The Master Builder, Old Vic (2016). Ralph Fiennes stars in Ibsen's unsettling mix of the real and the supernatural
Hedda Gabler, National Theatre (2016). Ivo van Hove makes an uneven Southbank debut
You are always looking for the part that will really challenge you to push yourself the furthest emotionally, psychologically
Explore topics
Share this article