theartsdesk on Vinyl 71: Sparks, Ibeyi, Amy Winehouse, The Residents, Hanterhir, Astor Piazzolla and more |

reviews, news & interviews
theartsdesk on Vinyl 71: Sparks, Ibeyi, Amy Winehouse, The Residents, Hanterhir, Astor Piazzolla and more
theartsdesk on Vinyl 71: Sparks, Ibeyi, Amy Winehouse, The Residents, Hanterhir, Astor Piazzolla and more
The most extensive regular vinyl reviews on the planet
The beat just goes straight on and on
Summer has arrived outside and sunny sounds are blasting from the speakers at theartsdesk on Vinyl. But not just sunny sounds, to be truthful, also sounds that cover most of the human emotional range, all from plastic discs in varying colours. Check in below for over 8000 words on music, from Afro-electro to Cornish rock to tango to genres beyond naming. Dive in!
VINYL OF THE MONTH
Shelf Lives Yes, Offence (Sorry Mom)
Juddering, sweary, punkin', sneering electro-rock is the game of London-based duo Shelf Lives, fronted by single-monikered Canadian frontwoman Sabrina and Brit producer-guitarist Jonny. "Why am I offended by the way that you breathe/I hate people and people hate me… that's just how it is," runs a typical lyric. Bracingly aggressive, rude and misanthropic, Shelf Lives' debut mini-album is laced with nihilism but also spiked with desert-dry humour, as Sabrina ruminates mostly about how boring life is and how she dislikes most things. The music matches patches of spartan electronic beats'n'effects with bursts of grunge guitar raging. This is invigorating stuff, and also a fine, bitchin' counterpoint to contemporary culture's endless emotional fragility. Comes on vinyl that looks like celeste blue laundry conditioner swirling down a watery drain.
VINYL REVIEWS
Ibeyi Spell 31 (XL)
Ibeyi's third album steps – to some degree - away from the elegiac and occasionally gloomy tone of their previous output. This isn't to say they've suddenly turned into The Cheeky Girls. The Cuban twins, working with XL Records' Richard Russell, still come over as serious and thoughtful, especially on self-reflective torch songs such as "Creature (Perfect)" in which they appear to find peace with the deaths that have haunted their life and work (they lost their dad and older sister far, far too young). But songs such as the Afro-trap "Made of Gold" (featuring Brit-Gambian MC Pa Salieu) and the socio-politically aware goth-pulse of "Rise Above" (featuring Brit-Trinidadian MC Berwyn) have a different kind of heft. The album is loosely conceived around a chapter from The Egyptian Book of the Dead, after which it's named, and Ibeyi's usual Yoruba musical roots underpin everything too, but it crosses into avant-R&B and Afro-tonica, the latter especially on "Lavender & Red Roses", featuring Jorja Smith. While often solemn, there's a lightening of spirit here and a variety of sound that's more-ish. It's originally packaged too, with the front cover opening like saloon doors to give access to a photo collage. within which resides the album and a 12" x 12" photo/lyric/info insert.
Hanterhir There Is No One to Trust (Easy Action/Hanterhir)
Back in 2018 Cornish band Hanterhir's epic The Saving of Cadan was our Vinyl of the Month. Two albums later they return with a fearsome fifth album. Why aren't Hanterhir one of the biggest rock bands in the world? They are damn sight better than many of the bands that are. They combine their own unique version of rock, indie and punk-ishness with Mogwai-style sonics and interjections of roots music, but also boast a sound it's easy to imagine whipping up huge fields at festivals. The cover art on the new album is not helping them as it's completely forgettable, as you can see, but the music within is worth anyone's time. They are like a psychedelic grunge Waterboys for some of the time, on songs such as the swirling violin vs guitar whirlpool of "Disghoryon", but as capable of straightforward massive, contagious rock, as on opener "Always On". In the majority of alternative universes portrayed in Everything Everywhere All At Once (go see it ASAP), Hanterhir are somewhere between Radiohead and Foo Fighters in the 21st century rock canon. Comes in lyric inner sleeve.
Various Colleen "Cosmo" Murphy presents Balearic Breakfast Vol. 1 (Heavenly) + Various Fabric presents TSHA (Fabric)
A couple of club music compilations of very different character. Brit-based New Yorker and old pal of the late, great Loft don David Mancuso, Colleen "Cosmo" Murphy, gives us a double set in art/info inner sleeves, based around the way her Worldwide FM radio show acted as a salve for the troubles and frustrations of COVID lockdown. Like Mancuso and the original Ibizan DJs, Murphy understands Balearic to be a hard-to-define mixture that's both soothing, in a bubbly upbeat sort of way, and gently envelope-pushing. The main unifying factor is that these tunes would sound decent to lope about to on a warm beach without spilling your drink. Thus, the eleven cuts range from the staunch motorik and relatively recent (2014) pulse of "Velo" by Friendly Fires and Asphodells, to the mellow house chug of Peter Vriends' 1993 remix of Hazme Sonar's "Morenas", to the twinkling ambient abstractions of "Sa
Fosca" by Spanish guitarist Joan Bibaloni from 1989. Other names and remixers on board include Ashley Beedle, Phil Asher and P'Taah. It's a little too persistently wafty and hip-beachside-bar-background-music for my tastes but, as a whole, it's also an interesting and occasionally ear-grabbing selection. Rising London clubland DJ star TSHA, on the other hand, slam-dunks her twelve song set into your brain on a modernist techno slant over four sides of bright orange-yellow vinyl, opening with her wibbly stomper "Boyz". The overall sound is techno, edging into acid and, on cuts such as Jacques Greene's "(Baby I Don't Know) What You Want", Mafro's "Miss Me", and Conny's "Song For Eva (Shan 3AM Pump Mix)", the tougher end of house. There's also a gnarly rave moment in Aspect's slow, uglied-up "Norf" but my favourite is Glaswegian duo Granary 12's playful, Chicago-style, hard acid number "Mancmania".
Rhoda Dakar Walking After Midnight + Everyday is Like a Sunday + The Man Who Sold the World (Sunday Best)
Rhoda Dakar has had a low-key career in the 21st century and will probably always be best known for the groundbreaking and still disturbing Bodysnatchers/Specials/Special AKA song about rape, "The Boiler", which she co-wrote (and sang on the most famous version, attributed to her and the Special AKA). She also fronted female 2 Tone act The Bodysnatchers and is the frail, sad voice opposite Terry Hall on Specials heartbreaker "I Can't Stand It". Now she's releasing a series of 7" singles – these three and another two to follow – for an album of cover versions this autumn, all, presumably in a ska/reggae style. Of these three, "The Man Who Sold the World" (salmon vinyl) and Morrissey's "Everyday is Like a Sunday" (ordinary black vinyl) work best, although the lilting version of country classic "Walking After Midnight" (transparent blue viny) is perfectly decent. What's more interesting to these ears than the adept poppy covers, are the B-sides. "Midnight Skank" is a jump-about affair with boisterous MCing from Natty Campbell and trombone to the fore, and the dubs of the other two are really chewy and worthwhile, grippingly produced by Lenny Bignell. It's great to have her back (not that she went away!).
Charles Mingus with Hampton Hawes and Dannie Richmond Mingus Three (Rhino) + Art Blakey's Jazz Messenger's with Thelonious Monk Art Blakey's Jazz Messenger's with Thelonious Monk (Atlantic) + Ebi Soda Honk If You're Sad (Tru Thoughts) + Nimbus Sextet Forward Thinker (Acid Jazz)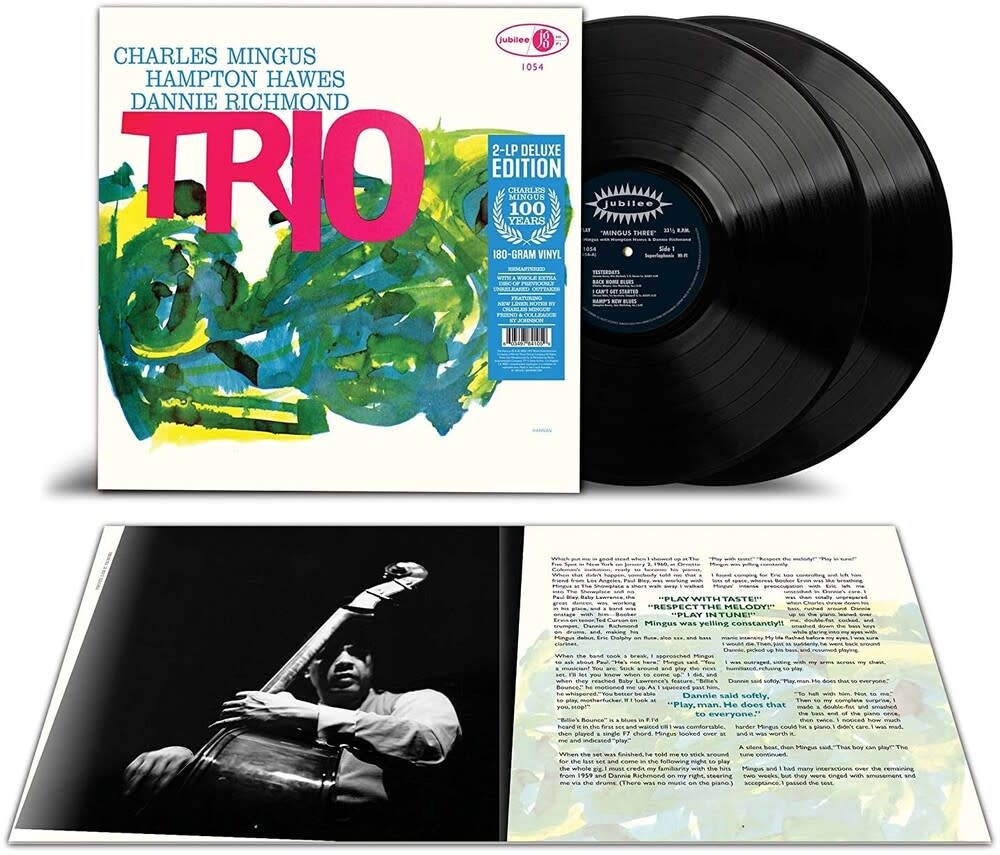 Two old jazz albums followed by two new jazz albums. Mingus Three is also known as Trio, due to the cover, and first appeared on one of the original American pop independent labels, Jubilee, in 1957. The album's renown is based on the fact the great jazz bassist Chares Mingus is allowed more limelight than usual, accompanied only by Hampton Hawes' piano and the shuffle of Dannie Richmond's drums. This line-up allows each of the musicians space and, while cuts such as "Summertime" are full and busy, much of the time there's an airy relaxedness to it which peaks with closing slowie "Laura". Further interest is raised on this two record edition, celebrating Mingus's centenary, by the extensive notes from his associate Sy Johnson, as well as the whole two sides of outtakes and alternate
versions. The genius of the set is that it is, at once, frenetic and calm. Also from 1957 - and emanating peak bebop skill and snap - comes an album that Art Blakey and Thelonious Monk made together when neither was contracted to a record company and Atlantic Records jumped in. The album is dominated by Monk's bizarre yet intuitively right piano lines and his own tunes, which drummer and band leader Blakey allow all the space they need, ensconcing them in on-point improvisations by saxophonist Johnny Griffin and trumpet-player Bill Hardman, both on peak form. Again, the set comes with extensive notes, this time in booklet form, featuring reflections by jazz historian Ashley Khan, as well as a bunch photographs. The second of the two records in the set is devoted to outtakes which are also worth a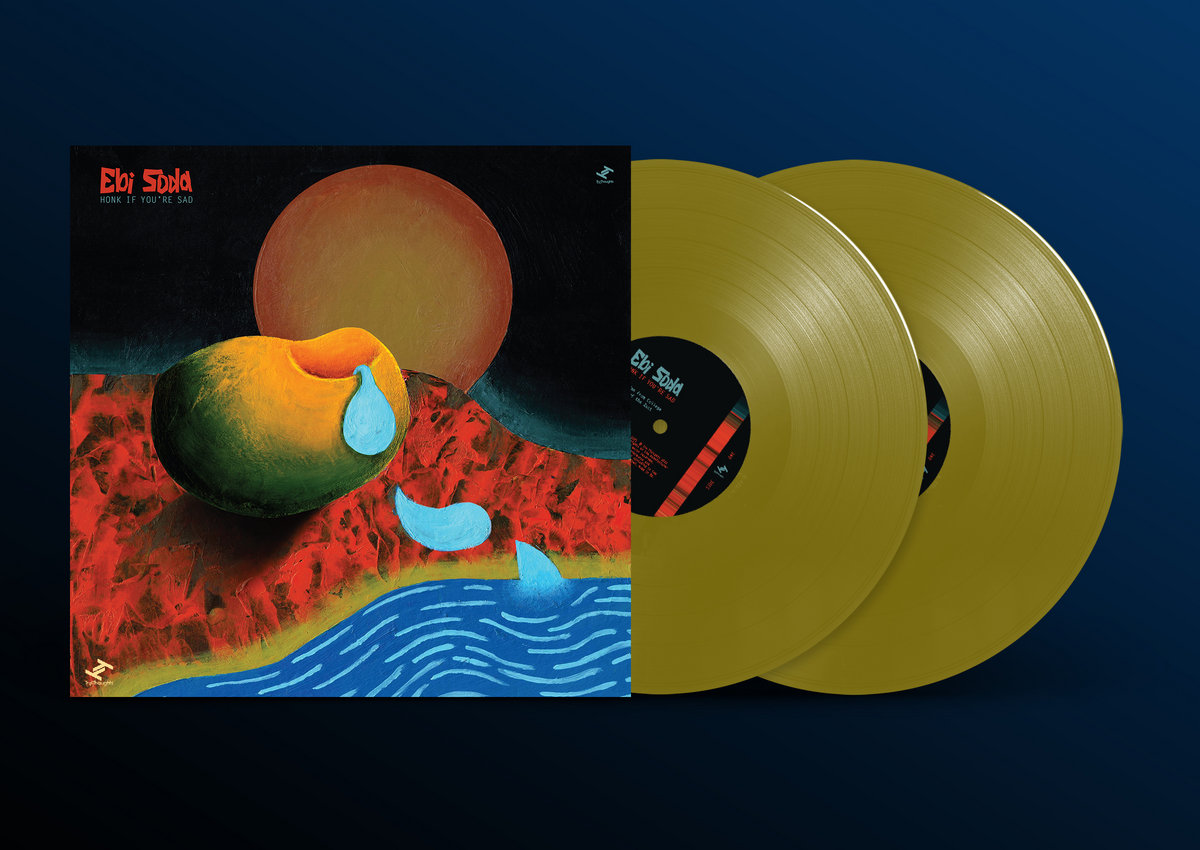 listen, notably the frantic Take Two of "Rhythm-A-Ning". It's classic New York jazz of the period. 65 years later, Ebi Soda are a Brighton jazz band whose second album - and first for Tru Thoughts – does not adhere to trad or bebop templates, although their music does have a warm big room sound. It's fresh-sounding music that is as happy to offer up the squelch-farty drum-led abstract of "Pseudorcrème" as the driving, wonkily danceable "My Man From College".
One consistent is band leader VVilhelm's [sic] trombone leading the way, although the guest trumpet of Yazz Ahmed spaces out the rolling deep groove of "Chandler". Comes on double vinyl. Finally, the second album from Scottish outfit Nimbus Sextet. Initial exposure to this didn't drag these ears in but more extended time spent revealed further stuff going on under the hood. Sax, trumpet, drums, bass, guitar and keys is the line-up and they switcheroo between easily digesitible dinner-club jazzual jamming to cuts that have a heavier Afro flavour, opening out and allowing the percussion to breathe. The opening number, "High Time", featuring singing from Dutch Kid Creole bandmate (Coconut?) Charlotte de Graaf, is an especial treat.
Zombie Zombie Vae Vobis (Born Bad)
French analogue synth freaks Zombie Zombie have now been around for a decade-and-a-half. They were one of the earliest adopters of the kind of analogue synth retro-ism which has now developed into a large bedroom producer geek cult. Their new outing, though, their sixth studio album, heads into fresh territory, attempting to conjoin their music with a slightly sinister sense of the Dark Ages, possibly drawn more from old horror films about witches than intense archival study. It may, then, conceptually recall their Seventies prog kin, especially the likes of Goblin, but sonically it's more technoid and an original trip. Despite chanted and sung Latin segments, and soprano spook vocals, and, on the doomy, drum-led "Aurora", a doggedly unstoppable brass section, at heart the synths provide the main mood. Arriving in a sleeve of Latin lyrics, Vae Vobis is an entertainingly different piece of work.
Astor Piazzolla The American Clavé Recordings Boxset (Nonesuch)
By the mid-1980s the curator-composer Kip Hanrahan had established his New York label American Clavé as a meeting place for jazz, avant/modernist-classicism and strong global music components. Argentine bandleader Astor Piazzolla was, by this point, in his mid-60s, a bandoneon-player who'd spent his life combining a love of tango music, bred into him by familial nostalgia, with a virtuosic investigation of European and American classical developments. When he came together with American Clavé for Tango Zero Hour in 1987 it resulted in what Piazzolla felt was the best work of his life, fusing jazz and classical with tango in a way that still sounds beautiful, delicate, elegant and atmospheric. The new boxset from Nonesuch, who reissued these albums two decades ago on CD, collects together this album with its successor, La Camorra (1989), which is really a feisty extension of Tango Zero Hour, and The Rough Dancer and the Cyclical Night (Tango Appasionado), which came out in 1991, when Piazzolla was, for all practical purposes, gone (he had a stroke in 1990 and died in 1992 without ever recovering consciousness). The latter album, originally created as a soundtrack to a dance/theatre performance based around the work of the writer Jorge Luis Borges, goes in a different direction, as it sees Piazzola playing around with the studio, stepping away from his training and exploring possibility; it is less mannered but more fun, with moments of Morricone-like playfulness and manic episodes. All three albums are studied delights, controlled yet riven with Argentine passion, but I think my favourite is The Rough Dancer, which Gotan Project must surely have based their whole career on! Inner sleeve notes come from Kip Hanrahan and the writer Fernando Gonzàlez, translator of Piazzolla's memoirs.
Sparks Balls + Lil' Beethoven + Hello Young Lovers + Exotic Creatures of the Deep + The Seduction of Ingmar Bergman (BMG)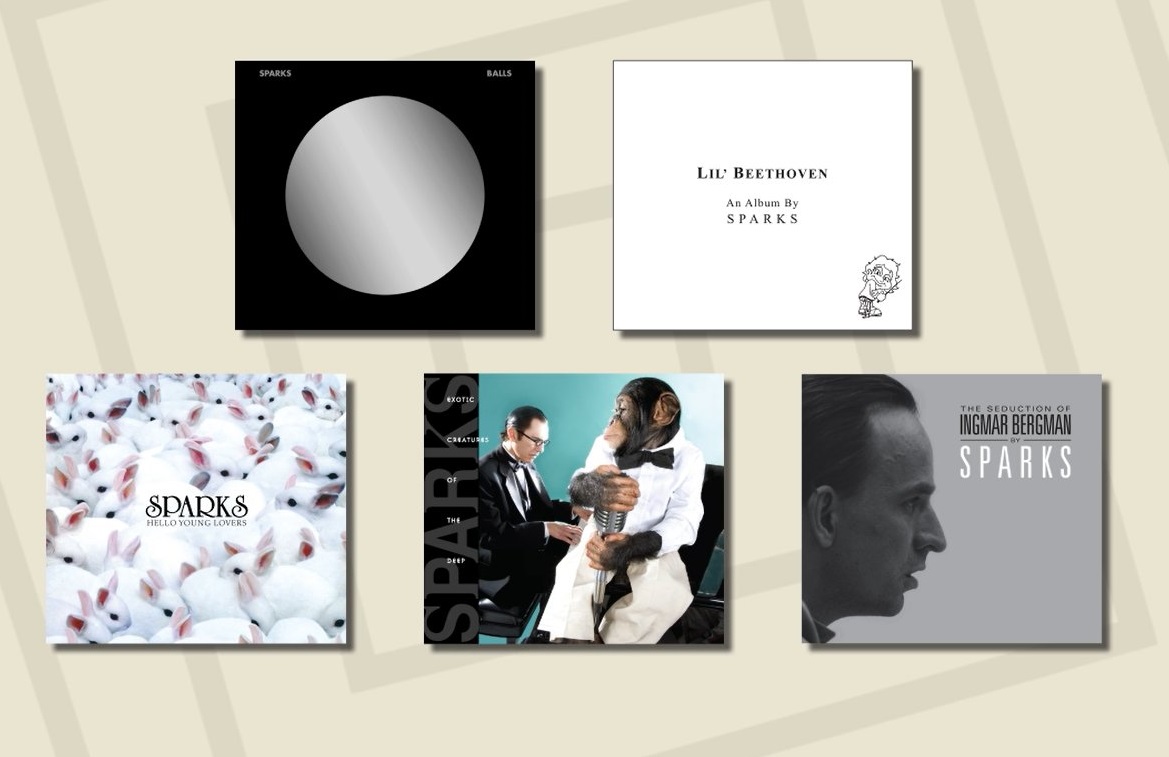 Sparks are making the most of their sudden domination of the big and small screen (with the films Annette and The Sparks Brothers) by releasing all their albums of the 21st century, of which theartsdesk on Vinyl has been sent the first five. The others two are 2017's Hippopotamus and 2020's A Steady Drip Drip Drip, which were both Top 10 hits. The albums I have here didn't make a similar impact of even hit the album charts but I suspect this is because fresh interest was aroused in the band by their 2015 collaboration with Franz Ferdinand, rather than any issues with the quality of the music. The Mael brothers were already 30 years into their career when they made the first of these albums, but they do not suffer from a lack of imagination. Listen to songs such as "Aeroflot", "Bullet Train" and the title track on Balls (2000) and you'll hear a band in thrall to electro-rockin' breakbeat but there are also plenty of lovely string-laden songs such as "Scheherazade", which have not travelled far from their classic Seventies fare. 2002's Lil' Beethoven opens with chanting of "Oh no, where did the groove go?", leading into an album of musical theatre-like, drum-free chorales. It's bizarrely atmospheric, tension-laden, even on wry songs such as "What Are All These Bands So Angry About?". It's a better album than its idea suggests. Hello Young Lovers (2006) re-expanded Sparks' palette and, while conceptually attached, loosely, to the concept of love lives, songs such as the preposterous "Metaphors" allow Sparks to expand where they fancy ("Use them wisely [metaphors], use them well, and you'll never know the hell of loneliness"!). Exotic Creatures From the Deep (2008) boasts an equally amusing and also rockin' number called "Lighten Up Morrissey" but the rest of the album spreads across genres, from the catchy, operatic electro-clash of "I Can't Believe You'd Fall For All the Crap in This Song" to the ludicrous "Photoshop", which has the same arch feel as the "Galileo Figaro" sequence from "Bohemian Rhapsody". Finally, The Seduction of Ingmar Bergman from 2009 might be the best of these albums, a rounded and less wilfully sardonic affair, based on a project commissioned by a Swedish Radio station and themed around imagining the legendary film director visiting Hollywood in the 1950s. It's a holistic, engaging listen rather than a set of amusing songs. All these albums come on gatefold and all but Lil' Beethoven are on double vinyl.
Various Record Club Vol. 5 (Mr Bongo) + Various Luke Una presents É Soul Cultura (Mr Bongo)
The ever-reliable Brighton label Mr Bongo drop a couple of collections that will liven up any funked-up and imaginative record collection. Record Club Vol. 5 is simply two discs of tracks that the Mr Bongo team have dug up and are loving, like a supercool playlist of lesser known music that shines far brighter than its profile might suggest. The flavour is global grooves, mostly old but sometimes new, that are on the offbeat jazz-funk-soul spectrum, with the emphasis on shimmy-around-the-dancefloor-ability. To dip at random, they range from the light-hearted but hard-punching soul of Mark Capanni's "I Believe in Miracles" from 1974, to the mesmeric, indefinable Afro-psyche-blues of "Nebine" by Mauritanian singer Malouma from 2007, to the dub-disco head-nodder "Romance" by Hiroshi Suzuki from 1976. Comes with a 12" x 12" info sheet explaining the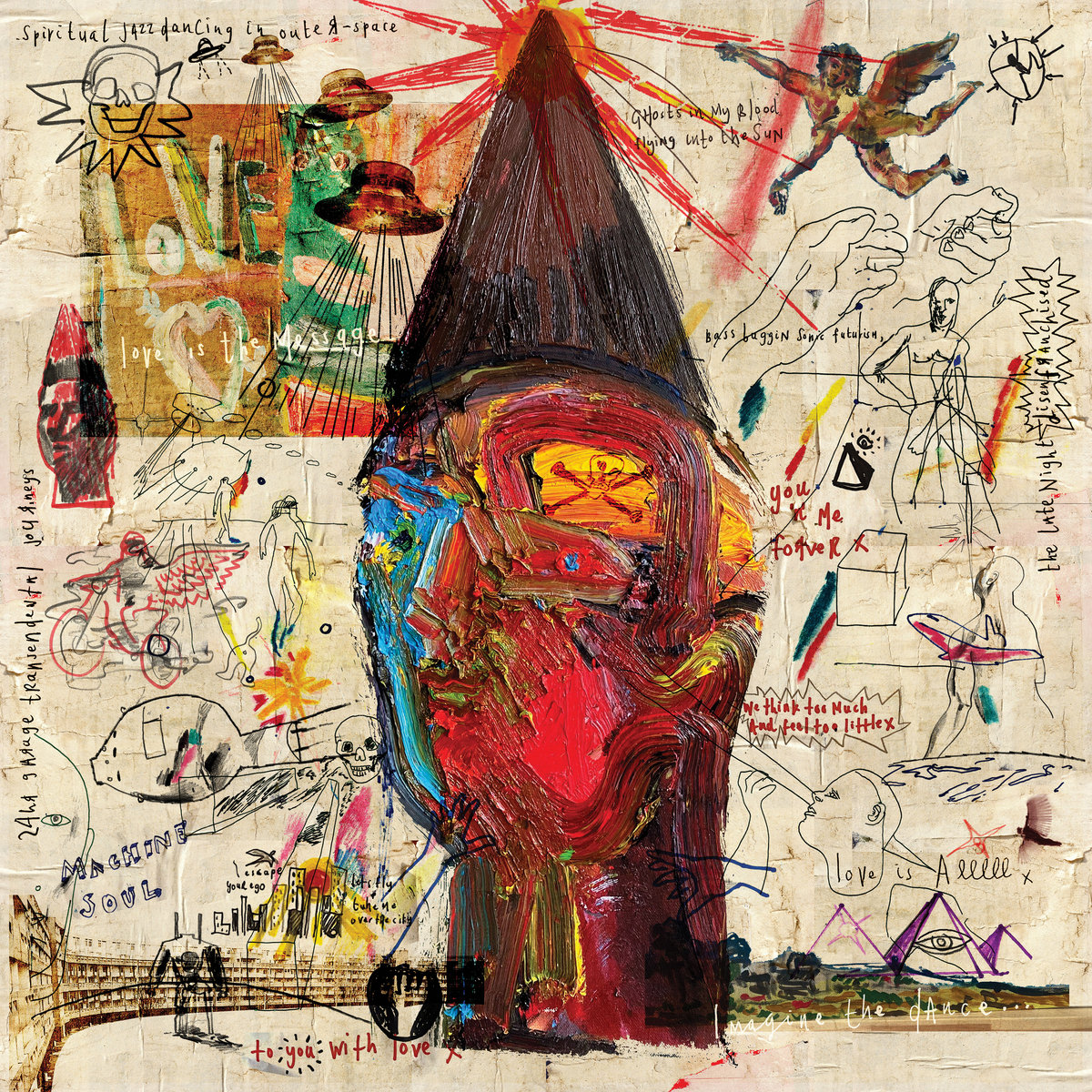 background to all the music. Manchester DJ Luke Una, best-known these days for his Worldwide FM show, goes for a mellower sound than Record Club Vol. 5 with his selection of what a sticker on the cover describes as "transcendental music for the late night disenfranchised". In art gatefold on two records, again drawing from older and more recent fare, his set smooches around Seventies disco-funk slowies such as Metropolis's "Every Time I See Him", to oddball cuts such as the easy-rolling chatty indie-soul of "The PL" by contemporary Bristolian producer Typesun, to joyous mellow Hispanic pieces such as Airto Moreira's "O Galho Da Rosiera", to the punchier fare on the album's final side, notably the percussive Guadeloupian electro-zouk of "Apocalypse Now-Ho" by Nar'Chiveol. Comes with art/info inner sleeve. Both albums have much to recommend them but, if forced to choose. I'd go for Record Club Vol. 5 which is less smooth and more eclectic.
Amy Winehouse Live at Glastonbury 2007 (Island/BBC)
I was there for this one, now appearing on plastic over two records in photo/info inner sleeves. Back to Black had been a big UK hit but had yet to become an album beloved of music-lovers and non-music-lovers alike. Amy Winehouse, if I recall rightly, was appearing mid-afternoon on the Friday on the Pyramid Stage. The weather later that weekend would turn apocalyptic, but at this point there was still sun among the occasional showers. Of the three times I saw her play live, this was the only one where she didn't seem jaded by life (and drugs and the press), still fresh, and that's how the set sounds, drawing from both her albums, as well as rendering rough'n'ready versions of Sam Cooke's "Cupid" and a medley of The Specials' "Hey Little Rich Girl" and "Monkey Man". As is often the case with live shows, the second half is more convincing than the first; "Fuck Me Pumps" and "Me & Mr Jones" are full of Winehouse's unique slurred vocal vim but it's actually "Rehab", an overplayed song, no longer a go-to for me, that has its appeal frantically ramped up in a version whose energy takes it to another level. Overall, a worthwhile addition to the legacy.
Various Wild Style (Jem) + Edan Beauty and the Beat (Lewis) + Raw Poetic Laminated Skies (Def Pressé)
A three album trip through hip hop's chronology, starting with the reissue on banana yellow vinyl of the soundtrack to 1983's original hip hop flick, Wild Style. The film was mostly made in 1981 so it really does go back to near the dawn of recorded hip hop. What will strike 2022 hip hop afficionados is the musical mess that backs the rap, from the rock-hop of the title theme by Grand Master Caz and Blondie's Chris Stein, who curated the music, to the predominant funk breaks, scratched about until they sometimes sound like electro. Some of it is just a historical document, interesting but hardly vital, but other parts, such as the live "Double Trouble at the Amphitheatre", featuring MCs Rodney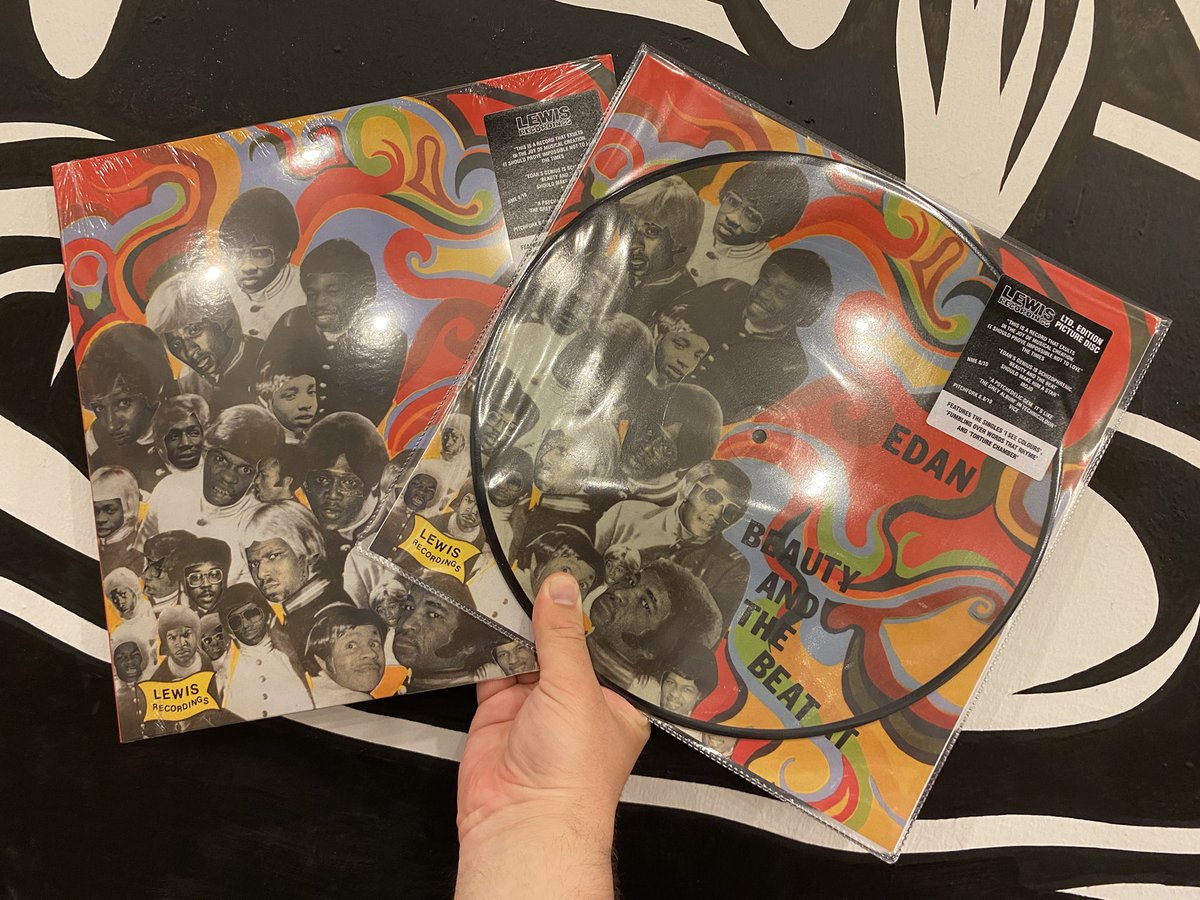 Cee and KK Rockwell backed by DJ Stevie Steve (great name!), drag you into their propulsive roll'n'flow. US producer Edan's second album, Beauty and the Beat from 2005, redefined the possibilities of cut-up production, and now reappears as a spectacular and weighty picture disc of its cover art, with the sound equally ballsy. What's great about this album is how psychedelically off-the-wall it is, mashing vibes from Sixties psyche exploitation into Steinski-style chopping about, all over rhythms that carry along the well-honed verbals, which includes guests such as Mr Lif, Sagha, Insight and Percee-P. Whether you like hip hop or not, this album is huge fun, in the way that a Reggie Watts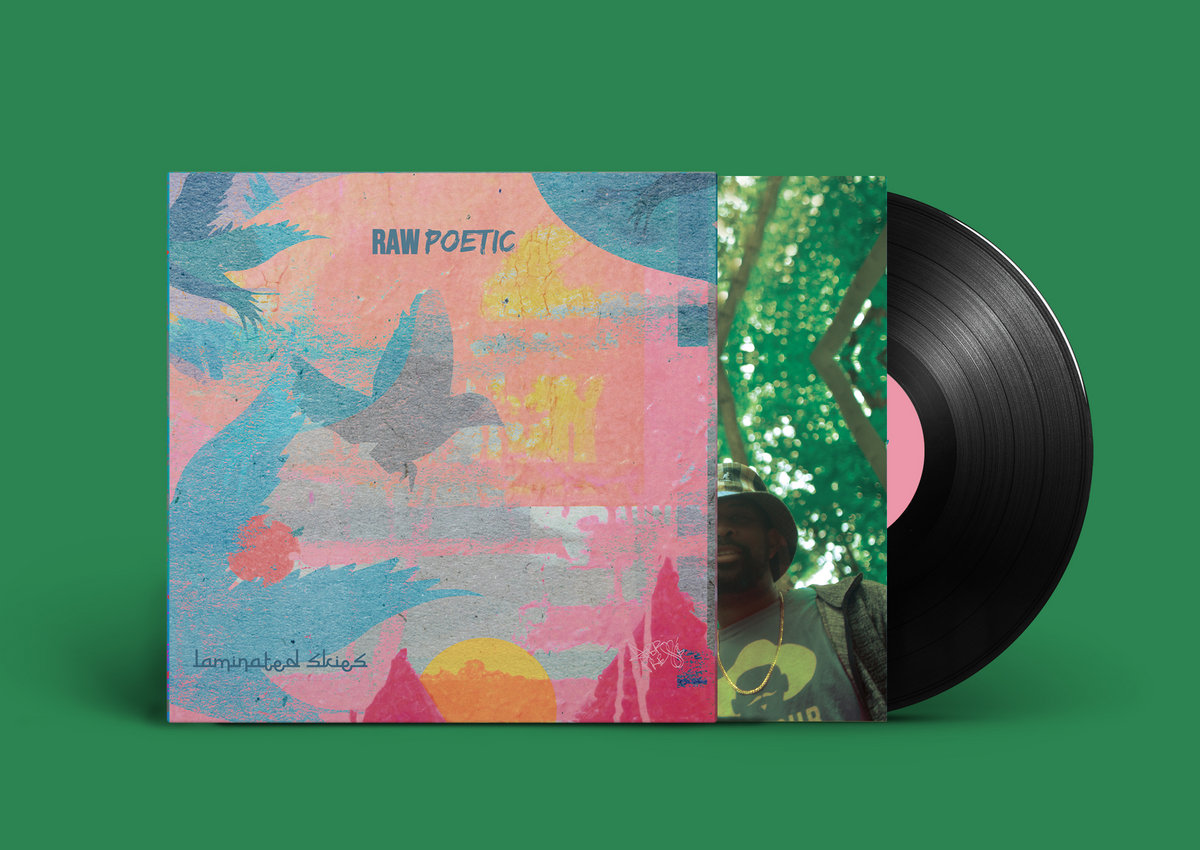 performance is huge fun, head-fryingly all-over-the-place yet mind-bogglingly tight. Finally, bringing us up to date, is the debut from North Virginian MC Jason Moore, AKA Raw Poetic. It does not hurt that he's working with one of the underground's perennially sound names, Damu the Fudgemunk (also, it has to be said, one of hip hop's best artist names!). The result is an organic-sounding album, gentle, lo-fi, jazzy post-rock-tinted grooves over which Raw Poetic steadfastly word-stumbles with easy speed, so persistently that you can either listen to his words or allow them to blur into a topline line instrument. The whole thing has a DIY feel that, albeit with a certain indie sensibility, draws it closer to the origins of the genre than the shiny, hackneyed American Dream-aspirational bling-pop so often currently presented as hip hop. Comes in art-info inner sleeve.
Various Lovers Rock (Trojan/BMG) + Various David Hepworth's Deep 70s (Demon)
A couple of comps focusing on music from the Seventies (and, in the case of Lovers Rock, the very early Eighties). The Trojan comp is self-explanatory, its subtitle, "The Soulful Sound of Romantic Reggae", telling it like it is. Jamaican reggae in the Seventies was a masculine world – to a large extent it still is – with roots and Rastafarianism mostly represented by men. Over in Britain, however, as the Seventies turned into the Eighties, a sub-genre blossomed, reggae often made by and aimed at girls and women, full of teen love and dreams of "courting". This collection, which comes on double in info gatefold and inner sleeves, mingles songs which are blatantly in the latter vein with others that influenced it or more loosely fit the template, such as Sugar Minott's bubbly dancehall "Lovers Race". This writer finds some of it too soppy, such as Ruddy Thomas & Susan Cadogan's "You Make Me Feel So Good", but there are plenty of solid gold classics too, such as Dennis Brown's "Money in my Pocket", Gregory Isaacs' "Night Nurse", and the Dennis Bovell-produced 1979 tune which defined lovers' rock, invented it as a British phenomenon, and was used in an extraordinary fashion in Steve McQueen's stunning 2020 film (also called) Lovers Rock, Janet Kay's "Silly Games". Other artists on board include Carroll Thompson, John Holt, Freddie McGregor, Leroy Brown, Winston Reedy, and don't forget the lost gem, "Walk Away" by Marie Pierre. David Hepworth's Deep 70s may
be appearing off the back of the writer-presenter's successful book and resulting TV series about 1971. On two transparent records in info-packed inner sleeves, it's subtitled "Underrated cuts from a misunderstood decade" and is divided by sides into four sections. First comes "Young Americans", so the thematic is geographical rather than musical, hence the lovely "Small Town Talk" by Bobby "See You Later Alligator" Charles can sit to the Scissor Sisters-ish "Avenging Annie" by Andy Pratt. More to my taste is Side Two, "Beer Drinkers and Hell Raisers", which opens with Freddie King's fret-strangling "Going Down" and moves through blues-rock stonkers by Johnny Winter, Status Quo, ZZ Top, Little Feat, J. Geils Band and the ballistic proto-punk of Eddy and the Hot Rods' version of "Get Out of Denver". Side Three is "Blue Boar Blues" but, aside from Terry Reid's excellently funky "Dean", isn't really blues, more honkytonk pop by the likes of The Records, Robert Palmer, The Motors ("Dancing the Night Away" rather than the superb "Airport" which, I s'pose, isn't "lost" enough), and Roy Harper's maudlin, nostalgic "When an Old Cricketer Leaves the Crease". The final side is entitled "The Monstrous Regiment" and contains folkies and balladeers such as Marianne Faithful, Sandy Denny, Joan Armatrading, Kate & Anna McGarrigle, and Richard & Linda Thompson. For me these latter songs are best heard in situ on their parent albums, late at night, rather than wodged together but that, of course, does not take from the quality of the songwriting.
Abigail Lapell Stolen Time (Outside-Music) + Sitrekin Open Chest (Hun Solo)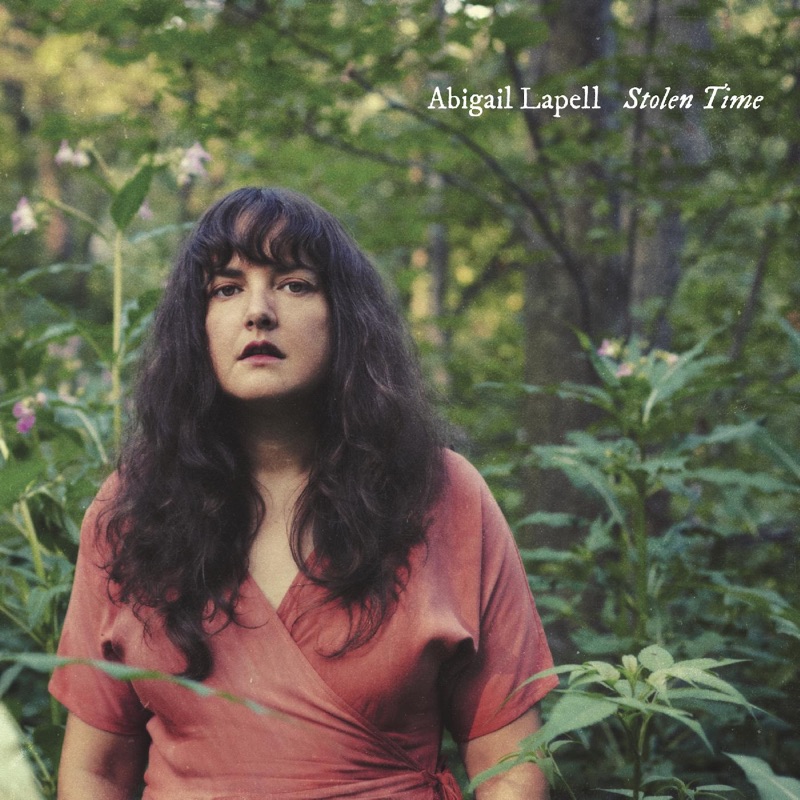 Two singer-songwriters with gently potent emotional heft. Canadian musician Abigail Lapell's album is the fourth of her decade-long career and it's a gorgeous thing. Pared back songwriting entwines with her quavering, sad-sounding voice to create a drowsily luscious set. The way she sings is as if she's hesitating to speak at all, for fear of collapsing in on herself. It's very effective and only adds extra power. Loosely speaking, it's folk/country, but these songs, backed by a small ensemble – piano, occasional low key brass and steel guitar – are so quietly straightforward as to be themselves and beyond genre. Comes on vinyl described as "olive green" but is closer to crocodile or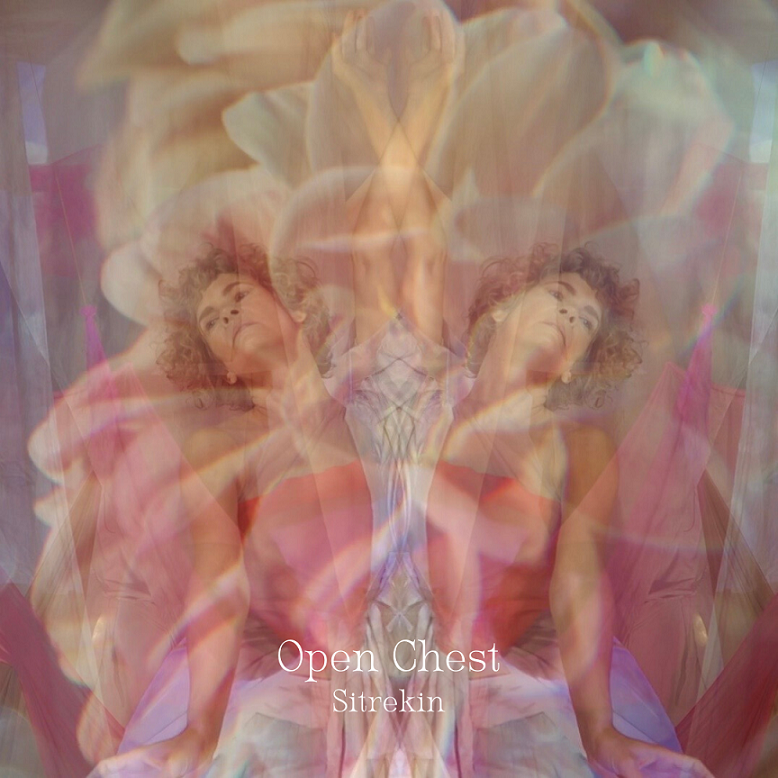 cadmium green (to be overparticular about it!). The 12" single by Danish singer Sitrekin, AKA Kirstine Stubbe Teglbjærg, marks a limited-to-250 special seguing her time fronting TV/film synch rights kingpins Blue Foundation and her solo career. Perhaps the latter's biggest success was the use of "Eyes on Fire" in the original Twilight film: now Teglbjærg reimagines the song as a marvellously deconstructed electronic space-out, her breathy, whispery voice holding all the disparate floating elements together. "Open Chest", on the other hand, is her solo debut single and it's equally sparse but actually much catchier, and hooks you right into its melodies and choruses. Arriving in info inner sleeve, it's a one-sided 12" with the other side etched with the lyrics and a logo.
Taj Mahal & Ry Cooder Get On Board: The Songs of Sonny Terry & Brownie McGhee (Nonesuch)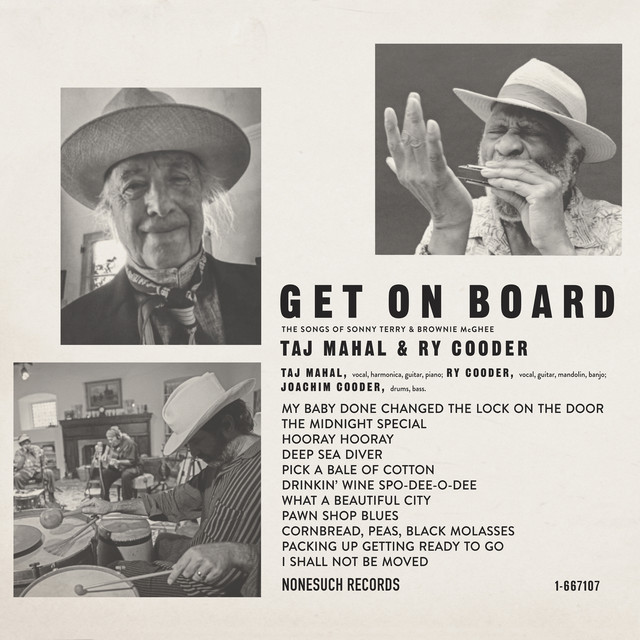 With a combined age of 155, it's clear that these two doyens of roots and blues music are doing this one for the sheer joy of it. Sounds that way anyway. They've slammed down a set of songs celebrating early 20th century blues originals Sonny Terry and Brownie McGhee who wrote or repopularised these songs during the folk revival of the Fifties and the blues explosion of the Sixties. What makes the set so enjoyable is the way that Mahal and Cooder, virtuoso musicians both, throw these songs out raw as anything, which is surely the whole point of this music? Songs such as "Pick a Bale o' Cotton" come into their own - more "authentic" - when attacked with raw gusto, detail sacrificed for spirit. Nick Tosches has written better than I ever will about such things in his 2001 book Where Dead Voices Gather so check that out some time. Other familiar songs on board include "The Midnight Special" and "Drinkin' Wine Spo-Dee-O-Dee" but the whole thing is a blast. Arriving with a 12" x 12" info insert that also has a short screed by the two main players, it's as vital and untrammelled, in its way, as anything that has appeared this month.
Angelo Badalamenti and Various Blue Velvet Original Motion Picture Soundtrack (Varèse Sarabande)
Blue Velvet is this writer's favourite David Lynch film. Connoisseurs often veer towards his later, even more abstruse work, but the vicious, unhinged abjection and uncanny small town seediness of Blue Velvet hit my brain hard when I first saw it in the mid-Eighties and has never left. Now Varèse Sarabande release an all-a-fan-could-ever-want soundtrack set with Enzo Sciotti's suitably and garishly grotesque Italian poster art on the cover. It's a double on gatefold featuring, of course, Isabella Rossellini looking tormented in blue velvet. The inner sleeves have a dense, welcome and substantial feature by US music journalist Tim Greiving, featuring fresh interview material with both Lynch and Angelo Badalamenti. Side A contains the latter's suitably haunting orchestral pieces, capturing the dark undertone that permeates the film. Side B features one of the films centrepieces, the song "Mysteries of Love" by Julee Cruise, who only this week left this mortal coil, alongside the crusty old pop songs the film turns into totems of the utterly sinister, notably the title track and Roy Orbison's fantastic "In Dreams". Sides C and D contain further Badalamenti fare, which varies from ominous tone music to kitsch twee advertising idents, and a bunch of never-used cues, termed "Lumberton Firewood", which Lynch had on hand to use choose if he so chose. Comes on murky blue vinyl with black marbling.
James Heather Invisible Forces (Ahead of Our Time) + Penguin Café A Matter of Life… 2021 (Erased Tapes)
Two albums of modern classical, whose quietitude belies their ability to involve. James Heather's second full studio album is as simple as it is complex. It's one man and a piano in a space with just the right amount of roomy echo and reverb. This is mood music that seems to flow from Heather and doesn't fit any clear category that springs to mind. It's as if Heather is finding his way around the piano while his mind flits through thoughts, some sad, some happy, and it all somehow bleeds its way through his fingers. It moves at its own pace and suddenly the listener, previously just aware of it as looping notes, becomes entwined. Comes on purple
vinyl in art/info inner sleeve. The 2010 debut album by Penguin Café is a busier creature and, perhaps, more immediate in its pleasures. Tunes such as "Landau", with it minimalist patterns, overlaid with Northumbrian pipes played by Kathryn Tickell, are upheld by pattering rhythms that sweep in the less classical-friendly listener. This reissue, the first time on vinyl, is remastered and contains a new version of "Harry Piers" a piece that band leader Arthur Jeffes originally wrote for his father's funeral back in 1997, his father being Simon Jeffes of the original Penguin Café Orchestra. It's not all to my taste but its variety is welcome and the livelier material leaps out. Comes with 12" x 12" photo/info insert.
ALSO WORTHY OF MENTION
PM Warson Dig Deep Repeat (Légere): The second album from PM Warson is elegant, but without a touch of pretension. Generally described as coming from a "rhythm'n'blues lineage" Warson's music has reached a point where it's moved beyond that description. Sure, there's Duane Eddy twang amongst it, bluesy piano, and all that, but this is a fatless music, lean, emphatically about the songwriting rather than riffs and attack, and is eventually more reminiscent of The The at their peak. I can see no reason why, given the right exposure, this London singer-songwriter shouldn't reach wide success with what he's doing here. Class. Comes in photo/info inner sleeve.
Sassy 009 Heart Ego (Luft): Norwegian singer Sunniva Lindgård is Sunny 009 and the production work she's done on her second album is original and engaging. Her airy voice in submerged in great explosive bubbles of synthesized chords and effects, the results somewhere between ethereal and shoegaze indie. The songs are not quite as sharp as the production but there's something here worth following. The whole has a snifter of Billie Eilish's debut album about it but is its own thing. Comes in lyric inner sleeve.
The Residents Duck Stab! Alive! Boxset (Grand Chess): Californian eyeball weirdos The Residents were at a commercial peak when they recorded their Duck Stab EP and its follow-up album in 1978. In the case of this ultra-cult and wilfully tricky band, a "commercial peak" does not mean that they were suddenly touring the globe and hitting the charts, just that they managed to garner a few more reviews than usual and sell a few more copies than they had been. In fact, the Duck Stab songs, angular and Beefheartian, though they are, have occasional pop-rock structure, in a deranged baroque way, on tunes such as "Laughing Song". In 2021 The Residents performed a show in Oakland loosely based around the EP and the Duck Stab/Buster & Glen album and this is now captured as a limited double 10" 3000-edition box set, replete with a DVD of the shows It's a colourful package showcasing the band in rockin' form, in their acutely spiky, avant-jazz way, but will mainly be one for converts.
Almon Memela Funky Africa (We Are Busy Bodies/Gallo): Deriving from the same 1960s South African milieu as the likes of Hugh Masakela and Miriam Makeba, composer/arrange/guitarist Almon Memela made Funky Africa in 1975 and it has, for years, been very rare. Now reissued by We Are Busy Bodies, it opens with an uplifting and thorough jazz reimagining of Donny Hathaway's "The Ghetto". Mostly, though, and aside from a cover of the Herbie Mann/Cissie Houston disco tune "Hi-jack (Your Love)", it's Memela originals. These are deep-dipped in an easy funkiness, often with flute floating about, a sweet meeting point between jazz and funk tinted with light, inexplicit African flavouring.
Wilma Vritra Grotto (Bad Taste): Following their tasty 2019 debut, Burd, Grotto proves this duo are more than a one trick pony. A collaboration between Will "Wilma" Archer, a producer best known for his work on Domino Records, and MC Pyramid Vritra of Odd Future, they have now expanded their parameters, so that backing tracks are often filled with hints of modern classicism, sweeping violins and cellos and so on, rubbing up against Philip Glass-ish rhythms, and loping rubbly-sounding drum patterns. Vritra's lazy but precise tones and thoughtful lyrics sit well atop this brew, making for an ear-interesting listen Comes in lyric/info inner sleeve.
Findlay The Last of the 20th Century Girls (Mogg Music/Kartel): British singer Nat Findlay is someone who, about a decade ago, went through the mill with major labels, in the right place at the right time, getting the right tour support slots, but who ended up in a tangle of development hell delays and lack of support. She did eventually have an album out on BMG five years ago but, although it had its moments, it didn't break through. This return is consistently well-wrought and musically eclectic pop, from the whimsically laidback and catchy "Life is But a Dream" to the chunky new wavey disco-electro of "Night Sweats" to the girl band wooziness of "In Love Again". Never dull, all The Last of the 20th Century Girls needs to gather a following is for someone to hear it. Comes on transparent scarlet vinyl on art inner sleeve.
The Step London Soul: You Want It, You Got It (54321 Countdown): London band The Step derive from a short period at the start of the 1980s when the speed of punk combined with the frantic energy of Northern Soul, hugely influenced by what Paul Weller was up to with The Jam, to create a fresh version of Mod. The Step toured with Secret Affair and had a following, briefly. They released five singles on CBS but none of them are here; London Soul is a collection of outtakes, demos and live material, although there are sound-alike demos for the singles "Let Me Be the One" and "Tears That I Cry". Alongside covers, such as a manic live "(I Can't Get No) Satisfaction" and a version of "Sweet Soul Music", are tight, smart originals such as the Sixties pop of "Girl" and, more notably, the raw groove of the title track, which is a belter.
Gates of Light Gates of Light (Shimmy Disc): A global collaboration mastered and released by Shockabilly/Bongwater don Kramer on his perennial New York underground label Shimmy Disc. The rest of the cast are led by Glaswegian couple Louise Quinn and Bal Cooke of A Band Called Quinn, and Parisian DJ-producer Kid Loco, with the art work credit also included as a band member in Tim Saccenti (also from New York). It's a lovely album of mellow synthy waft-pop; dream pop is probably the more popular term, but I've never liked it. Imagine Saint Etienne took opiates and were more devotedly electronic, but also with a downtempo Velvet Underground flavour, and it'll give a semblance of what's going on here. Quinn's sweet, clear voice enunciates the songs upfront, and the whole bleeds a chimerical longing. Comes in lyric/info inner sleeve on what is described as "mock turtle blue" vinyl.
Tank and the Bangas Red Balloon (Verve): New Orleans' Tank and the Bangas are beloved of proper muso sorts with good reason, they can maintain a seated concert chin-stroke virtuosity and have thoughtful head-nod spoken word sections. Ah, but they also dip into genres well beyond jazz, and have the ability to funk right out. Led by Tarriona "Tank" Ball, and coming off the back of a Grammy nomination in 2020 (Best New Artist), Side Two of their third album is a tad smooth for this writer but Side One has plenty going on, with more than enough soul oomph and musical edge on songs such as "Oak Tree" and, especially, the raw "Who's In Charge". With guest appearances from Big Freedia, Lalah Hathaway, Trombone Shorty and others, and coming on lyric inner sleeve, Red Balloon is a solid new chapter in their story.
Phil Odgers Ghosts of Rock'n'Roll (Vinyl Star) + Molly Tuttle & Golden Highway Crooked Tree (Nonesuch): A couple of records dealing in two different folk forms, both infused with a similarly raw communicative drive. Phil Odgers of polemic cowpunks The Men They Couldn't Hang has built a parallel solo career which now bounds forward with a 12 song set. Its production, by contrast, didn't bound anywhere, halted twice by the pandemic and emotionally blighted by the death of Odgers' longterm compadre, Men They Couldn't Hang frontman Stefan Cush. It's not a melancholic album, though, but a poetic set, unthemed, ranging lively across rock'n'roll devils, regret, mending white goods, and much more, and featuring work from Sid Griffin and violinist Bobby Valentino. Comes in lyric inner sleeve. The third full solo album from Californian bluegrass banjo virtuoso Molly Tuttle features a high profile cross section of her country peers including Gillian Welch, Old Crow Medicine Show and Margo Price. It's an old school affair, harking back to an often lost rural America, both musically and lyrically, parading around the giant geography of the USA, lush harmonies, hoeing down and telling yarns ("In the Blue Ridge Mountains with the whispering pines/They used to grow tobacco, then they made moonshine"!). It's engaging and full of character, redolent upon occasion of prime Dolly Parton. Comes with an eight page 12" x 12" photo/lyric booklet.
xPropaganda TheHeartIsStrange (ZTT/Universal) + Marc Almond Stranger Things (Cherry Red): A couple from heroes of Eighties electronic pop. First off, a new album from Claudia Brücken and Suzanne Freytag of Propaganda, the German group whose hits for ZTT Record were undoubtedly overshadowed by peers and labelmates Frankie Goes to Hollywood. Nonetheless, connoisseurs of those times will rate their hits "Dr Mabuse" and "Duel", 24 cart classics both. Their return, aided by producer Stephen Lipson, who worked on Propaganda's hits and 1985 debut album, is a well-conceived and faithful return to the band's classic sound, mixing up Teutonic feeling, electro-ambient passages and epic orchestral scope with sheer synth-pop bangers. I have heard some of the pair's material over the years, solo and otherwise and this is the best thing they've done in aeons, pregnant with an understanding of what made Propaganda great, and the tunes to match that. It's gladdening that this album almost made the UK Top 10 recently. Comes in photo-info inner sleeve. Marc Almond, solo and with Soft Cell, is another Eighties survivor, one whose career has periodically hit heights that have escaped the Propaganda crew. His 2001 album Stranger Things now receives a re-release over three sides of vinyl, with the fourth side containing multiple remixes of "Fur", alongside a demo version of "The Exhibitionist". The album is produced by the late Jóhann Jóhannsson who seems to "get" Almond, combining his own orchestral talents with Almond's torch song sensibilities, yet never letting go of a glacial electronic edge, a coldness, and a sliver of doomed darkness. It's not all of a similar quality but there's more than enough here to remind that Almond is a consistent talent. Comes one clear vinyl in lyric inner sleeve.
Dave Stewart Ebony McQueen Boxset (Bay Street): Dave Stewart has had his finger in as many popular music pies as anyone, working with Mick Jagger, No Doubt, Geri Halliwell, Stevie Nicks, Katy Perry and dozens more. He must be a genial soul as he seems to get on with everyone. Most people, though, are only really interested in his work with the Eurythmics. He's done absolutely tons of other stuff, and has always been very, VERY keen to define himself musically outside the duo that made his name (he threw everything he had, for instance, at his now long-forgotten post-Eurythmics band The Spiritual Cowboys at the start of the 1990s, but to little avail - except in France, for some reason). He was, when fame hit almost 30-years-old, the same vintage as Aerosmith and Lynryd Skynyrd rather than, say, Depeche Mode. His solo fare has often been in awe of the music of his youth, the Sixties legacy. Thus it is with his new boxset, a massive affair which contains triple vinyl, a couple of 7" singles, two cassettes, and a chunky lyric/photo booklet. It's a concept piece very loosely built around the metaphor of a voodoo blues queen representing Stewart's entry into music (or something!). The sound, however, is pure ELO, and dripping with Pepper-era Beatles psychedelic sitar music hall vibes. The songs are easy enough on the ear but one struggles to see who'll dig this; it feels like one older rich dude's pleasant and impressively orchestrated biographical project. Nonetheless, there are apparently, plans to turn it into a musical. With quite a lot of the music chopped away. it's possible to imagine it succeeding in this vein.
Envy of None Envy of None (KScope): Envy Of None is the unlikely new pop-rock group of Alex Lifeson of Rush, fronted by young American singer Maiah Wynne. They sound nothing like Rush, which is the start of the good news. The rest of it is that their vaguely shoegazey pop-rock is tuneful, as if stoners were trying to make synth-pop. Wynne's vocals are airy and hazy, lending the whole project a new age feel, but suddenly the listener is led into full-on rock-outs. The nearest comparison might be Garbage but Envy Of None have their own thing going on. This debut album holds its own. Comes in yric inner sleeve.
Joyfultalk Familiar Science (Constellation): The third album from Canadian experimentalist Jay Crocker very deliberately does not offer an easy ride. His previous outings have been electronic percussive journeys but Familiar Science adds a heavy dose of sometimes cacophonic free jazz to the melting pot. The grounding rhythms are still there but, rather than aiming for sparseness, this time round the music layers up, guitar, saxophone, pulses and drums, building on rumbling relentless backing tracks. The wilfully abstract tuning ensures that everything is angular, yet within the meshed sound-wall, lots is going on and, if the listener is in the right mood, it'll suck them into its vortex. Comes on bright art inner sleeve.
Various Life's What You Make It (Lush Cosmetic Warriors): Who knew that Lush, the ethically directed cosmetics giant, had a music wing? They've previously released collections of songs by The Beatles and of music from 1971 to 1981, all done mainly by folk musicians. Life's What You Make It, curated by Lush MD Mark Constantine, covers the period 1981 to 1991 and comes on triple gatefold, triple vinyl in fluffy pastel-bright inner sleeves. It ranges in quality from the truly terrible (such as Teddy Thompson's horrific FM radio rockin' version of the already dreadful "What's Love Got to do With It") to pleasing oddities such as a strange version The Orb's "Little Fluffy Clouds" which becomes a British spoken word pastoral, or the percussive "It Ain't What You Do (It's the Way That You Do It)", both by Palm Spring Productions (the latter featuring Rioghnach Connolly). And there's a bizarre synth version of Metallica's "Enter Sandman" by someone called Fibreglass that doesn't work but still needs to be heard. Overall, despite the presence of Eliza and Martin Carthy, Jackie Oates, Marry Waterson, Wattle & Daub, Barney Morse Brown and others, it's not really very folky, just a set of covers in various light styles, offering interesting moments, although maybe not enough of them.
Yarni and His Ensemble Pigna (EMK/Kartel): Sheffield multi-instrumentalist and producer Benjamin Harris has dabbled in various styles but is mainly known for riding the area between house and jazz, more chilled in spirit than dancefloor bangers. His second album moves on from the light experimentalism of his debut and replaces it with a pretty straightforward jazzual template. The 10 cuts by his nine-piece band range between the gently funky, to purer jazz, to the impressive adult pop of "In A Dream" featuring the singing of new-discovered talent Emily Marks. Comes on photo/lyric/info inner sleeve. The title, Pigna, by the way, is after the Italian for pinecone, the symbol of Sicily, the island that inspired some of the album.
AND WHILE WE'RE HERE
Let's start with the Eurovision 2022 album. This is a bunch of fun. You clearly don't need it on vinyl but the gatefold triple is well-cut to plastic and, for those who haven't been keeping track, Eurovision has an increasingly high standard of 21st century pop songwriting alongside the usual deliberate kitsch silliness (such as Norway's "Give That Wolf a Banana" by…. Subwolfer). Even Britain, as you may have already heard, acquitted themselves well (sam Ryder's "Space Man")! Moving on, though, the upbeat debut album from London-based Congolese vocalist Juanita Euka is called Mabanzo, on Strut Records. She was raised in Argentina and rumba sounds are audible amidst a busy set that has jazz in there but is as much for WOMAD's dancefloor. Comes with four page 12" x 12" lyric/photo insert. Belgian electro-rockers Goose efficiently deliver a punchy sound on their fifth album Endless on Universal. It's less bangin' than material of theirs I've heard in the past but fans of Chemical Brothers numbers where someone like Tim Burgess sings may enjoy it. I have a test press so can give no useful info about the packaging. Noisy rockers Disorientations are also from Belgium and their debut, Memory Lanes on PIAS, is solid post-grunge punkin' with enough distortion, propulsion and tuneage to drag in the willing. Much vilified Noughties MOR sensation The Feeling return with their fifth album Loss. Love. Hope. on Island, in lyric inner sleeve. It's a combination of witty, pointed lyrics, snappy old-fashioned guitar pop and horrible BBC Radio 2 cheese. You already know if you want in, I'd reckon. Not sure why anyone would need an album of cheery instrumentals by ex-Style Council keys-man Mick Talbot and Acid Jazz originator Chris Bangs but here it is, Back to Business on Acid Jazz, and it's perfectly pleasant and exactly as you'd expect it to sound. That all sounds like a sneery diss but not intended as such; just that, for me, this genial retro jazz-funkin' is best stumbled across in a low-lit bar than on the home stereo. TC & The Groove Family, share a smidgeon of DNA with Talbot and Bangs and their debut, First Home on Worm Discs, has a light brassy feel, but is also dipped deeper into global sounds, full-on jazz and even dubbed-out hip hop on "Weh Dem a Do". Comes on vinyl that looks like psychedelic cement plaster. The album The Children of Scorpio by Project Gemini, AKA writer and producer Paul Osborne, again boasts a crossover with Talbot and Bangs' retro-funkin' but this music is much more interested in the spaghetti western soundtracks, and the LSD-fried sounds of 1966-67, including some tripped vocal cuts amid the instrumental finery. It's on Mr Bongo Records, and, arriving in info inner sleeve, will be a welcome addition to the record collections of Paisley heads everywhere. Les meta and more emotionally direct is the latest album from Canadian singer-songwriter Miriam Jones, Reach For the Morning on her own label. Recorded in her basement during COVID lockdown, I like the way she sings against raw electric guitar rather than acoustic. It gives her songs more heft. These include an unlikely cover of "Who Will Buy" from the musical Oliver! Next Time Could Be Your Last Time is the debut – on transparent vinyl - from a trio comprising Jack Wylie from Portico Quartet, Lo Records artist JQ, and Richard Pike of electronica noodlers PVT. They call themselves Forgiveness and, as you might expect, their music is lowkey jazz-tronic, sometimes bordering into serialism, and minimalism, but as often far eastern sounding semi-ambient material. Soothing is what it is. Unlike perennial industrial hip hop noise duo Dälek whose latest album, Precipice, comes to vinyl limited to 2000 copies. On art gatefold double on pewter grey vinyl on Ipecac, it's less morose than some Dälek fare and more squallingly noisy, in an inviting way. Some tracks are apocalyptic tone instrumentals and, when the eponymous MC appears, he's angry as ever. If they haven't already, they should play Download Festival one year. They'd go down a storm.
Finally, a couple that have already been reviewed on theartsdesk but which are well worth owning on plastic
MWWB The Harvest (New Heavy Sounds): The extraordinary and extraordinarily underrated Wrexham cosmic rockers return with a fourth album that may be their best. Reviewed fully here, it arrives on folk horror-ish gatefold on vinyl of rich emerald pine splashed with milky lime.
Linda Ayupuka God Created Everything (Mais Um): Percussive Ghanaian frafra music meets Christian praise in the Gurenɛ language, resulting in one of this month's liveliest African releases, reviewed here by Mark Kidel.
Confidence Man Tilt (Heavenly): This writer was not impressed by this Australian quartet's press-play-and-dance-about live show but their latest album is chocka with smashing dance-pop that has one foot firmly in 1990s beats and ravin'. It's properly reviewed here and comes in gatefold on light blue vinyl in campy photo-lyric inner sleeve with a large poster of the band included.
We welcome any and all vinyl for review. Please hit thomash.green@theartsdesk.com for a postal address.
Read more vinyl reviews on theartsdesk
NOT IN