Songlines Encounters Festival |

reviews, news & interviews
Songlines Encounters Festival
Songlines Encounters Festival
Guitar legend John Williams joins Duo Sabil and Senegal's Malick Pathé Sow and Bao Sissoko at Kings Place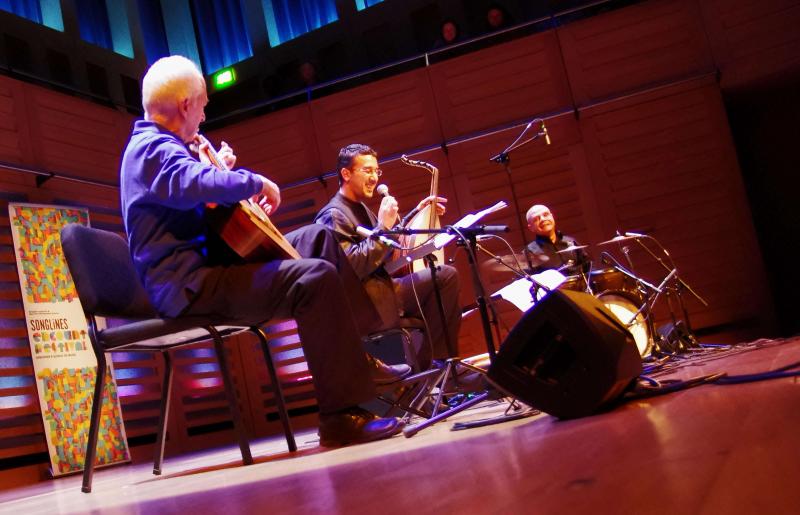 John Williams with Duo Sabil at Kings Place
This is the third Songlines Encounters festival at Kings Place. Wednesday's programme featured Balkans, Polish and Georgian music, Thursday had Egyptian Baladi Blues and Louisiana's Sarah Savoy, and Friday featured West Africa, Spain and Palestine.
Malick Pathé Sow opens with a short solo set on the Senegalese ngoni, the hoddu, singing in a high, clear, declaiming style, the big, deep ghimbri-like bass notes of the large hoddu punctuating and emphasising the verses. Then he is joined by Senegalese kora player Bao Sissoko, with touches of percussion on the calabash, for a song representing "the light of the Prophet Mohammed, whose message is peace, respect, not – not…" The audience's applause, in the wake of Drummer Rigby's murder and its repercussions, finishes the sentence.
Sow switches to a small hoddu for the song, and on the set closer, a tribute to Ali Farka Toure, he straps on a hollow-bodied amplified guitar. "Some people are born to be immortal," he says by way of introduction, "Ali Farka is one of those people." He plays homage to the great man with both players compelled by their own interplay to stand up and step in to the rolling waves of the tune's instrumental climaxes. Sissoko decorates the air with the kind of filigreed detail you expect from Toumani Diabate, but he's more minimal and sympathetic in his role as accompanist rather than lead player. The two close with an encore featuring Madagascan singer Talike Gelle, and a song that swings like a rope; there's even a touch of US Country rhythms, a lovely rolling vocal melody and the kind of skipping beat you could tap out on a bar top. Country'n'African? Now there's a concept to run with.
John Williams (pictured right) opens the second half with three Spanish songs, including Tarrega's Memories of The Alhambra and Vermilion Towers. Like the wondrous plaster ornamentation of the palace itself, his playing drips with the same kind of filigreed detail and delicacy. As a figure, he is self-effacing, someone who could melt into any crowd – and form one too, by picking up a guitar.
With Duo Sabil, you have two distinct masters of their art. Percussionist Youssef Hbeisch has an extraordinary technique with the large, hand-held frame drum, sweeping his hand from the edge through the centre in a crescent gesture, to create acoustically synthesised, calligraphic swoops of sound, around which Al Khatib (who also plays with Trio Joubran) weaves precise, poetic, mathematic figures on the oud. He, like Hbeisch, is innovative in his approach to the tradition, and the oud, in his hands, is one of the most evocative of instruments, delicate and strong, like a spider's web.
They're joined by Williams for three more tunes, the finest of which is the closing Mina, inspired by the harbour at Haifa. You can't quite tell where one player begins or the other ends; like the sea's horizon on a hazy evening in the eastern Med, it's a transportive experience you want to keep hold of as long as you can.
Watch duet by Malick Pathé Sow and Bao Sissoko
Like the wondrous plaster ornamentation of the palace itself, Williams's playing drips with the same kind of filigreed detail and delicacy
rating
Explore topics
Share this article