Rufus and Martha Wainwright, A Not So Silent Night, RFH review - Christmas, family-style |

reviews, news & interviews
Rufus and Martha Wainwright, A Not So Silent Night, RFH review - Christmas, family-style
Rufus and Martha Wainwright, A Not So Silent Night, RFH review - Christmas, family-style
Glittery guests celebrate the season and remember Kate McGarrigle
Saturday, 07 December 2019
Rufus and Martha Wainwright, maintaining the family tradition
It's 10 years this month since Kate McGarrigle gave her last concert, the annual Christmas concert that meant so much to her, at the Royal Albert Hall. Next month, 18 January, marks the first decade since her passing at the tragically early age of 63.
So this year's seasonal celebration was always going to be poignant and extra-special, as Rufus Wainwright, the elder of her two
children
with Loudon Wainwright III, noted at the outset.
The concert was billed as "Rufus and Martha Wainwright – A Not So Silent Night", and the siblings ran the show with musical director Dan Gillespie Sells, composer of the hit musical Everybody's Talking About Jamie and lead singer of The Feeling, on keyboards and occasionally guitar. However, Rufus, the most extravagantly talented of the extended Wainwright/McGarrigle/Thompson clan, was clearly the main man. He recalled that his mother's planning for the tradition that she established in 2005 began each year in August and as youngsters he and the family were inevitably reluctant. Now they relished the prospect of a seasonal celebration and with it the opportunity to celebrate Kate's memory and to raise money for the Kate McGarrigle Foundation for Sarcoma Research. Performers at the concerts – the one in London following two in Dublin – among them Chrissie Hynde, Jeni Muldaur and Guy Garvey, all donated their time. There is also a new charitable initiative which will provide music therapy for artists stricken with cancer.
The Royal Festival Hall stage was beautifully set, a Christmas tree on each side and (electric) candles everywhere. Seating was arranged in a semi-circle, most performers on stage throughout the concert, the set-up lending a feeling of warmth and intimacy to the occasion. Each stepped forward for their solos and bunched around two or three mics for the ensemble numbers which made for a very pleasing look. Sadly, that look was marred somewhat by an array of dubious Christmas jumpers and bad-taste sparkle, which probably reflects the average festive family get-together. Hynde looked fetching in a tailcoat over boots and faded jeans, the latter matching the coat's lining. Rufus of course looked very cool, as did Ed Harcourt. Jörn Weisbrodt sported not only a Christmas sweater but also a vast beard and he joined with his husband on a medley of "White Christmas/"Silent Night".
The music ranged widely, including traditional and modern carols, pop, rock, and several French numbers reflecting the Wainwrights' Montreal childhood. And of course there was a sprinkling of McGarrigle songs, including "First Born" (preceded by a light ribbing of Rufus for claiming it was all about him) and "Proserpina", which Kate debuted at that final concert, a song drawn from Greek myth, which spoke to her situation.(The Wainwrights with extended ensemble, pictured below).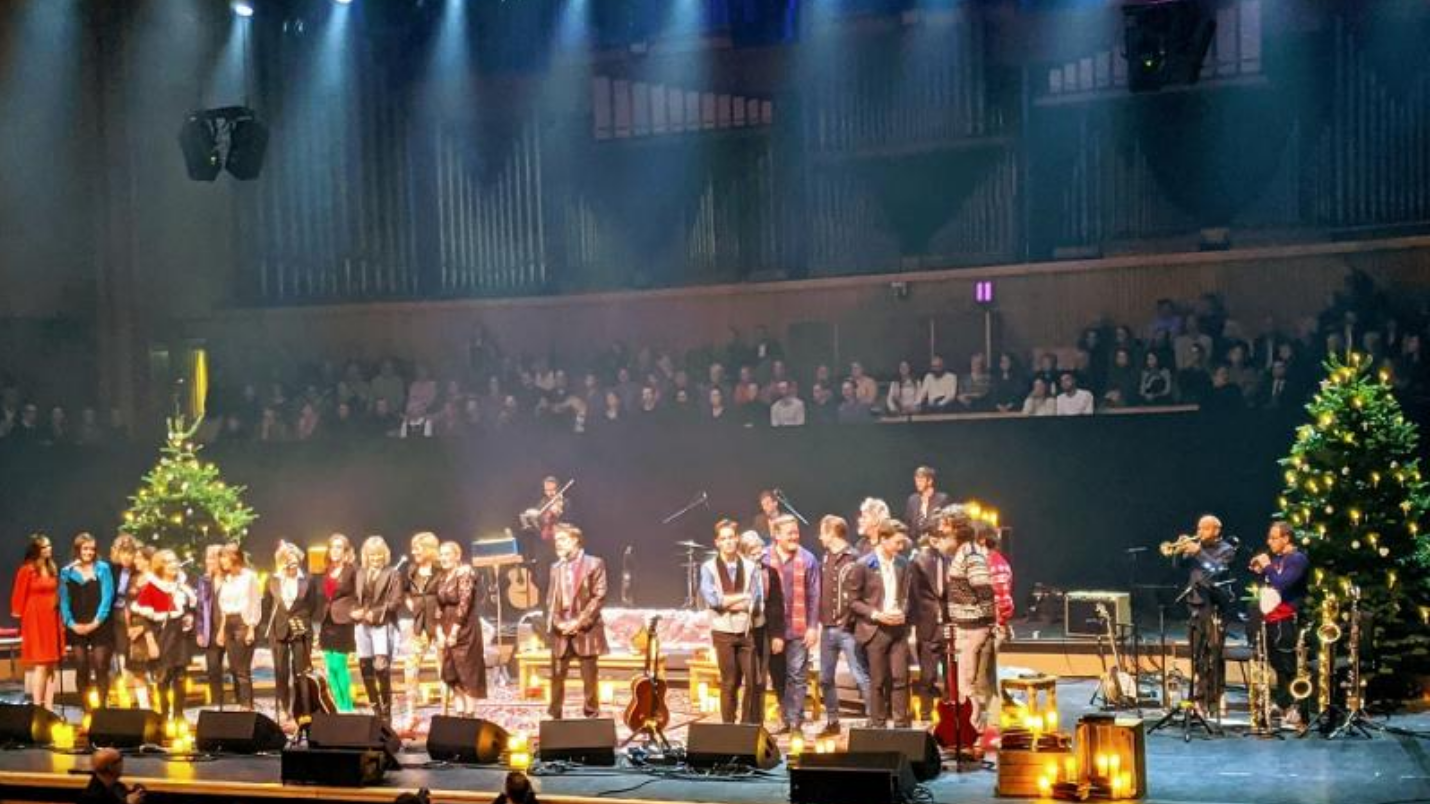 The sound felt less good than it might have been. The musicians, including excellent wind and percussion, were ranged behind the singers, which worked well enough, but when a singer played an acoustic guitar the picking and strumming stood out from the mix, oddly unbalanced and artificial. The Wainwright women could have done with a boost and none of them seemed much concerned with enunciation. If you didn't know the lyrics you wouldn't have figured them out. Martha and Lucy, with Garvey on "Who Knows Where the Time Goes?", emphasized the point – when Judy Collins sings it you can hear every word.
The concert opened with "God Rest Ye Merry Gentlemen", a medieval-inflected ensemble arrangement that was effective and well-sung. Martha and Lily Lanken followed up with Jackson Browne's "Rebel Jesus", then it was into Christmas bubblegum with "Rockin' Rudolph" by Zak Thompson and family. All of which gives a sense of the changes of style and mood that prevailed throughout the two-and-a-half hour concert. Arguably a little less schlock might have made for more coherence, but perhaps a programme that lurches from Wham!'s "Last Christmas" to "Minuit Chretien" is a better reflection of what a family Christmas singalong is really like.
The latter song, composed in the 1840s by Adolphe Adam, is usually known as "Cantique de Noel" or "Oh Holy Night" and it's an exquisite, quasi-operatic carol that speaks of redemption. Rufus sang it solo, stepping away from the mic, and he sounded good from halfway back in the stalls, managing all the high notes. Rufus, this time with Garvey, also acquitted himself well on "In the Bleak Midwinter", the Harold Darke setting favoured by choirs rather than congregations. Other notable moments included Lucy with "The River" and Martha and Neil Tennant on "I Cried for Us". The close harmonies on "Silver Bells" truly sparkled.
The programme closed with John Lennon's "Happy Christmas (War is Over)", which was ragged and under-rehearsed. But the encores rescued the evening: various Wainwrights returned for "I Am a Diamond" and "Proserpina", both by Kate McGarrigle, and then everyone returned to the stage for a rousing finale of "Fairytale of New York", Rufus eliciting loud cheers when he interpolated "When Trump loses the Election, and Boris Johnson too" after the lyric about better times ahead. The audience was on its feet, singing and clapping, stamping and cheering. Kate surely smiled down – and Kirsty too.
The music ranged widely, including traditional and modern carols, pop, rock, and several French numbers
rating
Explore topics
Share this article