Don't Think |

reviews, news & interviews
Don't Think
Don't Think
The Chemical Brothers concert film is a startling psychedelic rave trip
Thursday, 02 February 2012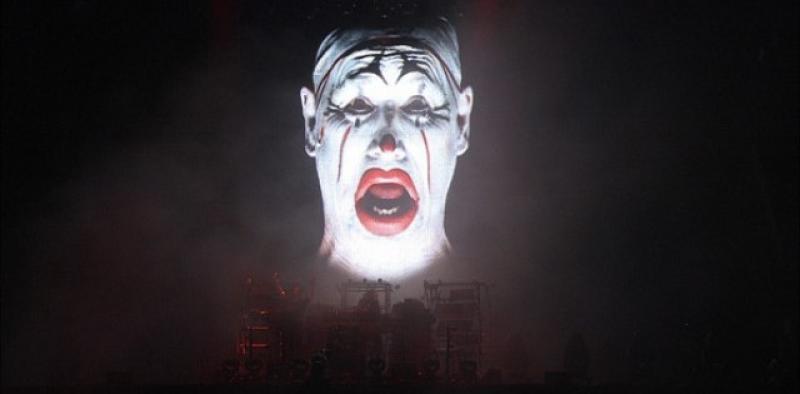 You are all his children now - coulrophobes look away
The Chemical Brothers have long had one of the most vital shows around. It's a visual spectacular that can only be likened to peak-time Pink Floyd or Jean-Michel Jarre, yet precision-tooled, without the bombast of those acts. Their long-term visual designer, Adam Smith, is mostly responsible and now he's shot a concert film of the electronic duo's appearance at the Fuji Rock Festival in Japan last year.
Smith has directed a few bits and bobs before, notably the BBC adaptation of
Little Dorrit
, and he's the perfect choice to take the Chemical Brothers experience into the cinema.
He doesn't, however, look very comfortable at the front of the Vue Cinema in Leicester Square, introducing his film alongside producers Marcus Lyall and Lee Goombridge. With his umbrella, hat and very English manner Smith comes across like an escapee from The Avengers, quickly apologises for his presence and gets off. This is probably partly because it's not a regular press screening so much as a cinema filled with the Chemical Brothers' mates and associates, grizzled old ravers and cheeky chaps, as well Ed Simons, one half of the duo. Also present, adding a touch of unexpected glamour, are actresses Rosamund Pike and (I think) Jaime Winstone. All this, along with the fact the cinema has a bar, creates a real atmosphere. I mention this because a film on a big screen with a sense of occasion and a decent sound system is a very different proposition to the same on TV or, worse still, an iPhone.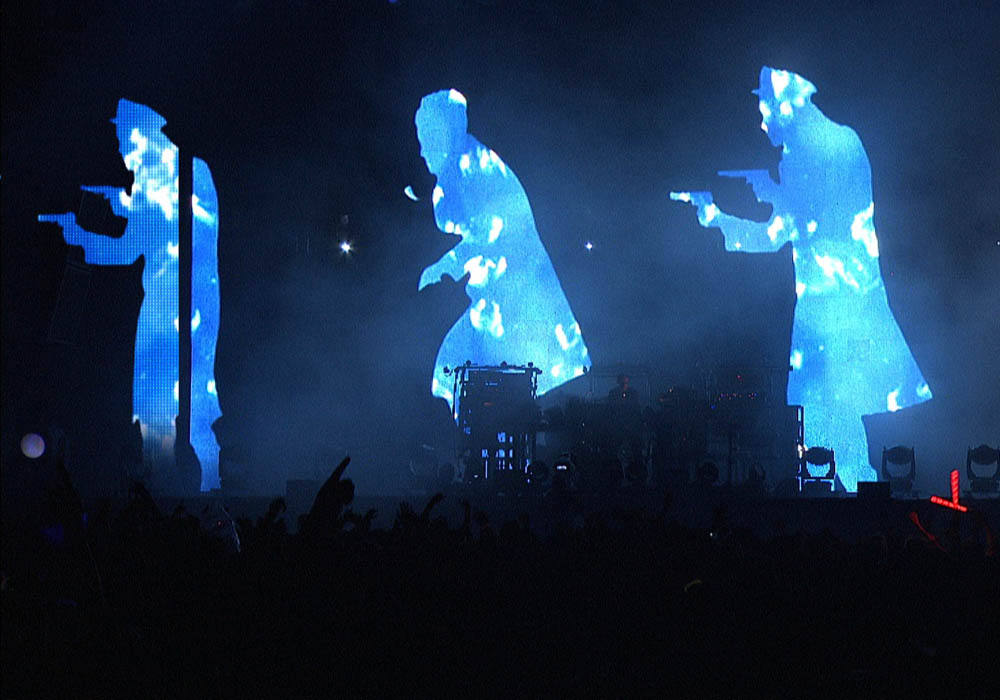 Don't Think begins with the Beatles' admonition to "turn off your mind and float downstream", followed by images of floating cutlery. It's an apt welcome to the Chemicals Brothers' psychedelic world. Don't Think gets inside the festival and rave experience, really engages with it, partly by ramming the visuals relentlessly at the viewer and partly by having four of Smith's 20 cameras roving handheld in the ecstatic crowd. At one point the action even wanders away from the stage as a female festival-goer has a severe hallucinatory attack of clown fear - coulrophobia - stumbling about the stalls and back-lots. Unnervingly, breaking the fourth wall, I run into the same woman when I dash to the gents midway through the film. And so to the clowns. For many years the Chemical Brothers have made brilliant play of the sinister aspects of clowns. Many appear throughout but one of the film's stand-out moments, as with any Chemicals' show, is the most frightening-looking clown of all, vast and evil, announcing in unremittingly Satanic tones, "You are all my children now." It works every time and does so in the film.
Yes, the whole thing is hugely narcotic, in an effervescent celebratory way
The music is phenomenal too. The Chemical Brothers have become standard bearers for Nineties-style rave, as in massive techno-flavoured music that somehow crosses over into the rock arena, despite no level of compromise. Tracks such as "Hey Boy, Hey Girl", "Out of Control", "Believe", "Do It Again" and, of course, their 1995 breakthrough tech-funk monster "Leave Home" have never sounded better than in the context of this film. The whole package constantly reminds that, apart from sex, raving on drugs is about as much raw fun as it's possible for the human body to have. So, yes, the whole thing is hugely narcotic, in an effervescent celebratory way, with the array of startling, trippy imagery constantly disorientating - insane impossible architecture, fizzing light squalls, robots, exploding teapots, dancing gunmen and much, much more.
Occasionally we see them too, two ordinary-looking blokes at their buttons, exchanging satisfied glances with each other. They are the Wizards of Oz, the geezers in the machine and with Don't Think they have, yet again, opened out the rave experience for more people to enjoy. I am unsure whether someone who had never been raving would slip straight into it and be swept away as I was – it would be interesting to know – but Don't Think is a thoroughly exhilarating ride that makes the festival season seem far too far away.
Watch the trailer for Don't Think
Don't Think gets inside the festival and rave experience, really engages with it, partly by ramming the visuals relentlessly at the viewer
rating
Share this article