Bloodstock Open Air 2012, Catton Hall, Derbyshire |

reviews, news & interviews
Bloodstock Open Air 2012, Catton Hall, Derbyshire
Bloodstock Open Air 2012, Catton Hall, Derbyshire
North Midlands festival shows that extreme metal can be a bundle of fun
Wednesday, 15 August 2012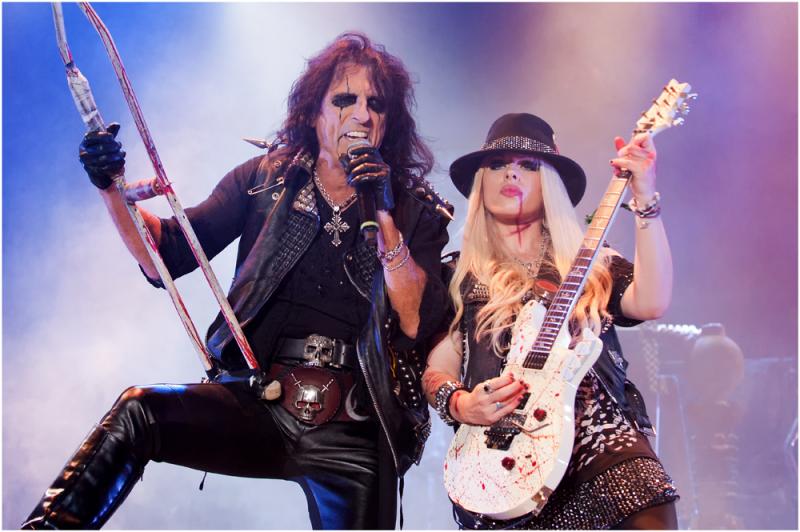 Alice Cooper and guitarist lead the Bloodstock charge into black leather and eye make-up
It's Sunday lunchtime and Swiss thrash metallers Battalion are hammering out jagged, smashed up riffage with gleeful ferocity. Indeed, every one of Bloodstock Open Air's four stages contains bands playing the hardest metal. To aficionados this music breaks down into multiple sub-genres – death metal, power metal, prog metal, and on and on, ad infinitum - but to the rest of us it's simply a fearsomely tough, ear-searing pummelling.
Like all extreme music, it's easy to dismiss as noise, and that's both the point and missing the point. I wish, however, that I'd got there a bit earlier, then I could say I began my day with Flayed Disciple.
Bloodstock Open Air is based in the grounds of Catton Hall, a large country house on the border of Staffordshire and Derbyshire. The festival grew out of an annual indoor event in Derby but has been a proper festival since 2005. Small in scale compared to Download – UK metal's biggest summer blow-out - it focuses on non-mainstream styles which, given metal itself is a non-mainstream style, indicates how hardcore most acts playing are. However, there's a tradition of having an old school rock act for the Sunday night finale. In previous years it's been Motorhead, Twisted Sister and Europe but this year, going back a generation from those bands, it's the grand dame of cabaret hard rock, Alice Cooper.
While I've been to many metal gigs, this is my first metal festival. The music is poundingly aggressive but the crowd is relentlessly jovial. Many of them are dressed like extras from Mad Max and The Matrix yet chat cheerily in Midlands and Northern accents while supping real ale. Tattoos are everywhere, black leather (of course), denim cut-offs with patches (of course), long, long hair (for men), goth hair (for women), plaited beards, multiple piercings, tankards, eye-liner, white face make-up, and it's tee-shirt heaven. When the tee-shirts aren't advertising a band I've never heard of whose logo is, invariably, a demon, they're filled with terse, bawdy, confrontational aphorisms: "LIFE IS PISS AND SHIT", "ORGY OF THE SICK", "I AM THE DESPOILER OF HUMAN LIFE", "I DON'T HAVE TOURETTES, YOU'RE JUST A CUNT". One man's tee-shirt reads "PURE FUCKING HATE" but there's no pure fucking hate, just friendly men in pith helmets drinking beer from Viking horns and sturdy women displaying ample cleavage who repeatedly threaten to flash their boobs at a favourite band. Many do. The whole thing is rather like a Medieval fayre gone cyber-sci-fi to a soundtrack that aims for the apocalyptic but is, on the whole, too good-natured to achieve it.
On the main stage Michigan's Black Dahlia Murder are hammering away. They've had a top 40 album in the States but their songs all sound the same to me. Then again, everyone used to say that about techno and rave music – my alma mater - and they were so wrong. Mid-afternoon, on the main Ronnie James Dio Stage, named after the late rocker who first popularized the ubiquitous devil's horn fingers, Canadian trio Anvil take to the stage. This is a must for anyone who's seen the documentary feature film Anvil: The Story of Anvil. Via a dismal and very Spinal Tap-esque European "comeback tour", it charts the progress of guitarist Steve Kudlow and drummer Robb Reiner from school friends, through a brief Eighties sojourn in the spotlight of fame, to a drastic decline that sees Kudlow eventually working as a caterer's delivery man. It has made their cult bloom and they've had a real comeback since, supporting the likes of ACDC. Live, they're a blast, really working it, and the crowd, bathing in luscious afternoon sun, respond enthusiastically. They have us all chanting "Hell yeah!"; they do a song called "Juggernaut of Justice"; Kudlow plays his guitar with a dildo; they have a portentous spoken word intro that concerns Mothra from the Godzilla films; they are, in other words, all you could want from an old school metal act and, by the end, have everyone headbanging along to their most famous tune, "Metal on Metal".
After a break for barbecue, much cider drinking, and my mate Big J having his photo taken with Anvil's drummer in the manner of one who had suddenly come across a resurrected James Brown, it's time for Airstryke on the New Blood Stage. This lot are from Derby and akin to a pub band pretending to be Steel Panther (who, in turn, pretend to be Eighties hair metallers Poison). That isn't meant as a put-down since they're throwaway fun, fronted by a blond-maned lead singer whose look is late period, gone-to-seed Vince Neil of Motley Crue. The guitarists indulge in synchronized rocking out and display nipples from Jack Daniels vests that are little more than rags. They finish with a song called "Booze O'Clock" which sums up their schtick nicely.
The festival has been on for three days and Sunday is relatively lighter in tone to the previous days' serious metalling. Bands that played before my late arrival include Moonsorrow, Witchsorrow, Cosmic Vortex of Doom, Merciless Fail, Savage Messiah and Wretched Soul, as well as others possibly heard of outside the serious metal community, such as Sepultura, Testament, Orange Goblin, and Friday and Saturday's headliners, respectively, Behemoth and Machine Head. The next act on the main stage are Oslo black metallers Dimmu Borgir (pictured on previous page). They've been going for nigh on 20 years and, while their earliest material adheres to the stark viciousness of Norway's notorious black metal scene, over the years they've become increasingly melodic and, indeed, bombastic, even working extensively with orchestras. Nonetheless, they boast album titles such as Death Cult Armageddon and Puritanical Euphoric Misanthropia. Their lead singer, Shagrath, looks like a zombie Alice Cooper, all white make-up and distressed black clothing, and his whole band, including two indentikit bald guitarists, have the ashen death mask thing down. The music stands out from much here because it has swathes of keyboard, adding an epic symphonic touch and almost poppy tunefulness.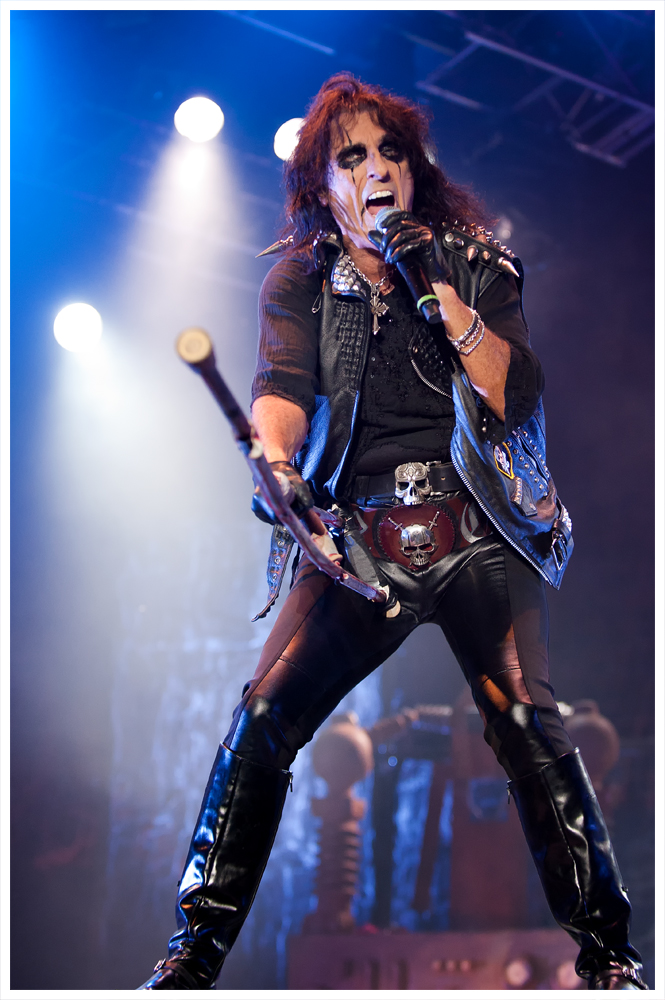 While the rest of the festival was a fab bonus, Alice Cooper (pictured left) was certainly the icing on the cake. The Vaudevillian Detroit pop-rocker topped things off brilliantly. His show has changed little in years but it's a corker. He appeared on stage to a Vincent Price intro, wearing an extra set of six metal arms, then went into his 1975 song "Black Widow". He has a glamorous and exceptionally proficient blond female guitarist and a band who are all requisitely tattooed and theatrically zombified. His set contains all his hits, played with steroid heavy rock muscularity and a showmanship that doesn't disappoint. He distributes Cooper cash during "Billion Dollar Babies", he dresses as a surgeon, he's chased around the stage by a giant, black-caped monster during "Feed My Frankenstein", he's led to the guillotine and has his head chopped off and waved at the audience during "I Love The Dead", giant balloons are thrown into the crowd and popped, he has the place roaring along to his late-Eighties comeback hit, "Poison", but what we're all really waiting for is the pair he ends on. "School's Out" is simply gigantic, monster stomp pop, segueing briefly into a Pink Floyd's "Another Brick in the Wall" before Cooper appears finally in a silver suit for his cynical anti-presidential campaign anthem, "Elected", most suitable for this year in his home country. The whole set is tightly choreographed entertainment but the final duo send all those hoarse voices bellowing one last time.
Then it's time to explore the Bloodstock night with its fairgrounds, beer bongs and random campsite games (bin jousting anyone?). Unlike many festivals, Bloodstock isn't especially druggy, bar the odd whiff of weed, but they certainly do like a drink so, with flagon in hand, the raucous merrymaking continues to a soundtrack of Hatebreed and the like until shortly before the sun rises.
Watch Metal Hammer Magazine's Bloodstock 2012 video montage
Like all extreme music, it's easy to dismiss as noise, and that's both the point and missing the point
rating
Explore topics
Share this article