Black String, Grand Junction review – storm-force intensity |

reviews, news & interviews
Black String, Grand Junction review – storm-force intensity
Black String, Grand Junction review – storm-force intensity
Immerse yourself in the defibrillating, otherworldly sound of Korea's finest quartet
Saturday, 30 October 2021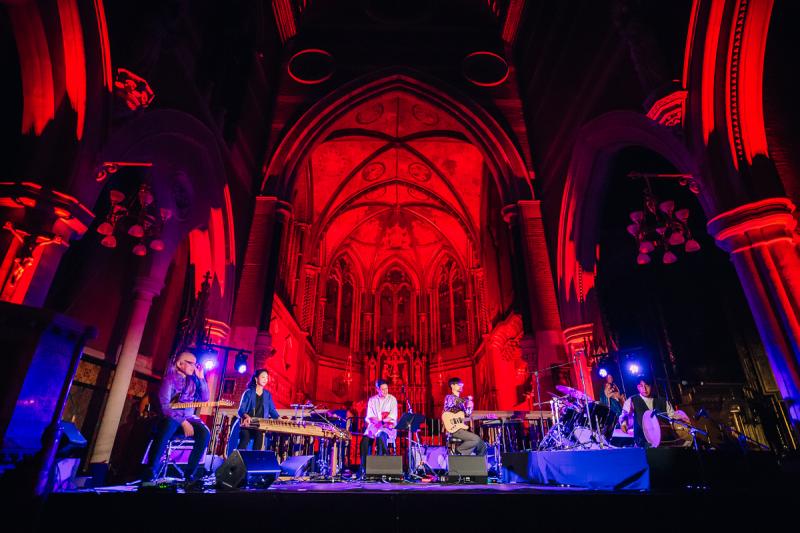 Black String with Vietnamese guitarist Nguyen Le under the high Gothic architecture of St Mary Magdalene
If you were looking for a word to describe Black String in performance at Grand Junction in Paddington, before the high altar of the church of St Mary Magdalene, itself a pinnacle of Victorian neo-Gothic bravura, then that word would be "intense". Intensely intense. More intense than a blooming bank of Intensia.
They may fold in to their sound influences from global jazz, post-rock, Korean folk and free improvisation, but the array of instruments they use to raise the unholy walls of sound in their music, from ancient folk instruments to squalling electric guitars, makes their performance one of the most singular of musical experience.
Signed to German contemporary jazz label ACT, they are led by Yoon Jeong Heo, bent in concentration over her impressive geomungo, the Korean zither that players pull and bend and crank into life, and which dates back to the 5th century. She's joined by guitarist and electronics artist Jean Oh, and multi-instrumentalists Aram Lee (daegeum and sogeum flute and yanggeum hammered dulcimer) and Min Wang Hwang on vocals, percussions and drums.
It's that mix of spaced-out, ethereal beauty and pummelling, intense, epically architectured soundscapes that makes Black String an event
At Thursday night's concert, as part of the K-Music Festival 2021, after opening with "Seven Beats" and Mask Dance" from their debut ACT album – a Songlines magazine award-winner – they launched the colossal drone of "Surena", a spinal tap in sound driven by an underlay of galloping rhythm from singer Hwang's hand drum, the band gradually bringing it down for the following "Exhale-Puri" with its exquisite opening duet between Lee's spacy guitar and Yoon Jeong Heo's geomungo.
For the core of the set they were joined by guest guitarist, Vietnamese Nguyen Le, a guest on their second ACT release, Karma. Le took a seat by the geomungo, at the side of the stage, and eased into the maelstrom of "Elevation of Light", his and Lee's guitars squalling and soaring over a wave of cymbals before settling down to the lower end, the geomungo revealing itself as a mysterious centre of the music's trembling web of rhythms and drones. Seventies Miles Davis would love this band.
"It is one of the most intense musics of Asia," says Le of Black Spring, before opening up one of his own songs, "Thang Long" ("The Ascending Dragon", the ancient name for Hanoi). He then delivers some of the most stunningly beautiful solo guitar I've ever heard, gently accompanied by the geomungo and flute, before "Song of the Sea" unleashes a raging sonic storm, Le standing up to let loose rapid-fire runs for a defibrillating denouement.
"Hanging Gardens of Babylon" returns to a lyrical, otherworldly Kosmische space music – that is, until the double reed taepyeoungso horn, a very loud member of the shawm and rhaita family, and more penetrating than an X-ray.
It's that mix of spaced-out, ethereal beauty and pummelling, intense, epically architectured soundscapes that makes Black String an event more than a gig. This is K-Music's eighth year, and with two more concerts to come, featuring gayaguam duet Dal:um on 6 November, and star British saxophonist Camilla George with Soojin Su's trio as part of the London Jazz Festival on 17 November, this year could well be one of the festival's best.
Find out more about K-Music's 2021 programme here
Seventies Miles Davis would love this band
rating
Share this article