theartsdesk in Korea: national pride and candour |

reviews, news & interviews
theartsdesk in Korea: national pride and candour
theartsdesk in Korea: national pride and candour
Music and art without borders in a country cut in half
Brahms with abandon: Kyung Wha Chung and the Tongyeong International Music Festival Ensemble conducted by Shiyeon Sung
Fear not. The Arts Desk has not suddenly sprouted a Sports Desk. Heaven forfend. Korea in late February had more to offer than luge, bobsleigh, skeleton and all the other bemedalled and potentially life-threatening variants of hurling bodies down icy slopes. The host region of every Olympic Games throws open a window to the world on its culture, and PyeongChang 2018 was no different.
This mountainous province on the country's eastern seaboard has staged a summer music festival for the last 13 years. When it was awarded the Games in 2016, the PyeongChang Winter Music Festival was born. This year's edition kicked off in Seoul with a marriage of Korean dance and Western art music featuring European musicians such as the cellists Jan Vogler and Frans Helmerson alongside their Korean colleague Myung Wha Chung, one of the Chung siblings who placed their nation on classical music's map in the 1960s; she and her sister Kyung Wha have been co-artistic directors of the festival. During the festival fortnight, Mariinsky company members gave three opera galas with the Korean Symphony Orchestras, and the Gangwon province capital of Chuncheon put on Mahler 1 with the local Philharmonic Orchestra.
As a guest of the Gangwon Art and Culture Foundation, I visited the seaside city of Gangneung for the closing concert, held in the bone-dry acoustic of its functional concrete Arts Centre. There was no doubting the star attraction: Kyung Wha Chung herself, playing the Violin Concerto of Brahms, a week before she recorded it in Rome, and perhaps using the occasion as a dry run for an interpretation which had a few frayed edges while still being graced with her inimitably projected upper register, learnt almost half a century ago at the feet of Ivan Galamian in New York and nurtured by her ever since. Now almost 70, Chung plays with the confidence and inner security of one who has nothing to prove, who knows that her concert-giving days are numbered and are to be enjoyed accordingly, by both performer and audience.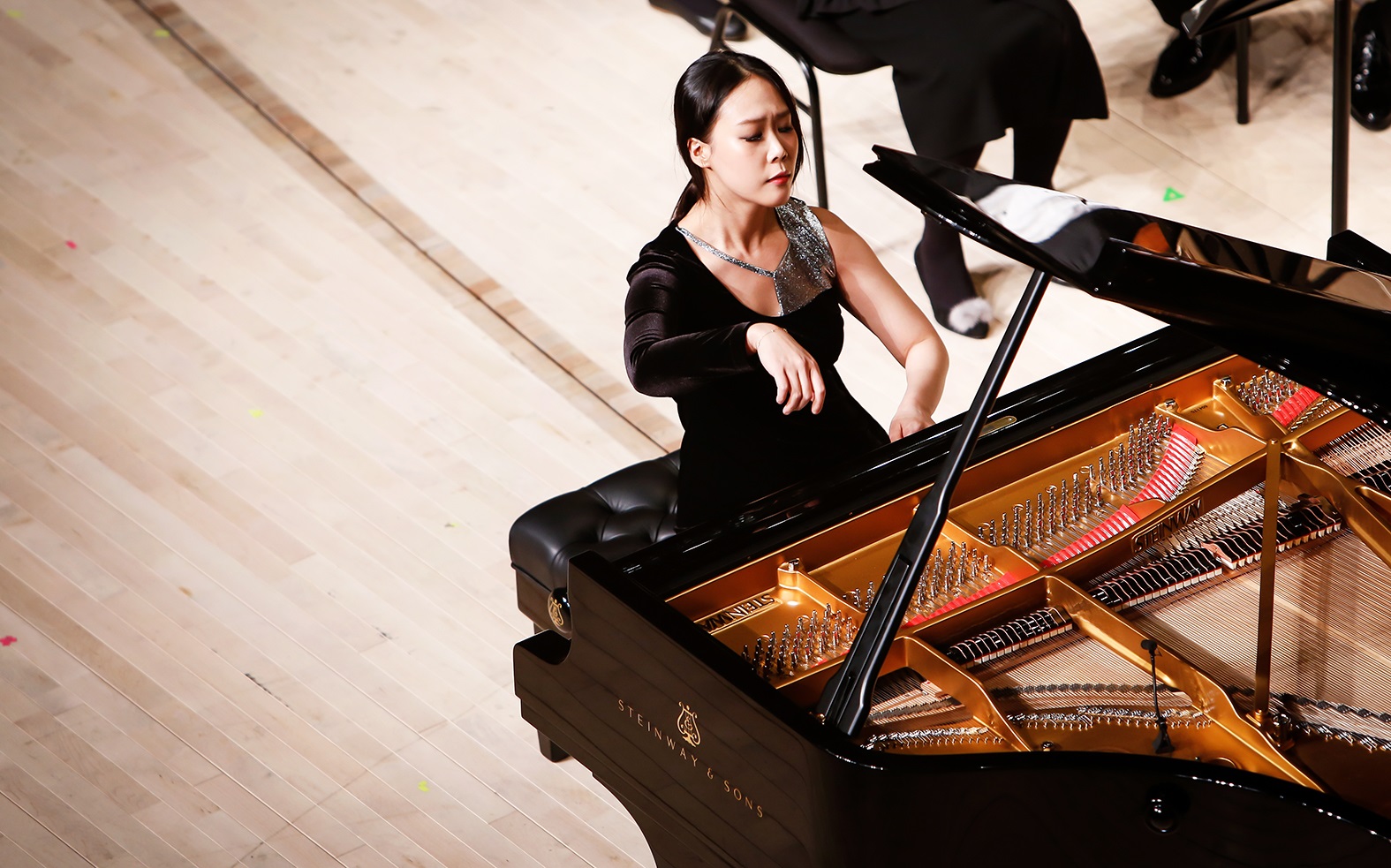 More refined in detail was the first-half performance of Beethoven's Fourth Piano Concerto by a new-generation Korean musical export, Yeol Eum Son (pictured above). Having trained locally, Son won silver at the 2009 Tchaikovsky Competition in Moscow and subsequently moved to her present home of Berlin. The evening's conductor, Shiyeon Sung, is likewise based in Germany, though as the first female chief of a Korean orchestra she made a recording with the Gyeonggi Philharmonic for the local Decca imprint of Mahler's Fifth Symphony which bears comparison with many more storied accounts of European origin for its unstudied grasp of idiom. All three women are thinking musicians, lively interview subjects too, though on the night Sung's talents were somewhat circumscribed by a "project" ensemble which did not adequately reflect the health of Korea's orchestral scene. In Son's hands, every note of the Beethoven spoke, was measured and counted for something, but the essential element of dialogue was compromised by a level of accompaniment distractingly lower than her own keyboard eloquence.
International reception of the Winter Olympics had trained its eye on the participation of "our brothers in the North", in the phrase of the festival's chairman, Sung Hwan Kim. A pre-concert chat with this affable Anglophile and former foreign minister shed some light on the local perspective. "For the Olympics it's genuinely important," remarked Kim. "From the political angle, it's a bit different. The nuclear tests they were doing until last year – we felt threatened, then suddenly they changed attitude. After PyeongChang we'll see how they are."
Nevertheless, it became clear during my stay that his resonant fraternal phrase was no mere diplomatic bromide. In a visit to the demilitarised zone (DMZ) that separates the two states, I had seen for myself earlier the same day what one Korean described to me as "an open wound". Kyung Wha briskly dismissed such sentimental talk and pointed out that this landmine-stuffed no man's land had, by sad fiat, become a precious nature reserve. To gaze over this deceptively quiet range of hills and forests, with in the invisible distance millions of people related by birth and culture to those behind me, each group utterly inaccessible to the other, was to experience the intense melancholy of a history so red and raw it needs no statues or memorials to prompt reflection.
Rather, a visit back in Seoul to its National Museum of Modern and Contemporary Art forced home how continually vivid and lived that history remains. The Korea Artists Prize is, for the purpose of Anglophone analogy, a Turner Prize equivalent, and a quarter of the museum's space had been assigned to exhibiting work by a quartet of artists shortlisted for an award of 40 million won (about £27,000).
The exhibition guide is pretty neutral about the Mirror Organs (pictured above) of Kelvin Kyungkun Park, but this literal-minded and unschooled observer was shaken by the unavoidable parallels with the 38th Parallel along which Korea was hastily divided by a pair of American soldiers in 1953. Two units of automated unmanned rifles cock and click at each other across a divide apparently controlled by a beeping central brain of unfathomable intent. More disconcerting, however, was an exquisite union of old craft and hi-tec armageddon next door. Images of the apocalypse feared by Sung Hwan Kim and his compatriots are rendered incongruously delicate by Song Sanghee on the Delft-style tiles of This is the way the world ends not with a bang but a whimper (pictured below), viewed to a soundtrack of rolling bloodshed.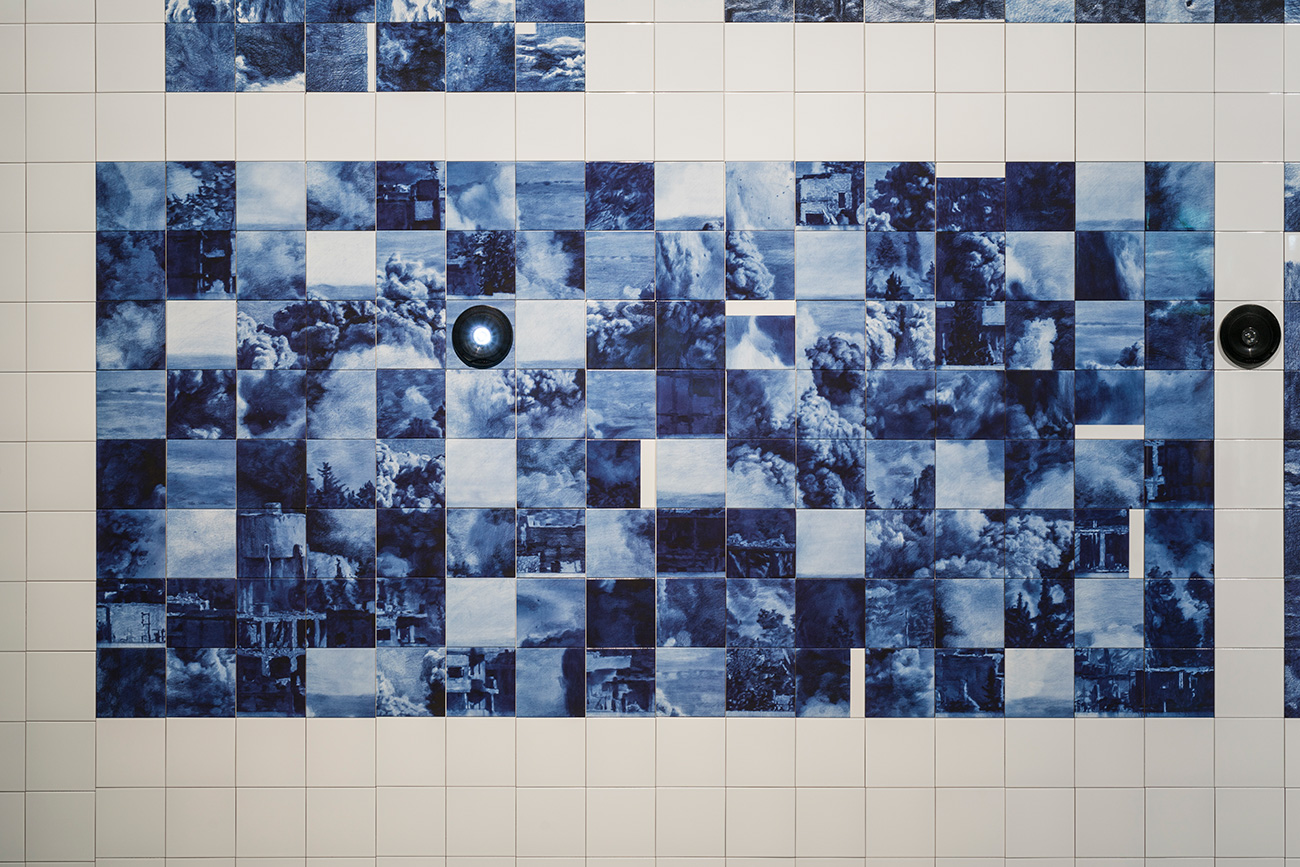 Bek Hyunjin recycles the Young British Artist aesthetic of grunge with a semi-conceptual, semi-immersive installation, UnemploymentBankruptcyDivorceDebtSuicide Rest Stop. Digging around the seamy side of Seoul that a tourist like me can't hope (or wish) to see, Hyunjin stages an unequal fight with the antiseptic galleries of the MMCA, dropping into its heart a neon-wired chamber. Copies of a dismal little story are invitingly piled on tables (and neatly tidied by gallery assistants: full prizes for both neatness and point-missing) for visitors to take away, deface, tear up as they please. All that was missing was a soiled mattress in the corner. Except that it wasn't.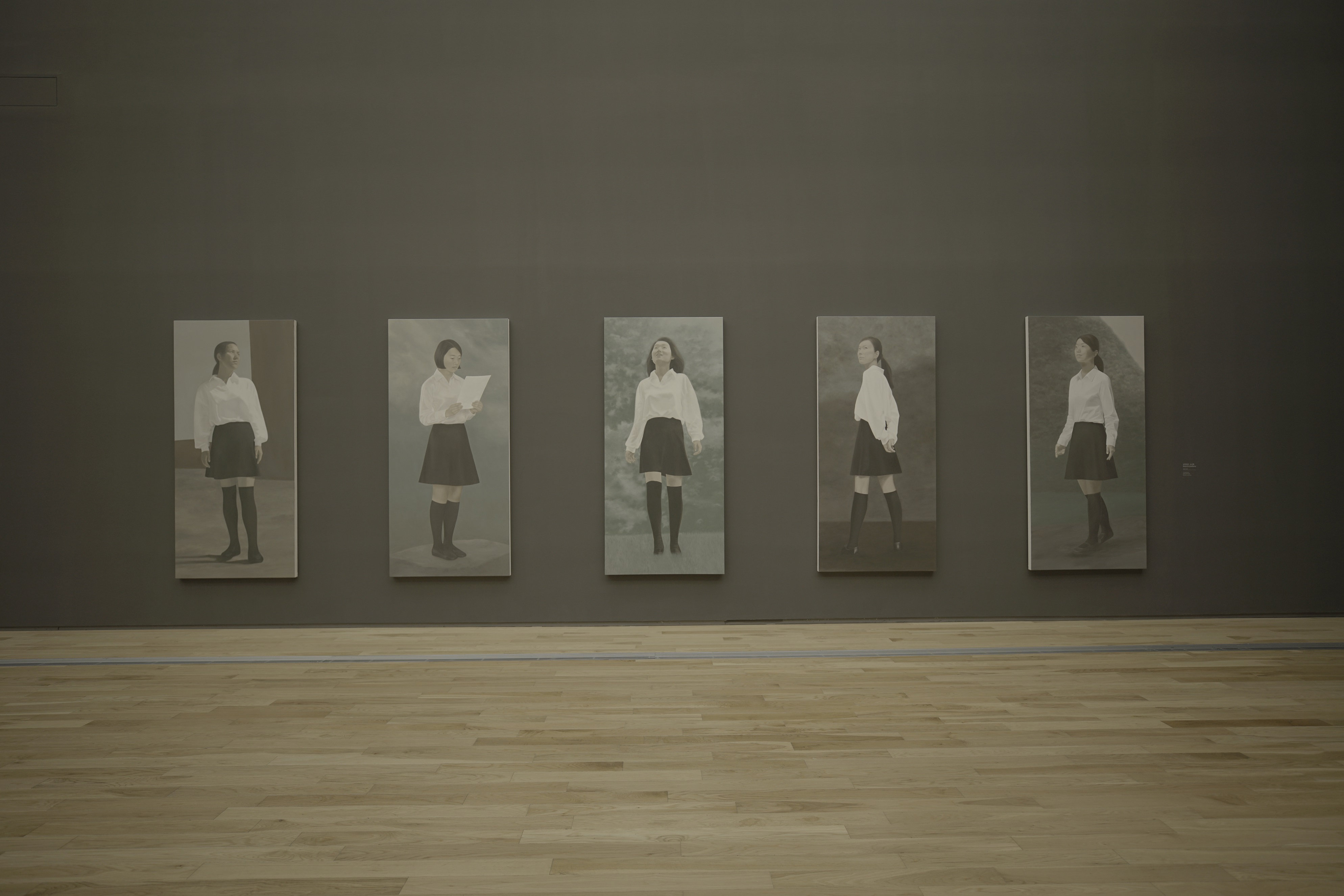 In which context, the landscapes and laughing schoolgirls painted by Sunny Kim (pictured above) could have made for light relief or insipid frivolity depending on your point of view. That they came as neither spoke well for the neutral tone yet obvious affection communicated by these muted canvases, painted by a Korean-born, US-educated artist whose training lends distance if not exactly enchantment to tropes of native life and childhood all too cheaply borrowed and parodied by foreigners. Viewed in sum, this slice down the middle of Korean art is shot through with a dispassionate pride untainted by nationalism or exceptionalism. Yes, we have our problems, it says. But they are our problems.
Now almost 70, Chung plays with the confidence and inner security of one who has nothing to prove
Explore topics
Share this article