Volume |

reviews, news & interviews
Volume
Volume
Purist stealth puzzles with too glossy a sheen?
'Volume': A blank puzzle given too much personality?
Sneak in, get the jewels, don't be seen. It should all be so simple. No, it really should be all so simple – because Mike "Thomas Was Alone" Bithell's second solo game does best when it keeps things simple and sticks to its purist gameplay guns. The problem is on top Bithell has layered phoned-in A-list celeb voice-acting, top-heavy thematic concepts and an attempt to retell the Robin Hood story in a YouTube and Twitch age.
The play's the thing – and Volume does that superlatively. Taking clear inspiration from Metal Gear Solid's virtual reality missions, it presents sparse and stylised environments for your thief Locksley to virtually break into and sneak through. Each level the aim is to collect all the gems, get to the end goal and get through checkpoints without being shot. And that mostly means without being seen.
The game design leans slightly towards stealth at speed, and away from purist never-get-caught territory. Each level comes with a "par" time, as well as leaderboard of other players – you're subtly encouraged to rush, and take risks. And this extends to the game letting you dive through a checkpoint even if you've just been spotted and shot. You're not penalised – just restarted at the new checkpoint with guards also returned to rest. The result may not be realistic – that's OK, as it's all happening in a virtual reality environment, remember – but it does work to encourage a fast-and-loose improvisational mindset.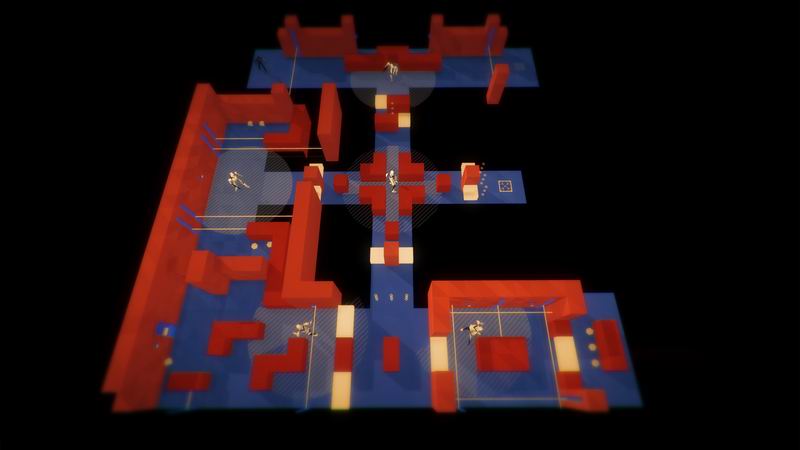 Even with this slightly forgiving guards-checkpoints system in place, you'll still mostly need to distract or avoid guards to get around levels. And you have no guns, only the gadgets the level designers provide in each level – perhaps a bugle that can be thrown to make noise, or something, a "mute" that silences your movement across loud surfaces, or the "oddity" that causes guards to cluster round it in puzzlement.
Once the game settles into a rhythm in terms of levels, and leaves behind tutorials, the results are brilliant fun to play – often a mix of careful planning and madcap dashing. And the included (and excellent) level editor means there should be loads of community-created content to add more fiendish or interesting puzzles.
The problem with Volume, then, is not its core play. It's the ludicrously heavy thematic weight and frills laid on top. From a first game imbuing abstract shapes with personality, Bithell seems to now be trying to dump a lorry load of meaning on top of an old-school and purist stealth title.
Locskley is trying to topple the evil corporate dictator Gisborne in a future England, by streaming out virtual reality tutorials of how to break into Gisborne's rich and powerful supporters' mansions to the masses. Yes, that is Robin Hood by way of YouTube – and it does not work well.
Gisborne is also pantomime-voiced by Andy "Gollum" Serkis, while Locksley is flatly voiced by YouTuber Charlie "charlieissocoollike" McDonnell and Locksley's AI companion Alan is voiced by comedian Danny Wallace – who outdoes the other two by a long chalk.
Not only do two of the three voice actors feel underprepared and wrongly cast. But the dialogue they're handed isn't much cop either – a curious attempt to combine witty repartee and dry humour, with breaking-the-fourth-wall jokes and lumberingly overdone big concept stuff. The result is dialogue you'll soon mute, pop-up written script boxes you'll wish you could and an overall big concept approach to what is underneath it all a small and excellently designed game. Focus on the puzzles and Volume is superb.
Volume is out now for PC and PS4. Developed and published by Mike Bithell Games.