Batman: Arkham Knight |

reviews, news & interviews
Batman: Arkham Knight
Batman: Arkham Knight
The finale of this action-adventure trilogy throws the kitchen sink in
'Batman: Arkham Knight': Underneath the pavement, lies more pavement…
You crouch atop a gothic skyscraper, barely distinguishable from the gargoyles you're surrounded by. A rainy sheen dimly reflects off your armour. Your cape flaps and cracks in the wind. You dive into the city… The Arkham game series has at least delivered a real chance to "be" Batman. But as each has gone on, and your moves list, your gadget bag, the city you roam and the things you can do has got larger and longer, the series has increasingly lost its way.
Arkham Knight
is simultaneously the worst and best of the series – perhaps a fitting finale, then.
Starting with the good, swooping down into those rain-slick city streets, permanently blanketed in murky night and swirling industrial fumes, lit by flickering neon and rain-smeared reflections, the city and Batman's powers together look and feel amazing. The visuals set the atmosphere beautifully. And offer a one-two combo with the play.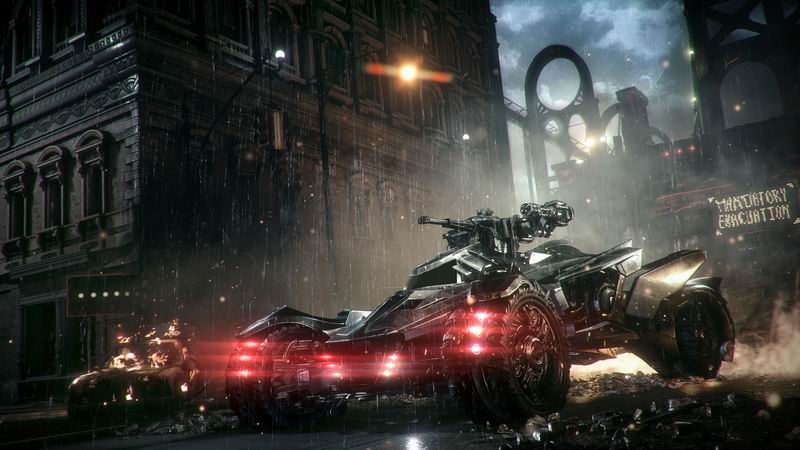 In Arkham Knight, the city's deserted of everyone but thugs. So step out of the Batmobile and there's a fight waiting on every corner. Your exo-armour and muscled physique, plus amazing visuals and sound effects mean every combat situation is a quickfire, choreographed blur of broken limbs, choked-out criminals and rapid grappling hook escapes. You're a mean machine that feels good to play.
Of course, Batman's far from just a street brawler. You swoop and sneak up and down the city's buildings and into its gloomy industrial spaces. And you investigate crime scenes, solve puzzles and race and fight using the Batmobile as well as jump out for those aforementioned fights. These all feel utterly immersive, enjoyable and amazing.
On top of that, the sheer wealth of incidental detail is spectacular – the random car conversations bad guys get in to and that you pick up on your scanner; the constantly developing street scenes; the distractions.
The problems come in two forms. Firstly, the constant attempt to pad out, to add more and more fan service, detracts disastrously from the main focus. Instead of having one or two classic villains as the plot drivers, the game throws a whole series of iconic characters into the mix – mostly to just waste them in sideshow vignettes and walk-ons. In doing so, the main villains are also rendered rather crowded and undeveloped.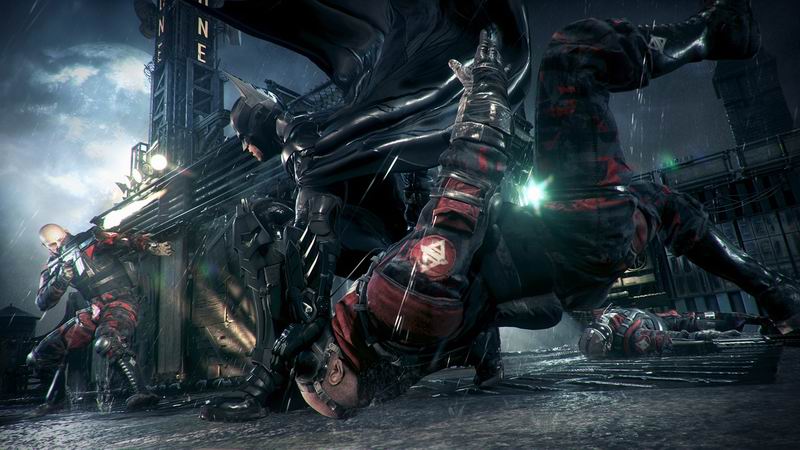 Attempts to grapple with more meaningful subtexts are also ladled on so thick and so often they just become dull, with an overplayed obviousness – is Batman responsible for Gotham's chaos? is he really just scared inside? does everyone around him suffer?
Surely we've done these superhero tropes a thousand times already? And better.
In the same vein of just spooning it all on, this is the first game where you finally get to drive the Batmobile – here able to transform between race car and tank. But what starts out as fun quickly becomes a mix of overly uninvolving shortcut and mission grinding-chore – go take out another set of enemy tanks. And another.
The last insult to the game's gleaming core is the ever-expanding list of moves increasingly cluttering up play. Why exactly do I have to hit the X button three times, holding the last, to glide on one hand? Yet on the other, why does it end up being perfectly easy to despatch most enemies by just hammering one button? A tighter, more focused move list – and combat that scaled better to match it – would have been far more fun.
Slick, fun, beautiful, immersive – Arkham Knight is all of these. It's also hamfisted in storytelling, overly cluttered and complex and suffering from sprawl.
Batman: Arkham Knight is out now for PS4, Xbox One (PC soon). Developed by Rocksteady Studios and published by Warner Bros..