The Witcher 3: Wild Hunt |

reviews, news & interviews
The Witcher 3: Wild Hunt
The Witcher 3: Wild Hunt
A beautifully detailed fantasy world to lose yourself in
'The Witcher 3: Wild Hunt': A huge open world, full of things to kill or things that are already dead…
In short, Game Of Thrones the videogame. The Witcher 3 sees this epic role-playing fantasy series truly rival its key competitor, the Elder Scrolls series. The Witcher 3 particularly scores on delivering a huge, credible and complex world with incredible granularity – it's real go anywhere, do loads of things stuff.
The game sees Geralt of Rivia, the series' hero, out to hunt down a younger Witcher who is being chased across the kingdom by a mysterious bunch of rather nasty-looking ghosts called the "Wild Hunt". The Witchers are monster-hunters who'll rid a town of infestations such as ghosts, griffins and other mythical beasts, often at a price.
So Geralt with his swords, magic and alchemy and crafting kits goes barging off across the map to chase Ciri, the novice he's taken a shine to, and the Wild Hunt. Along the way, there's lots of politics – with several cultures clashing, an ensemble of complex and vengeful characters and a bunch of names and hairdos straight out of Game Of Thrones.
It's all suitably grandiose and labyrinthine. And the plot is, in videogames terms, far more than serviceable. But it's not going to win any awards.
What might, though, for this game, is the detail in which this world is rendered – the sheer level of stuff you can do and find. The things that are just happening as you pass.
The main plot alone will take tens of hours to complete. But to do so in such a brief amount of time would be a waste, because in The Witcher 3, the real fun is in the diversions.
Just ambling around on foot or horse you'll come across literally hundreds of hours worth of opt-in stuff – chatting to villagers will reveal murky rumours, wandering by a stream might find you stumbling on smugglers welching each other on a deal.
All of the stuff happening does seem to just grow out of the landscape you're in. It feels natural. And how you choose to react to these organically appearing issues is your choice.
Best of these mini quests are your Witcher "contracts" – helping townsfolk rid themselves of some beasty boss. To complete these you'll need to use supernatural senses to not just track the creature, but puzzle out its behaviour and weak points, gather evidence to discern how to trap it and kill it.
You'll talk to townsfolk, sneak through fields of wind-waved corn and climb mountains to find suspicious tracks, then talk to yourself in a rather bizarre medieval version of CSI, delivering notes on your findings to yourself – before engaging in brutish and fairly simple combat, suitably armed to tackle the foe you face.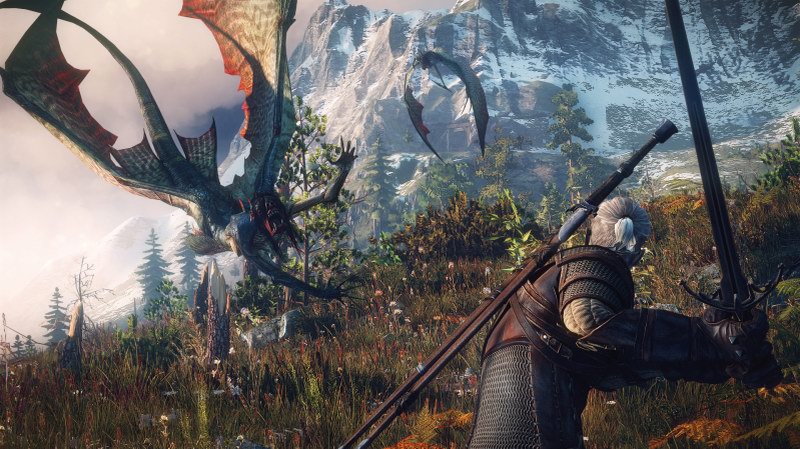 Other sub-quests will see you solving problems for local yokels – in order to grind out some cash, have some random fun and level up your character for a new spell, or a bit more powerful sword-strike.
Here, the scriptwriting does shine – the stories these small missions often uncover are complex, human, funny and suitably twisted. They also gradually reveal the bigger forces at work in Geralt's world, serving up bite-size doses of backstory.
It's the sheer wealth of content, and how it never feels out of place, that means The Witcher 3 works so well. But be warned, the game comes with caveats. Gameplay is simplistic – not easy, but repetitively uncomplex.
Worse, there's a nasty streak of misogyny that, while plotted well in the world, spills too much through the game – even the complex and interesting women characters seem to have decided chestplates in armour are a daft idea. And there's quite a bit of torturing and killing women to get through.
It surely would have been possible to create a medieval world that's nasty to women, without there being too much actual nastiness to women in the game?
Reservations aside, this is one of the biggest, and most interesting big budget games we're likely to see this year. For fantasy fans, it's a must.
The Witcher 3: Wild Hunt is out now for PC, PS4, Xbox One. Version tested PS4. Developed by CD Projekt RED and published by Bandai Namco Entertainment.