Everybody's Gone to the Rapture |

reviews, news & interviews
Everybody's Gone to the Rapture
Everybody's Gone to the Rapture
When is a game not a game? When it's better than that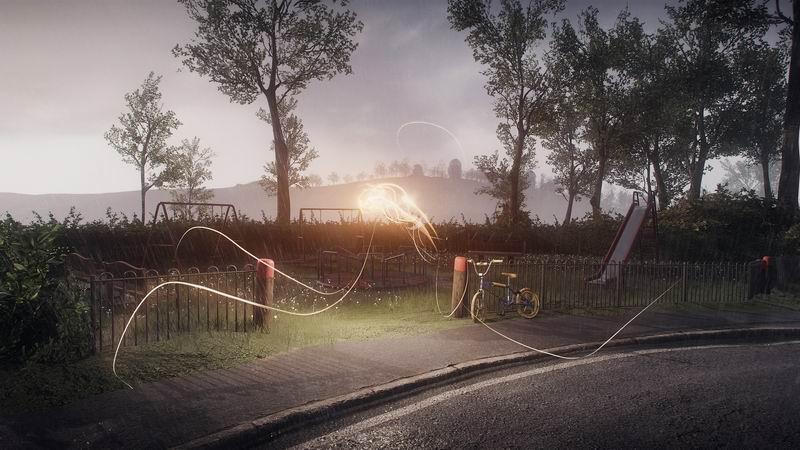 'Everybody's Gone to the Rapture': Follow the light
A tidy, English village. Swings hang in the breeze, a bicycle's discarded by a phone box, smoke curls over an ashtray in the pub garden. But no one's here. No one's ever coming back.
Everybody's Gone to the Rapture isn't just one of the most arresting, creepy and intriguing pieces of domestic sci-fi since John Wyndham's The Midwich Cuckoos (or Jeff Noon's Falling out of Cars); it's also an exercise in minimalism at play – what happens in a game if you remove all the controller grappling and actual interactivity from it. Here, you simply wander around finding things.
Waking up near an observatory in the picturesque village of Yaughton, you soon realise something very serious is amiss. Initially it's 28 Days Later-esque desolation – everybody's gone. But not in some ferocious apocalypse. They've just vanished, leaving behind their mugs of tea and mid-morning snacks.
Soon, though, the bad omens start to pile up. The TV channel plays a static-disrupted image of the observatory, while a woman's voice reads out a strange set of numbers (coded "numbers stations"? extracts from the Bible? coordinates in space?). The radio is either more of the same or strange audio notes left by Kate, one of the women scientists at the observatory.
Wandering through the village, you soon find discarded phones, dead birds littering the deserted road, bloody hankies left by a car with its door open. Then you see a light, moving towards and away from you, guiding you.
Each chapter of the game sees you led by a specific ball of light that encourages you, leads you, nips at your ankles if you're tardy. Each has their own personality, tied to the life events of a particular person. Each ball of light leads you to key interactions between characters in the village, in the past. Appearing as abstracted body shapes in "bokeh" twinkling balls of light. We see their movements – the priest praying, the village gossip confronting, the fight between two desperate men etc – and hear their dialogue recalled from the past in snatches, played out as we wander through the village and its surrounds.
Some of these vignettes are recent, some date from years back, from before the "rapture" started. Each reveals another piece of the puzzle, of the story. And that's all the gameplay – take a leisurely amble around a country village, click on the odd phone or radio, peer in people's unlocked houses and sheds, listen to flashbacks.
The complex and interlocking character stories are fearsomely tough to untangle
Despite there not being much need for a controller or dexterity in Everybody's Gone to the Rapture, and like the recent and similarly brilliant Her Story, piecing together the narrative is all the play needed. The complex and interlocking character stories are fearsomely tough to untangle – particularly if you're not dogged enough in your off-the-path exploration. And as well as piecing together what's actually happening in Yaughton, the personal lives you peer into are brilliantly drawn, fascinating and occasionally baffling.
The result is a story both deep and thematically satisfying and simultaneously warm and emotive, despite there not being any actual people to meet. On top of that, it's a puzzle that isn't easy to unravel. And one that wisely doesn't divulge all of its answers.
As well as leaving you with an uncertain ending, open to your interpretation of events and characters, as the game builds towards its finale, Everybody's Gone to the Rapture asks a series of questions of you that may take months of reflection to unravel. The more mundane mysteries include who you are in the world, and what is the light? The deeper ones are what matters more, selfless but callous acts, or keeping one's humanity? What even is one's humanity? And what is the nature of divinity?
If you own a PS4, buy this game.