Werewolf review - post-Holocaust horrors |

reviews, news & interviews
Werewolf review - post-Holocaust horrors
Werewolf review - post-Holocaust horrors
Ambitious Holocaust drama set during the chaotic final weeks of the war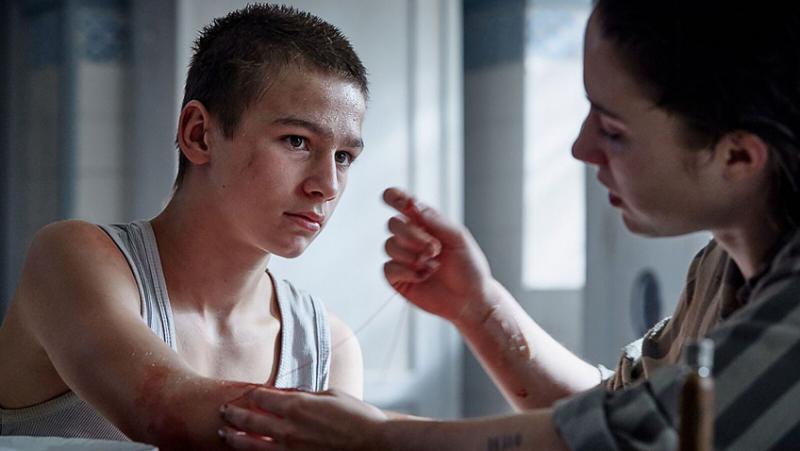 Nicolas Pryzgoda as Hanys, one of the young survivors of the concentration camps.
There used to be this myth that we knew nothing about the concentration camps until the victors opened their gates in 1945, and that the survivors were then nursed back to health.
The Russians put out newsreels filmed weeks later of nurses tending to the children of Auschwitz, but the reality was that many had already been marched by the
Nazis
in the final stages of the war to camps like Gross-Rosen in south western Poland. And often when they were liberated, those children became just more human flotsam in the displaced persons camps that scarred Poland and Germany for years after the war had ended.
The Polish director, Adrian Panek has chosen to set his film in the chaotic final weeks of the war. Werewolf opens with a nightmarish scene of sadistic officers at Gross-Rosen forcing prisoners to perform pointless exercises while children watch from their barracks. One woman who protests is savagely killed by a guard-dog. Distorted dance music plays, fires burn, the setting is dark and brutal. The Nazis laugh maniacally with gold capped teeth. So far, so familiar from a hundred Holocaust dramas, but Panek rapidly moves us away from the clichés by focusing on eight child survivors who are taken away from the camp by Russian liberators.
They are deposited in a crumbling mansion on the edge of the woods near the Owl Mountains in Poland. The children are dumped in the care of an exhausted and cynical matron who warns that there's no food and precious little water for them in this derelict orphanage. Their striped uniforms and feral desperation will not be replaced by care or comfort. Ranging in age from six to sixteen, the troupe act out their traumas and forage for food. It's not quite Lord of the Flies nor Jan Němec's Diamonds of the Night, but Panek references both sources and he does it well. The tension does not let up over the film's lean 88 minutes and the performances by the non-professional child actors are wholly convincing. The hellish hounds from the camp return to haunt them.
Dialogue is minimal and effective, there's a lot of simply watching the children survive alone; staving off rapacious soldiers and fighting over every scrap of food. The art direction and atmospherics of the film are very impressive with the derelict grand house becoming both a sanctuary and a prison. Panek treads a thin line between historical realism and horror movie tropes. If Werewolf slightly loses its way in the final third, it's still an impressive addition to the Holocaust film canon and well worth watching.