theartsdesk in Panama: Latin heat |

reviews, news & interviews
theartsdesk in Panama: Latin heat
theartsdesk in Panama: Latin heat
The Panama film festival showcases a new wave of filmmakers across Central America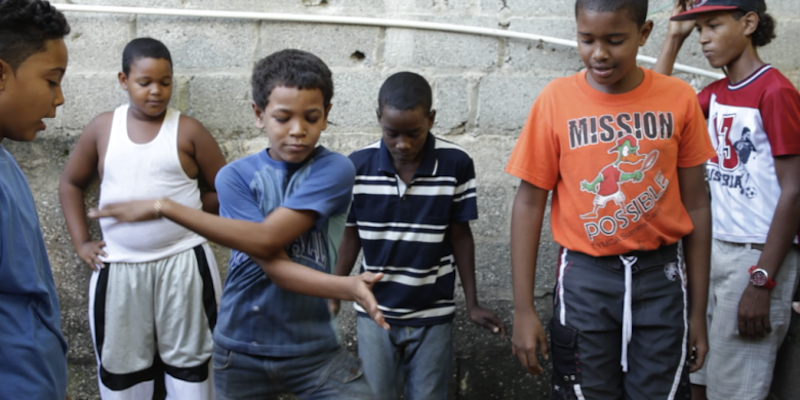 Would-be reggaeton star Joselito de la Cruz in 'Jeffrey'
It's a close, steamy evening in Panama City. A short walk out of the Casco Viejo, or old quarter, leads to the coastal belt – a rush of highway with an accompanying, exhaust-flogged pedestrian walkway that hugs the Bay of Panama. It's an inauspicious route, too close to traffic and the pungent smells of the city's fish market, but I'm drawn towards the far-off sounds of an unlikely cinema congregation.
The Mirador del Pacífico is a recently created breakwater that protects a vast recreation area, which tonight has a vibe one part film festival, one part music festival and one part family outing in the park. A hip hop-style band is performing on a small stage; close by teenagers play soccer; there are food stalls and benches. As I arrive a few hundred people are filling the chairs that face a giant open-air screen, for the main event.
The film is Jeffrey, an entertaining, bitter-sweet documentary from the Dominican Republic, about a 12-year-old boy from a Santo Domingo slum, who cleans car windshields for small change that will help his mother, but dreams of being a reggaeton singer. We follow this sassy, streetwise kid – real name, Joselito – a cute rapper and very good dancer as he touts himself around radio stations and recording studios, desperate for a break.
The flickering screen offers a repudiaton of the shining spires of the city's financial district that float in the distanceWhile the film bristles with heart-breaking detail, outlining a life of broken homes, poverty and limited futures, director Yanillys Pérez lends it the visual and narrative brio of a feature film. Cameras swoop dramatically over the city; at one point, as Jeffrey and his chums play with real guns that have inexplicably come into their possession, their shacks might be in a favela and the kids the criminalised urchins of City of God.
It's interesting to sit in this crowd of mostly working-class families and teenage friends, some of the kids pulling away from their parents to play and dance in the aisles. Though none here seem destitute, the city has its share of abject poverty, with one ghetto just a stone's throw from the upmarket colonial restorations of the Casco Viejo. The flickering screen offers a repudiaton of the shining spires of the city's financial district that float in the distance.
Jeffrey is one of a handful of free public screenings which took place during the International Film Festival Panama earlier this month. And it's a film that symbolises the leaps and bounds made in the Central American film scene since the festival started in 2012.
In its first years, IFF Panama succeeded in winning an audience accustomed to Hollywood films yet eager to see Spanish-language stories that resonated with their own experience; the achievement was marked by the packed screenings in the usually US-dominated shopping mall multiplex Cinépolis. But the film industries in Panama and its Central American neighbours are in various stages of early development; six years ago there simply weren't that many new – and good – films to choose from.
That is changing quite dramatically. Panama's programme includes a number of films from Spain, Mexico and South America, all well-established industries. But this year the strand devoted to Central America and the Caribbean was its most exciting.
"From the beginning we wanted to provide a launching pad for films from this region," says festival artistic director Diana Sanchéz. "It's our obvious niche. But we've got there a lot faster than we expected. I really think it's about timing, a lot of elements coming together at the same time that have started to percolate – new film funds, more filmmakers, more film festivals, more opportunities.
"One of the things I've noticed about the films from the region is that they have this very specific, unique vision," she adds. "The colour schemes seem to be different to the rest of Latin America. There's a heat to them, especially with the island films. The soundscapes are very different too, more vibrant, with a different tempo. These films are very distinct."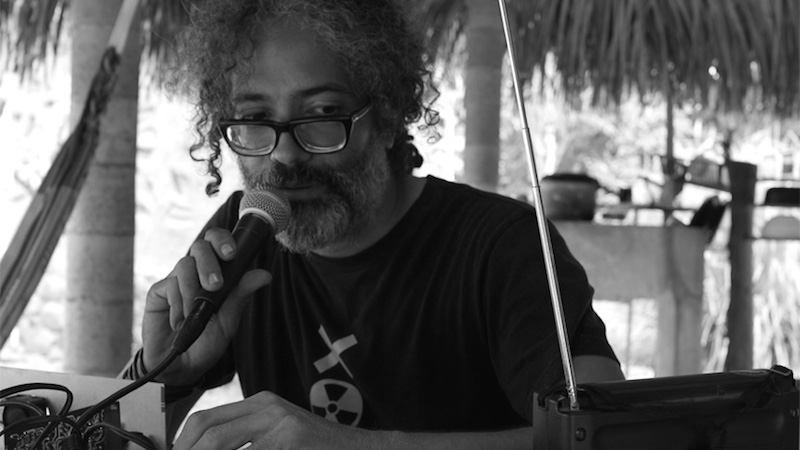 From Panama itself was Ana Endara's lovely, poetic documentary La felicidad del sonido (The Joy of Sound, pictured left), in which she follows a rum collection of characters, each with his or her particular love affair with sound – including a magnetic jazz musician who turns his fascination for all things audio into philosophy, a man setting up a community radio station in the countryside, an opinionated music-lover who drives around town with classical music playing from a megaphone, and a blind woman, as alert as only a blind person could be to every sound around her (the festival actually held a special screening of the film, just for blind residents). But the film doesn't stint on image, being beautifully shot in black and white, while finding the personal, political, communal and artistic in the acoustic world.
There were two fine, very different features from Costa Rica. El sonido de las cosas (The Sound of Things) concerns a young nurse who is struggling to deal with her grief after the death of a close relative. It's a subtle, elusive, slow-burn drama, very well acted, the skill and sensitivity of which belies the fact that it's Ariel Escalante's first film.
In contrast, Atrás hay relámpagos (Behind There's Lightning, pictured below) by the experienced Mexican/Guatemalan Julio Hernández Cordón is a breezy slacker movie, following two 20-something female friends and their coterie of admiring boys as they cycle about the city with little in their minds, but with real-life threatening to impinge on their solipsism. It's an appealing, good-looking film, with parallel streaks of whimsy and black comedy.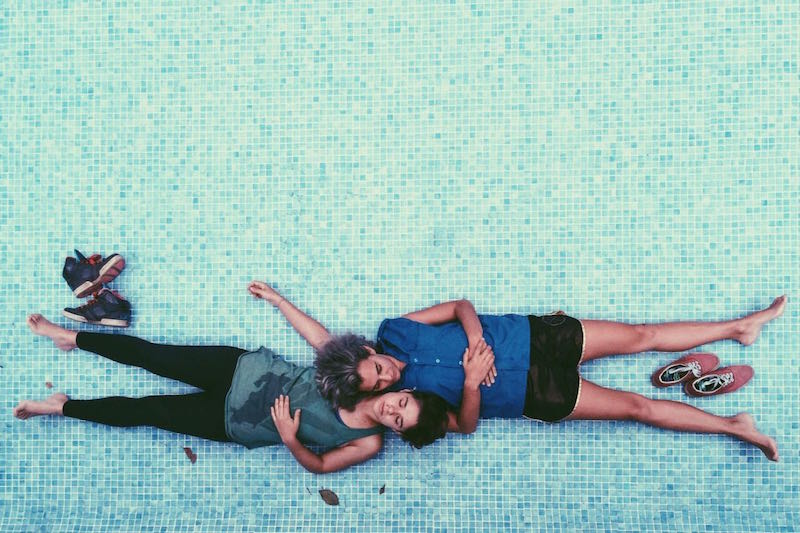 Another from the Dominican Republic, José María Cabral's Carpinteros (Woodpeckers, pictured below) is an evocative prison drama, tough and exciting yet with a surprising romantic heart. Set in a real prison, with all but the three leads being actual inmates, it takes its title from the real-life practice in which the occupants of the adjoining male and female prisons use sign language – known as woodpecking – to flirt with each other. Hence the romance that can only end badly.
The mixed martial arts drama Kimura, by the Panamanian Aldo Rey Valderrama and set in Panama City, is not only a rare fiction film for this country (documentaries being cheaper to make) but also a rare genre piece. Though the plotting is over-familiar, Valderrama has a polished style and the film went down a treat with the local audience in the "picture palace" Teatro Balboa, where everyone who wanted to had their moment on the red carpet.
For us it's equivalent to Star Wars opening worldwide. It's very symbolic of what could be done hereKimura will be having a simultaneous release in Panama, Guatemala and Costa Rica, a significant achievement given how rarely these films travel, even in their own region. "It's huge," says the festival's executive director Pituka Ortega Heilbron. "For us it's equivalent to Star Wars opening worldwide. It's very symbolic of what could be done here."
Indeed, as President Trump obsesses about his wall between the US and Mexico, a little further south filmmakers from across Central America and the Caribbean are seeing the value in coming together. This spirit of co-operation has largely been engendered by the festival, through workshops, networking opportunities and its influential "works in progress" programme Primera Mirada, which also helps selected films over the production finish line.
The Sound of Things director Ariel Escalante affirms that "we all know each other. Taking this approach as Central American filmmakers is very important for me, and for a lot of my friends, who are shooting films in Guatemala, shooting here in Panama, in contact with important filmmakers in Salvador.
"It's always a struggle to find financing. And finding your own voice also takes time. So it's helpful to share experiences, critique each other's work and push each other. Suddenly as a region we're talking about each other's films and growing together. We're in a very cool moment."
A Panama-Costa Rica co-production starts shooting in May that will epitomise this burgeoning new cinema. Days of Light will be a portmanteau film that takes place in six countries – Honduras, El Salvador, Nicaragua, Guatemala, Panama and Costa Rica – with a different director in each. The linking device is a power cut that affects the whole region at the same time, with each story charting different responses to being without power for several days – from an indigenous community in Guatemala to a rich couple living atop one of Panama City's skyscrapers.
Isabella Galvez, the Panamanian producer of The Joy of Sound and a co-producer of the new film, recalls how the project came about. "A Costa Rican producer and I kept on meeting at workshops in Central America. And finally we said, 'Hey, since we keep on meeting, let's do something together and share audiences. And in every country it will feel like a local film.'
"And that's what we want to do, create a platform for each other, share our thoughts and stories. We are really small countries, so we need to be see what happens when we are together."
It's about timing, a lot of elements coming together at the same time that have started to percolate
rating
Explore topics
Share this article