theartsdesk in Panama: Hubris, suffering and cinema |

reviews, news & interviews
theartsdesk in Panama: Hubris, suffering and cinema
theartsdesk in Panama: Hubris, suffering and cinema
The diversity of Latin American cinema was on show at an exciting young festival
Surfers in search of a sponsor in Breaking the Wave
The contradictions and iniquities of Panama City were very much in evidence last week.
The city opened Central America's first subway system, which many claim is a $2billion
folie de grandeur
for outgoing president Ricardo Martinelli, rather than a necessity; meanwhile, a fire destroyed one of the city's dilapidated old city buildings, killing a number of squatters who had refused to remove themselves from the path of gentrification, and whose lives would have benefited from an infinitesimal fraction of the money spent on the subway.
Here was hubris and suffering, side by side in a city still struggling for its own identity years after the US supposedly loosened its grip on the country. Good timing for the third edition of the Panama International Film Festival, which attempted to reflect such contradictions, while giving its local audience a much-needed glimpse of the outside world, via films and a good deal of fun and provocation. The Arts Desk returned to Panama for a second year, to find this admirable, well-programmed festival continuing in fine form; even for those not force fed a diet of Hollywood product, it offered a neat snapshot of the latest Latin American cinema.
The invasion is not taught in schools, and there is no national day of remembrance First, from Panama itself, came two accomplished documentaries. Invasion (pictured below) was directed by Abner Benaim, a filmmaker whose sense of humour and bearish on-screen presence reminds one a little of Michael Moore, though without the American's grandstanding didacticism. Benaim's film concerns the 1989 American invasion of the county, ostensibly to depose General Noriega, the "tropical Saddam", though the US didn't ask Panamanians if they needed its assistance and no doubt the motive had more to do with the superpower's own interests in the region – not to mention its embarrassment over the dictator who had worked for years with the CIA.
Interestingly, Benaim isn't concerned with the whys and wherefores of the invasion, but with ordinary Panamanians' recollections of the attack; in light of his compatriots' collective amnesia about the incident – the invasion is not taught in schools, and there is no national day of remembrance – the director is offering an oral history to spark debate.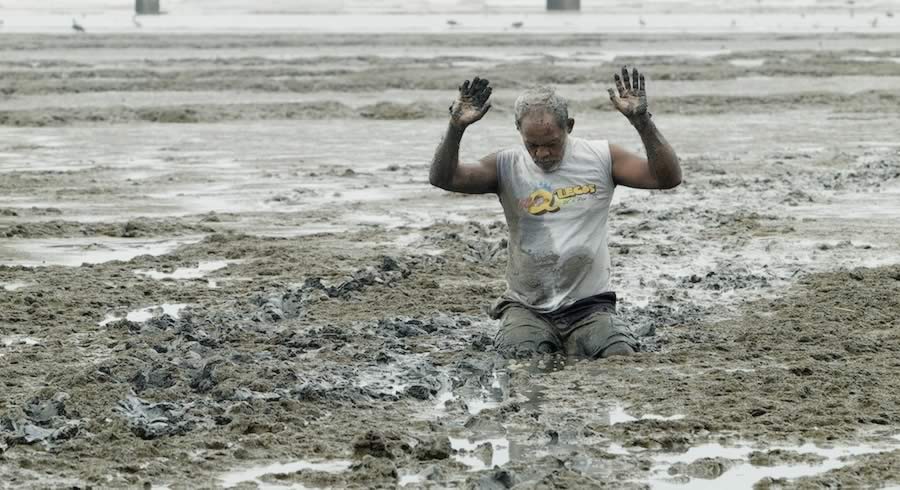 And so the film is essentially comprised of Panamanian citizens speaking to camera, at first in a studio, then on the streets of the city, recalling the bombs, helicopters and machine guns as the "gringos" invaded their city and killed thousands. Pathos is combined with great dashes of humour – there's something of the upbeat Brazilian in the Panamanian psyche. And Benaim brings his own surreal contribution, eschewing archive for the sort of amateur recreations that also made the Oscar-nominated The Act of Killing so powerful.
Panama's only prizes are audience awards, and Invasion deservedly won two of the three – best documentary, and best Central American and Caribbean film.
The other local documentary, Annie Canavaggio's Breaking the Wave, is a good-looking and engaging account of the struggle of Panama's black surfers to overcome the prejudice of their sport's US-dominated sponsors, who can't get enough of Panama's beaches while loathe to support the local surfers, who don't conform to their Beach Boy brand. Canavaggio focuses on a trio of these immensely likeable young men, who are skilled, stoic and determined in very different ways.
A festival focus on Central America unearthed one particular pleasure. For the Feathers (pictured right) features the typical heroes of Latin American cinema, an underclass that gamely, amiably and haplessly strives for a better life – in this case, a security guard with ambitions in the cockfighting business.
This works on a different register to the customary Latin deadpan, playing instead as a chalk and cheese buddy movie, in which our laidback central character plays off against his manic, motormouth colleague, a former car thief turned born-again Christian. As security guards, all they seem to be guarding is a leaky-roofed, empty shed, giving them plenty of time to dream of glory and hang out with the neighbourhood Avon Lady. Their rooster, Rocky, is a scream.
More serious fare included a couple of downbeat, bleakly compelling films. From Peru, The Mute is a black comedy concerning a low-level magistrate who is mysteriously shot in the neck. The incident leaves him mute and intent on investigating what he believes is a conspiracy against him. The fact that this chap is really quite loathsome - brought to chilling life, in a near silent performance by Fernando Bercilio (pictured above left) - leaves the film with a difficult but fascinating moral hole.
Based on a true story, the Chilean To Kill A Man charts the slowburn response of a forestry worker to the intolerable persecution of his family by a seedy drug addict. The film ably communicates first this ordinary, rather meek man's humiliation, then his frustration as society singularly fails to come to his assistance. Reality adds a surprising sobriety to what might have been a gung-ho and fatuous revenge thriller.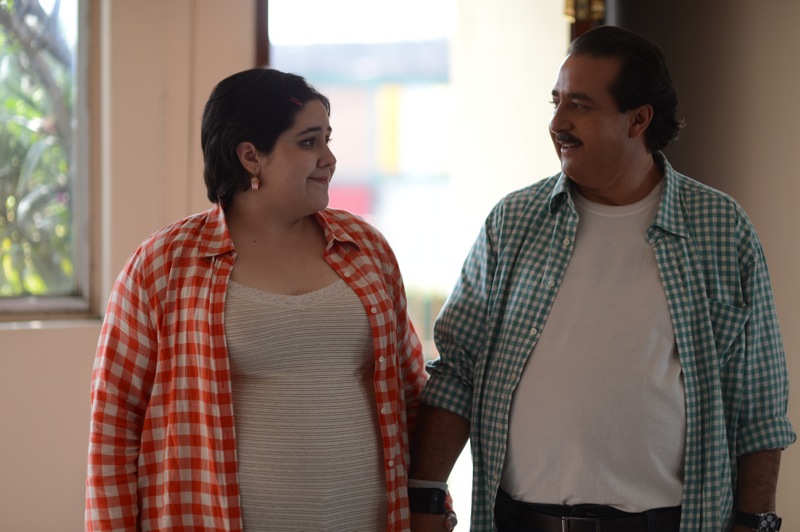 Overall, though, this year felt most notable for its upbeat films, whether the already greatly acclaimed Gloria, also from Chile, or newer fare such as the Mexican Paradise (pictured right), an unusual romantic comedy that charts a happy – and happily overweight – couple, comfortable in their own skins, until the woman succumbs to female peer pressure and urges her man to join her on a diet. When he succeeds, and she doesn't, the romance drains away with the pounds.
And the lightweight but immensely charming Argentine documentary Midsummer Night Tango follows a Buenos Aires tango trio as they travel to Finland to investigate the claim – drolly voiced by filmmaker Aki Kaurismäki – that it was the Finns who invented the tango, "to keep the wolves at bay." It would have been tempting to read this odd little road movie as a spoof, were it not for some terrific music from Argentines and Finns alike, and the professional trio's deepening respect for their unlikely equals.
Appropriately, the third audience award, for best Ibero-American fiction, was won by the Spanish romcom Three Many Weddings.
There's something of the upbeat Brazilian in the Panamanian psyche
Explore topics
Share this article