theartsdesk at the New Horizons Film Festival |

reviews, news & interviews
theartsdesk at the New Horizons Film Festival
theartsdesk at the New Horizons Film Festival
A fledgling film festival in western Poland has quickly emerged as one of the most popular in Europe
Wednesday, 05 August 2015
A law unto himself: Miguel Gomes's simultaneously brilliant and maddening 'The Arabian Nights'
Wrocław is Poland's fourth most populous city, once described as "The Venice of the North", due to its location on the River Oder, its tributaries and numerous bridges. That description is misleading, of course, a touch of unfortunate hyperbole; on the surface, Wroclaw is a charming but unremarkable city.
And yet if one looks beyond the late-gothic market square, the focal point for the city's tourism, there is a different, more vibrant energy here, never more so than at the end of July, when the New Horizons Film Festival exerts its pull on Poland's younger cinephiles, who flock to the city in droves. From the densely-attended free films every night in the square itself and the associated arts and music events, to the focused hubbub of the festival's sole cinema venue – the appropriately named, nine-screen New Horizons Cinema – the synergy of town and festival is something special.
As one person cutely observed here, 'Roman' used to mean Polanski; now it means Gutek New Horizons is the brainchild of Roman Gutek, a distributor, cinema owner, festival chief and all-round force for auteur cinema in his country since the early Eighties. As one person cutely observed here, "in Poland 'Roman' used to mean Polanski; now it means Gutek." Having cut his teeth at his university's film club, Gutek founded the Warsaw Film Festival in 1985, bringing world cinema to audiences who were then still being culturally starved by Communism. After Poland was freed from its shackles he started his production company Gutek Film, distributing the likes of Von Trier, Greenaway, Almodovar, Kitano, Jim Jarmusch and Gus Van Sant, and then, "my dream" he says, opened his own small cinema in Warsaw.
In 2001 the festival bug again took hold. Aware that he could only distribute a sample of the many international films he was seeing, many of which would never reach Poland, Gutek started New Horizons. The first edition was in the town of Sanok, with four more in Cieszyn, before the need to accommodate the growing audience took the festival to Wrocław. Last Sunday saw the end of its 15th edition.
With artistic director Johanna Lapinska alongside Gutek for most of this time, the festival has been consistent in its programming of challenging auteurs, among them Gaspar Noe, Alexander Sokurov, Bela Tarr, Tsai Ming-liang, Apichatpong Weerasethakul, Guy Maddin and The Brothers Quay; while those peculiarly British talents Derek Jarman and Terence Davies have been amongst those feted by retrospectives.
When I spoke to two of Gutek's young and enthusiastic staff here, they asserted that they belonged to an actual phenomenon, the "New Horizons Generation" of young people whose film education has been shaped by the festival. Around 65% of the 100,000+ audience comes from outside Wrocław to dip their toes into a programme that includes the pick of A-list festivals, in particular Cannes, and a competition selection that reflects the festival's guiding ethos for bold, unconventional and uncompromising films.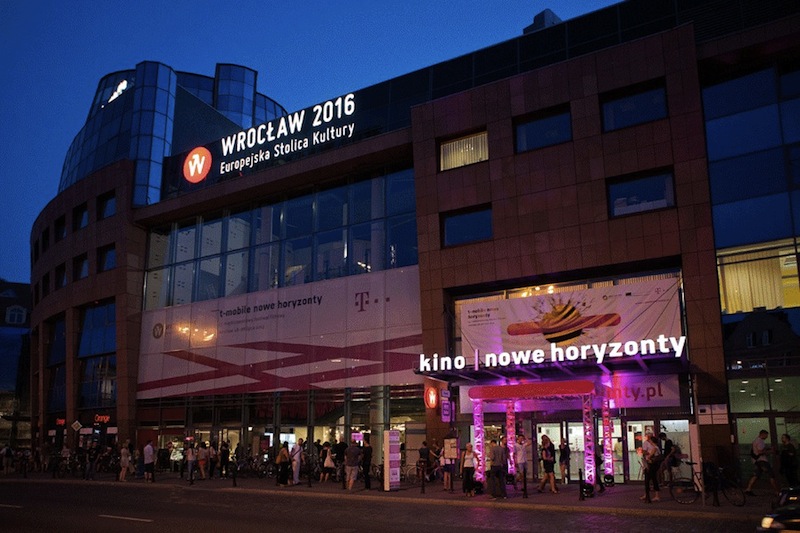 Adventurousness, of course, is a risky business. This year's competition dozen were characterised by striking conceits and narrative experiments often let down by poor choices or execution, leaving invariably dark and depressing tales to weigh too heavily upon us. Internet porn, child murder, incestuous rape and an abundance of drug addiction were bitter pills that would have been sweetened by finesse.
The most prominent director in competition, Portugal's Miguel Gomes, presented his own challenge – and not just the six-hour running time of his magnum opus Arabian Nights. Gomes has his admirers, and I'm one of them, but his carefree self-indulgence can be infuriating. That said, Arabian Nights merited a little tolerance. Relating the devastating effect of austerity on Portugal through the framing device of Scheherazade's life-preserving storytelling, Gomes combines documentary and fantasy, seriousness and play, longeurs with moments of filmmaking brilliance.
The film was shown in its three parts, but regarded as a whole. I was on the jury of critics who awarded it our prize, not least because of its ambition and scale, and the fact that no single film had elicited so much and such diverse discussion.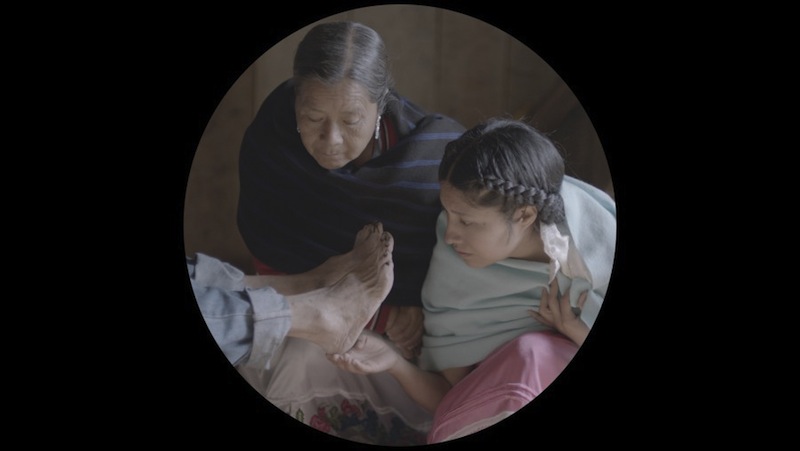 The principal festival jury awarded its prize to a film of more focused ambition. Belgian director Gust Van den Berghe's Lucifer (pictured above) was shot using a device he created himself, the tondoscope, which reduces the image on screen to a circle that, one imagined, was meant to represent God's view of proceedings as the Devil descends on a Mexican mountain village. The film was surprisingly amusing, with something of the mad mystical air and anthropological acuity of Claudia Llosa's Madeinusa.
The Wrocław audience voted for the one genre film in the selection, the incredibly creepy Goodnight Mommy, by Austrian double-act Severin Fiala and Veronika Franz. The opening half hour or so is phenomenal, as identical 10-year-old twins Lucas and Elias wonder whether the heavily bandaged woman who has just returned to their isolated home is really their mother. The sinister tone and ambiguity gives way to predictable nastiness, which is a shame, the film eventually suffering from an obvious comparison with fellow Austrian Michael Haneke's Funny Games.
I'm not sure if Haneke has ever appeared here, but his interest in form, and the sheer discomfort he can create are what New Horizons is all about. But it's also about giving Poles an early (sometimes only) glimpse of the "best of the rest". Among films here that may soon come to a UK cinema near you, my picks include: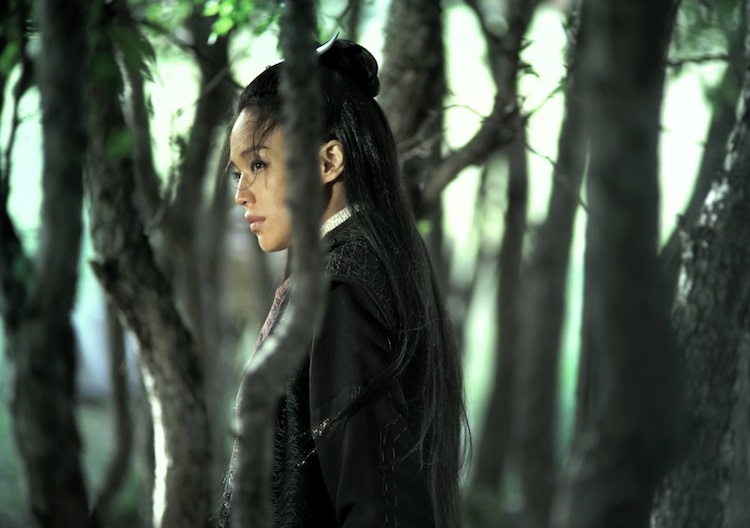 The Assassin. Taiwan's Hou Hsiao-hsien's atypical and ravishing take on the wuxia genre that blends martial arts and fantasy, with Shu Qi (pictured left) providing one of recent cinema's most mesmerising action heroines, as a 9th-century assassin ordered to kill the cousin she loves.
The Forbidden Room. Canadian Guy Maddin's latest phantasmagoria is, like Arabian Nights, a film about storytelling itself, in which different yarns merge and overlap. Co-directed with Evan Johnson, this has Maddin's trademark homage to silent cinema techniques imbued with his very own warped imagination. To emerge from The Forbidden Room really did feel like awakening from a fevered dream.
The Treasure. That rare bird, a Romanian comedy. A father is tempted into a modern day treasure hunt for pre-communist era gold, risking jail if he's caught. Director Corneliu Porumboiu shoots with that Romanian matter-of-fact realism that swiftly draws us into their stories, while cleverly playing on our assumptions, at every turn, that characters will act badly and that this crazy venture surely must end in disaster.
Our Little Sister. This may not be Hirokazu Kore-eda's strongest film, but the Japanese director has such a sublime control of character and tone that this simple portrait of family life is a joy to watch. Three sisters live together in a large house, with the oldest as a de facto mother figure. When they meet their half-sister at their estranged father's funeral, they take an immediate shine to her and invite the girl to join their family.
My Mother. Nanni Moretti's comedy-drama follows a female film director (Margherita Buy) as she struggles to cope with the imminent death of her ailing mother, while shooting a film and coping with her entertaining but demanding American star (John Turturro, pictured left with Buy, and possibly never so engaging). Moretti juggles broad comedy and pathos with immense, crowd-pleasing skill.
Moretti's was the closing night film, which might explain why it was more mainstream than most fare here. The year's retrospectives better reflect the seriousness of the festival, with fulsome attention given to the Lithuanian devotee of "slow cinema" Sarunas Bartas, and Philippe Garrel, one of the few Frenchman to find no joy in romance, whose largely autobiographical pieces present political radicals and filmmakers undone by drug addiction and amour fou. A local spotlight was thrown on the late Polish writer/director Tadeusz Konwicki. I was only able to catch Jump, from 1965, apparently a favourite of Scorsese's, a black comedy at once cinematic and theatrical and seeming to resonante with the foibles of the Polish personality.
The New Horizons Association also organises an American film festival, distributes festival titles, and permanently controls its cinema, renting the space from the original multiplex chain. As well as maintaining nine screens of independent fare all-year-round. it runs various education programmes for both school children and university students.
"We also host exhibitions, music festivals, cultural events. It's a social place and an educational place, as well as a cinema," says Gutek proudly. "And the city supports us with 30% of our budget. Good for them."
In fact the handing-over of the cinema to New Horizons was the first act after Wrocław was named the 2016 European Capital of Culture. As one city official put it during this year's edition, "The city has changed the festival, and the festival has changed the city."