Pride and Prejudice and Zombies |

reviews, news & interviews
Pride and Prejudice and Zombies
Pride and Prejudice and Zombies
Lily James reincarnates Elizabeth Bennet as a slayer of the undead
Thursday, 11 February 2016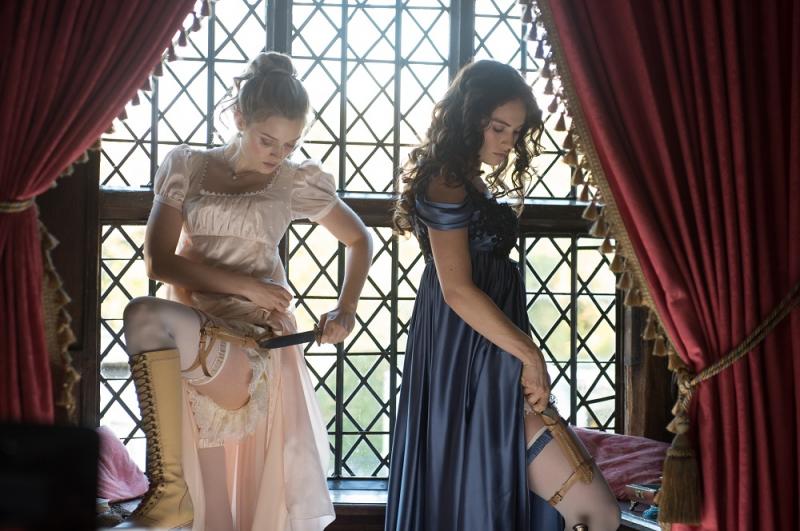 Sisters are doing it for themselves: Bella Heathcote and Lily James as zombie-slayers Jane and Lizzy Bennet
"It is a truth universally acknowledged that a zombie in possession of brains must be in want of more brains." Miss Bennet has been a busy Lizzy. In recent years she's popped up in a British Bollywood setting (Bride and Prejudice) and in the present day (Lost in Austen), and solved a murder mystery (Death Comes to Pemberley).
Her latest outing – as played by literary pin-up of the moment Lily James – is as a sword-wielding, pistol-toting scourge of the zombie hordes. Naturally, she's very good at what she does.
The title tells it exactly like it is. In Pride and Prejudice and Zombies everything about the world of the novel is more or less as you were, with the minor alteration that the Bennet girls have been meticulously trained in decapitating the undead. There are more and more of them to slay: as a neat opening toy theatre graphic explains, zombies have taken over London and are moving in on Hertfordshire.
Colonel Darcy (Sam Riley), clad in a black leather coat, wanders around polite whist parties and society balls sniffing out the infected and dispatching them. Mostly his accomplices are women. In a delicious early sequence the Bennet sisters tool up with guns and knives, secreting them under their empire-line dresses alongside their erotic lingerie. The biggest and scariest (and snobbiest) zombie-slayer of them is Lady Catherine de Bourgh (Lena Headey vampy in an eyepatch), while the men are mostly wimps, including that wet dishcloth Mr Bingley (Douglas Booth) and the ineffable creep Reverend Collins (Matt Smith, pictured below).
Pride and Prejudice and Zombies is almost a lot of fun. It works best as a girl power fantasy, and really flies when it finds the courage to flout literary precedent. The great standoff between Darcy and Lizzy escalates into a furious fight with many a smashed-up Chippendale. The source of snobbery is not so much money as the education in zombie-slaughter it can buy: a Japanese training is very much comme il faut, whereas Chinese is a bit below stairs. And the dastardly Mr Wickham turns out to be slightly more than just a dangerous seducer.
But if anything the film is too faithful to the plot we all know backwards, so that quite substantial chunks are slightly boringly given over to Mrs Bennet's matchmaking and Collins's wife-hunting (notwithstanding splendid comic turns from Sally Phillips and Smith). Yes the Bennets are sexed-up minxes, with James's décolletage rather further to the fore than is strictly period, and yet the script misses an opportunity to be subversive on a deeper level. There is no real interrogatiion of the social hierarchy of Regency England. Plus a lot more fun could have been had with the idea of London being an evacuated zombie zone.
Burr Steers directs his own script based on the novel by Seth Grahame-Smith. It looks and sounds as it should and will no doubt clean up at the box office. The climactic wedding scene sets up the inevitability of a sequel, but this yoking of disparate worlds could be as catching as a bite from a zombie. Coming soon: Zombey and Son, Rosencrantz and Guildenstern Are Undead, and Kung Fu's Afraid of Virginia Woolf?
The great standoff between Darcy and Lizzy turns into a furious fight with many a smashed-up Chippendale
rating
Explore topics
Share this article