Hive review - how a group of Kosovan widows rebuilt their lives |

reviews, news & interviews
Hive review - how a group of Kosovan widows rebuilt their lives
Hive review - how a group of Kosovan widows rebuilt their lives
Blerta Basholli's stirring account of the aftermath of the Balkan wars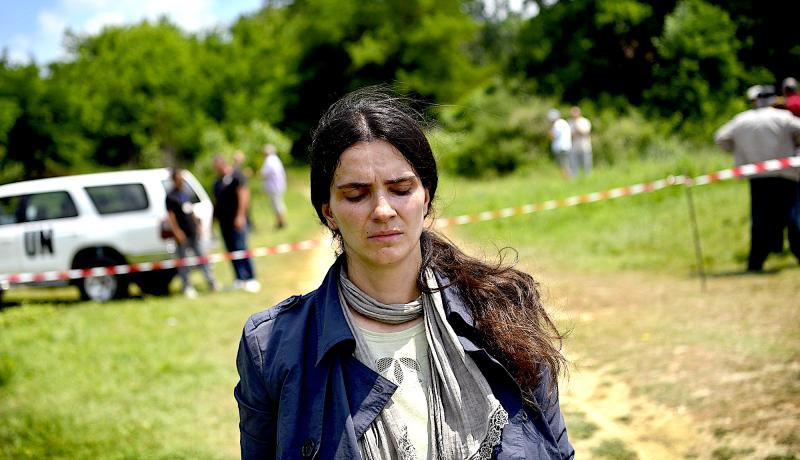 Crawling from the wreckage: Fahrije Hoti (Yllka Gashi)
As the air echoes with wars and rumours of wars, Hive has the potential to strike a chord resonating way beyond its Kosovan setting. The factually-based story is set in the aftermath of the Balkan conflicts of the late 1990s, after Serbian forces had carved a trail of rape, murder and destruction through Kosovo's Albanian communities.
Written and directed by Kosovo-born Blerta Basholli, Hive looks at how a group of women returned to their devastated village of Krusha and set about salvaging some kind of life from the wreckage. Most of their husbands had been rounded up and "disappeared" by the Serbs seven years earlier, and their lives were overshadowed either by the torment of not knowing what had happened to the menfolk, or by having their brutal fate confirmed. At an emotional public meeting in the village square, they rail against the cloak of silence which seems to have been thrown over these vile events, and the politicians who can't or won't lift a finger to shed light on what really happened.
The story centres on Fahrije Hoti (Yllka Gashi), trying to eke out a living and bring up her two children in an environment steeped in the virtually medieval Albanian code of patriarchal dominance, where women are expected to be mothers and home-makers. Feminism hadn't even got as far as being a dirty word – the concept had just never existed. Fahrije's husband has vanished without trace, though she has recurrent dreams of him drowning. The film opens with a sequence of her searching through body-bags in the hope of finding him. Later, a UN forensics team think they've found his clothes, but it's a false alarm.
When Fahrije and other local widows form a collective and launch a business selling home-made local food products, including the honey which prompts the film's title – though "Hive" may have other meanings too – and the dip made from red peppers called ajvar, it's seen as a revolutionary act. Their progress is viewed with simmering hostility by the elderly males who do nothing except sit around drinking coffee in the local cafes all day. When Fahrije has the temerity to learn to drive, rocks are chucked through the car's windows, and the women are castigated, for no discernible reason, as "whores".
It's an uphill struggle against daunting odds, as if the women are battling not just the crippling fallout of war but also a kind of inescapable ancestral curse. Basholli's direction is carefully understated and kept fastidiously free of histrionics, allowing the personalities of the women to gradually percolate through the narrative as their self-help project gathers momentum and they begin to see a glimmer of light at the end of the tunnel. While the older women are able to take a more philosophical view of experiences of loss and tragedy, the way the past persists in infecting the present is highlighted when Fahrije's daughter Zana (Kaona Sylejmani) tells her mother the locals are right to call her a whore. Her mother's response is a powerful slap across the face, which speaks volumes.
Of the males on display, only the local supermarket manager emerges with a smidgeon of credit for stocking the women's products on his shelves. The grocer who sells Fahrije the peppers for making ajvar seems for a while like a dependable ally, until the mask slips and his atavistic ulterior motives are crudely exposed.
In its quiet but determined way, Hive gradually accumulates a kind of unarguable moral authority, driven by Gashi's indomitable performance. It doesn't preach or pontificate, but it's film-making that comes from an unrecognisably different universe than the parade of preening narcissists on display at last weekend's Baftas.
In its quiet but determined way, 'Hive' accumulates an unarguable moral authority
rating
Explore topics
Share this article