DVD/Blu-ray: County Lines |

reviews, news & interviews
DVD/Blu-ray: County Lines
DVD/Blu-ray: County Lines
An insider's angle on the impact of Britain's biggest drugs problem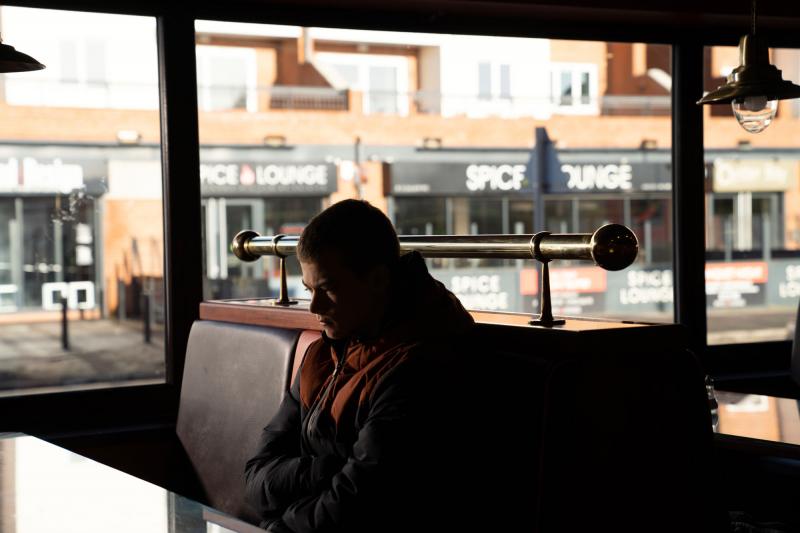 Conrad Khan in County Lines (2019)
The website of the National Crime Agency offers the following definition of County Lines: "[it is] where illegal drugs are transported from one area to another, often across police and local authority boundaries (although not exclusively), usually by children or vulnerable people who are coerced into it by gangs.
The 'County Line' is the mobile phone line used to take the orders of
drugs
." This definition does not feature in
County Lines
(2019), Henry Blake's first film of feature-length, newly released on Blu-ray and DVD. Nevertheless, it does hold a conceptual relevance for this objective, experiential examination of a phenomenon that has in recent years (as is described in the film's audio commentary) "unspooled across British lives and British society".
County Lines takes as its subject Tyler (Conrad Khan), a teenage boy, and attendee at a local pupil referral unit (PRU). The film opens with a drawn-out shot of Tyler, seated in a one-to-one session with his assigned care worker, as he is probed over his knowledge of the term "acceptable loss". As signposts go, this is a significant one: Blake's film is steeped in the verbal and visual language of social work. Stubbornly taciturn, Tyler's silence in the face of questioning opens the door to two interpretations, and two corresponding themes within the film: on the one hand, youthful ignorance – the Tyler who must then hang on his care worker's ensuing explanation that, in his business, it is he who is the "acceptable loss" – on the other, the Tyler who, already knowing, refuses to engage, resilient in his commitment to the toxic ideals of an internalised, impervious masculinity.
The film quickly rewinds from this opening scene. Six months prior, Tyler is living in a small flat on an unspecified London estate, shared with Aliyah, his younger sister, and Toni, his mother. Working night shifts as a cleaner in nearby office blocks, Toni struggles to provide the children – her character not blameless in Blake's portrayal, but helped neither by the disruptive circumstances of her condition, a list which includes Tyler's frequent behavioural issues. When, during a brief altercation in a high-street takeaway, Tyler runs into Simon (Harris Dickinson), a drug-dealer, and self-described "entrepreneur", Toni is powerless to prevent her son's unwitting coercion into an alien, criminal underworld.
With significant parts of the film shot under muted skies in Essex's Canvey Island, Blake's restrained, photographic style lends the film a docudrama edge – a choice due in large part to his 11 years spent as a youth worker in an east London PRU. "I didn't feel that, at the time, there was a piece of cinema that really reflected the tone and the psychological and emotional landscape that I was dealing with as a professional", says Blake, whose previous work includes three short films: Snake Pit (2014), In His Own Skin (2015), and Gus & Son (2017).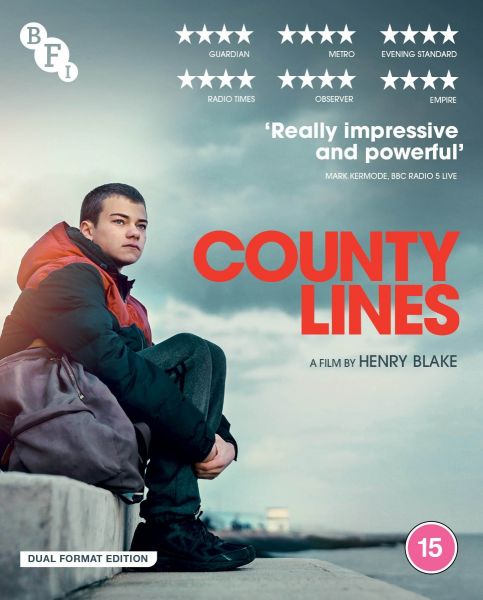 The last of these – depicting the final job of a family's stuttering tree-felling business – makes an appearance in the special features of BFI's dual-format release, along with Blake's insightful audio commentaries, a Q&A with Blake and the cast, and Children of the City (1944), a half-hour documentary on child delinquency produced for the Scottish Ministry of Information.
Thematic differences aside, in Gus & Son's simmering and gritty realism there exist glimpses of the very same qualities that lend such power to Blake's latest offering. Performing as Tyler, Conrad Khan first gives a masterclass in the art of understatement, before a sudden blossoming of emotion – the handing of a lead role to a relatively unknown actor mirroring the upstart, interventionist ambitions of County Lines as a whole. Arriving so soon into the run-time, Tyler's rendezvous with Simon instills the film with an atmosphere of inevitability, and it is small surprise when the pair meet again, the younger boy's quiet reticence finding a distorted echo in the older's aloof criminality.
Returning to the present, we find the stakes have risen. Infused with fresh confidence, Tyler has morphed into his own volatile, abusive double, and briefly flatters-to-deceive as a potential dealer-in-waiting. He is soon brought back to earth, however, as a series of traumatic events flip the film's narrative on its head. Meanwhile, sacked from her job, Toni (Ashley Madekwe) searches for new employment, a series of well-executed cross-fades weaving these two narratives together, Blake making subtle allusion to the systemic issues common to the pair's respectively precarious existence. It is a largely predictable climax – but appropriately so, when held in the context of Blake's informed insider-take, which refuses either melodrama or allegory; rather, it argues, the worst can, and does happen.
From its chaotic peak, Tyler and Toni's story climbs calmly down, settling finally as a somewhat conventional tale of resurrection and renewal. Yet what has by then transpired in the film's opening hour is not easily forgotten. Blake, on more than a few occasions through the film, allows his eye to stray – the camera lingering, as if committing a crime of mistaken identity, on the face of another anonymous teenager, uncomfortable and out-of-place in the unforgiving Estuary landscape. The implication is that Tyler's story is just one iteration; unfortunately. Necessarily, though, Blake's film only scratches at the surface of a phenomenon – the full significance of which lies not in its blithe disregard for geographic boundaries, but in its devastating sweep across a generation.
A series of traumatic events flip the film's narrative on its head
rating
Buy
Share this article