Blu-ray: Pickpocket |

reviews, news & interviews
Blu-ray: Pickpocket
Blu-ray: Pickpocket
Robert Bresson's 1959 classic is marred by excess of rigour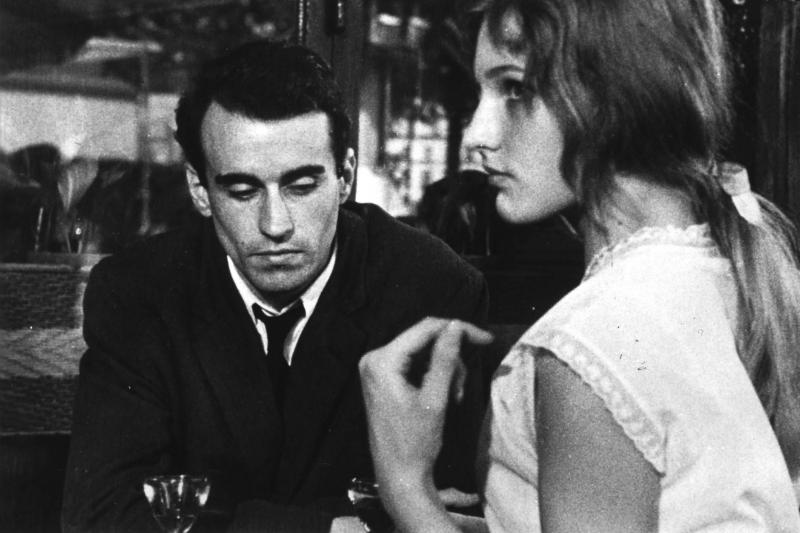 Melancholy thief Michel (Martin LaSalle) and innocent Jeanne (Marika Green)
Pickpocket regularly makes it into the list of best films of all times. It is a film-maker's film, more of an essay on the art of cinema and a discourse on crime than a thriller. Much French art house cinema is characterised by serious intent and intellectual rigour, and Bresson may be, more than any other auteur, the pioneer of a cinema in which reflection and thought play as much of a part as the display of narrative or emotional excitement.
Michel, played by the non-professional Martin LaSalle, is the thief who learns the tricks of his trade from a gang of professionals, and plays through the film a game of cat and mouse with the police. There are beautifully shot and edited sequences that demonstrate the fine dexterity and cliff-hanging risk of slipping a hand delicately in and out a pocket or a bag, and lifting the wallet or cash from mostly unsuspecting victims. Much is played out in the close quarters of the metro. The film always looks great, with cinematography by Léonce-Henri Burel.
The script, the first to be written by Bresson himself, owes much to Dostoyevsky's Crime and Punishment. Like Raskolnikov in the Russian 19th century classic, Michel is tormented by reflections on the nature of crime and guilt. There is indeed – as with much of Bresson – an underlying connection with Catholicism.
Michel is a master of impassivity, and a model of cool. He seems to be almost totally devoid of emotion – or at least knows how to hide it. So much so that he shows little interest in his ageing mother, and has to be coaxed by Jeanne (the Swedish actress Marika Green), the young woman who looks after her. That Michel should not show the flicker of a smile throughout is an essential feature of a film that avoids the display of affect, the mainstay of mainstream cinema, from first to last frame. Such an exercise in style is central to the film's appeal and reputation, and yet, as with other Bresson films – stripped as they are of the engaging tropes of narrative cinema – I personally find the austerity unappealing. I am left with the suspicion that form, in this case carefully thought-out rather than growing organically from the emotional heart of the story, may impress by its rigour but make the films oddly unengaging. Even the brief musical interventions, French baroque by Lully – they provide a kind of ersatz emotion to the sequences in which they appear – feel more like an imposed feature than an expression of the characters' inner drama. Much imitated (along with the voice-over that takes us through the film), these "Bressonian" motifs seem to be self-conscious reactions against the excess of French soundtrack giants such as Joseph Kosma, Georges Van Parys or Roger Désormière.
The bonuses on this BFI release offer rich pickings: a 1971 audio interview with Bresson; Les modèles de Pickpocket (Pickpocket's Models) an excellent documentary by experimental film-maker Babette Mangolte, in which she talks to the actors who worked with him and whom he preferred to call "models"; and a revealing interview with writer and director Paul Schrader, who explains the various ways in which Pickpocket changed his life.
It's a film that avoids the display of affect, the mainstay of mainstream cinema
rating
Explore topics
Share this article