Blu-ray: Link |

reviews, news & interviews
Blu-ray: Link
Blu-ray: Link
Stamp and Shue confront a cult horror's eerie mansion of the apes
Animal house: Dr Phillips (Terence Stamp) and Jane (Elisabeth Shue)
Man's strange relationship with other species haunts this freaky simian horror film from Psycho II director Richard Franklin.
Terence Stamp
is Dr Phillips, an archetypal, lab-coated mad scientist, grumpily testing the limits of ape intelligence, and Elisabeth Shue zoology student Jane, unwisely offering help at his remote Gothic mansion, where the most developed ape, Link, is his besuited butler and begrudging factotum.
There's something of The Island of Dr Moreau in Phillips' arrogant, eventually overthrown genetic tyranny. "He's missed the bus by a lousy 1%!" he rails at the apes' shortfall from human civilisation. As he clambers over tables and into cages, the gap looks narrower than he thinks. The Doc is tweedy, superior and seedy, with vague designs on his young student, and a bedroom piled high with copies of his one, well-regarded book; his second, mordantly named Limbo, is unfinished and unread, its blackened, burned pages one of the last things we see. It's a small but deep role. Suspicions that the still beautiful Stamp's character is an arsehole are strengthened in the Blu-ray's deleted scenes, especially an elegant vignette in which he drunkenly drops his book off in Jane's room, and she firmly locks the door, Phillips and Link shuffling away together, like Stan and Ollie.
Link, though, sneaks back, leaving a Freudian smoked cigar outside, masculine rivalry for Jane violently kicking in. In what Franklin thought the pivotal scene, Link later walks in as she undresses to bathe. She becomes self-conscious as he assesses her with beady, unknowable eyes. Franklin saw this as the naked ape meeting the real thing.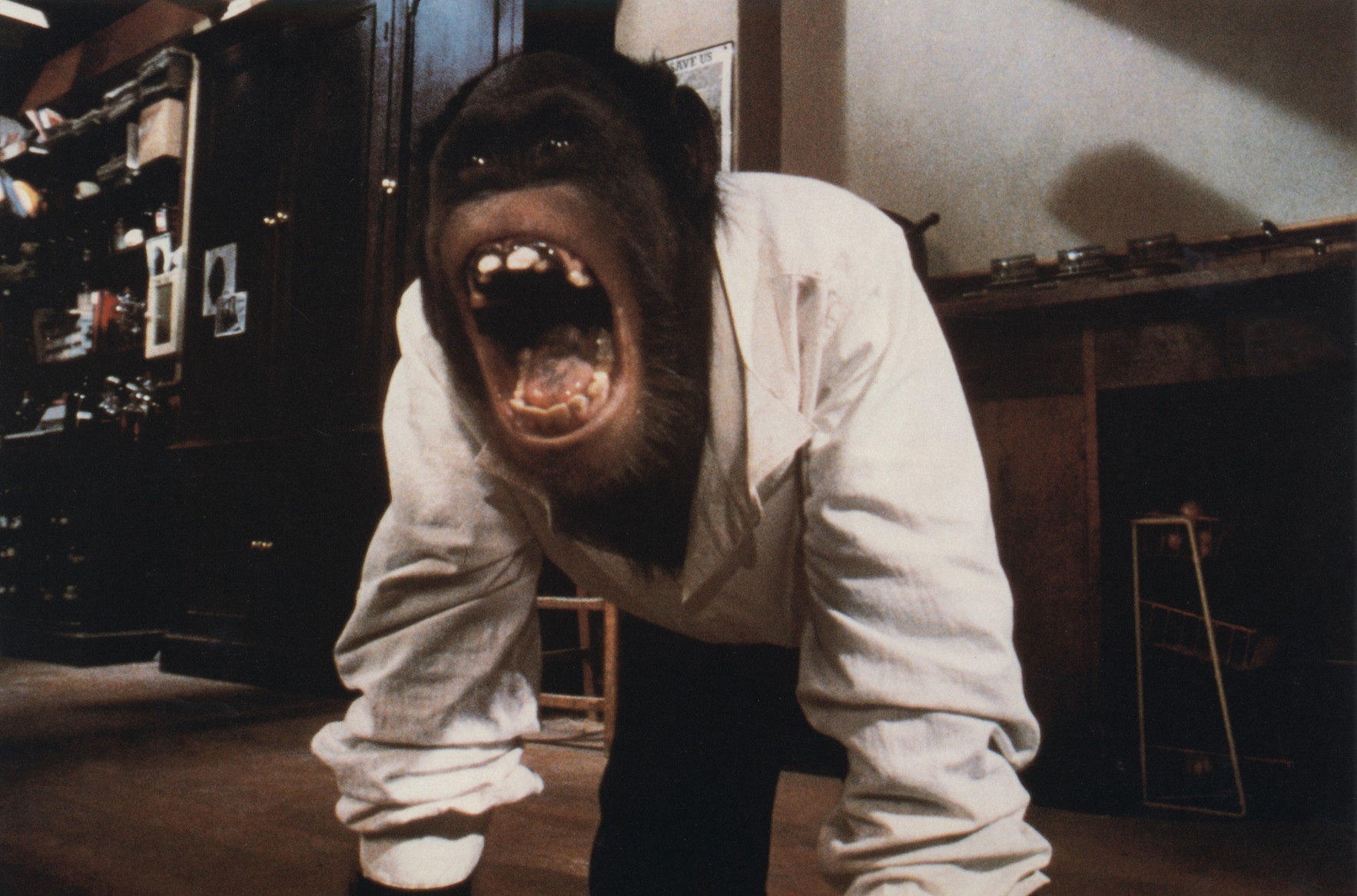 Pre-CGI, real apes were used in close-up, their exploitation one of Link's subjects, despite the film's own discomfiting culpability. An informative commentary by critics Lee Gambin and Jarret Gahan explains an orang-utan played chimp Link due to their longer fuse on set. Link's trainer previously worked on The Birds, and his "performance" is a painstaking jigsaw of eerie reaction shots. Like the Ozploitation B-movie Wake in Fright (1971), with its more extreme kangaroo massacre footage, or in another context Tod Browning's Freaks (1932), the apes' visceral presence in almost every shot, the familiar appearance of intelligence, the risk of Shue grappling with animals, the sheer science-fictional strangeness of what we're watching (Planet of the Apes being the ultimate riff): this is Link's point.
It was part of an odd trend of sometimes sexualised ape horror, also including George A Romero's Monkey Shines (1988) and Dario Argento's Phenomena (1985), as well as Charlotte Rampling's chimp lover in Nagisa Oshima's Max, Mon Amour (1985). Poe's "The Murders in the Rue Morgue" (1841), the original detective and locked-room mystery, whose solution is a blameless, enraged orang-utan mimicking humans, is this trope's source too.
Link's philosophical musings give way to an inter-species action film, with the monster ape chasing Jane (who has to be Tarzan here, too). At 22, Shue, fresh from The Karate Kid and a long way from Leaving Las Vegas, seems callow at first. But when she's left the lone human in a simian society, Phillips' admonishment that she's the dominant species collapsing fast, she fearlessly, physically carries the film, increasingly asserting female strength, as human suitors' imprecations are replaced by a lusty, limb-ripping primate.
Franklin's career is the final fascination. The Australian was a student and friend of Hitchcock, and, starting in Ozploitation soft porn and sci-fi, followed the Rear Window­-like, Jamie Lee Curtis-starring Outback thriller Roadgames (1981) with the satisfying, straightforward sequel Psycho II. Link's opening shows his potential, seeing through a chimp's eyes as it scrambles from bushes to a roof, hunting a cat itself eyeing caged birds, while the family below watch Dietrich slink from an ape suit in Blonde Venus (1932). The TV stutters and their little girl screams as a bloody mess is left on the roof, from which the camera rises with the dawn over University College London's Bloomsbury skyline, as Dr Phillips begins his lecture.
Limbo was among the last films from Britain's EMI, its release victim to a "maelstrom of corporate takeovers", Franklin sighs in a brief audio interview. His career was dogged by such luck, till his death from cancer in 2007. Tarantino has championed his small cult. This true oddity is worth many more conventional successes.