Blu-ray: Croupier |

reviews, news & interviews
Blu-ray: Croupier
Blu-ray: Croupier
A masterpiece from the late Mike Hodges, giant of British cinema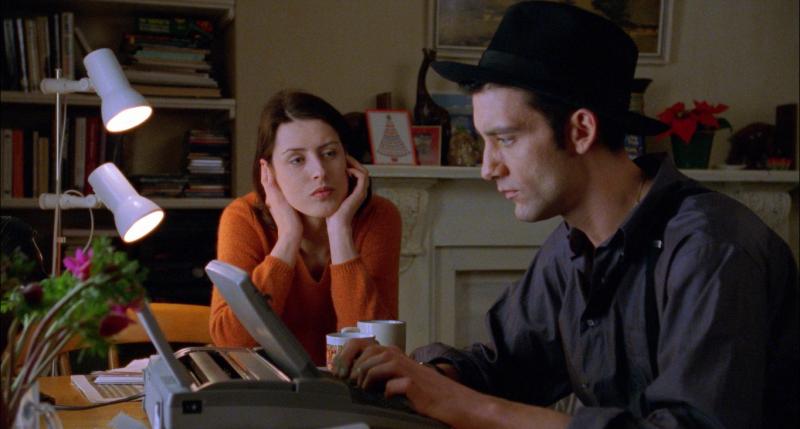 The croupier's tale: Marion (Gina McKee) and Jack/Jake (Clive Owen)
The recently-departed director Mike Hodges was one of our most underrated filmmakers. Along with Get Carter (1971), a dark story of revenge starring Michael Caine, Croupier (1998) – newly released on 4K Ultra HD – is one of the most fascinating and superbly crafted films of late 20th century British cinema.
It's so good, at many different levels, that it bears watching over and over again.
Written by the British-born Hollywood screenwriter Paul Mayersberg, it tells the story of an aspiring novelist who uses his background in casino work and his engagement as a dealer in a London gambling house as a source of inspiration. The narrative shifts deftly from the croupier Jack's third-person voice-over, as he comments on his fictional double Jake's actions, to a more conventional narrative.
Such voice-overs were a trope of French New Wave cinema, creating in that context a knowing distance between subjective and objective dimensions of storytelling. In the case of Croupier, the fluid and often blurred play between these different layers is so intricate and exquisitely constructed that what we're offered is a lightly-worn but remarkable essay on the art of cinema, as well as a sly exploration of the nature of fiction itself.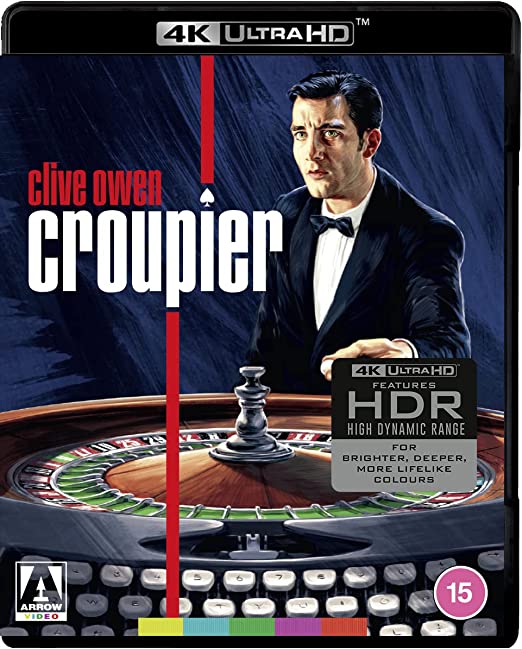 The croupier is a voyeur in the theatre of obsession and desperation that is gambling, but he is also as addicted to his overseer's job as the punters are to the risk essential to their games. In addition, he admits to being a performer. This multiplicity of roles works perfectly within an endlessly shifting frame that highlights Jack's creation of a fact-based fiction whose hero is his double Jake. The labyrinthine game of mirrors is integral to the story and present in the film's decor.
In other hands – including those of the more intellectually oriented French auteurs – this kind of narrative approach might have become an exercise in cinephile didacticism. With Mayersberg and Hodges (and the credit for the film's brilliance is shared by both), the effect is both playful and profound. This is an immensely entertaining film, a meditation on screen-life and story, that goes, without a hint of pretension, very deep.
Jake the croupier and Jack the authorial voice, combine in a tour de force that is so subtle as to be close to confusing. When are we watching Jack, or Jake, seduced by the suspended disbelief of fiction? That this is unclear adds to the playful edge of the film. This multi-dimensional croupier, a creature inhabiting a no man's land between fact and illusion, comes across as super-cool, a remarkably subtle incarnation from a young Clive Owen: all measured reserve until he occasionally breaks into savage violence. He is a mess of contrasts, sentimental as well as self-obsessed – all too human in every way, in the mould of the anti-heroes of classic film noir. His ties with Marion (a sultry early role for Gina McKee), an ex-cop who works as a store detective (which job neatly mirrors his own), are tenuous and as confrontational as they are intimate.
All the secondary roles are well cast: Kate Hardie as Bella, a cynical yet passionate colleague of Jack's; Alexander Morton as his cold-as-steel boss Reynolds; Alex Kingston as the desperate South African Jani, who inveigles Jack into enabling a heist at the casino; and Nicholas Ball as Jack's trickster father, a man as economical with the truth as a small-time crook can be. The latter is the role model for a son whose weak grasp of the boundary between fictions and inventions is central to the film's quality.
Although Croupier owes something to the Raymond Chandler and Dashiell Hammett school of noir, it is an original work – one that features great cinematography by Mike Garfath and beautifully timed editing by Les Healey, both regular collaborators of Hodges. Last but not least, the score by Simon Fisher Turner, who made his name doing music for the films of Derek Jarman, is spot on: a dreamy kind of jazz, the eerie leitmotivs of which underscore the almost fantastical unfolding of the drama's many layers and the latent tension of the casino floor with craft, sensitivity and intelligence.
Croupier is unique in the way that it manages to weave imaginatively in and out of a novel-in-the-making and the unfolding action Jack conjures, but which is also the source of his inspiration. The creative mystery at the heart of this poetic device holds the film together, and repeatedly questions the veracity of all we witness.
The novelist's voiceover plays with the delicate confusion the film has fostered: "He was Jack and he was Jake and he had discovered that there was a price to play for this double life of his." Such cinematic and story-telling brilliance is rare indeed, and Croupier should be much better known than it is.
This is an immensely entertaining film, a meditation on screen-life and story
rating
Explore topics
Share this article