A Beautiful Day in the Neighborhood review - an emotionally honest biopic |

reviews, news & interviews
A Beautiful Day in the Neighborhood review - an emotionally honest biopic
A Beautiful Day in the Neighborhood review - an emotionally honest biopic
Tom Hanks gives one of his finest recent performances as Mr. Rogers
Saturday, 01 February 2020
When the shoe fits – Tom Hanks as Fred Rogers
The role of Fred Rogers in A Beautiful Day in the Neighborhood was made for Tom Hanks – and he excels in it.
Rogers' sixth cousin, Hanks has at his fingertips the compassion and warmth that made the zipper-cardigan-clad American
children's
educational TV host a phenomenon. Slow-talking and deeply reassuring, he was a kinder, gentler version of the 1920s–'30s actor and homespun-wisdom dispensing "cowboy philosopher" Will Rogers (no relation).
Watching Hanks here should propel non-Americans to YouTube to find televised interviews with Rogers and excerpts from his late-afternoon half-hour show Mister Rogers' Neighborhood (1968-76, 1979-2001), which he developed with the child psychologist Margaret McFarland. His sincerity made him practically unique. (British TV had the folk musician Wally Whyton – co-presenter of the mid-'60s Five O'Clock Club and co-creator of the Olly Beak glove puppet – though Whyton, as soft-spoken as Clint Eastwood, was an entertainer, not a life coach for kids.)
Along with Zen-like imperturbability, there are hints of steeliness and knowingness in Hanks' portrayal of Rogers, which has earned him Oscar and BAFTA supporting actor nominations. The job "Fred" takes on in director Marielle Heller's affecting drama, set in 1998, is to make Lloyd Vogel (Matthew Rhys) – an Esquire magazine investigative reporter assigned by his editor (Christine Lahti) to write a short, soft piece on Rogers – look inwards (as that trio of Christmas ghosts did Ebenezer Scrooge). Vogel is based on the journalist Tom Junod, whose Esquire article "Can You Say…Hero?" inspired Micah Fitzerman-Blue and Noah Harpster's screenplay. Junod has said that meeting Rogers changed his life; they remained friends until Rogers' death at 74 in 2003.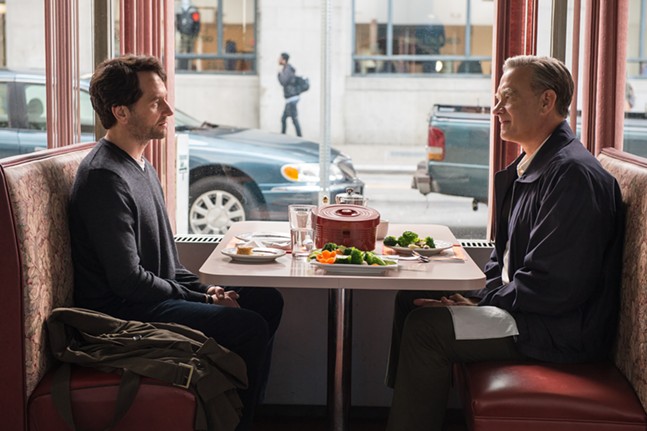 Suitably unshaven, Vogel is a cynical workaholic who avoids his wife Andrea (Susan Kelechi Watson) and their newborn son, his absences preventing her from resuming her career as a lawyer. His anguish stems from his and his sister Lorraine's tragic childhood, memories of which are stoked by his estranged father Jerry showing up for Lorraine's latest wedding. When Lloyd and Lorraine (played as an adult by Tammy Blanchard) were kids, Jerry slept around, even when his wife was dying. He has repented and, ailing himself, is desperate for Lloyd's forgiveness. Lloyd is having none of it.Convinced that Mr. Rogers is an act, Lloyd is exasperated when Fred introduces him to his show's glove-puppets and asks him if he had his own "special friend" (cuddly toy) as a child. He did – it was called Old Rabbit – and Lloyd is embarrassed because Fred's getting him to talk about it cracks the shell of his hardnose reporter shtick. Far from twee, the exchange reveals how far Lloyd has drifted from emotional honesty.
Rogers sought to liberate children from other people's negative judgments – the absorbing of which can prove terminally crippling – and to accept who they are, not later but now. Hanks' deliberate speech and affirming presence (it's a lovely Rogers impersonation) has that effect on Lloyd. But not only Lloyd: the film's single fourth-wall-breaking moment is revelatory.
Heller previously directed The Diary of a Teenage Girl (2015), which she wrote, and Can You Forgive Me? (2018). She is not an ostentatious stylist but the opposite: a visually economic storyteller who precisely tailors the look of her films to moods and emotions. Replicating the soothing tracking shots deployed in Mister Rogers' Neighborhood, she astutely uses Rogers' studio set (actually filmed in the Fred Rogers Studio at WQED Pittsburgh) and a replica of the model of his town, with which the show comfortingly began and ended, grounding the viewer in its unruffled Rockwellian vibe. Beyond this place of security stands pre-9/11 Manhattan, another model, viewed from the perspective of New York Bay – the Twin Towers connoting this movie's unerring sense of nostalgia and loss. Ultimately, it's about excavating the past, whether distant or recent, to build for the present.