Currie, Aurora Orchestra, Collon, QEH |

reviews, news & interviews
Currie, Aurora Orchestra, Collon, QEH
Currie, Aurora Orchestra, Collon, QEH
Star percussionist leads tribute to maverick composer Steve Martland, but John Adams rules
Wednesday, 12 November 2014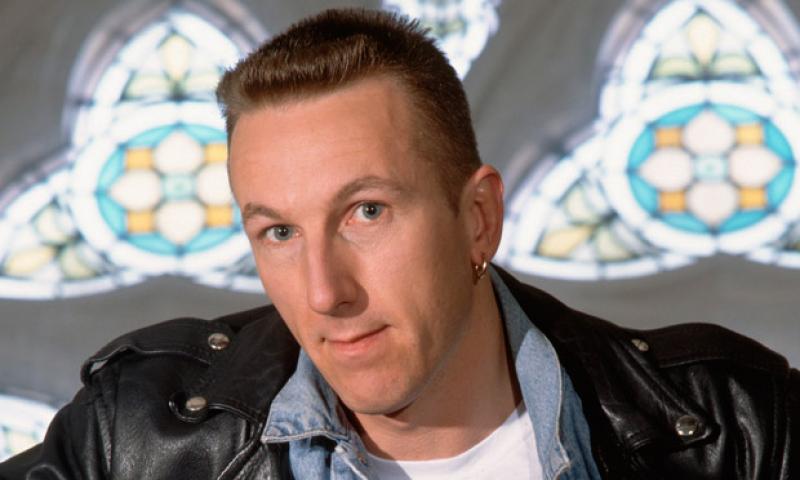 Composer Steve Martland, who died in 2013
It has always been obligatory when talking about Steve Martland to describe him as an iconoclast. Before his sudden death in May 2013 at the age of 58, he forged a reputation for himself as a self-styled outsider to the musical establishment, speaking scathingly about the Proms, and eschewing established orchestras and ensembles in favour of writing for his eponymous band.
Members of that band joined Colin Currie and the Aurora Orchestra to pay spirited homage to Martland, and place him in his musical context.
There were two Martland pieces to enjoy, one in each half. Starry Night, for amplified string quartet and marimba, was written for Colin Currie (pictured below right by Marco Borggreve) in 2008. It takes its title from Van Gogh's painting but was inspired by a visit to Africa. It is cast in a post-minimalist language of overlapping phrases, irregular rhythms and a constant semiquaver pulsation which showed the influence of Louis Andriessen, Martland's teacher. The beginning is marked sempre fortissimo and this would be a good epigraph for Martland's entire oeuvre. Typically, there is not much in the way of textural or dynamic variety, but enough rhythmic propulsion to carry the music along.
The second piece of Martland, rounding off the evening, was Horses of Instruction from 1995. This was performed in the sextet version, written for the Bang on a Can All-Stars, without the drum kit added later, and which can dominate performances of the expanded version. The performance featured members of the Steve Martland Band, including a heroic turn from pianist Dave Maric, pounding away tirelessly in the low registers. Friendly music this is not; intense and compelling, yes, but not for the fainthearted. The end was extraordinary, manically driven, like an electrified Rite of Spring played at triple speed.
The highlight of the first half did not actually involve either Colin Currie or Steve Martland. John Adams's Chamber Symphony is not typical of his output, and is Adams for people who don't like Adams. Taking its starting point from the cartoon scores his son was watching, the Chamber Symphony has an abrasive sound and rhythmic edginess which is a world away from the saccharine of some of his orchestral works. The Aurora Orchestra players excelled in the demands of the piece, which they have recorded for imminent release, and is clearly in their fingers at the moment. The Chamber Symphony presented a bristling wall of sound, bursting with energy, driven and furious.
Conductor Nicholas Collon (pictured below by Benjamin Ealovega) kept his players on a tight rein, but gave them room to shine in their acrobatic solos, of which the most notable was Amy Harman's bassoon. The technical demands of the music were dispatched with easy virtuosity, and the ensemble playing was extremely tight, making for the best performance I have ever heard of this piece.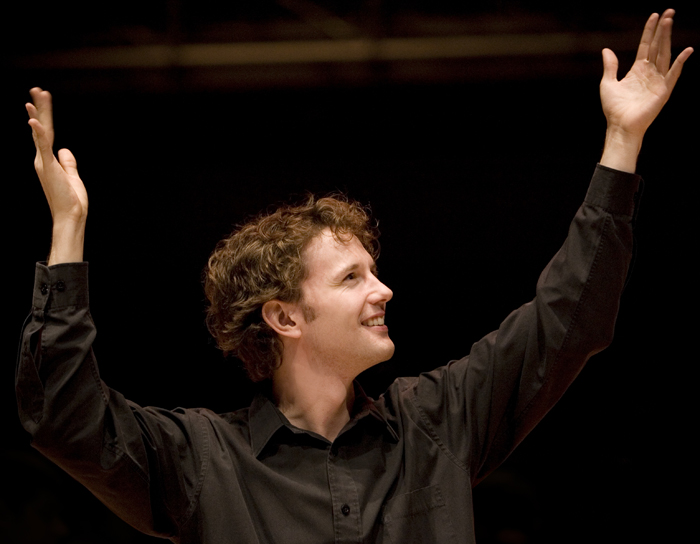 The pianist from Horses of Instruction, Dave Maric, was the composer of Trilogy, a work for solo percussionist with a backing soundtrack of further percussion instruments, electronically enhanced. This is a showpiece which Colin Currie played from memory on 22 instruments, often several at the same time. The live music was seamlessly co-ordinated with the taped part, and the effect was of Currie duetting with himself. The music was engaging, clearly influenced by Martland and, to a lesser extent, Steve Reich.
A moment of repose was offered in Purcell's Fantasia Upon One Note, originally for five viols, of which one sustains a single note throughout. Here the string quartet imitated the viols – no vibrato, forward sound – while the sustained note was a beautifully controlled marimba roll. A cool piece of programming, this exquisite fragment, beloved of Steve Martland, threw into relief the hectic sprinting elsewhere, and showed another, unexpected, side of his musical personality.
Follow Bernard Hughes on Twitter @bernardlhughes
The Chamber Symphony presented a bristling wall of sound, bursting with energy, driven and furious
rating
Explore topics
Share this article