Man Overboard, Aurora Orchestra, Collon, LSO St Luke's |

reviews, news & interviews
Man Overboard, Aurora Orchestra, Collon, LSO St Luke's
Man Overboard, Aurora Orchestra, Collon, LSO St Luke's
London's cross-collaborating ensemble wears its USP on its sleeve
Nicholas Collon conducts the Aurora Orchestra
If the 15-word limit of a succinct listings blurb ever taught you a lesson let it be immediate suspicion of any performer or musician termed "jazzy". This wariness could extend to anything generically suffixed by "y" or "ish", simply because it suggests either pretence or a lack of original or strong identity.
And yet if asked what a "jazzy" performance might be a few concrete elements come to mind; well-tuned glissandi, scored solos, precisely-timed appoggiaturas and that old crooner's classic "swing feel".
From conductor Nicholas Collon's swift and jovial entrance onto the stage at LSO St Luke's, to the players' flamboyant swaying, the Aurora Orchestra are quite clearly a well-staged entity. Their slick showmanship, low necklines and less traditional choices of collaborators provide that crucial USP that the LPO, RPO, LSO or other acronym-bound ensembles might also consider at an audience development meeting.
Rameau was the first to be tackled in this Jitterbug-themed show, and was played with a certain gusto, modelled perhaps on the mesmerising energy of Italy's L'Aura Soave Cremona ensemble, albeit with a sheen of British modesty. Charming though its rhythmic bounce, baroque can be a tiresome affair of predictable cycles and musical ringlets, but thankfully they had anticipated a modern attention span. Following only a moment's pause their top-heavy ornamental sound broke down into a bold solo double bass line that seemed both out of place and almost credible as a radical final scherzo. It is these musical hinges that characterise the Aurora Orchestra's work, and their commitment to re-contextualising classical repertoire is welcome.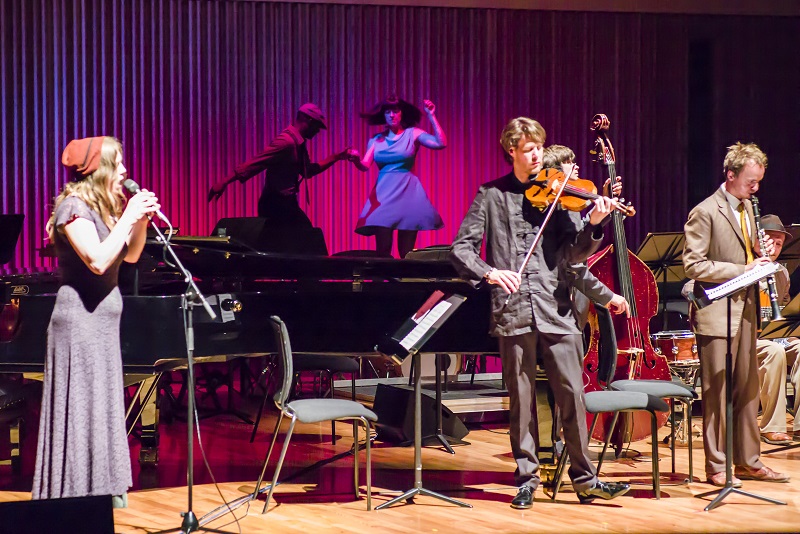 Building now from the rhythm section and upwards via viola and harpsichord, to be joined on stage by trilby-clad "gypsy jazz"-style guitarist Jean-Marie Fagon and crew, it was clear we had apparently travelled forward a few centuries and descended into the cellar of a European wine bar. Man Overboard were to become the second feature of a transatlantic foray into the historical dance music repertoire. True to the event flyer, but somewhat incongruously, a couple of dancers from Swing Patrol floated onto a red-lit stage to accompany an arrangement of traditional standard "St James Infirmary" arranged by bassist Dave O'Brien. Meanwhile vocalist Louisa Jones clutched timidly at the microphone, retelling an age-old tale with her own subtle backstory and a tone authentically reminiscent of a husky, melancholic blues songstress.
Creative though their approach is, the missing element of the concert was something ephemeral. Nowadays we might call it groove, but for the era in question "swing" is the fad-word and, however pretty the typeface on the programme, without that indefinable crux of dance music it don't really mean a thing. The final piece, before the auditorium was transformed into a "Speakeasy" dancehall, was a rare modern arrangement of "Porgy and Bess", starring an amusingly understaffed percussion department of only one manic marimba and timpanist. Gershwin, who himself was evoking jazz, was a fitting crowd-pleaser to conclude a concert which hinted at atmospheres and themes, but was a little too "-ish" to move much more than the big toe in a distant leather sandal.
It was made clear we had travelled forward a few centuries and descended into the cellar of a European wine bar
rating
Explore topics
Share this article