Castalian String Quartet, Wigmore Hall review - genius in works and performance |

reviews, news & interviews
Castalian String Quartet, Wigmore Hall review - genius in works and performance
Castalian String Quartet, Wigmore Hall review - genius in works and performance
Colossal finales by Beethoven and Britten don't seem to tire these amazing string players
Thursday, 26 January 2023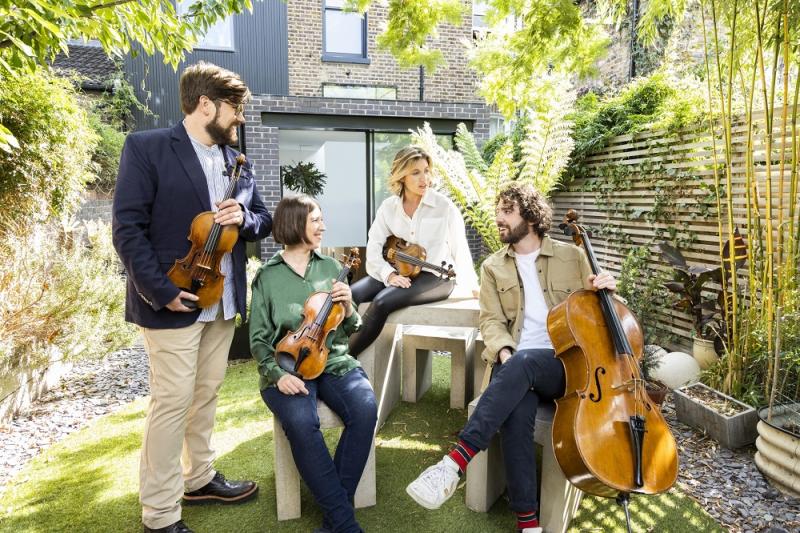 The Castalian String Quartet: violinists Daniel Roberts and Sini Simonen, viola-plater Ruth Gibson and cellist Steffan Morris
The Castalian String Quartet is half what I remember, but only literally: while viola-player Charlotte Bonneton and cellist Christopher Graves may have departed, their replacements, Ruth Gibson and Steffan Morris, more than earned their laurels in last night's stunning programme.
There's another instance where half is just as good. The Castalians' Britten mini-series only highlights how we wish Britten had written twice as many numbered string quartets as he did – Bartók's half dozen allow for a bigger spead across a season – but who's complaining when all three are masterpieces, and No. 2 culminates in one of the greatest quartet movements ever? What a daunting decision to end the first half with its massive Chacony/Passcaglia, a homage to Purcell but timelessly complex, and the second with the even more physically exhausting "Grosse Fuge" with which Beethoven originally ended his B flat String Quartet, Op. 130.
As the players nuanced and finessed Beethoven's more genial yet subtly radical nner movements, one couldn't help but fear for the task ahead (I've only heard the Quartet played live with the substitute movement). Yet not only did the tearing into Beethoven's ferocious rhythmic drive have full impact without obvious stress; Yet as phenomenal first violinist Sini Simonen (pictured above by Paul Marc Mitchell) brought smiles with her ultimate sense of homecoming, we realised they'd done it, bringing what one thinks of as a monster movement into the serene orbit established earlier. Simonen's centred tone and flawless intonation are as much a source of wonder as her unique imagination: concert soloists included, she's one of the finest of the younger generation violinists.
Haydn's E flat Quartet, Op. 20 No. 1 favoured her throughout - the individual human voice in a cultivated ensemble, setting the tone of freedom in rhythms and phrasing for the rest. But there were supreme tests for Gibson and Morris in the first two of the urgent cadenzas Britten uses to punctuate, articulate and move on groups of his 21 variations on the nine-bar Chacony theme (as earwormy in the interval as Beethoven's main "Grosse Fuge" subject proved on the way home). All three movements are masterly, and teem with melody so utterly different from those we hear in its immediate predecessor of 1945, Peter Grimes (that, too, has a Passacaglia in a key position - in the dead centre rather than at the end - but so unlike this one in essential mood). The writing manages to be both vocal and thoroughly fitting for each of the instruments. And the reiteration of C major which rounds off the opening Allegro calmo, senza rigore, with the Castalians managing the final fade on the little rhythmic figure which cuts off the sustaned chords so exquisitely, was as magical as the final three chords of the work were resonant, magisterial, thrilling. A vintage concert, and probably the only time we'll get to compare the similarities and differences between those two finale marathons in the same live event..
Simonen's centred tone and flawless intonation are as much a source of wonder as her unique imagination
rating
Explore topics
Share this article