Artemisia, National Gallery review - worth the wait |

reviews, news & interviews
Artemisia, National Gallery review - worth the wait
Artemisia, National Gallery review - worth the wait
A glorious celebration of one of the great baroque painters
Artemisia Gentileschi: 'Judith and her Maidservant with the Head of Holofernes', about 1623-5
It takes nerve to throw a shadow across the face of your heroine, still more to banish to the margins the severed head that might so easily dominate the painting's centre ground. Instead, in imagining the aftermath of Judith's beheading of Holofernes, Artemisia Gentileschi wrings out the excruciating tension of a moment, and concentrates it in a candle flame.
What in reproduction looks like a minor detail is revealed "on the wall" as the visual and emotional fulcrum of this monumental
painting
, in which we see Artemisia, by now a mature painter, much in demand, brimming with painterly bravado and virtuosity (
main picture
:
Judith and her Maidservant with the Head of Holofernes
, about 1623-5).
We meet Judith and her maidservant as they make their escape, having brutally murdered the Assyrian general Holofernes. Alarmed by a sound, they freeze, terrified of discovery. The maid holds her breath, so does Judith, and so do we. In this moment of appalling stillness, the wavering candle – its curve echoed in Judith's raised hand – is a barometer of fear, allowing us to see and feel the unsteadiness of her legs, and the thump of her heartbeat.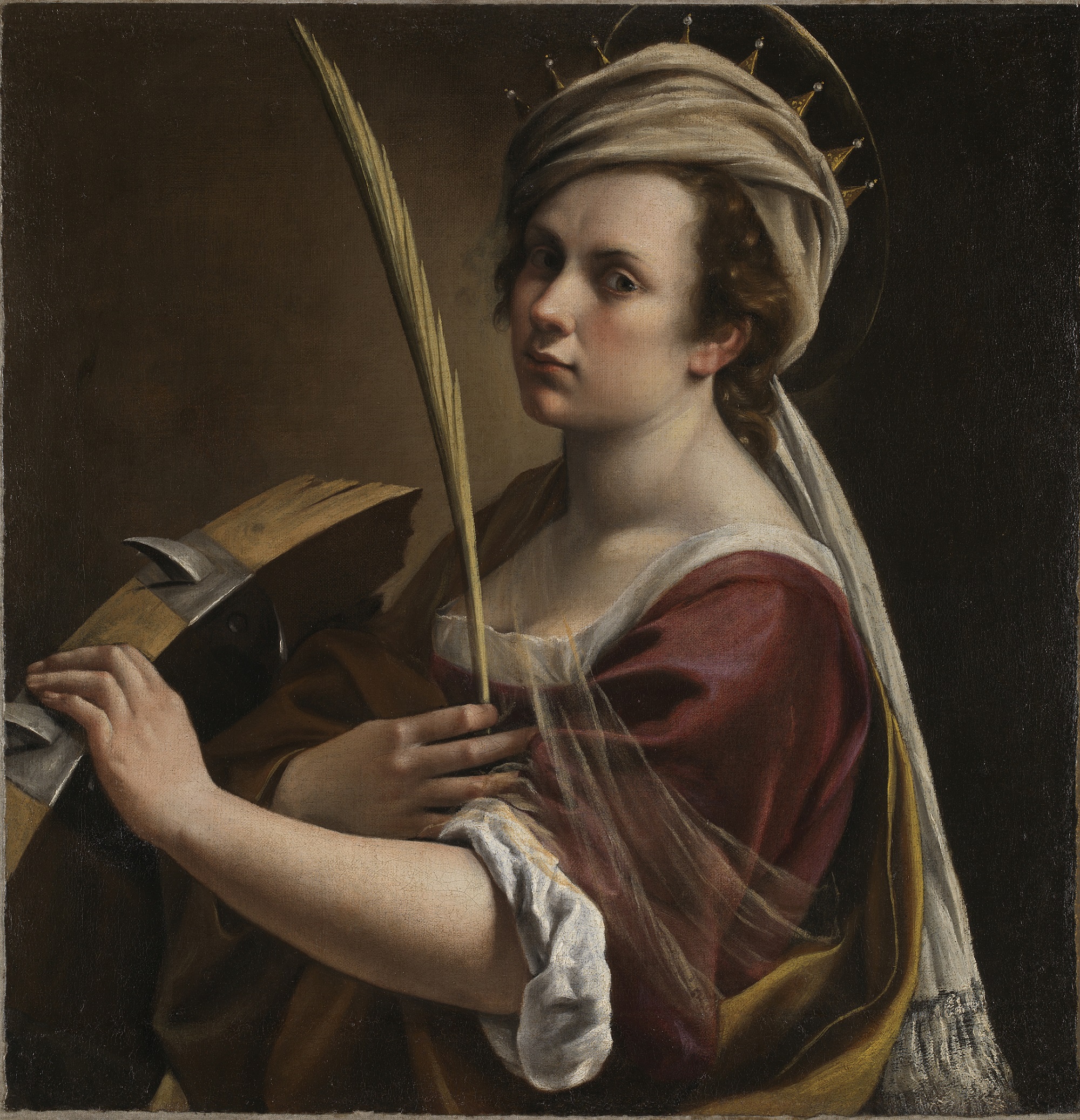 Such immense narrative power contained within a small detail seems like a pointed aside coming from a painter whose prodigious talent astonished contemporaries unused to the idea that women were capable of very much at all. As late as 1649, aged 56, she assured a client, "I will show your Illustrious Lordship what a woman can do"; Artemisia became one of the most celebrated artists of her time, employed by such illustrious patrons as the Medicis, but her achievements came very much in spite of her gender.
Artemisia's rape, aged 17, by the painter Agostino Tassi, dominates discussion of her life and work, but the National Gallery's long-awaited exhibition, the first in the UK to be dedicated to her, surely dispels any lingering anxieties that the artist's life might outflank her work. Curated by Letizia Treves, the exhibition includes around 30 paintings by Artemisia, including her most famous works such as the Self Portrait as Saint Catherine of Alexandria, about 1615-17 (pictured above right), a painting that makes explicit reference to the artist's rape, and the eight-month trial that followed in which she had to submit to torture to prove her testimony. Artemisia's precocious talent is announced in the Susannah and the Elders she painted at age 17, and we see her return again and again to the bloodsoaked stories of Susannah, Judith, Lucretia and Bathsheba, whose suffering so evidently provides a vehicle for her own experience.
The exhibition's centrepiece comes in room two, where the two versions of Judith Beheading Holofernes hang side by side in an impressive tribute to Artemisia's most famous composition. Often described as her revenge in paint, it is a violent, bloody drama that she began working on in 1612, the same year as the rape trial. Caravaggio's treatment of the subject is often cited as a precedent, but the exhibition points to scholarship arguing that Artemisia may never have seen it. Even aside from the Caravaggesque disposition of light, the similarities are there: Artemisia's first painting was cut down at some point in its history, but the composition is similarly close-cropped, with the massive head of Holofernes up against the picture plane, where blood pours down ice-white sheets. But where Caravaggio conveys the horror of the moment, Artemisia makes us believe that Judith and Abra, her maid, are capable of the deed.
The second version, painted shortly after the first, probably for Grand Duke Cosimo II de 'Medici, is yet more spectacularly bloody: interestingly though, she manages not to overcook it, and simply intensifies the composition. Blood arcs from Holofernes' neck, whose face now expresses something more like panic than the already bloodless first version; Judith's dress is now yellow, all the better to receive the jets of arterial blood that spatter it, jewel-like in the candlelight. The sense of a struggle is all the more palpable here, and Judith's powerful arms register downward force that is visible too in her face.
Such adjustments and embellishments emphasise Artemisia's command of her abilities, well developed even at the outset of her career. Revenge may have motivated her return to these stories, but it is her sensitivity as a narrator and talent for invention that fuels her renewed engagement with the protagonists each time. It is hard to think of other artists who in the depiction of Susannah, for example, harassed and coerced by lecherous old men, have mined the psychological layers of her character with such perspicacity, or produced such finely tuned nuances of emotion.
Though Artemisia's father Orazio trained and championed his daughter, there was a period of many years during which they did not see each other, or apparently communicate. When they were reunited, it was in London in 1638, where her father was engaged on decorations for the Queen's House, Greenwich. He died shortly afterwards, and in 1640 Artemisia returned to Naples, where in 1652 she painted her last known picture, which, like her first, was a Susannah and the Elders (pictured above). Even at this late stage in her career, she was able to come up with a new treatment of this favourite story: the extent to which it was fuelled by the story's continued personal resonance is moot, but it ensured, during her lifetime, her continued popularity among collectors eager to acquire the work of this endlessly inventive artist.
Where Caravaggio conveys the horror of the moment, Artemisia makes us believe that Judith and Abra are capable of the deed
rating
Explore topics
Share this article