Peggy For You, Hampstead Theatre review - comedic gold, and a splinter of ice, from Tamsin Greig |

reviews, news & interviews
Peggy For You, Hampstead Theatre review - comedic gold, and a splinter of ice, from Tamsin Greig
Peggy For You, Hampstead Theatre review - comedic gold, and a splinter of ice, from Tamsin Greig
Agent supreme Peggy Ramsay returns to the stage in accomplished Alan Plater revival
Tuesday, 21 December 2021
'Alternately flirtatious and tart': Tamsin Greig as Peggy Ramsay
Was Peggy Ramsay a "woman out of time"? The celebrated London literary agent, who nurtured the talents of at least one generation of British playwrights, surely counted as a legend in her own lifetime (she died in 1991). Has she lasted beyond it?
That the stories relating to her professional life – the personal life was kept much more off limits – around her celebrated office off St Martin's Lane, up those flights of stairs, have lived on is due not least to Alan Plater's 1999 drama Peggy For You in which he (one of the hundreds of writers on Ramsay's roster, of course) imagines a day in the life of Peggy and the agency sometime in the late 1960s. The term "pack of lies" gets much bandied about in reference to what a writer must do with the facts in order to get to the heart of a story or, in this case, a personality, and Peggy For You comes across now as an affirmative remembrance whose central fascination does indeed survive beyond its immediate timescale.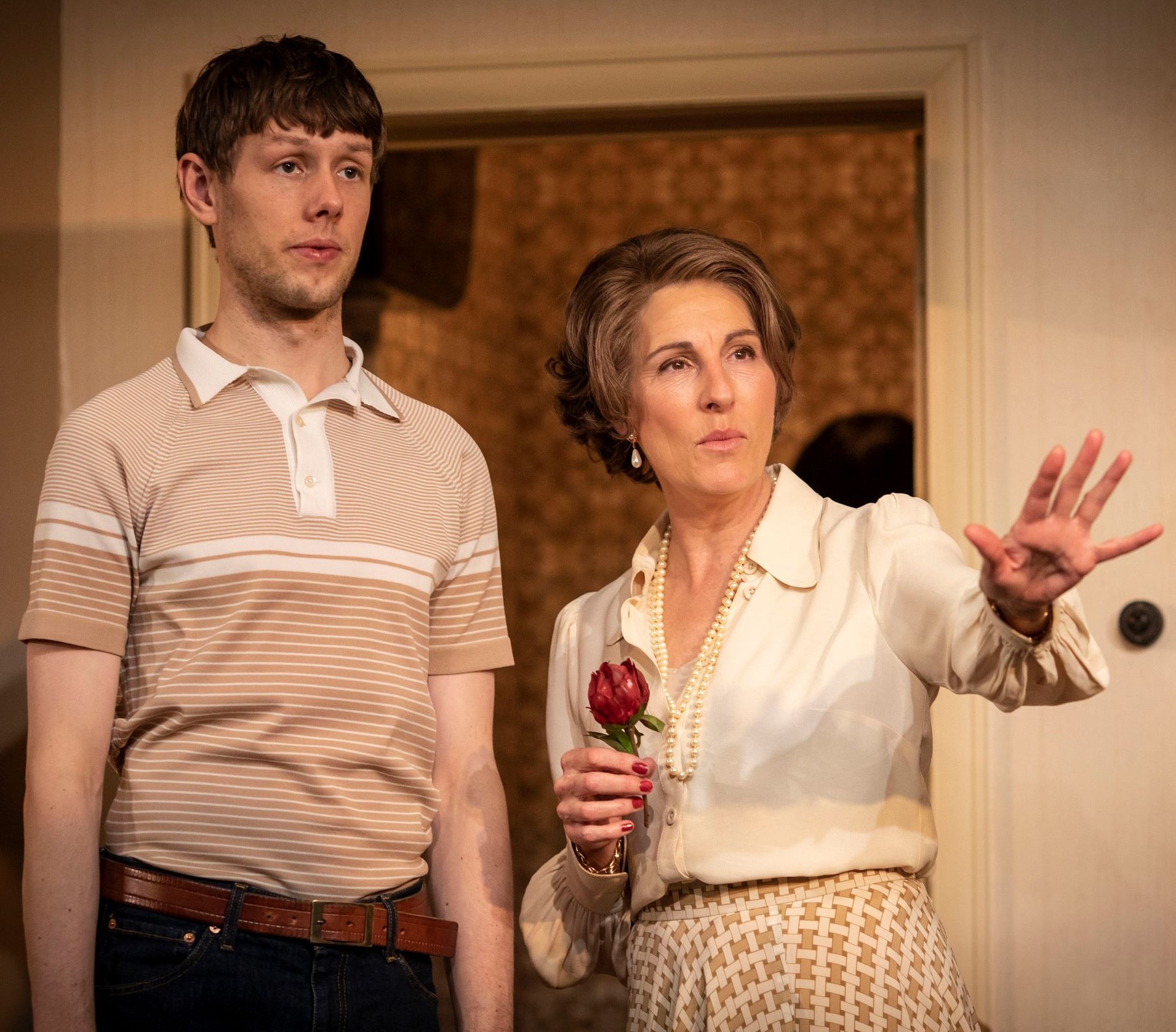 It was first staged at the Hampstead at the end of 1999, with Maureen Lipman playing Ramsay, and the theatre represents it now as the final work in its "Originals" season, a retrospective of some of the new plays that have premiered at the venue over its 60-year history. This time it's Tamsin Greig in the lead, and goodness does she relish the role: it's hard not to apply that rather hackneyed term "star vehicle" to this vivacious character study of an individual defined by her apparent contradictions, one whose engagement with the detail of writing, sometimes to the exclusion of almost anything else, was accompanied by an apparently throwaway casualness when it came to some of the details of everyday life.
As she presides over visits from three playwrights – Simon, a novice whose gaucherie is touching, presenting his first play (Plater acknowledged the role was modelled on his early self; pictured above, Josh Finan with Tamsin Greig), then the new "golden boy" Philip whose career is on a high, finally Henry, whose disillusion has him questioning his erstwhile ally – Peggy is alternately flirtatious and tart. Grieg delivers the aphorisms that liberally pepper Plater's script with an ease that means they do seem to emerge spontaneous, surely one of the main challenges of the role.
But Peggy For You succeeds or fails on the meat of its second half. When the early bantering comedy is replaced by a graver mood, Greig reveals the splinter of ice that is at the heart of her character. It's crucial: to endure, Peggy must be much more than just another "English eccentric". Henry challenges her directly on what he alludes to as her "scatty woman performance", prompting a retort that brings home the sheer dedication that she extends to the shelf-loads of scripts whose failings she is so alert to. Ramsay had that supreme theatrical gift, to picture a good scene as she read it, which makes her unforgiving of her writers, especially when fame, and its accompanying foibles, means that they have lost the initial spark that she had been so acute in spotting. For her, hands down, it was always about art rather than the money.
The post-interval change of mood is striking, though the fluency of the one-liners never goes away: "a laugh in every line" is another theatrical instruction that's uttered here, and Plater comes close to delivering just that. There's some degree of irony, given that many of the playwrights with whom Ramsay was so closely associated were the "political" ones who defined their generation, that Peggy For You is a conventional drama, its business of noises off and unnoticed entries coming close even to farce (pictured above, Trevor Fox, left, Jos Vantyler, right). Another irony surely, too, that many of them were from the North: she terms them loosely "the provincials" (today's sensitivities surely raise a hackle there), and her knowledge of British geography is so lackadaisical that she assumes the "two Alans" – Plater, from Hull, Ayckbourn, from Scarborough – live virtually on the same street. The stories are drawn from life, and they can't but endow Peggy For You with moments of comedic gold.
The timing in this new production from Richard Wilson, himself a Hampstead veteran, is immaculate too, its initial easy flow and subsequent modulations of mood expertly controlled, interludes between scenes set over snatches of string quartet. The three playwright roles are more than accomplished – Josh Finan as Simon, Jos Vantyler as Philip, Trevor Fox as Henry, the last the most striking – while the final player of the quintet, Danusia Samal as secretary Tessa (at least that's how Peggy has registered her, many names get mixed up in these quarters) skilfully juggling the rapid theatrical business.
But the limelight is with Grieg, her performance over two hours a masterclass in possession and timing. Plater hardly alludes to Peggy's private life, though there are suggestions of reserves of loneliness, while her quotation of Beckett's famous instruction, "Fail better", surely epitomises the determination that have made her what she is. It's an articulation of resilience very necessary in these times of shuttering stages, making the revival an appropriate reaffirmation of theatre, indeed of life itself. A seasonal treat.
Ramsay had that supreme theatrical gift, to 'picture' a good scene as she read it
rating
Explore topics
Share this article