Mother Goose, Duke of York's Theatre review - Ian McKellen returns as the Dame |

reviews, news & interviews
Mother Goose, Duke of York's Theatre review - Ian McKellen returns as the Dame
Mother Goose, Duke of York's Theatre review - Ian McKellen returns as the Dame
Jonathan Harvey's (mostly) family-friendly script sparkles
Thursday, 22 December 2022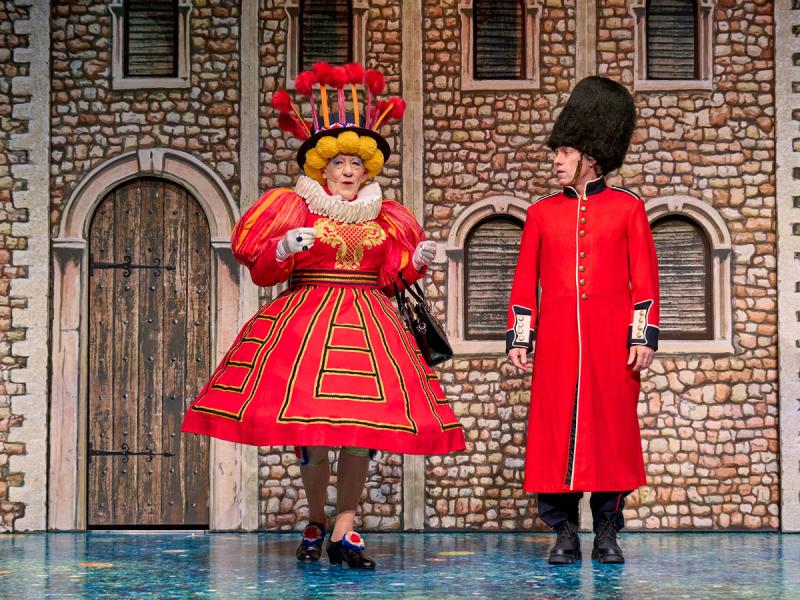 Ian McKellen and John Bishop star as the Gooses
When Ian McKellen, one of our greatest Shakespearean actors, gave us his acclaimed Widow Twankey at the Old Vic in 2004, some wondered why he had waited till he was in his sixties to perform in a leading role in pantomime (second comic policeman at Ipswich in 1962 doesn't count). Well, he has made us wait again for his second tilt at a Dame, but it was worth it.
He dons false bosoms and frocks as Mother Goose, opposite genial comic John Bishop, here playing the straight man as her husband, Vic. Mother Goose has opened her animal sanctuary in a closed-down Debenhams, and owes those evil energy companies oodles of cash because she and Vic can't afford to pay the bills.
Along comes good fairy Encanta (Sharon Ballard), who gifts them Cilla Quack (Anna-Jane Casey), a goose who lays golden eggs, so they can pay their bills. But bad fairy Malignia (Karen Mavundukure) throws down a challenge, and predicts that Mother Goose's head will be turned by money, and so it proves.
That's the story that frames Jonathan Harvey's sparkling script, heavy on the politics, with some clever gags about Liz Truss ("on work experience" during her brief sojourn in No 10), Boris Johnson and this theatre's current namesake.
Leading us to Mother Goose's redemption in Cal McCrystal's energetic production are song-and-dance numbers, a singalong, a wonderful cake-baking scene with McKellen, Bishop and the likeable Oscar Conlon-Morrey as their dim son Jack, some sly references to McKellen's portrayal of Gandalf in the Lord of the Rings franchise – as well as a bit of Shakespeare. As one character says: "You wouldn't get that with Julian Clary" – a cheeky reference to the star-studded panto less than a mile away at the London Palladium.
McKellen appears in a range of fabulous frocks (set and costume design by Liz Ascroft), channeling Audrey Hepburn, Gloria Swanson and Geri Halliwell, and masters the quick changes needed for Mother Goose's descent into red-carpet fame-hungry madness as she moves from Oscars night to World Cup finals (cue giant footballs kicked into the audience) and London Fashion Week.
The script is mostly family-friendly – Mother Goose's love of a cockatoo is about as far as it goes – although some comedy doesn't quite land (Casey has some silly lines about being menopausal but is terrific value otherwise and performs a showstopper "Don't Rain on My Parade"). The songs are belters, including a lovely duet between the fairies, and McCrystal keeps things ticking along nicely. McKellen is, as ever, marvellous.
John Bishop is playing the straight man
rating
Share this article