Modest, Kiln Theatre review - tale of Victorian would-be trailblazer fails and succeeds |

reviews, news & interviews
Modest, Kiln Theatre review - tale of Victorian would-be trailblazer fails and succeeds
Modest, Kiln Theatre review - tale of Victorian would-be trailblazer fails and succeeds
Art, songs and a cabaret (indeed, Cabaret) vibe, but the story goes nowhere
Emer Dineen - making herself heard
Whether you believe that Ellen Brammar's play, Modest, newly arrived in London from Hull Truck Theatre, succeeds or not, rather depends on your criteria for evaluating theatre.
On storytelling, character development and nuance, it is two and a half hours that goes nowhere. On representation, audience appeal and addressing past injustices, well, the reaction in the house to this Middle Child and Milk Presents collaboration will confirm that the job is done.
Elizabeth Thompson's The Roll Call was the sensation of the Royal Academy's 1874 Summer Exhibition. Owing something to Gustave Courbet and the realism movement in France, its scale, emotional immediacy and empathy for the soldiers depicted wowed the crowds (primed by decades of Dickens for such rampant sentimentality), seduced Queen Victoria into purchasing it and presented a challenge to the Academy itself. Could this woman really become Elizabeth Thompson RA, the first woman to be so elected?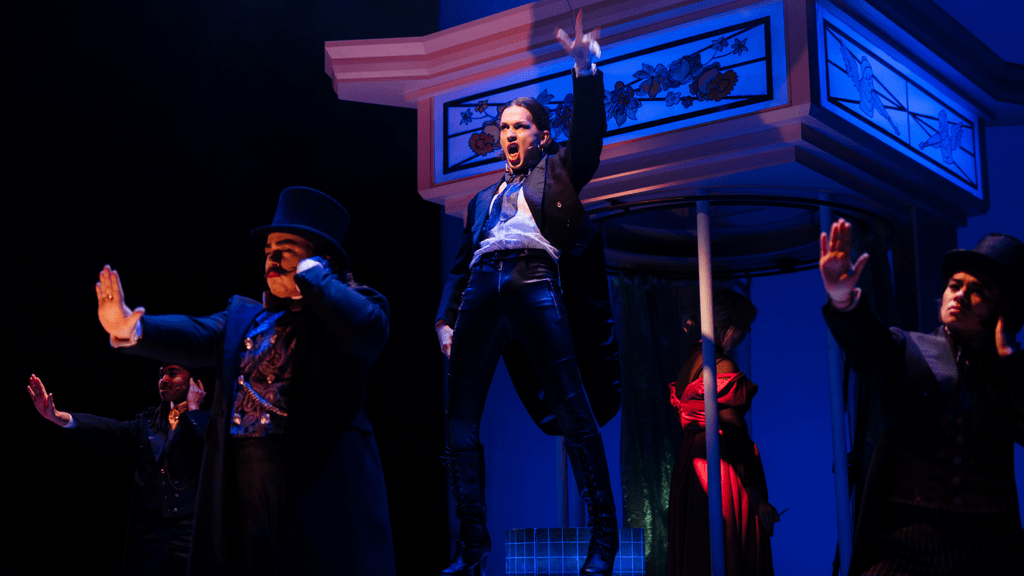 It's not a bad premise through which to explore the art world then and now, or to shed light on the means by which a patriarchal society uses its levers to marginalise women, or how class advantages deliver the cultural capital required to clear the many and various obstacles to success in life. At best, these issues enter the narrative tangentially, because the play has other things to say and wants to repeat them again, and again, and again. Pacing, as so often for promising playwrights, is a real problem.
Emer Dineen's Thompson appears first in a shocking pink ball gown (think Madonna in the "Material Girl" video) and, rather like La Ciccone, is bold, brash, easier to admire than to like and determined to take no shit from anyone. (I use that word because swearing is sprinkled liberally across the evening, still, even in 2023, able to provoke squeals of transgressive delight in the stalls). She has painting talent to burn – but that is, of course, her problem. Miss Thompson feigns the modesty a young lady must display to navigate 19th century London in the song that gives the show its title, but it doesn't last long, her fervour for acceptance overpowering her strategically demure demeanour. She denies the responsibility of being a role model, underlining her unattractive narcissistic personality traits and later marries an aristocratic officer in the British Army, her radicalism only lasting so long. We pause to reflect that the Pankhursts were still a generation or two in the future.
The rest of the cast double a number of roles, LJ Parkinson, Fizz Sinclair, Isabel Adomakoh Young and Jacquie Bardelang (pictured above) pantomiming the four Academicians who engineer Thompson's non-election – their caricatures of Victorian values sexism already wearing thin during the framing device before the curtain had even risen. You wouldn't believe you could be so irritated by a fake cigar – but it turns out that you can.
Libra Teejay injects a little Lionel Bartish perspective into this Pythoneque establishment-bashing with the working-class Bessie, who idolises the painter, saving up a shilling for entry to Burlington House and dreaming of emulating their heroine and barging into places that didn't want them either. But the character goes nowhere, is not invited to consider themselves part of the art family and fades away but not before singing the best song, "Three Years". Rachel Barnes knows how to write a power ballad and I suspect the strong score, sung well, might have a life beyond this show: the tunes deserve a wider exposure.
That class is largely ignored is no surprise, directors Luke Skilbeck and Paul Smith leading a creative team more interested in 21st century identity politics. This focus extends to staging a song ("Bossy Women") extolling the virtues of the women who will follow in Thompson's wake, unfortunately evoking thoughts of Margaret Thatcher for anyone over the age of 50 – not what was intended at all!
And maybe that age divide goes some way to giving the show its marmite flavour. If you're interested in seeing a confident new world of non-binary actors creating new perspectives (newish anyway, there have been a lot of productions on the London stage in the last couple of years exploring such themes) with gender-fluidity and pride at its heart, you will be on your feet at the end. But for others, looking for coherent plotting, characters who are changed by their experiences or something a little more satisfying as a conclusion? Alas, they will see this Arts Council England, Hull City Council and National Theatre-supported production as a sadly missed opportunity.
Like the painters who, to this day, send in their work to be considered for the RA's Summer Exhibition, you pays your money and you takes your chances.
Pacing, as so often for promising playwrights, is a real problem
rating
Explore topics
Share this article